Community Alarm (Telecare Service)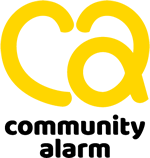 The community alarm scheme and telecare service is a 24-hour emergency contact service run by the Councils. This service is available to older, disabled or vulnerable people, allowing them to live at home more independently.
How it works
You'll be given an alarm button which can be worn around your neck or on your wrist. The base unit is connected to your telephone line, but we may be able to install an alarm even if you don't have a landline.
When you press the button on your alarm you will be automatically connected via telephone link to speak to one of our professionally trained operators at our Community Careline Control Centre in Chichester. We can then contact the emergency services if needed, along with one of your nominated keyholders. Keyholders are friends or family members who you've told us can access your home and help you in an emergency.
If the operator is unable to hear you, or you are unable to respond, we will contact one of your keyholders and ask them to check on you, and contact the emergency services if appropriate.
Mobile Response Service
If you have no nominated keyholders, or wish to have a backup in case your keyholders are unavailable, our Mobile Response Service is an optional additional service.
If your alarm is activated and we cannot speak with you one of our officers will visit your home within 45 minutes to check if you're alright.
Our service
Once your community alarm has been installed we will contact or visit you annually to ensure everything is working. Any reported faults are repaired within one working day.
For more information about the community alarm and the service we offer please see the information pack below:
How to apply for a community alarm
To apply for an alarm for you or a friend or family member please complete the online form below.
Once we've received your completed application we will contact you to arrange an appointment to discuss your needs and show you how it works.
Alternatively, you can call us on 01273 263390.
Contact us
Please contact us using the assistance details below so we can discuss which solutions will best suit you and your lifestyle. Our advisors are here to help you.

Do you need help with any of the following? Money & budgeting. Mental & emotional wellbeing. Making better healthy lifestyle choices. Employment & training. Support with getting online or accessing digital technology. Social isolation. Housing advice. If so, please use this form to register for community support.
Need assistance with this service?
Get in touch:
Community Alarm
Page last updated: 02 May 2023
Back to top