SpringForward
focusing on positive activities to help us all
What is SpringForward?
Spring is not far away and there are more things to look forward to then we might imagine.
That is the message of a short campaign by Adur & Worthing Councils which aims to help us focus on the many good things in life while offering help and advice on a range of health and wellbeing issues.
While none of us can ignore, nor ever forget, the ongoing crisis and tragedies inflicted on us by the pandemic nor the need to stick to government rules, health experts say it is important we focus on thinking as positively as we can.
This week the SpringForward campaign, across our social media platforms and on our website, will:
Highlight a range of good news stories about upcoming developments in our communities.
Broadcast a series of fascinating podcasts featuring former BBC Radio Sussex presenter Neil Pringle on the benefits and wonders of outdoor life providing activities are conducted within current government guidelines. The benefits of outdoors can now be brought to you indoors too!
Bring you soothing soundscapes from around our wonderful area to enjoy at home
Link you up to all the advice and help Adur & Worthing Councils have on health and wellbeing including indoor and outdoor activities, cooking, and illness prevention.
The aim is simple. To provide a bit of escape from the terrible times in which we are now living and to give practical advice on ways we can all improve our health and wellbeing. Councils are still urging everyone to keep to government Covid rules to prevent the spread of the virus.
Worthing Borough Council's Executive Member for Health and Wellbeing, Cllr Val Turner, said:
"No-one should minimise the horrible times we are living through nor the personal grief of those affected. As Councils we remain vigilant in this fight.

"However we know that people's mental health and wellbeing is vitally important and that also this has suffered in the last year. It is really important that we all find ways of looking forward. I hope, in some small way, this campaign helps."
Adur District Council's Executive Member for Health and Wellbeing, Cllr Kevin Boram, said:
"We all want life to get back to some kind of normal and keeping ourselves as positive as possible and looking forward to brighter days is one way we might do this. More importantly we want anyone who is understandably struggling during these times to know where they can get help. I hope SpringForward helps in both these ways."
Details of the government's current Covid restrictions can be found on the GOV.UK website.
Listen to our podcasts and soundscapes
Welcome to the SpringForward podcast and soundscape series created by Adur & Worthing Councils. We've uploaded a new one each day for you to enjoy ... listen to one of our podcasts or relaxing soundscapes:
Podcasts:
You can download our podcasts from SpringForwardAWC on the PodBean website. You can also search for SpringForward at Apple Podcast, Google Podcasts, Spotify and other hosting sites.
Soundscapes:
Take a few minutes out each day to enjoy our soothing soundscapes, just click on the YouTube links below to listen:
Monday: 5 minutes of relaxation at Mill Hill, Shoreham-by-Sea:
Tuesday: 5 minutes of relaxation at Worthing Pier:
Wednesday: 3 Minutes of Relaxation at Lancing Ring
Thursday: 3 Minutes of Relaxation at Highdown Gardens
Friday: 5 Minutes of Relaxation alongside the River Adur
Stories from Adur and Worthing
Welcome to the SpringForward stories series created by Adur & Worthing Councils. We'll be uploading a new one each day for you to enjoy:
Monday: Spring is sprung in Adur and Worthing
Visitors to Adur and Worthing parks can enjoy the first signs of Spring as the 120,000 bulbs planted at the end of last year have begun to flower.
With the help of the Friends of Marine Gardens and a group of community volunteers, Adur & Worthing Councils' Parks team hand-planted 40,000 perennial bulbs in several parks and open spaces. This includes Marine Gardens and Steyne Gardens in Worthing, Lancing Manor and Buckingham Park in Shoreham.
A machine was used to plant a further 80,000 bulbs, designed to bring colour to the area and improve local biodiversity.
The bulbs, which include daffodils and tulips in an array of yellow, gold and red colours, were carefully selected to thrive in the local climate. They were planted in flower beds, and in areas where the grass has been left to grow as part of the Councils' programme of rewilding.
There will be a further bloom in late Spring of blue and violet flowers, including bluebells and anemone.
Cllr Emma Evans, Adur's Executive Member for the Environment, said:
"The first flowers of the year are the signs that Spring is just around the corner. They are always a welcome sight after the winter months, and more so now after a challenging year and period of lockdown. We encourage residents to visit our parks to see the flowers in bloom and make the most of this beautiful time of year."
This week is Adur & Worthing Councils' SpringForward Week focusing on the future but also signposting people to where they can get help and advice on a range of health and wellbeing issues.
Find out more about our parks and outdoor spaces and how you could join our team of community volunteers to help care for them see:
Back to Stories from Adur & Worthing or Back to top
Tuesday: Cultural programmes planned for the summer
Theatres, arts venues and galleries are all gearing up for a bright year ahead with open-air events and remote shows just some of the treats in store for Adur and Worthing residents.
The COVID pandemic has hit the local art scene hard with performers, producers, artists and venues all impacted as lockdown restrictions prevented planned performances.
But, a new year has seen local arts venues gain renewed vigour and a range of cultural treats are already planned to entertain local communities once government restrictions are eased.
Acts such as Jimmy Carr, Rob Brydon, Leo Sayer and Lucy Worsley have all got dates to perform at Worthing Theatres venues.
In addition, family-friendly socially distanced shows and COVID-safe cinema screenings are planned across our communities for when restrictions lift while the Council has committed to continuing with its popular seafront gallery on Worthing beach.
It comes as the Councils' run its SpringForward campaign, which aims to provide a bit of escape from the terrible times in which we are now living and to give practical advice on ways we can all improve our health and wellbeing.
Among the venues looking forward to opening are Worthing Theatres and Museum (WTM).
It has a packed schedule of shows planned for the rest of this year with comedy, music and theatre all in the line-up, along with an eagerly anticipated pantomime in the winter.
To help prospective visitors feel at ease an information video explains the steps that are being taken to keep customers and staff safe:
While a range of digital exhibitions have been created on the WTM website including a 360 degree tour of Worthing Museum.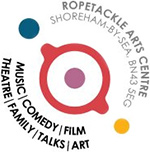 In Shoreham, the Ropetackle Arts Centre has a range of shows being advertised which can be streamed ahead of an Easter pantomime starting on the 8th April 2021
The centre has been supported by £56,000 from the government's Culture Recovery Fund to help face the challenges of the pandemic.
Another attraction which is set to continue is the open air gallery on Worthing seafront.
Five distinctive stone-filled gabions were installed on the beach between the Lido and West Buildings shelter in the autumn for the Photo Fringe.
With the exhibition providing such a hit, Worthing Borough Council will soon be advertising the space to artists to apply for gallery space.
Details will be made public shortly on the Adur & Worthing Councils' website.
Back to Stories from Adur & Worthing or Back to top
Wednesday: New cafe on Worthing Pier aims to help bounce back ... economically and socially
"We need a sustained period of celebration when this is over and hopefully we can add to this."
That is the message today from the businessman about to breathe new life and activity into Worthing's award-winning pier.
Alex Hole, famous for his hugely popular Perch Cafe on Lancing Beach, is currently working with a team right down on the wooden planks of the pier to restore the pier's Southern Pavilion.
With a following wind he hopes to open 'Perch on the Pier' sometime this summer and says he will bring quality affordable dining to the pier for the first time in living memory.
Managing Director of Perch, Alex, said:
"Obviously this has been a terrible time so we want to help people get back to having fun as soon as we can.

"One of the great things about the Perch at Lancing is seeing three or four families just gathering for something to eat or drink and just catching up. We want to see that coming back there and at the Pier.

"I think we all need a sustained period of celebration after this because I don't think we've forgotten how to have a good time ... it'll take a bit of time but I'm optimistic."
He was speaking of his plans during Adur & Worthing Councils' SpringForward week focusing on the future but also signposting people to where they can get help and advice on a range of health and wellbeing issues.
For now Alex and his team are focussed on restoring the beautiful pavilion building, which helped Worthing win Pier of the Year in 2019. He is removing layers of previous work going back years so he can restore it to former glory. Larger kitchens are necessary for the range of food and drink Perch will be offering. Alex said:
"We are working hard on the renovation and really having to go back and put right about the last three renovations so we can get exactly what we want. There are big challenges working with a listed building but we are opening spaces that people will never have seen before, utilising the full potential of the space."
Key to this is opening up the top floor of the pavilion which has been closed for years. Said Alex:
"The views in the upstairs area are absolutely spectacular. When you see the light that comes through into the building it really will be a special experience to sit there."
Perch on the Pier when opened will create 40 jobs. Worthing Borough Council, which owns the pier, has contributed £130,000 to invest in a new sprinkler system for the new premises.
The Council's Executive Member for Regeneration, Cllr Kevin Jenkins, said:
"I am delighted that progress is being made. The Perch on the Pier is a perfect fit for the pier and entrepreneurs like Alex are going to help us bounce back from this pandemic both economically and socially.

"For our general well-being, to be able to enjoy a meal or a drink with friends whilst watching the sea and the views back onto Worthing at this fantastic venue is really something to look forward to."
Plans of the Perch on the Pier (the Southern Pavilion) on Worthing Pier:
Back to Stories from Adur & Worthing or Back to top
Thursday: Work Springs into Action at Brooklands Park
There will be plenty of activity down at Brooklands Park in the next few months as new trees are planted and a fun learning space for children to get close to nature is established.
The trees will be planted next month along the Western Road edge of the Park as it begins its journey of transformation which started with the improvements to the lake two years ago.
Meanwhile a new partnership project called 'Bees and Seas' is swinging into action taking over a corner of the park to create a learning wildlife haven.
The Friends of Brooklands Park, along with non-profit Creative Waves and community organisation Food Pioneers are working together with Worthing Borough Council to create a section of the park dedicated to encouraging pollinators using donated and locally sourced materials.
The area will feature the creation of green roofs on top of newly donated shipping containers. The containers will also be used as classrooms and workshop spaces, surrounded by a pollinator lawn, with trees donated from local orchards, water harvesting, a herb garden, beehives, wildlife habitat, bug hotels, flowering climbers, artwork and edible plants. The first stage will take place in the next few weeks when the existing containers are removed from the site.
The announcements of new activity come during Adur & Worthing Councils' SpringForward week which focuses on the future, while highlighting help and advice on a range of health and wellbeing issues.
Work to further develop the Brooklands Park Masterplan will commence in the autumn including the construction of the new visitor hub, cafe, and adventure play area once tenders are released to the market for contractors.
The plan for the redevelopment is to create a science nature park with the emphasis on fun learning, supporting the STEM school curriculum, while also encouraging wellbeing through outdoor activity. People with all needs should be catered for with new gateways, paths and seating areas suitable for those with disability.
Included in the plans are:
A new visitor hub including cafe with internal and external seating powered from sustainable resources
An adventure play area to house 30 pieces of equipment, two of which are climbing frames more than 4 metres high
An outdoor space for multi use events such as frisbee, football or other activities surrounded by seating
A contemplative garden bordering the Teville Stream with new sensory planting
A new accessible pathway circumnavigating the lake with seating areas and shelters
A 2.5k fitness trail around the park
A number of glades on the old golf course, including Community Garden, Play and Build, Nature, Wind and Winter, discrete areas sheltered by planting allowing for different community activities including food growing, seed sowing, play dens, bug hotels and bird boxes
Windmill oxygenators for the lake as well as windmills and chimes in the Wind Glade
A mount celebrating the highest point in the park, from which views of the sea gives a strong sense of place
Executive Member for Digital and Environmental Services, Cllr Edward Crouch, said:
"While the pandemic has knocked many of our plans back a little we remain commitment to the Brooklands Park Master Plan which will return this open space to our jewel in the crown. We will be making further significant progress by the end of the year and in the meantime this tree planting and the great activities that are going to be established to the north of the park prove our determination to bring new life back to Brooklands."
See also: Brooklands Park Masterplan
Details of the government's current Covid restrictions can be found on the GOV.UK website.
Photos: Wildflowers and the lake at Brooklands Park
Back to Stories from Adur & Worthing or Back to top
Friday: Councils step up efforts to encourage wildflowers
Adur and Worthing will once again this year be 'Where the Wild Flowers Grow' as officers prepare to encourage natural growth and biodiversity in our communities.
Two years ago the Councils launched a campaign to sow wild flowers and let other open spaces grow naturally, called rewilding, to help support ecological systems.
Now this year officers from the Councils' parks department will be drawing up a list of areas they would like to see flourish this way and will begin talking with local communities to explain the move and help them become involved.
Two years ago hundreds of people joined wildflower sowing days but while current pandemic restrictions might curtail that this year the programme will continue with parks, green spaces, churchyards and even roadside verges which burst into fragrant explosions of colour in the summer.
The news comes in the week Adur & Worthing Councils have launched SpringForward week which aims to help us focus on the many good things in life upcoming while offering help and advice on a range of health and wellbeing issues they may have arisen around lockdown.
Gardeners and park rangers will be checking the health of previous sowing which should regrow each year. The seed mixes provide rich nectar sources for our pollinating bees and other insects whilst producing vibrant colour displays. Seeds include borage,cosmos, cornflower, flax, marigold, and many others. Top up seeding might be needed.
A list of suitable areas are currently being identified with many recreation areas and parks suggested candidates to have some areas left wild.
Adur District Council's Executive Member for the Environment, Cllr Emma Evans said:
"As Councils we have taken many measures to help tackle climate change and encourage biodiversity. These are two sides of the same coin.

"Allowing some green spaces to grow naturally has been proven to encourage this and also bring back wild species that we have almost lost. I hope residents will support this programme as they did before and put us in the forefront of efforts to build a sustainable future."
Wildflower meadows and rewilded areas offer a diverse, and typically exceptionally attractive, habitat for the pleasure of young and old alike. The twentieth century saw a sharp decrease in the variety of wildflowers in the UK countryside, due to changes in agricultural policy and practice, particularly increased field drainage and herbicide use.
But over the past two decades, renewed interest in rewilding has grown with concerns for biodiversity protection and concern for the stability of our fragile bee population. Councils are aiming to raise awareness of the importance of wildflowers, pollinating insects, and provide space for wildlife within our urban green spaces.
Some of the benefits of this are:
Plant diversity attracts insects and other invertebrates (including butterflies, bees birds and mammals
Flowering species add a changing palate of colour to the urban environment throughout the seasons
Active involvement of the community in managing the site encourages ownership values to be fostered
Even small plots of wildflower planting can change the feel of a setting, so that the creation of a wildflower meadow as part of an urban greenspace can bring a little piece of countryside into the town
SpringForward Snaps - send us your photos
Since the arrival of the pandemic, we think it's fair to say that we've all begun to fully appreciate our surroundings more - whether it be our stretch of coastline or the plethora of parks and open spaces across Adur and Worthing.
As part of SpringFoward, we would love to see some of your favourite snaps from over the last year or so and share them with your fellow residents over on our Instagram account.
Whether they be taken on your phone or through a professional camera, tag us in your pictures, use the hashtag #SpringForwardSnaps and we'll share some of our favourites on our grid and stories.
Situated between The Downs and the sea, we're fortunate to live in such a beautiful and picturesque part of the world. If the lockdowns have taught us one thing, it's to appreciate the time we have outside more and utilise our open spaces to their full potential.
Stay active
There are plenty of ways to stay fit and active. Here are some tips from the NHS:
Below are a number of ideas for things you can do in Adur and Worthing to keep active:
Visit parks and open spaces
Did you know there's a total of 56 parks, playgrounds and open spaces in Worthing? There's a further 15 in Lancing, 12 in Shoreham and another eight in Southwick and Fishersgate. That's almost 100 local spaces to choose from! Find out more about the open spaces you can find locally:
Take a walk
Walking is a great way to stay fit and healthy as it:
Improves fitness and health
Reduces stress
Burns same amount of calories as jogging
Can reduce risk of diabetes
Can improve blood pressure
Can halve the risk of a heart or stroke
Is a great way to meet new friends
There's no shortage of walks to choose from locally, from seaside strolls to rural rambles. Read more about:
Hire a bike!
Do you enjoy cycling but don't have a bike? The Donkey Bikes on Worthing seafront are available to hire. All you need is a smartphone to download the Donkey Republic app, hire your bike and then away you go.
Staying active at home
If you prefer to exercise at home or need to exercise at home because you are self isolating, here's a series of instructor-led online exercise tutorials for you to follow in your own home. The videos, which have been developed by Adur & Worthing Wellbeing consist of a mix of aerobic and core strength exercises to help you stay active. There are exercises to tone your abs, raise your heart rate, and much more.
South Downs Leisure are running daily live streamed classes - from Body Attack to Yoga. Find out more on the:
Get more ideas about how to keep active at home:
Get involved
Join a 'Friends of ... Group'
If you enjoy spending time outdoors, meeting other people and would like to help care for the environment, joining one of the many 'Friends of ... Groups' could be just the thing for you, once the COVID restrictions have been eased.
There are several 'Friends of ... Groups' in Adur and Worthing, including:
Friends of Shoreham Beach
Friends of Marine Gardens
and the Goring & Ilex Conservation Group
Become a tree warden
Would you like to be one of our volunteer tree wardens and be part of something that will benefit generations to come? We've recently planted over 200 trees in Adur and Worthing - see this recent blog by Craig Ifield, our Park Ranger:
Tree-rrific Tree Planting
We are now looking for community volunteers to water them. Please get in touch with our Park Rangers to find out how you can help:
Allotments and community green spaces
If you enjoy gardening but don't have a garden at home, have you thought about getting an allotment? There's a long waiting list for allotments in Worthing, but plenty of availability in Adur - you must be an Adur resident to apply for an allotment. See:
An alternative is to join a community gardening project once lockdown ends, it is also a great way to meet other people! Read this blog written by our Sustainability Officer, Chloe Clarke, about:
If you need to stay at home and don't have a garden, here are some tips from Gardeners' World about how to grow your own veg and salad on your windowsill:
Volunteer
There are many different ways you can volunteer in Adur and Worthing:
Donate to the food banks
The food banks always need donations of food or money so that they can make sure every local family is fed. To find your nearest food bank or find out how to make a donation, please see:
Get support with your wellbeing
If you would like help to lead a healthier lifestyle, one of the Adur & Worthing Wellbeing Advisors may be able to help. They provide support to people wanting to manage their weight, stop smoking, drink less and be more active. Find out more on the:
Helpful organisations
We know that things are difficult for many people right now. If you need help, here's a list of local and national organisations that can support you:
Eat well - recipes
Need ideas and inspiration for meal times? Here are five great recipes supplied by some of our local restaurants and cafes:
---
Butternut Squash Soup with Sweet Potato and Sweetcorn
By the Ropetackle Cafe in Shoreham
This recipe for butternut squash soup is perfect for a cold day to warm up the whole family and give you a boost:
Preparation time: 15 mins
Cooking Time 20 mins
Difficulty: Easy
Vegan
Ingredients:
2 tablespoons of soya spread
2 white onions - chopped
2 red onions - chopped
3 packs of peeled and chopped butternut squash
1 peeled and chopped sweet Potato
1 tin of sweetcorn in natural juice
2 stock cubes (Low salt: gluten free: dairy free: V) dissolved in 2 litres of boiling water
Method:
Fry the onions in the soya spread
Add the butternut squash and sweet potato and fry briefly
Add stock - bring to the boil and simmer for 20 minutes
Add drained sweetcorn - stir well - and cool
Liquidise and enjoy
Nutritional benefits:
Butternut squash: is a member of the 'squash family' which include pumpkins, marrow and courgettes. They store so well that they're available almost all year-round. Squashes are a good source of soluble fibre (needed for gut health), some vitamins and minerals such as selenium (a powerful antioxidant that supports the immune system).
Sweet potato: Its colour tells you how wonderful it is. It also contains B vitamins, vitamin C and soluble fibre. Best of all its very easy to cook and tastes amazing. Sprinkle with pumpkin seeds and the contrasting orange and green colours just scream "I'm so good for you, you have to eat me!" You can microwave sweet potatoes or chop into small chunks and roast them in a moderate oven with a small amount of coconut oil for about 30 to 40 minutes.
TOP TIP: Coconut oil can be cooked at a higher temperature than vegetable oil without breaking down the fatty acids.
This recipe was provided by Veronica Thomason and The Ropetackle Arts Centre and Cafe in Shoreham. Both are currently closed but you can keep up to date with what's coming up on the:
Back to more recipes or Back to top
Vegetable Rogan Josh recipe
By The Mahaan Restaurant in Worthing
Preparation time: 30 minutes
Difficulty: Easy
Vegan friendly
Ingredients:
1 Tsp Garlic Paste
1 Tsp Ginger Paste
¼ Tsp Salt
1 Chopped Onion
250g Mixed Vegetables (including cauliflower)
½ Chopped Green Pepper
½ Chopped Red Pepper
2 Chopped Tomatoes
1 Tsp Chopped Coriander
2 Tsp Butter Ghee
¼ Tsp Haldi Powder (turmeric)
¼ Tsp Dhania Powder (coriander)
¼ Tsp Curry Powder
¼ Tsp Zeera Powder (cumin)
1 Tsp Tomato Paste
¼ Pt Water
½ Pt Water
Note: Vegetable ghee can be used instead of butter ghee if you are vegan or are trying to reduce your intake of saturated fats
Method:
First heat a cooking pan then proceed by adding the specified quantities of ghee, garlic paste and ginger paste
When the base has started to turn slightly red, add the onions and peppers
Follow up by adding salt and stir until it has caramelized
Put the ¼ pint of water, spices (Haldi, Dhania, Curry Powder) and tomato paste into the cooking pan and leave the base to cook on low heat for 2 minutes
Proceed by adding vegetables, tomatoes and ½ pint of water into the cooking pan. Leave on medium heat until the sauce becomes slightly thick
Finish by adding coriander and prepare to serve
Serving suggestions:
Best served in a medium sized bowl
Try to keep the tomatoes on the surface of the curry
This curry complements well with a white basmati rice (or you could try wild rice or brown basmati rice)
Ayurvedic health benefits:
Coriander: the vivid green leaves help reduce allergies and clear toxins and the seeds are used to make tea to help alleviate urinary irritation and cystitis. The leaves are also a good source of vitamin K, which is needed for gut and bone health.
Turmeric: turmeric root is highly thought of and contains a potent flavonoid called curcumin which helps to protect cells from damage and reduce inflammation. The beneficial compounds are fat soluble so eat some fat with dishes containing turmeric.
Garlic: garlic is used to help improve gut health. It's best to use garlic paste from fresh garlic. Crushed or mash in a pestle and mortar, to keep all the nutrients intact. Garlic contains sulphur and also inulin which encourages the growth of 'good' bacteria in the gut. Garlic also contains the mineral chromium which helps to keep blood sugar levels stable.
Ginger: which should be finely chopped and mashed in a pestle/mortar for paste. Fresh ginger contains gingerol which is a powerful anti-inflammatory and antioxidant. So it can help alleviate symptoms from arthritis, diabetes, viruses and many other inflammatory conditions. It is also helpful to stabilise nausea and sickness.
All of these ingredients have anti-inflammatory benefits like many herbs and spices, especially when combined, as in many traditional Indian recipes. Using these spices regularly is a great way to add to your culinary medicinal toolbox!
The Mahaan Restaurant is currently open for take-aways only, for delivery or collection. Order online on the:
Back to more recipes or Back to top
Lentil & Sweet Potato Pie
By Hector's Shed in Shoreham
This veggie shepherd's pie features nutty lentils, the base is cooked with a simple mixture of vegetables and sliced carrots then mashed sweet potato which add another layer of hearty goodness to this pie.
Ingredients:
3 x 1 tbsp olive oil
1 large onion, cut into small pieces
2 large carrots, cut into small pieces
2 tbsp fresh thyme chopped
400g can of chopped tomatoes
400g green lentils (dried)
2 vegetable stock cubes
900g sweet potatoes peeled and cut into chunks
85g vegetarian mature cheddar, grated
Method:
Heat 1 tbsp olive oil in a frying pan, then fry 1 large chopped onion until golden
Add 2 large carrots, cut into sugar-cube size pieces and most of the 2 tbsp chopped thyme
Pour in 200ml water and a 400g chopped tomatoes, then crumble in 2 vegetable stock cubes and simmer for 10 mins
Add 400g of dried green lentils, then cover and simmer for another 30 mins until the carrots still have a bit of bite and the lentils are pulpy
Meanwhile, boil 900g sweet potatoes, cut into chunks, for 15 mins until tender, drain well, then mash with 2 tbsp of olive oil and season to taste
Then boil 1 large carrot for 15 mins in a sauce pan until tender, drain well
Pour the lentil mixture into a pie dish, add the slices of cooked carrots over the mixture
Then spoon the mash on top, then sprinkle over 85g grated vegetarian mature cheddar and the remaining thyme
Heat oven to 190C / 170C fan / gas 5
Cook for 20 mins if cooking straightaway, or for 40 mins from chilled, until golden and hot all the way through
Can be served with mixed vegetables
Nutritional info:
Lentils: this pulse contains B vitamins, protein and a substance called inulin. Inulin helps the good bacteria in our guts to thrive and also helps to prevent 'bad' fat from accumulating around our organs. When using a pulse for protein, always eat it with a grain so that the full complement of essential amino acids is present. For example lentil curry with rice.
Carrots: Carrots contain stacks of beta carotenes which is converted to vitamin A (this is why as kids we were told that they help us to see in the dark). Carotenes are very important for eye health and comfort. Carrots also contain vitamin B6, which helps with hormone and neurotransmitter balance. Carotenes are fat soluble so don't be tempted to skimp on the olive oil in this recipe.
Sweet potatoes: again, these also contain carotenes, but are also a great source of soluble fibre, vitamin C, vitamin E and vitamin B5 which helps with mood, energy levels and resistance to stress. It is also essential for healthy hair.
Tomatoes: are rich in the antioxidant lycopene which is also a carotene and has many health benefits, particularly associated with cardiovascular health and could have cancer protective qualities. The good thing about this nutrient is that it is more available for absorption once it is heated and also when consumed with fat because it's also a fat soluble nutrient.
Hector's Shed is currently closed due to the COVID pandemic, but hoping to be open for the February half term for takeaways. Find out more on the:
Back to more recipes or Back to top
Keftedes
By The Fat Greek Taverna in Worthing
Keftedes means 'small balls'.
Ingredients:
500 grams turkey mince
2 onions, peeled and grated
2 potatoes, peeled and grated (remove most of the water though before adding to the mixture)
1 tablespoon of ground coriander
1 tablespoons of dried mint
½ teaspoon of salt
1 fresh chilli chopped (optional, keep the seeds in for extra zing!)
Groundnut oil to cook with
Method:
Grate the onions and the potatoes and squeeze out most of the juice
Place the remaining ingredients in a large bowl and then add the grated onions and potatoes
Mix well but gently, and roll into 8oz meatballs
Shallow fry in the groundnut oil until thoroughly cooked and browned
Nutritional information:
Turkey: Turkey is a fabulous source of low fat animal protein, and is rich in the amino acid tryptophan. Tryptophan is needed to make the neurotransmitter serotonin which helps with mood and healthy sleep patterns. Turkey also contains vitamins B5 and B6. These vitamins help with releasing energy from food and also support neurotransmitter production. Vitamin B5, also known as pantothenic acid is great for helping to keep hair in good condition (often added to hair care products).
Potatoes: The humble potato is a source of potassium which is needed for heart health and fluid balance. They also contain vitamin B1 (thiamin) which the body uses to help release energy from food, and thiamine also helps to produce enzymes that the body needs for numerous functions. To enjoy these benefits eat unprocessed potatoes and eat the skin, as it's a good source of fibre and also chromium, which is needed for blood sugar control. Eating potato cooked with warming spices helps the body to absorb the goodies that they contain. Do keep a check on portion size though as it is very easy to over do this source of carbohydrate which then has a negative effect on blood sugar - a cupped handful is a good measure.
Chilli: these bright coloured members of the pepper family have a host of health benefits. They warm up the body, increase metabolism and are very high in certain antioxidants, including vitamin C and beta carotene (the precursor to vitamin A). Chillis rev up the circulation, help to release trapped fluids from the respiratory system and aid the absorption of nutrients from food, so make a perfect addition to meals during the winter months.
See: The Fat Greek Taverna website
Back to more recipes or Back to top
Banana Loaf
By the Ropetackle Cafe in Shoreham
Gluten free and also vegan
Difficulty - easy peasy
Ingredients:
150 g self raising gluten free flour
125 g golden caster sugar
1 ripe banana (mashed)
6 tablespoons of sunflower oil
4 tablespoons of water

To decorate: half a banana sliced and a little lemon juice
Method:
Mix all of the ingredients together in a bowl and beat well or put into a food processor and whizz until smooth
Pour the cake batter into a small loaf tin lined with baking paper
Bake in the oven at 175 degrees centigrade for 30 to 40 minutes
While its baking, slice half a banana and soak briefly in lemon juice (this stops them from oxidising/going brown)
Decorate the cooked loaf with the sliced banana
Nutritional benefits:
Bananas: nutritionists often refer to these funny shaped fruits as 'nature's original fast food'. This is because they are packed with good for you nutrients, fibre, a little protein and carbohydrates and so easy to carry around and eat on the go. They contain Vitamin B6, Vitamin C and the minerals magnesium and potassium.
Vitamin B6: helps to keep our hormones in check and helps to convert the amino acid tryptophan into serotonin. Interestingly, bananas are a great source of this amino acid.
Magnesium: helps to keep our muscles and bones healthy and promotes relaxation.
Potassium: is very good for heart health and also helps to keep our body fluids and hydration levels balanced.
Lemons: lemons are a wonderful fruit in terms of nutrition. Packed with beta carotene, Vitamin C, folate (folic acid) and potassium. They are a good detoxifier and help to cleanse the liver and the digestive tract.
Beta carotene: is converted by the body into Vitamin A (which works together with Vitamin D as described earlier).
Folate: is essential for mental wellbeing, for our red blood cell health and to help our bodies convert protein into building blocks for cell growth and development.
This recipe was provided by Veronica Thomason and The Ropetackle Arts Centre and Cafe in Shoreham. Both are currently closed but you can keep up to date with what's coming up on the:
Page last updated: 18 May 2023
Back to top