About the Sustainability Team:
Our Sustainability Team at Adur & Worthing Councils focus on reducing carbon emissions and waste, protecting and enhancing nature and adapting to climate change. The small team works across the councils, with national government departments and bodies, and with neighbouring local authorities, businesses, public sector organisations and community groups to ensure a sustainable future for our area.
You can read the Sustainability Team's blogs on the page below:
See also: Sustainability
---
16th October 2023: What is the circular economy?
Hi - my name's Jess and I am your blogger this week from the Sustainability Team.
In Our Plan, a framework document for Adur & Worthing Councils, we outlined a vision for a circular economy - one which is created to minimise waste and keep materials in use.
As this week is Circular Economy Week in London, I thought it would be a good time to write about what the circular economy is and why it can make such a difference to the way we live.
Our current habits are based on a linear economy where things are created, bought, used and thrown away. However, the product doesn't disappear when it is collected from the roadside by our waste teams. Although we try to recycle as much as we can, some items will inevitably end up in landfill, where it sits emitting harmful gases as the century-long process of breaking down begins (if at all).
In a circular economy, items and materials are kept for longer by reusing, repurposing, repairing, recycling or composting. This can be cost-effective, supports the community and uses the full value of our possessions.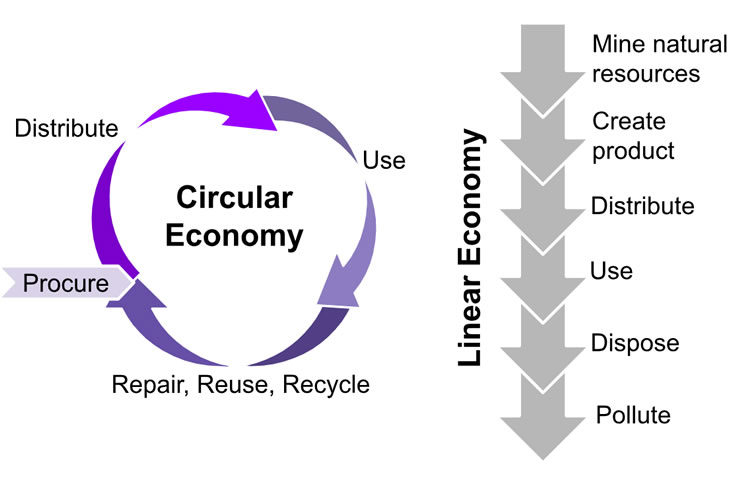 For instance, picking up a plastic fork with your lunch each day may seem like a small deal, but over one year this could result in a considerable amount of single-use cutlery going straight in the bin when, in reality, we could use one metal fork instead. Likewise, buying a £5 part for your toaster is cheaper and less wasteful than buying a new £50 toaster when it breaks.
Circular economies are focused on the construction, procurement, food and fashion industries because these create high amounts of waste, but we can all make changes which will help create a circular community.
Whenever we purchase a new product, we can ask "what will happen to it after we use it?" Can it be reused, repurposed, repaired, composted or recycled - or will it ultimately end up in the general waste bin? It's best to think of recycling as the last option, as there is always another use to be found in everything we buy.
You could donate your clothes, furniture, bedding, tech or bikes to your local charity shop, homeless charity, community project, Worthing Community Chest or our local food banks and foundations.
In Adur and Worthing, we're lucky enough to have some fantastic repair cades run by community groups. Please look up these two services to find out more and book an appointment:
In Adur, locals can visit The Circular Space, which runs on the first Saturday of every month between 10am and 2pm in Shoreham town centre, see:
The Circular Space website
While in Worthing, locals can visit the Transition Town Worthing Repair Café which usually runs on the last Saturday of the month between 10am and 4pm, see:
Transition Town Worthing Repair Café website
Giving our stuff a second chance also supports our local communities. Take food for example... FareShare, the UK's longest running food redistribution charity, found that 6.2 million tonnes of food is wasted each year in the UK - three million tonnes of which is thought to still be edible (the equivalent of seven billion meals). This is especially sad when it's reported that 13 million people in the UK can't get enough to eat. A circular community can link those with excess food, such as supermarkets and restaurants, with those who need it most. See:
The change to a circular economy is simple to make. It's a choice between a single-use product or a long-lasting one. It's a choice to not throw away that pair of jeans at the back of your wardrobe (which can take up to 200 years to disappear on landfill) but repair or donate them.
Next time you're in a supermarket, check the packaging - does it say 'do not recycle' or 'not yet recycled'? If so, that item will end up in landfill, so why not look for an alternative product which is recyclable or take your own jars, bags and containers! Check out online marketplaces for your furniture, clothes, tech or tools, buying refurbished or upcycled for a lower cost and assured quality.
The circular economy can be as small and impactful as remembering your reusable bag each time you go shopping, but with every change you make, you're making a huge difference to the world around you, and hopefully you'll save some money too.
See also:
4th September 2023: School Streets comes to Adur and Worthing
Hi - my name's Jess and I am your blogger this week from the Sustainability Team.
The new school term is starting after a nice (if initially rainy) summer holiday. This signals a return to the buzz of activity between 8am to 9am and 3pm to 4pm with walking, cycling, scootering, skateboarding and cars around the schools in our area.
My school was only 15 minutes away from my house, and I loved being able to walk or cycle every day. However, there was always a queue of traffic, sitting idle and billowing out fumes. Now, I walk to work but take routes to avoid the busiest roads. This isn't always an option for school children.
This September, West Sussex County Council is piloting a School Streets initiative to cut back the emissions around schools at pick-up/drop-off times. There are five schools involved across West Sussex, including Thomas A Becket Junior School in Worthing and Swiss Gardens Primary School in Shoreham.
The School Streets project restricts motorised traffic during school drop-off and pick-up times. A school street refers to the road outside a school and applies to traffic going to/from the school and through traffic. The trial is investigating whether lower congestion and traffic pollution will have a positive impact on schools, residents, businesses and the wider community. It will run from September 2023 to April 2024 and I look forward to hearing about the impact it has made on the schools and residents around the area.
A nicer experience for children, families and residents to travel to and from school would be a great, potential benefit and it will surely encourage healthier, active travel. Getting to and from school in an active way can benefit mental and physical health and it offers a chance to spend time with friends, get active and enjoy the fresh air. It might also serve as a much-needed bit of decompression time for children feeling under pressure, overwhelmed or nervous about school.
The most important thing for all school children going into the new academic year is that they are safe, content and free to learn without worry. School Streets intends to lower congestion and pollution whilst improving safety and activity.
School Streets is a great opportunity to encourage more active travel amongst kids and their families, whilst also providing a safer school environment. All children should be able to enjoy travelling to school (even on rainy days) and hopefully the School Streets will make a positive difference.
For more information on the initiative see:
21st April 2023: A new CREW in town
Have you discovered the new Climate Resilience Centre in Worthing - or CREW for short? Co-founded by local residents Amberlouise Everitt and Sean Hellett, the centre officially opened to the public in February 2023 as a community hub providing information, support and solutions to ensure local people can build resilience and adapt to our changing climate.
They had quite a journey to find suitable vacant premises but their sheer determination and passion to open the centre has clearly paid off with a great venue in a central location in South Street, Worthing - well done to all involved in making this happen!
They have a growing list of volunteers wanting to get involved and when I dropped in recently they had a regular flow of curious people peeking through the window and popping in to take a look and find out what happens at CREW.
What's going on at CREW?
Connecting with a range of committed and long-standing local environmental groups, they've pulled together an impressive line-up of workshops and talks coming up over the next few months covering topics from air pollution to fast fashion. Take a look at the programme of events and get booking!
Who are CREW?
The Climate Resilience Centre Worthing (CREW) is a new registered charity inspired by the Climate Emergency Centre network which encourages the setup of more such centres around the country.
CREW is run by the trustees and is an alliance of many local groups including:
As a new charity they are reliant on donations, so please give what you can through their crowdfunding page.
Follow, visit, volunteer, connect and chat with others at CREW. Find them at:
28th October 2022: Kingfisher's 'holiday' in urban Shoreham
"In the autumn, some adult birds look really scruffy because their feathers have become worn by constantly entering and exiting the nest chamber."
Hi, I'm Chloe, a Sustainability Officer for Adur & Worthing Councils. This week my blog looks at the wonderful Kingfishers that can be found 'holidaying' down by the River Adur.
At this time of year, Kingfishers are back in Shoreham, taking advantage of the River Adur Estuary. The estuary never freezes in winter and seems to contain plenty of fish for the birds to feed on. For such a spectacular looking bird, with its turquoise and blue cloak and orange-red underparts, they can be surprisingly hard to spot.
The best place to look for a Kingfisher is from the footpath in front of the Ropetackle development. At low tide, the birds are on the lookout for fish trapped in the shallow pools of water around the moored boats. The trick is to look for a bird perched on a boat or anchor rope, from where they will plunge dive for tiny fish. Occasionally a bird will hover before completing its dive. When a Kingfisher is flying between the boats, it does so fast and low over the water - with an electric blue flash and high pitched call.
There are about 4,000 to 6,000 pairs in the UK and they nest in the steep banks of rivers and gravel pits, away from predators. The nest is at the end of a burrow, excavated by the birds and might be as much as a metre in length.
In the autumn, some adult birds look really scruffy because their feathers have become worn by constantly entering and exiting the nest chamber. But come spring, the birds will be looking their pristine best again, having moulted into a new set of feathers.
As I write this, there are at least two birds and possibly three using the estuary for their winter holidays. They will stay until about the end of March, before departing in search of somewhere to breed. So there's plenty of time to enjoy these fabulous birds in urban Shoreham, as well as a host of other species such as Oystercatchers, Redshanks and Little Egrets, all easily seen on the estuary at low tide.
If you're interested in learning more about the birds of Shoreham, Worthing, and east to Brighton, then Shoreham District Ornithological Society (SDOS) offer members' guided walks, talks and a host of other benefits. Tony Benton writes on behalf of SDOS and leads a couple of walks a year along the Estuary. For more information, including how to join, see:
22nd October 2022: Finding positivity, beauty and poetry in nature
Last weekend, I was lucky enough to be part of the Shoreham Wordfest Festival! Myself and Alistair from the Ouse & Adur Rivers Trust were the hosts for two walking tours around New Salts Farm on the borders of Shoreham and Lancing.
We shared our ideas and plans for a proposal which, funding allowing, will see habitat restored, nature revived and communities brought together. We'll have a decision on funding towards the end of the year, so we're crossing everything that the bid is successful.
Photo: Chloe talking at Shoreham Wordfest walk
It was such a joy to see swallows, red kite, buzzard, sparrow hawk, kestrel and herons overhead, and hear cetti's warbler and stonechat too. A slow worm also stopped us all in our tracks! We also had bonus input from the always-inspiring Tony Whitbread - President of the Sussex Wildlife Trust, amongst other things.
Photo: Tony Whitbread talking at Shoreham Wordfest walk
Whilst walking around the 70 acre site, we were joined by Pauline Rutter, a local Historian Poet. I was completely bowled over by what the addition of poetry brought into the walking tour.
Pauline gave everyone a pen and post-it notes and asked them to write down any words, thoughts, feelings or sounds that they could think of as they listened to our words and the surrounding wildlife as we walked across the site.
Towards the end of the session, Pauline gathered the words and minutes later stood and recited the collaborative poem. I'm gutted I didn't video this, but I was too caught up in the moment to think 'phone'. There were two walking tours, with two different sets of people, so there are two completely unique poems. I'm sharing them here with full credit and huge thanks to Pauline.
Photo: New Salts Farm in Shoreham
Good news for nature
There's been some bleak news about nature recently:
Proposals to scrap laws that protect nature have been widely criticised by organisations including the RSPB, National Trust and Wildlife Trusts (follow them for further info and updates);
Wildlife & Countryside LINK launched a report on (lack of) progress towards the target to protect 30% of land & sea for nature by 2030;
Another new report from WWF-UK shows that global wildlife populations have fallen by 70% in 50 years;
And the BBC's Frozen Planet 2 series came to a close with a final sobering episode that moved many to tears.
But amongst the rollercoaster few weeks of unsettling news, I've been spotting quite a few positives.
Locally, did you hear that the Adur River Restoration Project was one of 22 projects across the country selected under the Landscape Recovery programme?
And there's been more successful funding bids just further westwards in Sussex too, with a project that will help restore priority habitats in the South Downs National Park and beyond being successful. Find out more on the South Downs National Park website.
All the major nature organisations have come together to strongly #DefendNature. I'm particularly excited about the new #PeoplesPlanForNature. What do you love about nature? The colours of autumn, the calmness of being next to water, finding a shiny new conker, the sound of a blackbird singing at the end of the day? Have your say on the People's Plan For Nature conservation and help shape the future of nature in the UK.
The All-Party Parliamentary Group has just launched a robust Ten Point Plan for Climate & Nature which is supported by politicians from all parties, as well as environmental leaders, businesses and academics. You can see the Ten Point Plan on the All Party Parliamentary Environment Group website.
Tony Juniper, Chair of Natural England, gave a powerful speech this week about why a strong natural environment is essential for the economy. It's worth a read - see the GOV.UK website.
Chris Packham is planning another Walk for Wildlife on Saturday 26th November.
I came across these lovely, informative, Slow the Flow films from the Environment Agency about natural solutions to climate change. Enjoy!
And finally… introducing Kent's newest 'ecosystem engineer' - a bison calf! Find out more on the Kent Wildlife Trust website.
As always, thanks for reading. See you next time
30th September 2022: Confusion over energy price cap
Last week I finally got the bill I had been dreading. Our household energy bill was eye-wateringly huge! Although I knew the average bill could be around £3,500, I'd seen the figure of £2,500 mentioned a lot as the cap, so somehow just assumed this might be the limit I would pay.
But £2,500 is not the maximum any household will pay on their energy bills this year. I caught up with Dan, our Carbon Reduction Manager, to ask for his help. He said:
"Unfortunately, £2,500 is just the figure the government is using for the typical amount someone on the price cap will pay.

"It's a very unhelpful way of framing it because, as you have discovered Chloe, it isn't a cap at all.

"What is capped is the unit cost of energy - ie each unit of electricity and gas you use has a maximum cost that is the same for everyone.

"But if you use more, it costs you more!"
As well as our in-house energy expert, Dan, I also think Martin Lewis has some great tips and info on all things energy/money-related. To find out more see:
Dan gave me a quick lesson in using my smart meter display and since then I've been glued to it! Noticing every time the light jumps from green to orange, I track down the culprit appliance that's eating up our money!
He also suggested switching absolutely everything off (except the fridge/freezer) at the wall every night as the energy used from having appliances on standby, soon tots up across the year. Dan worked out his microwave was costing him £50 a year just to leave on!
For more info on smart meters, visit these websites:
Save gas, cash and carbon:
Adjusting the hot water temperature on your boiler is easy. If you run a bath/sink of hot water and have to add cold, chances are your hot water temperature is too high. I found this video helpful for tips in saving money by setting your hot water temperature:
I've already told my family that the heating is not going on until at least November. It's already starting to feel cold, so today I got the jumpers out. Following Dan's advice, I am going to turn down the temperature on my condensing boiler - this will make it work more efficiently without making my house any colder. This website has some useful information on how best to do that:
Dan's other top tip is curtains - big thick ones over any glass and close them as soon as it's cold. Bonus points if they're tucked into radiators.
Cost of living support:
It certainly is a daunting time for many right now, financially there seems to be one thing after another - I can't even begin to think about the interest rate rise and the impact on mortgages. If you're concerned about your finances, please take a look at the information on this page:
26th September 2022: Back on my bike
Our family was away for a few days over the summer and the best bit about the holiday park that we stayed in was that it was car free. We cycled everywhere, and the kids went off cycling on their own. It felt safe and fun and carefree. Back to reality now though - with congested roads and air pollution.
Yes I drive a car so I'm adding to the problem, but feeling that freedom on holiday really made me want to keep the cycling going. Plus, a few extra fish and chip dinners on the beach over the summer has meant I also need to up my exercise too. Time to get back on my bike! I'll continue to only walk or bike in and around the town and aim to swap at least one longer journey that I'd typically do by car, and go by bike instead.
I made a list of all the blockers stopping me from riding my bike more often:
The bike is in the shed, along with three other bikes and a lot of other stuff! Sometimes getting to it is a feat in itself.
I don't always know where I'll be able to park my bike - if I cycle to the shops at Holmbush Centre, will I be able to secure my bike there?
I don't feel safe on the roads.
To solve issue number one, I'm looking into how else I could store my bike and have found a bike storage rack that might be more accessible than tackling the shed tsunami of stuff! So I'm looking into whether I can pick up a second hand one locally.
For issue number two, according to my cycling colleagues, once you get into cycling more, you get to know the parking spots. When I'm used to driving somewhere or going by public transport, I'm not aware of where I might be able to park my bike, which I'd rather know before setting off. I like the Brighton & Hove map of cycle parking on their website - useful!
Issue number three is definitely more tricky! Locally we do have a Local Cycling & Walking Infrastructure Plan with a vision to create a place where walking and cycling becomes the preferred way of moving around Adur and Worthing. This is supported by all political parties within Adur District and Worthing Borough Councils (AWC). However, it is West Sussex County Council (WSCC) that is responsible for maintaining the roads and installing new infrastructure, including cycle lanes. Local Councillors and Officers from AWC connect up with WSCC and also local cycling action groups do too.
For further info and advice on all things cycling from one of the local cycling groups, follow:
Photo: Cyclists on Marine Parade, Worthing
Cycling to work
I've been working from home mainly, but as we move back into the office one of my goals is to cycle into the office in Worthing. I get to cycle right next to the beach - not bad to have a commute with a great view! Plus, it's going to help me save some money too, which is absolutely essential right now.
Cycling to and from work is a great way of fitting exercise into your daily routine. The Government has introduced a range of cycle-friendly tax incentives for employers and employees. Did you know that employees who use their own cycle for work (ie for cycling on business, not to and from work) are entitled to 20p per mile, tax-free? For further info visit
Our very own Facilities Officer, Ray, has shared his story about returning to cycling:
"I took up cycling really due to the closure of the Civic Car park. I used to cycle a lot in my younger days, and have wanted to take cycling back up again, but with work and a young family, this never really happened.

"So when I heard about the closure of the Civic Car park, I went out and bought a second hand bike, not knowing when this was needed for. I did try out the bike, but the saddle sore got the better of me.

"The day came and we closed the Civic Car park, that was it for me, on my bike on that Monday morning and cycled to work, luckily I do not live far away. Now I thought I was a fit guy, but that first day my legs were killing me! ... and the good old saddle sore returned. I have a motto of 'no pain, no gain', so I fought on.

"It took a good three to four weeks for my body to get used to my bike and my legs to get stronger, but now my wife calls me 'Superman'.

"My whole health has improved along with my mental wellbeing, I can just get lost in my thoughts cycling to work and home, I recommend it."
Photo: Superman Ray and his bike
Where to get hold of a bike?
There are lots of brilliant second hand bikes available - I always shop second hand for myself and the kids. Take a look at the range of bikes on offer or get help with repairing your old one at:
Hire a bike: Donkey Bikes are currently available to hire in Worthing:
Lock your bike
If you're worried about the safety of your bike, read this useful information on how best to secure your bike.
Page last updated: 07 November 2023
Back to top