Jennifer Ryan
Senior Planning Officer
About Jennifer:
Jennifer is a Senior Planning Officer at Adur & Worthing Councils. She's been with the Planning Policy team since 2017 and works on a range of projects including preparation of the Worthing Local Plan which, when adopted, will guide future development in the borough.
Jennifer is excited to be blogging about her work and is keen to talk about how it links up with wider projects taking place within the Councils.
Before she joined the Planning Policy team, Jennifer worked in Planning Policy at Test Valley Borough Council for six years. Prior to that, she was a Teacher Associate at Oxford Brookes University.
Outside of work, Jennifer enjoys travelling and has a passion for architecture and design - London and Liverpool are her favourite cities. She also loves seeking inspiration from Instagram for her travels, particularly keeping an eye out for trendy cafes and restaurants to visit.
You can read Jennifer's current blog posts on this page below:
See also: Planning Policy
---
19th July 2021: Keeping Cool
I hope you are all keeping cool in this scorching hot weather. Admittedly, I am struggling as I live in a first floor flat with my home-office space overlooking windows that are east-facing. At times, it feels like I am working in a greenhouse with just a fan (set to the maximum speed setting) at my disposal!
I write this blog thinking if I am struggling now, what will it be like to work and live in extreme and unbearable temperatures of 50 degrees as recently experienced in Canada?
We are living life on a hotter planet with heatwaves becoming a more prevalent event generating new temperature records each year. While hot weather does bring about some initial excitement such as splashing about in the sea and swimming pool, eating ice cream and having BBQs in the garden, it does not come without severe risks and warnings to public health.
Vulnerable groups such as the young and elderly are more susceptible to heat stress and subsequently heat exhaustion and heatstroke. High temperatures also raise the levels of ozone and other pollutants in the air that exacerbate cardiovascular and respiratory disease.
High density urban areas experience hotter temperatures compared to rural and coastal areas. In towns and cities, the everyday hustle and bustle activity produces thermal energy with dense concentrations of buildings and concrete surface areas absorbing and retaining heat. This phenomenon is known as the 'urban heat island effect'.
In many urban areas around the world there is now a growing movement to green up concrete with 'nature-based solutions' (see blog dated 10 May 2021) to provide essential shading to cool down urbanised areas.
With a changing climate in mind, we have included policies in the Submission Draft Worthing Local Plan designed to create new developments that are resilient to the effects of climate change.
For example, new buildings and infrastructure must be designed to adapt to a changing climate, reduce impacts from natural hazards like heatwaves while mitigating against and avoid contributing to the urban heat island effect. This should include maximising opportunities for both natural heating and ventilation. Multi-functional green infrastructure should be integrated into public spaces to provide urban cooling and access to shady outdoor space.
Keep safe and cool during the summer holiday season!
Photo: Beachgoers relaxing on Worthing seafront
5th July 2021: 20 Minutes Neighbourhood
The Covid-19 pandemic has heightened the importance of the liveability of local neighbourhoods with a renewed focus on spending more time locally, visiting green spaces, exploring recently discovered walking and cycling trails in the vicinity as well as supporting local retail businesses.
This has accelerated the planning concept of the '20 minute neighbourhood' (also known as '15 minute cities') - which promotes the creation of complete, compact and connected neighbourhoods, where people can meet their everyday needs within a short walk or cycle.
This approach generates multiple benefits socially, environmentally and economically as people become more physically active, traffic is reduced, air quality is improved, people participate in more local community events and shop locally such as visiting farmers markets which helps to foster thriving local economies. People also feel more connected with their neighbours thus strengthening social cohesion. Within the context of the climate emergency, this lifestyle helps to minimise carbon emissions.
The 20 minute neighbourhood has its origins in the 'Garden City' movement which I have previously blogged about. The principles underpinning this urban development model are now being given a modern renaissance as we drive towards building back better and decarbonising to net zero emissions by 2050.
The Town and Country Planning Association (a charity organisation that champions the Garden City principles) are shining a spotlight on the 20 minute neighbourhood and thus showcasing case-studies where this concept has been implemented in places such as Melbourne, Australia and Paris, France.
However, it is recognised that Planning can only go so far and that a successful 20 minute neighbourhood requires a multidisciplinary approach as well as empowering local residents to engage with their local neighbourhood for their everyday living.
For further information, the TCPA has produced a useful guide which outlines a set of principles for success based on best practice:
In addition, a series of TCPA webinars on the subject can be viewed online:
Photo: Lancing Market fruit and veg stall
Photo: Worthing allotment holder Tony Zasikowski
Photo: Cyclists on Worthing Promenade
14th June 2021: Biodiversity Net Gain - What's that all about?
A healthy and biodiverse world is essential for maintaining the Earth's life support systems (clean air, food, water, soil etc). Scientists are stating that we are living in a 6th Mass Extinction with studies showing that between 1970 and 2014, species populations have declined by 60%.
The UK Government is progressing an Environment Bill which is a piece of legislation required following Britain's transition from the European Union, placing specific environmental responsibilities on the Government which have previously been held by the EU. The Bill supports the delivery of the government's 25 Year Environment Plan.
It sets the framework for what the Government wants to deliver but doesn't contain a comprehensive policy framework as this will follow through subsequent work streams and secondary legislation. It is likely to become law in 2023.
One of the themes being pursued through the Bill is 'Nature and Biodiversity.' The Bill includes provisions to introduce mandatory requirements for Biodiversity Net Gain (BNG) in the planning system.
BNG is an approach to development that leaves biodiversity in a better state than before. Where a development has an impact on biodiversity it encourages developers to provide an increase in appropriate natural habitat and ecological features over and above that being affected in such a way it is hoped that the current loss of biodiversity through development will be halted and ecological networks can be restored.
Photo: Hand crafted bench in Boldings Brook, Horsham
The mandate for net gain in biodiversity through the planning system is a minimum 10% increase in biodiversity after development, compared to the level of biodiversity prior to the development taking place, as measured by a metric set out by the Department for Environment & Rural Affairs. However, Local Planning Authorities can set a higher percentage increase.
The Bill doesn't include provisions for BNG to apply to Nationally Significant Infrastructure Projects however some infrastructure operators have indicated that they will seek to deliver BNGs. Likewise the Bill doesn't cover marine development but work is being carried out separately to establish what a 'Marine Net Gain' may look like in practice.
So, what does this mean for Adur and Worthing? Well, Worthing Borough Council is progressing a new Local Plan which includes a policy on Biodiversity. In recognition of the emerging Bill, we have stipulated a requirement that new developments (excluding change of use and householder) should provide a minimum 10% net gain for biodiversity and where possible this should be onsite. Where it is achievable, a 20% onsite net gain is encouraged and is required for development on previously developed sites.
We will shortly begin reviewing the adopted Adur Local Plan and we will be looking to incorporate BNG in the next iteration of the Adur Local Plan.
Photo: Flowers in Horsham Park
7th June 2021: World Environment Day
It was the annual World Environment Day on Saturday 5th June 2021 which is the United Nations' principal vehicle for encouraging awareness and action for the protection of the environment.
The theme this year is 'Generation Restoration', the UN decade on ecosystem restoration. In the words of António Guterres, Secretary-General of the UN:
"the next ten years are our final chance to avert the climate catastrophe, turn back the deadly tide of plastic pollution and species loss."
It is a global call to action - this is our moment.
We cannot turn back time. But we can grow trees, green our cities, rewild our gardens, change our diets and clean up rivers and coasts. We are the generation that can make peace with nature.
Let's get active, not anxious. Let's be bold, not timid.
Here in Adur and Worthing, a number of restoration initiatives are underway.
You may have heard that Adur District Council have purchased New Salts Farm (70 acres) and Pad Farm (45 acres) with the intention to restore both sites back to its natural state to foster biodiversity.
Photo: Land at New Salts Farm
Photo: Land at Pad Farm on the western banks of the River Adur north of the A27
Also, Worthing Borough Council has taken back possession of Shepherds Mead, a 100 acre farmland at the foot of Cissbury Ring with plans to return back to its natural habitat in collaboration with local residents and wildlife groups.
Photo: View across the land at Shepherds Mead looking towards Cissbury Ring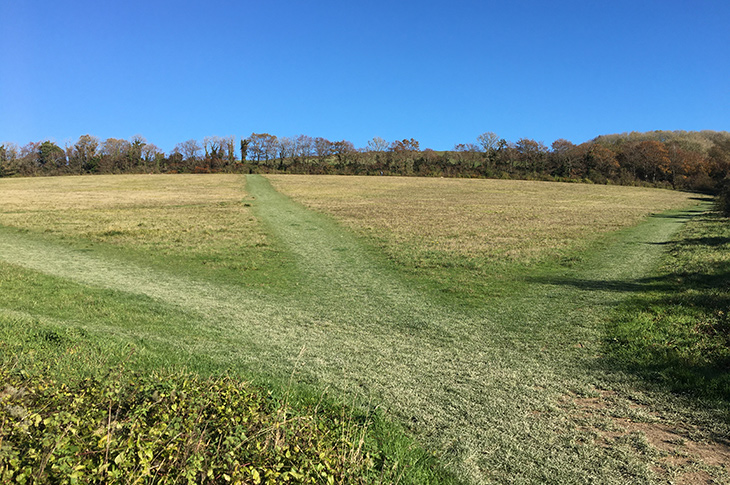 In addition, a new byelaw was introduced in March which covers a zone of 300 square kilometres of seabed off the Sussex coast. This area is now protected from trawling - a measure which should allow essential habitats, such as kelp forests, to regenerate.
The Council has teamed up with Sussex Wildlife Trust to offer residents tips on how to give wildlife a much needed hand. To find out more:
It is exciting to see a range of projects generating traction but it doesn't stop there.
The planning system is embedding 'Biodiversity Net Gain' (BNG) which refers to an intervention which results in the net improvement to biodiversity for a defined area of land. It results in biodiversity being in a better state than before. I shall explore in a future blog what BNG means for planning and what steps we are taking to mainstream BNG in certain types of new developments.
Photo: Wildflowers
17th May 2021: Multi-functional Design
If you recently watched the BBC documentary series - 'Greta Thunberg: A Year to Change the World' - you may have watched the episode where Greta visits 'CopenHill' which is boasted to be Copenhagen's epicentre for urban mountain sport atop a clean energy plant that opened in 2019.
The power plant is located on an industrial waterfront that is capable of converting 440,000 tons of waste into clean energy, delivering electricity and district heating for 150,000 homes annually.
It was designed to double as public infrastructure, and is complete with tree-lined hiking trails and ski slopes on its roof along with the "tallest artificial climbing wall in the world" on its facade.
It's incredible that Architects are looking beyond an initial design brief and exploring how a single structure can embed various uses in a given space. In rapidly growing urban areas where land is at a premium, new buildings need to be resilient to the effects of climate change and therefore be designed to the highest levels of sustainability. On the other side of the coin, urban areas need to integrate more green spaces to aid carbon capture, to facilitate biodiversity and provide shading as well as acting as a resource for well-being purposes. CopenHill is an example of a visionary and futuristic scheme that is enabling Copenhagen to decarbonise as well as allowing residents a space where they can undertake sports and recreational activities.
The following statement provided by the Architect firm, Bjarke Ingels Group, responsible for designing CopenHill sums it all up!
"As a power plant, CopenHill is so clean that we have been able to turn its building mass into the bedrock of the social life of the city - its facade is climbable, its roof is hikeable and its slopes are skiable".

"A crystal clear example of hedonistic sustainability - that a sustainable city is not only better for the environment - it is also more enjoyable for the lives of its citizens."
To find out more about CopenHill, give this factual YouTube video a watch!
Photo: Still image from the Wired UK video above - Inside CopenHill: The clean energy plant with its own ski slope | On Location (credit Wired UK / CopenHill)
10th May 2021: Nature-based solutions in urban environments
In response to the heightening climate change and ecological challenge amongst other urban challenges exacerbated by growing urban populations, towns and cities are looking at innovative ways to integrate nature into the urban environment. Scientific evidence is showing that nature is our closest ally in the fight against the causes and consequences of climate change.
In particular, 'Nature-based Solutions' as defined by the International Union for Conservation of Nature are:
"actions to protect, sustainably manage, and restore natural or modified ecosystems, that address societal challenges effectively and adaptively, simultaneously providing human well-being and biodiversity benefits."
New buildings must be resilient, but we also need to retrofit our existing building stock. This challenge is ultimately a chance to 'green up' urban environments and to create habitats for species.
When designed in an integrative and inclusive way, nature-based solutions that incorporate green infrastructure, such as green roofs, green walls and even rooftop gardens enable cities and towns to become more resilient to extreme weather, strengthen food sovereignty, improve air quality, facilitate urban biodiversity networks and increase green and blue spaces - thus improving quality of life for residents and creating popular recreation areas.
The recently adopted London City Plan (March 2021) includes 'Policy G5: Urban Greening' which sets out that major development proposals should contribute to the greening of London. This is aimed to be achieved by including urban greening as a fundamental element of site and building design, and by incorporating measures such as high-quality landscaping (including trees), green roofs, green walls and nature-based sustainable drainage.
The UK Green Building Council (UKGBC) is calling for more effective and widespread incorporation of nature-based solutions within building designs and development. UKGBC recently published guidance setting our principles to aid developers and owners in increasing the incorporation of nature-based solutions within the construction and operation of built assets.
This is an example of where architectural design is broadening its scope to embed climate resilience and thus future-proof buildings from impacts associated with climate change.
For further information see:
Photo: Rooftop garden at Nomura International Plc at Angel Lane, London
Photo: M&S in Dundee, Scotland
Photo: Hundertwasserhaus in Vienna, Austria
26th April 2021: Concrete City
Harsh, bold, imposing blocky monolithic building structures ... what springs to mind ... 'concrete'?
I am a fan of Brutalist architecture, a style that is characterised by its rough, unfinished surfaces emphasising heavy materials and construction. It is an imposing expression of material and form - a stark and functionalist style of architecture.
Brutalism was a popular style that developed traction throughout the 1960s as the austerity of the 1950s gave way to dynamism and confidence in architectural styles in urban localities. The 'Barbican Estate' in London is an icon of Brutalist architecture and is acclaimed as one of the UK's architectural treasures.
The Barbican represents a radical and visionary post-war city redevelopment of 35 acres that was completely flattened in the Blitz. It was designed and built to provide rental accommodation for affluent city professionals which was owned and managed by the Corporation of the City of London. Architects anticipated the growth of consumer goods such as car ownership and thus designed the residential blocks so that lifts connected the flats to underground car-parking. The Estate integrated landscaping, a network of elevated walkways as well as providing the 'Barbican Centre' housing a cultural performing arts venue.
Throughout the 60s, Brutalism became synonymous with socially progressive housing that architects and town planners promoted as 'modern streets in the sky'. However, some brutalist high-rise buildings (referred to as Tower Blocks) later became associated with inner city decay, crime and social deprivation. Subsequently many brutalist buildings were demolished.
Today, there are divided opinions when it comes to Brutalism. Is it aesthetically ugly or is there beauty to be found within its design? The following quote from an article in the Guardian encapsulates some of the debates surrounding Brutalism:
"The qualities that attract people to concrete are the very same characteristics that have always repelled others. It is gritty, urban and uncompromising, it stands with a geological heft, forming soaring cliff-faces and plunging gullies, cave-like undercrofts and muscular flyovers. It is the material that most embodies the era of the welfare state, a time when the public sector-built housing, schools, hospitals and theatres on a majestic scale. It is the liquid rock of socialism, the stuff of emphatic nation-building and thrilling sculptural monuments to bygone ambitions. It is also the material most closely associated with the social problems that accompanied the decline in industry, lack of maintenance and inner city decay. It exudes optimism and generosity to some, violence and misery to others."
However, Brutalism is experiencing a renaissance with certain buildings being regarded as architectural landmarks worthy of preservation. For example, The Barbican Estate was awarded Grade II listed status in 2001. This is an example of how an architect style which represented the socio-political context of its time is now seen as a site of special architectural and historic interest.
For further information see:
Photos of Barbican Estate, London
19th April 2021: Architectural Design
One of my favourite things to do when I am out and about in towns and cities is to look above the ground and observe the character and design of buildings. For some people, their passion may be to visit art galleries and to engage with paintings, whereas mine is to muse at architecture.
We are surrounded by buildings, they provide a variety of functions ranging from residential, offices, healthcare, education, leisure, culture and religion. In order to optimise the purpose and functionality of a building within a given space, the practice of architecture is applied to develop a design that focuses on the aesthetic and practical / technical aspects of the structure.
In some localities, other factors such as sustainability and climate resilience also need to be embedded in the design. For example, all new buildings in Japan are required to have an earthquake resistant structure.
Throughout history and the development of our towns and cities, architecture has set the tone for the built form character of the area. It represents how a place has been shaped by society, culture, political regimes (i.e communist style development), economic development, wealth and status and environmental factors. At its roots, architecture exists to create the physical environment in which people habit and live their lives, but it is also a part of our culture and impacts on how we engage with our physical surroundings and see the world in front of us.
Photo: Splashpoint Leisure Centre and Bayside Apartments, Worthing
Design and architecture is an evolutionary process that chimes in tandem with technological advances. As changes in society occur, so do buildings. The purpose of buildings change, new types of buildings appear as old ones become obsolete. Some existing buildings are adapted, extended and take on new functions. At its very core, society produces the demand for buildings, and in turn, the buildings help to fulfil the needs of society.
Sometimes a new development can seamlessly blend in with the existing landscape and townscape, other times, a development may come forward where the design is considered as being bold, innovative and thus provide a markedly different contrast to the existing urban fabric. Design can be a talking point, as how individuals perceive design can be very subjective. It reaches to our subconscious level and it can evoke many different emotional reactions in terms of how we engage with the space.
Over the next couple of weeks, I shall explore the theme of design further and look at how design is being used in different scenarios such as health and wellbeing, climate change and crime prevention.
Photo: Portsmouth Central Library, Portsmouth City Council and Guildhall
Photo: A mix of new and old buildings in Rotterman Quarter, Tallinn, Estonia
12th April 2021: The Downs Link
Now that the 'stay at home' message has been lifted, I have begun to resume walking sections of the 'Downs Link' which I first discovered last year. It has been a great feeling to be reunited with my walking boots, make a packed lunch and venture beyond the immediate locality.
For those that are not familiar with the Downs Link, this is a 37 mile (59km) shared route linking the North Downs Way with the South Downs Way. The Link follows a disused railway line that crosses the Surrey Hills, the Low Weald, the South Downs and the Coastal Plain.
The long-distance route links St Martha's Hill near Guildford to Shoreham-by-Sea on the south coast. The 'Hundred Years Railway' was built in the 1860s and allowed people living in the hustle and bustle of cities and towns to take day trips to the south coast. The Horsham to Guildford Direct and London Brighton South Coast Railway companies made this possible by building a railway on what is today known as the Downs Link.
The railways were instrumental to the development of seaside resorts (just picture those vintage railway posters). The railways enabled easy, cheap and fast access from industrial towns / cities to the coast and resulted in visitors arriving in their droves. Subsequently, piers, promenades, entertainment facilities, lidos, bandstands, beach huts (does this sound familiar? Yes, Worthing!) formed distinctive cultural features present at seaside resorts.
Our railways are an important rich cultural heritage, they helped to shape the growth of our seaside towns and visitor economy but equally, railways contributed to the growth of cities, by allowing the cheap transport of food, as well as bricks, slate and other building materials. From a planning perspective, it is incredible how the railway age influenced social-economic development.
However, after the first world war, the railways faced increasing competition from a growing road transport network and, after the second world war, the railways were in a poor state of repair and became nationalised as British Railways. Lord Beeching was tasked with looking at how to increase efficiency of the nationalised railway system. Subsequently the infamous Beeching Report - The Reshaping of the British Railways (1963) resulted in over 4,000 miles of railway lines to close in an attempt to stem British Railway losses and to concentrate resources on the core network routes. Ultimately, the 'Hundred Years Railway' closed down in the 1960s.
Today the Downs Link offers something for everyone - walkers, cyclists, pedestrians or riding a horse. The Link is largely traffic-free and mostly flat, therefore a relatively accessible route for wheelchair users and prams. There are a number of attractions that follow the route such as Southwater Country Park, Bramber Castle as well as an information centre (located in a railway carriage) of the history of the route at the former station at West Grinstead. The repurposed railway line also acts as a corridor for nature, with woods, rivers, streams and ponds featuring along the route.
For further information on the Downs Link, visit:
For a more detailed six stage route guide visit:
Need assistance? Get in touch:
Public Relations & Communications
Problem with this page?
Page last updated: 19 July 2021