Jennifer Ryan
Senior Planning Officer
About Jennifer:
Jennifer is a Senior Planning Officer at Adur & Worthing Councils. She's been with the Planning Policy team since 2017 and works on a range of projects including preparation of the Worthing Local Plan which, when adopted, will guide future development in the borough.
Jennifer is excited to be blogging about her work and is keen to talk about how it links up with wider projects taking place within the Councils.
Before she joined the Planning Policy team, Jennifer worked in Planning Policy at Test Valley Borough Council for six years. Prior to that, she was a Teacher Associate at Oxford Brookes University.
Outside of work, Jennifer enjoys travelling and has a passion for architecture and design - London and Liverpool are her favourite cities. She also loves seeking inspiration from Instagram for her travels, particularly keeping an eye out for trendy cafes and restaurants to visit.
You can read Jennifer's current blog posts on this page below:
See also: Planning Policy
---
4th October 2022: Have your say on Decoy Farm
"The unveiled proposals comprise the introduction of units for a range of flexible employment uses."
Hi, I'm Jennifer, a Senior Planning Officer at Adur & Worthing Councils. This week my blog looks at the proposed development of Decoy Farm in which the public are being asked their views.
Decoy Farm, which is located on the eastern edge of Worthing, was historically used for the deposition of general household waste between 1970 and 1979 and is largely underdeveloped and comprises low-quality and overgrown wasteland.
There are very few opportunities for development in Worthing Borough due to limited available sites and therefore it is important that appropriate sites are unlocked to bring forward opportunities to meet future needs/demands of the town. Given its location and the fact it has been vacant for some time, Decoy Farm has been identified as being strategically important for boosting employment opportunities and economic performance in West Sussex.
Worthing Borough Council identified its long-term aspirations to redevelop Decoy Farm in its Core Strategy (under Policy Area of Change 12) which was adopted in 2011. The Policy sets out development principles that include opportunities on the site for mixed employment use that could include a range of industrial units or open storage.
In order to address contamination issues associated with its former landfill use, the site has undergone remediation with the works being completed in March 2021. In addition, the Council has now prepared a new Local Plan for Worthing (currently being examined by a Planning Inspector) which allocates the site under Policy A5 which seeks to provide a minimum of 14,000 sqm of employment land.
Given that these steps have been undertaken by the Council, specialist consultants WSP, on behalf of Worthing Borough Council, have been instructed to progress a development scheme to inform the submission of a planning application. Proposals have been published for consultation with the public invited to submit comments to help shape the final scheme proposed.
The unveiled proposals comprise the introduction of units for a range of flexible employment uses. It is anticipated that the maximum floor space that could be delivered is approximately 16,000 sqm. A new access road, landscaping and associated works are also included in the proposals. The proposed development also has the potential to improve the working environment and facilities for existing businesses in the adjacent business park and could attract new commercial tenants to the area. Proposals seek to balance the needs of new employment uses alongside the protection (and where possible, the enhancement) of services of existing users / residents.
For further information about the development proposals and how to have you say, please see:
Please note that feedback must be received by Friday, 7th October 2022.
Following the close of consultation, WSP will firm up final design proposals and submit a planning application to the Council. There will be a further opportunity to provide your views when the planning application is submitted using the Adur & Worthing Planning Public Access system, which can be found on the Councils' website.
Images: Artist's impressions of the Decoy Farm site
Aerial photo showing the location of the Decoy Farm site
9th August 2022: Chatsmore Farm - High Court Challenge
Last Monday, the Planning Policy team received news that Worthing Borough Council successfully won its High Court challenge against plans to build 475 homes at Chatsmore Farm. This is a landmark legal decision where Mrs Justice Lang set out in her judgement to quash a decision made by a Planning Inspector at a Public Inquiry to allow development at Chatsmore Farm.
Mrs Justice Lang ruled that the Inspector had not given enough weight to the impact such a large development would have on the setting of the South Downs National Park and the view within. She cited legal precedent that "great weight should be given to conserving and enhancing landscape and scenic beauty" and ruled that this had not happened in this case.
The barrister for the claimant (Worthing Borough Council) argued at the Royal Courts of Justice that the decision of the Inspector had overridden its emerging Worthing Local Plan which had been developed democratically with the people of Worthing and was committed to preserving highly valued green spaces and the integrity of the borough as a whole.
The judge did not question the Worthing Local Plan's designation of Chatsmore Farm as a Green Gap and ruled that the Planning Inquiry Inspector did not give adequate consideration to its policies to protect open spaces.
The Secretary of State for Levelling Up, Housing and Communities, whose Inspector gave the development proposal the go-ahead earlier this year, will now pay the Council's legal costs.
The High Court challenge process has resulted in many months of committed work carried out by the Council's planning and legal teams along with collaborating with the Council's barrister. In addition, local community groups have been instrumental in supporting the protection of the green space/gap. Receiving this judgement reinforces the primacy and importance of Local Plans within the planning system.
It's not very often that a Local Planning Authority submits a High Court Challenge and therefore this is a relatively rare procedure. The chances of a High Court Judge overturning a decision being made by a Planning Inspector is relatively low, therefore to achieve this outcome is very significant. This process has been a unique experience for the planning team and it has been a learning curve to see how planning judgements are made at the High Court.
Whilst this is a monumental win for Worthing Borough Council, Persimmon Homes do have options to appeal this judgement and could go to the Appeal Court or ask for another public inquiry. However, the Council believes that the landmark judgement gives it very strong grounds to fight any such case in the future.
Photo: Chatsmore Farm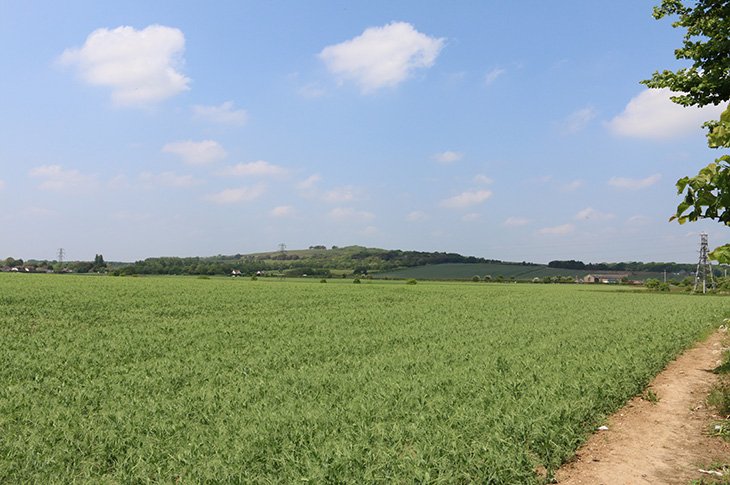 11th July 2022: Have Your Say - Shoreham Cement Works
The iconic Shoreham Cement Works, designed by Oscar Faber, is the subject of public consultation. The site is one of the largest brownfield sites in the south of England and forms a prominent location in the South Downs National Park.
The National Park Authority has prepared an Issues and Options Area Action Plan (APP) exploring options for the future redevelopment of the former cement works. Any development at this exemplar site would need to be designed in a manner to conserve and enhance the landscape and scenic beauty of the South Downs National Park, as well as conserving the cultural industrial heritage of Shoreham Cement Works
The AAP is a "mini local plan" for the site. The final adopted version will have specific planning policies to guide the development of this site and help to deliver an exemplar mixed use development. The AAP will sit alongside the South Downs Local Plan (2019) and will build upon Strategic Site Policy SD56: Shoreham Cement Works.
The Issues and Options consultation document considers a number of potential development scenarios. All the development scenarios are for a mixture of different land uses, which will all vary in viability and impact on the landscape. The headlines for the four scenarios are as follows:
Mixed use scheme with employment and 400 new homes
Mixed use scheme with employment and 240 new homes
Mixed use leisure led scheme and 200 new homes
Mixed use scheme with employment and 84 new homes (dismissed appeal scheme)
There are many aspects to consider ranging from sustainability, design, heritage, transport, leisure, housing and viability.
Comments submitted at this stage will help to shape the nature of development proposals/policies. The next statutory consultation stage, which is known as Regulation 19, takes the format of the 'final draft' AAP (prior to formal submission for examination by a Planning Inspector) and only allows for comments to be made within a specific remit. The remit for public consultation relates to the 'Tests of Soundness' and also includes legal compliance, as set out in the National Planning Policy Framework.
For further information about the consultation and to view drone footage of the site, head over to the South Downs National Park consultation webpage:
Comments need to be made by 11.59pm on Tuesday 2nd August 2022
Photo: Shoreham Cement Works (credit, courtesy & copyright South Downs National Park Authority)
13th June 2022: Volunteering in the London Square Open Gardens Weekend
"You wouldn't think that there is an abundance of green spaces in London but they are hidden away ..."
London Square Open Gardens Weekend is a diverse collection of green spaces from the historic and traditional to the new and experimental that open up their gates to the public for one weekend a year.
The event is organised by London Gardens Trust and sponsored by London Square Developments. The Trust is a small charity with a big mission to celebrate and champion the city's historic parks, gardens, squares and green spaces for the benefit of everyone. They give us places to relax, exercise and get together with friends and family, provide a haven for wildlife and play a vital role for health and wellbeing.
You wouldn't think that there is an abundance of green spaces in London but they are hidden away, on the rooftops of offices along the banks of the River Thames, nestled in between estates, tucked away amongst the inns, courts and churchyards to name but a few.
It is always very exciting volunteering at this event, especially to find out which gem of a garden my friend and I have been allocated to volunteer at. Due to Covid, the annual event has not been held since 2019, so it was really thrilling to return to the volunteering fold and be part of the atmosphere once again. We were allocated to volunteer at St James's Gardens (W11), taking pride of place amongst the Norland Estate in The Royal Borough of Kensington and Chelsea.
According to the London Gardens Trust inventory of St James's Gardens, speculative developer Charles Richardson built the houses around St James's Gardens and established the green area in the late 1840s for the residents of what was then called St James's Square, part of the Norland Estate.
He donated the site for St James's Church to the Church Commissioners as the houses would be more saleable if they had access to their own church. The historic church was designed by architect Lewis Vulliamy and built between 1844 and 1855.
The private communal gardens are laid out in an informal woodland style. Chestnut and lime trees, dating back to the 19th Century, dominate the garden.
The London Gardens Trust is proactively involved in planning and conservation matters across the London Boroughs and responds to planning applications and Local Plan consultations that affect historic parks and gardens. The London Gardens Trust is the County Gardens Trust for Greater London, affiliated to The Gardens Trust. The Gardens Trust is a statutory consultee, which means that local authorities are legally obliged to consult before deciding on applications and policies which affect historic parks and gardens.
Photo: Jennifer sitting in St James's Gardens
6th June 2022: Platinum Jubilee
Wow, what an amazing four days it has been! I am a huge fan of the Royal Family and I loved seeing London in its splendour and coming to life in a hue of red, white and blue.
I set my alarm clock for a very early start on Thursday morning and I was lined up in place at The Mall by 7:30am ready to watch Trooping the Colour. It was a thrilling atmosphere with crowds getting into jovial spirit, seeing fancy and innovative Union Jack costumes and being part of a Royal event in history.
It was incredible to watch the pomp and pageantry of the soldiers and horses marching in procession along The Mall while listening to the fanfare giving me goosebumps. My favourite moment was watching Seamus the Irish Wolfhound Dog (official regimental mascot of the Irish Guards) calmly leading the processional march. It is fair to say that he definitely stole the show and it was certainly a day to remember!
In keeping with the Platinum Jubilee theme I thought it would be opportune to blog about the connections between the Royal Family and the Planning System. Blog readers may have heard that a new Levelling Up and Regeneration Bill has entered Parliament. This Bill was introduced in the Queen's Speech read by HRH Prince of Wales on the 10th May 2022:
"A Bill will be brought forward to drive local growth, empowering local leaders to regenerate their areas, and ensuring everyone can share in the United Kingdom's success. The planning system will be reformed to give residents more involvement in local development."
This Bill, when it gets passed and receives Royal Assent, will result in some fundamental changes to the Planning System as we currently know it. I will detail the provisions contained in the Bill in a future blog.
HRH Prince of Wales takes a keen interest in architecture and the design of places and has laid out his vision (in his book 'A Vision of Britain') for the future of architecture and planning by outlining ten principles for urban masterplanning as follows:
Developments must respect the land
Architecture is a language
Scale is also key
Harmony: neighbouring buildings 'in tune' but not uniform
The creation of well-designed enclosures
Materials also matter: local wood beats imported aluminium
Limit signage
Put the pedestrian at the centre of the design process
Space is at a premium - but no high-rises
Build flexibility in
Furthermore, HRH Prince of Wales played an influential role in the design of Poundbury, an urban extension to the Dorset county town of Dorchester, which was designed according to the above principles. Poundbury, built on Duchy of Cornwall land, is currently home to some 4,200 people in a mix of private and affordable housing, as well as providing employment for 2,300 people working in more than 207 shops, cafés, offices and factories. A further 550 people are employed in construction across the site and many more are self-employed and at times work from home.
Poundbury has been designed to create a sustainable community which achieves an attractive, modern and pleasing place in which people can live, work, shop and play. Particular emphasis has been placed on the quality of place making through time honoured principles, urban design, landscaping and the selection of materials.
"When I set out on this venture, I was determined that Poundbury would break the mould of conventional housing development in this country, and create an attractive place for people to live, work and play. Many people said that it could never succeed but I am happy to say that the sceptics were wrong and it is now a thriving urban settlement alongside Dorchester."
HRH The Prince of Wales
For further information about the development of Poundbury visit the:
30th May 2022: National Walking Month
Did you know that May is National Walking Month with the walking charity Living Streets encouraging everyone to walk for a minimum of 20-minutes each day?
Walking is an easy and accessible way to improve physical and mental health and a 20 minute walk can reduce the risk of a number of preventable health conditions, including certain cancers, depression, heart disease and Type 2 diabetes.
I have managed to clock up quite a few miles on my walking pedometer this month with the recent completion of the London Thames Path challenge as well as exploring Chicago, USA on foot - more about that later! But first things first, I shall set out the policy context for improving walking infrastructure within Adur and Worthing.
A key action of Sustainable AW (sustainability framework for Adur & Worthing Councils) is shifting to sustainable transport and improving air quality. To achieve this, the Adur Local Plan and Worthing Local Plan seeks to locate and design new development and supporting infrastructure, to facilitate active and sustainable travel and to minimise the need to travel by car.
Active travel simply means making journeys in physically active ways - like walking, wheeling (using a wheelchair or mobility aid), cycling, or scooting. The Local Plans seek to ensure that sustainable forms of transport are considered in the first instance, with the provision of facilities that will encourage walking and cycling to be the natural choice for shorter journeys.
West Sussex County Council recently adopted its West Sussex Transport Plan (WSTP) 2022-2036 (PDF on the WSCC website) which sets out how the County Council, working with its strategic partners, intends to address key challenges by improving, maintaining and managing the transport network.
The WSTP intends to facilitate greater use of active travel modes and to extend and improve the network of active travel facilities. This aim is supported by the West Sussex Walking and Cycling Strategy (2016-2026) and the Adur & Worthing Local Cycling & Walking Infrastructure Plan (LCWIP) (PDF). The LCWIP seeks to increase the uptake of walking and cycling by identifying preferred routes and core zones for further development; and a prioritised programme of infrastructure improvements. Any new planned development sites on these routes and /or in core zones should deliver improvements aligned to the LCWIP.
While on holiday in Chicago, I enjoyed exploring the city using numerous designated walking/cycling trails such as:
Lakefront Trail: a scenic 18.5-mile-long partial shared use path for walking, jogging, skateboarding, and cycling, located along the western shore of Lake Michigan.
Chicago Riverwalk Trail: 1.25 mile open uninterrupted pedestrian trail along the south bank of the Chicago River in downtown Chicago offering skyline views, play space areas, dining establishments and memorials commemorating the history of Chicago.
Bloomingdale Trail at The 606: an abandoned railway that has been given new life on Chicago's west side. The 606 is a linear 2.7-mile elevated multi-use recreational trail and park.
All of these trails provide a free, safe, accessible and alluring means of active travel for residents and visitors of all ages. On any given day activity along the pedestrian and bike trails includes people commuting to work, training for marathons, caregivers with children in strollers, tourists on rental bikes, and people taking a leisurely stroll. An ingenious way of transforming redundant spaces and utilising key landscape views of Chicago and Lake Michigan whilst improving health and well-being opportunities - a win-win!
25th May 2022: Journey's end
I am thrilled to announce that I have finally completed the London Thames Path Challenge! It was quite a moment approaching the prominent Thames Barrier near Woolwich, which heralds the end of the Thames Path.
Since commencing the challenge in August 2020, my friend and I have walked 40 miles, covering the north-bank and south-bank of the River Thames and following the trail route produced by Transport for London.
It has been a journey of walking through the changing built landscape of London and observing the contrasting architectural styles and land uses along the River Thames that reflect London's historic past. The river has been instrumental in stimulating social and economic growth of the capital. However, reaching the Thames Barrier and observing its ingenious civil engineering structure served as a stark reminder of climate change.
London is not immune from the effects of climate change with increasing temperatures and rising sea levels resulting in a heightened risk of tidal flooding (caused by tidal surges) in the Thames Estuary. However, tidal flooding has been a long-standing problem in London and in 1953, the North Sea Flood disaster claimed the lives of over 300 people with over 30,000 people being forced to evacuate from their homes.
The disaster led to an investigation being conducted into the way in which flood defences were built to protect London. This resulted in the recommendation to establish a new flood defence mechanism, in the form of a retractable barrier, which could be operated in the event of exceptional high tides and storm surges moving up from the North Sea.
The Environment Agency operates and maintains the Thames Barrier - it receives information on potential tidal surges and can forecast dangerous weather conditions up to 36 hours in advance. When the decision is taken to close the Barrier, 10 steel gates are raised into position across the River Thames.
When raised, the main gates stand as high as a five-storey building and as wide as the opening of Tower Bridge. Each main gate weighs 3,300 tonnes. The Barrier will then remain closed over high water until the water level downstream of the Thames Barrier has reduced to the same level as upstream.
This is a managed process to provide for different circumstances, and takes about five hours. The Thames Barrier is then opened, allowing the water upstream to flow out to sea with the outward bound tide.
The Barrier has been operational since 1982 and, in that time, it has been closed 205 times (as of February 2022). The Barrier was originally designed to protect London against a very high flood level (with an estimated return period of one hundred years) up to the year 2030. However, it is expected that the Thames Barrier can continue to protect London to its current standard up until 2070.
In recognition of the climate emergency the Environment Agency and its partners have launched the Thames Estuary 2100 Plan. This Plan sets out how flood risk will be managed in the Thames Estuary to the end of the century and the options for improving or replacing the Thames Barrier. Because it is an adaptive plan, the decision on the future of the Thames Barrier is unlikely to be made until around 2040.
For further information on the Thames Barrier, head over to the government website:
Photo: Jennifer with her certificate for completing the London Thames Path Challenge
Page last updated: 04 October 2022
Back to top