Jennifer Ryan
Senior Planning Officer
About Jennifer:
Jennifer is a Senior Planning Officer at Adur & Worthing Councils. She's been with the Planning Policy team since 2017 and works on a range of projects including preparation of the Worthing Local Plan which, when adopted, will guide future development in the borough.
Jennifer is excited to be blogging about her work and is keen to talk about how it links up with wider projects taking place within the Councils.
Before she joined the Planning Policy team, Jennifer worked in Planning Policy at Test Valley Borough Council for six years. Prior to that, she was a Teacher Associate at Oxford Brookes University.
Outside of work, Jennifer enjoys travelling and has a passion for architecture and design - London and Liverpool are her favourite cities. She also loves seeking inspiration from Instagram for her travels, particularly keeping an eye out for trendy cafes and restaurants to visit.
You can read Jennifer's current blog posts on this page below:
See also: Planning Policy
---
20th September 2021: All stations go for the Worthing Local Plan examination
It is fair to say that it is all stations go at the moment with the Worthing Planning Policy team in the midst of the Worthing Local Plan examination.
The WLP was formally submitted to the Government back in June (see my blog dated 9th August 2021). A Planning Inspector has been appointed on behalf of the Secretary of State to hold an independent examination of the Worthing Local Plan. The inspector's task is to consider the soundness of the submitted plan and whether it is legally compliant.
The team is busy gearing up for forthcoming hearing sessions (the Inspector has just formally published the draft timetable / agenda for the hearing sessions). It is very much like preparing for an exam but not just on one topic but on multiple topics!
We are familiarising ourselves with the evidence base, getting all the key documents printed and in order so that we can highlight key references. We are also preparing responses to initial matters, issues and questions raised by the Inspector as well as liaising with the Programme Officer to organise practicalities with hosting the hearing sessions. In other words ... being event planners.
There is a lot of 'behind the scenes' work that goes on throughout an examination process with the hearing sessions being a key component. It's a case of making sure that everything goes smoothly and that all invited parties (identified by the Inspector) can put forward their case.
We are also operating within some uncertainties given that we are soon heading into the autumn and winter. We are mindful that the Government may potentially trigger Plan B of the Covid Winter Plan. It is a case of having contingencies in place in the event that we may have to undertake some hearings in a virtual manner.
Ultimately, we hope that all this hard work will pay off in the form of a 'sound' and adopted Local Plan that will provide a clear and robust framework for growth and environmental protection in Worthing over the coming years.
Please keep your eyes peeled for examination updates in particular the forthcoming hearing sessions which will be soon be announced on the following webpage under the subheading 'Correspondence from the Inspector':
23rd August 2021: Worthing CIL Neighbourhood Fund
Are you a local community group in Worthing (Central, Durrington, Marine, Offington, Salvington and Tarring) seeking funding to improve your neighbourhood?
Worthing Borough Council have launched an exciting scheme known as the Community Infrastructure Levy (CIL) Neighbourhood Fund programme for the first time in 2021/22.
These pots of money have been accrued from payments made by developers building in the local area. They are available to local community groups, organisations and residents associations in the selected wards. Project proposals can request a minimum of £1,000 and up to a maximum CIL Neighbourhood Fund allocation of £10,000.
This gives communities freedom and power to spend the money on a wide range of things, in consultation with the community. Local project proposals seeking support from the CIL neighbourhood fund, can therefore cover a broad range of infrastructure types. These include for example: footpaths, cycle ways, public transport facilities and local roads improvements; improvements to the built environment and public realm; improvements to open space, play and leisure facilities; improvements to community facilities (eg halls / meeting spaces, community safety, health, learning and education).
Projects seeking funding from the CIL Neighbourhood Fund should be community-led and, ideally, be delivered by a local community organisation, group or club. Community groups are expected to discuss their bids with local ward councillors prior to submitting. Projects should enhance the neighbourhood/community and ideally linked to our:
The Neighbourhood Fund is a small part of the overall CIL pot from development. The Council is actively delivering infrastructure improvements using the other money collected.
A clear assessment criteria for scoring bids has been agreed by the Council and proposals can be submitted up until 27th September 2021.
Details of the fund and how to apply can be found here.
Photo: Cycling path at Brooklands Park, Worthing
16th August 2021: Rampion 2 Wind Farm - Public Consultation
Blog readers may recall that a consultation took place earlier this year which focused on a number of potential onshore and offshore areas to identify the best location for the extension of the Rampion Wind Farm scheme, highlighting areas for both the turbines and associated electrical infrastructure.
The proposed Rampion 2 Wind Farm project has the potential to help meet the UK's climate change mitigation goals and Government targets for offshore wind generation.
Since the close of consultation, further assessment work and refinement of project proposals has been carried out with Rampion Extension Development Limited (REDL) launching the next stage of the consultation process.
Rampion 2 will have a generating capacity of up to 1,200MW, compared with 400MW for Rampion 1. The offshore element of Rampion 2 will be located within an area of search to the west and south east of the existing wind farm, together with a small link or 'bridge' area between the two areas for cabling.
The onshore elements of the scheme include a buried transmission cable, running for approximately 36km between a landfall at Climping Beach, near Littlehampton, and a 'satellite' project substation located within a 5km adius of the Bolney National Grid Substation. The location plans can be viewed here:
Given the scale of the infrastructure proposal, it meets the legal thresholds for triggering an Environmental Impact Assessment (EIA). The EIA is a tool used to identify the environmental, social and economic impacts of a project prior to decision-making.
It aims to predict environmental impacts at an early stage in project planning and design, find ways and means to reduce adverse impacts, shape projects to suit the local environment and present the predictions and options to decision-makers.
This is a rather complex and technical process, so I shall cover this in more detail in a future blog.
The Preliminary Environment Information Report has been published as part of the consultation:
The next steps will be to analyse consultation feedback, determine onshore substation site selection, further refine proposals, along with producing a Consultation Report and detailed Environmental Statement. REDL will then apply for a Development Consent Order (anticipated in early 2022) which will then be assessed and determined by the Planning Inspectorate. A recommendation will be made to the Government's 'Secretary of State for Business Energy and Industrial Strategy'. The Secretary of State will then review the application, and decide on whether to grant a Development Consent Order.
Have your say ...
I highly recommend that interested blog readers view the consultation proposals online where various interactive information is available, including informative factsheets to download on different topics of interest:
The consultation closes on 16th September 2021.
Photo: Rampion Wind Farm
9th August 2021: A significant milestone for the Submission Draft Worthing Local Plan
After many years in the making and what has felt like an eternity, the Worthing Planning Policy team recently reached a significant milestone. I am really proud to say that the Submission Draft Worthing Local Plan has been formally submitted to the Secretary of State. The Plan is now in the hands of a Government appointed Inspector (Mr Steven Lee) who will take responsibility for examining the soundness of the submitted plan and whether it is legally compliant.
This is a big achievement for the team as this moment represents a key pinnacle of our career in the preparation of Local Plans. It is a lengthy journey with lots of twists and turns, from commissioning and reviewing evidence studies, undertaking research, formulating policies as well identifying suitable land to be allocated for development. Not forgetting to mention the numerous rounds of public consultation events! In addition, the Government does like to keep us planners on our toes by introducing new plan-making requirements. This means having to pause and take stock whether it will impact on the Local Plan being prepared.
While it is an expected part of our job to get a Local Plan prepared and adopted, getting to this submission stage has taken on a whole new meaning. The last eighteen months has been unprecedented. While some members of the team were re-deployed during the first lockdown, on the whole we have carried on 'planning' throughout the pandemic as well as adjusting to new remote working patterns. This is no mean feat!
It is anticipated that the Inspector will conduct hearing sessions on the Submitted Local Plan in the autumn.
For further information on the examination of the Local Plan see:
26th July 2021: National Model Design Code
The Government likes to keep us Planners on our toes and thus just in time for the summer holidays, they have very kindly provided us with some riveting holiday reading to get stuck into!
The new National Model Design Code was published on the 20th July 2021 along with the revised (again ...) National Planning Policy Framework. The Model Design Code provides detailed guidance on the production of design codes, guides and policies to promote successful design in new developments. It sets out clear design parameters to help local authorities and communities decide what good quality design looks like in their area.
A design code is a set of simple, concise, illustrated design requirements. These are visual and numerical wherever possible to provide specific, detailed parameters for the physical development of a site or area. Design codes need to be based on a vision for how a place will develop in the future.
Design codes are important because they provide a framework for creating healthy, greener, environmentally responsive, sustainable and distinctive places, with a consistent and high-quality standard of design. For larger schemes, design codes can help to maintain consistency in the delivery of development over a longer period.
The National Model Design Code sets a baseline standard of quality and practice which local planning authorities are expected to take into account when developing local design codes and guides and when determining planning applications. These include:
How the design of new development should enhance the health and wellbeing of local communities and create safe, inclusive, accessible and active environments;
How landscape, green infrastructure and biodiversity should be approached - including the importance of streets being tree-lined;
The environmental performance of place and buildings ensuring they contribute to net zero targets;
The layout of new development, including infrastructure and street pattern;
The factors to be considered when determining whether facades of buildings are of sufficiently high quality; and
That developments should take account of local vernacular, character, heritage, architecture and materials.
However, it must be noted that while planning authorities are being given new controls over design, there are some circumstances where planning authorities have little ability to influence design matters. An example is development works that falls under 'Permitted Development Rights' which do not require planning permission, provided that certain conditions are met.
So, with all that in mind ... I probably should make a start on sharpening up the colouring pencils!
Photo: Bayside Apartments, Worthing seafront
19th July 2021: Keeping Cool
I hope you are all keeping cool in this scorching hot weather. Admittedly, I am struggling as I live in a first floor flat with my home-office space overlooking windows that are east-facing. At times, it feels like I am working in a greenhouse with just a fan (set to the maximum speed setting) at my disposal!
I write this blog thinking if I am struggling now, what will it be like to work and live in extreme and unbearable temperatures of 50 degrees as recently experienced in Canada?
We are living life on a hotter planet with heatwaves becoming a more prevalent event generating new temperature records each year. While hot weather does bring about some initial excitement such as splashing about in the sea and swimming pool, eating ice cream and having BBQs in the garden, it does not come without severe risks and warnings to public health.
Vulnerable groups such as the young and elderly are more susceptible to heat stress and subsequently heat exhaustion and heatstroke. High temperatures also raise the levels of ozone and other pollutants in the air that exacerbate cardiovascular and respiratory disease.
High density urban areas experience hotter temperatures compared to rural and coastal areas. In towns and cities, the everyday hustle and bustle activity produces thermal energy with dense concentrations of buildings and concrete surface areas absorbing and retaining heat. This phenomenon is known as the 'urban heat island effect'.
In many urban areas around the world there is now a growing movement to green up concrete with 'nature-based solutions' (see blog dated 10 May 2021) to provide essential shading to cool down urbanised areas.
With a changing climate in mind, we have included policies in the Submission Draft Worthing Local Plan designed to create new developments that are resilient to the effects of climate change.
For example, new buildings and infrastructure must be designed to adapt to a changing climate, reduce impacts from natural hazards like heatwaves while mitigating against and avoid contributing to the urban heat island effect. This should include maximising opportunities for both natural heating and ventilation. Multi-functional green infrastructure should be integrated into public spaces to provide urban cooling and access to shady outdoor space.
Keep safe and cool during the summer holiday season!
Photo: Beachgoers relaxing on Worthing seafront
5th July 2021: 20 Minutes Neighbourhood
The Covid-19 pandemic has heightened the importance of the liveability of local neighbourhoods with a renewed focus on spending more time locally, visiting green spaces, exploring recently discovered walking and cycling trails in the vicinity as well as supporting local retail businesses.
This has accelerated the planning concept of the '20 minute neighbourhood' (also known as '15 minute cities') - which promotes the creation of complete, compact and connected neighbourhoods, where people can meet their everyday needs within a short walk or cycle.
This approach generates multiple benefits socially, environmentally and economically as people become more physically active, traffic is reduced, air quality is improved, people participate in more local community events and shop locally such as visiting farmers markets which helps to foster thriving local economies. People also feel more connected with their neighbours thus strengthening social cohesion. Within the context of the climate emergency, this lifestyle helps to minimise carbon emissions.
The 20-minute neighbourhood has its origins in the 'Garden City' movement which I have previously blogged about. The principles underpinning this urban development model are now being given a modern renaissance as we drive towards building back better and decarbonising to net zero emissions by 2050.
The Town and Country Planning Association (a charity organisation that champions the Garden City principles) are shining a spotlight on the 20-minute neighbourhood and thus showcasing case-studies where this concept has been implemented in places such as Melbourne, Australia and Paris, France.
However, it is recognised that Planning can only go so far and that a successful 20-minute neighbourhood requires a multidisciplinary approach as well as empowering local residents to engage with their local neighbourhood for their everyday living.
For further information, the TCPA has produced a useful guide which outlines a set of principles for success based on best practice:
In addition, a series of TCPA webinars on the subject can be viewed online:
Photo: Lancing Market fruit and veg stall
Photo: Worthing allotment holder Tony Zasikowski
Photo: Cyclists on Worthing Promenade
14th June 2021: Biodiversity Net Gain - What's that all about?
A healthy and biodiverse world is essential for maintaining the Earth's life support systems (clean air, food, water, soil etc). Scientists are stating that we are living in a 6th Mass Extinction with studies showing that between 1970 and 2014, species populations have declined by 60%.
The UK Government is progressing an Environment Bill which is a piece of legislation required following Britain's transition from the European Union, placing specific environmental responsibilities on the Government which have previously been held by the EU. The Bill supports the delivery of the government's 25 Year Environment Plan.
It sets the framework for what the Government wants to deliver but doesn't contain a comprehensive policy framework as this will follow through subsequent work streams and secondary legislation. It is likely to become law in 2023.
One of the themes being pursued through the Bill is 'Nature and Biodiversity.' The Bill includes provisions to introduce mandatory requirements for Biodiversity Net Gain (BNG) in the planning system.
BNG is an approach to development that leaves biodiversity in a better state than before. Where a development has an impact on biodiversity it encourages developers to provide an increase in appropriate natural habitat and ecological features over and above that being affected in such a way it is hoped that the current loss of biodiversity through development will be halted and ecological networks can be restored.
Photo: Hand crafted bench in Boldings Brook, Horsham
The mandate for net gain in biodiversity through the planning system is a minimum 10% increase in biodiversity after development, compared to the level of biodiversity prior to the development taking place, as measured by a metric set out by the Department for Environment & Rural Affairs. However, Local Planning Authorities can set a higher percentage increase.
The Bill doesn't include provisions for BNG to apply to Nationally Significant Infrastructure Projects however some infrastructure operators have indicated that they will seek to deliver BNGs. Likewise the Bill doesn't cover marine development but work is being carried out separately to establish what a 'Marine Net Gain' may look like in practice.
So, what does this mean for Adur and Worthing? Well, Worthing Borough Council is progressing a new Local Plan which includes a policy on Biodiversity. In recognition of the emerging Bill, we have stipulated a requirement that new developments (excluding change of use and householder) should provide a minimum 10% net gain for biodiversity and where possible this should be onsite. Where it is achievable, a 20% onsite net gain is encouraged and is required for development on previously developed sites.
We will shortly begin reviewing the adopted Adur Local Plan and we will be looking to incorporate BNG in the next iteration of the Adur Local Plan.
Photo: Flowers in Horsham Park
7th June 2021: World Environment Day
It was the annual World Environment Day on Saturday 5th June 2021 which is the United Nations' principal vehicle for encouraging awareness and action for the protection of the environment.
The theme this year is 'Generation Restoration', the UN decade on ecosystem restoration. In the words of António Guterres, Secretary-General of the UN:
"The next ten years are our final chance to avert the climate catastrophe, turn back the deadly tide of plastic pollution and species loss."
It is a global call to action - this is our moment.
We cannot turn back time. But we can grow trees, green our cities, rewild our gardens, change our diets and clean up rivers and coasts. We are the generation that can make peace with nature.
Let's get active, not anxious. Let's be bold, not timid.
Here in Adur and Worthing, a number of restoration initiatives are underway.
You may have heard that Adur District Council have purchased New Salts Farm (70 acres) and Pad Farm (45 acres) with the intention to restore both sites back to its natural state to foster biodiversity.
Photo: Land at New Salts Farm
Photo: Land at Pad Farm on the western banks of the River Adur north of the A27
Also, Worthing Borough Council has taken back possession of Shepherds Mead, a 100 acre farmland at the foot of Cissbury Ring with plans to return to its natural habitat in collaboration with local residents and wildlife groups.
Photo: View across the land at Shepherds Mead looking towards Cissbury Ring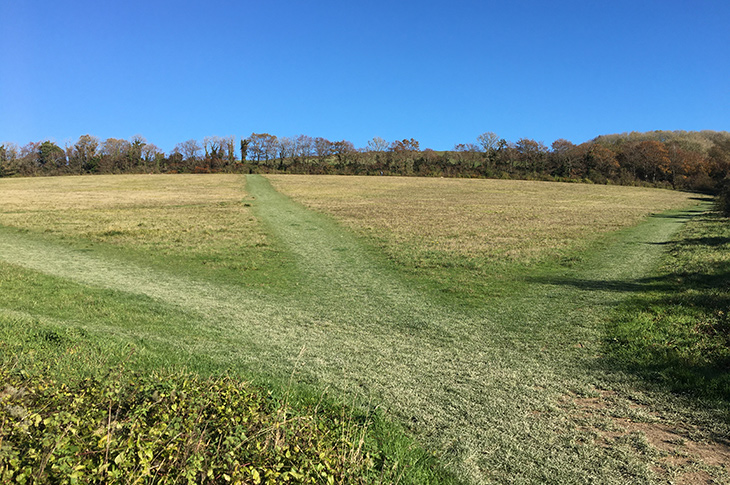 In addition, a new byelaw was introduced in March which covers a zone of 300 square kilometres of seabed off the Sussex coast. This area is now protected from trawling - a measure which should allow essential habitats, such as kelp forests, to regenerate.
The Council has teamed up with Sussex Wildlife Trust to offer residents tips on how to give wildlife a much needed hand. To find out more:
It is exciting to see a range of projects generating traction but it doesn't stop there.
The planning system is embedding 'Biodiversity Net Gain' (BNG) which refers to an intervention which results in the net improvement to biodiversity for a defined area of land. It results in biodiversity being in a better state than before. I shall explore in a future blog what BNG means for planning and what steps we are taking to mainstream BNG in certain types of new developments.
Photo: Wildflowers
Need assistance with this service?
Get in touch:
Public Relations & Communications
Page last updated: 23 September 2021