Having a secure and safe home, not just a place to sleep, is one of the most important factors in enabling our communities to thrive. It's also one of the biggest areas of activity for the Councils.
Whether it's building new homes that are affordable and good for the environment, or making sure that current buildings are safe enough to live in, housing is a big story in the region.
Each week we'll cover a different topic covering the wide range of challenges faced by housing teams, including homelessness, providing safe spaces for young families, and projects designed to make retirement properties greener.
The blogs below are written by people who work in housing at Adur & Worthing Councils.
See also: Adur and Worthing's housing section
---
24th October 2022: Building back better in Adur and Worthing
Hi, my name is Anthony Probert and I am the Councils' Senior Development Manager, leading a team of housing development professionals in the Major Projects Team. It's our job to deliver new Council housing across both Adur and Worthing.
Roughly half of the 9 million homes built in the 20 years after the second world war were constructed by Local Authorities. However, by the early 1970s, annual output had halved to around 100,000 a year. It dwindled further through the 1980s, and by the 1990s almost no housing was being built by Local Authorities and nothing really changed into the millennium. The housing and homelessness charity Shelter reported that in 2018/19, just 6,287 new social homes were built, nowhere near enough to house the 1.1 million people on the Housing Register.
However, recently Local Authorities have started building again, for a number of reasons. Stock built in the 50s and 60s is approaching end of life requiring a new approach to estate improvement, and a dramatic increase in rents and house prices has resulted in more people to look to social housing.
There has also been a recognition that the market is failing to deliver the number of affordable homes needed, and partly to address this, the government has set up a 'housing accelerator' called Homes England, which provides funding for homes built by Local Authorities and Housing Associations.
Adur and Worthing are playing our part in this mini-revival. In 2021, the Councils' adopted a five-year house building programme, outlining an ambition to build a minimum of 250 Council-owned homes by 2025. Adur Council is a stock-owning Council with approximately 2600 properties which it owns and manages under the name Adur Homes, whilst just over 20 years ago Worthing transferred its stock to Worthing Homes, a housing association.
As such, 200 of these homes would be built in Adur, and 50 in Worthing. I'm pleased to say we are delivering on both these targets.
In summer 2021 we completed the first Council-delivered housing project in Adur for over 30 years. The Cecil Norris House development in Shoreham (image below) was built on an old sheltered housing site that was demolished in 2019. The striking brickwork and large balconies have ensured it is one of the most recognisable new schemes in the town and we are very proud of the 15 homes it provides.
Earlier this year we completed two schemes in Worthing, 17 homes on Downview Road and 19 flats on Rowlands Road (photo below). These schemes are kept as Emergency and Temporary Accommodation for eligible families who require the Council to step in and house them immediately.
Half of the homes on Downview Road (photo below) came from the refurbishment of the old Downview Public House (with the ground floor soon to be let as commercial space) and the other half through a new timber-framed block built in the car-park behind the pub. We secured over £1.3m of funding from Homes England to deliver these projects.
Following these up, we have two schemes currently 'on site'; we are building 49 new homes overlooking Shoreham Harbour in Southwick, which will be 100% affordable for those on the housing register. These will be complete in summer 2023. Before then, we have six flats being provided from renovation of a pair of semi-detached Victorian dwellings next door which we hope will be occupied by new residents by Christmas.
Moving into 2023, we will start seven new projects on underused garage sites across Adur. These schemes will see houses let at Housing Allowance rates to residents on the Housing Register, providing 19 high quality and much-needed homes. These homes will be highly insulated, heated using Air Source Heat Pumps and most designed for use by wheelchair users.
And we're not done there. We've just been awarded planning permission for a new block of sheltered housing at the Ashcroft site on Kingston Lane in Southwick (photos below). Here we've consulted with ex-residents of Ashcroft and local people to design a new block of 44 one-bed flats for people over 55, using design and materials sympathetic to the Southwick conservation area opposite and applying the recommendations made by the 'Housing our Ageing Population Panel for Innovation' (HAPPI principles) in their design.
This collaborative and sustainable approach to design resulted in only one letter of objection to the planning application, and we've secured £400k from the Brownfield Land Release fund to undertake the demolition and groundwork.
Photos: Ashcroft House and proposal for the site
Added to this, we've got another 16 homes in planning, and are designing another 32 across three new schemes in Adur and Worthing. Our purchase of Lancing Police Station (photo below) will also deliver housing, however in the meantime we've implemented a 'meanwhile use' which sees the building used for workspace and offices for small local businesses.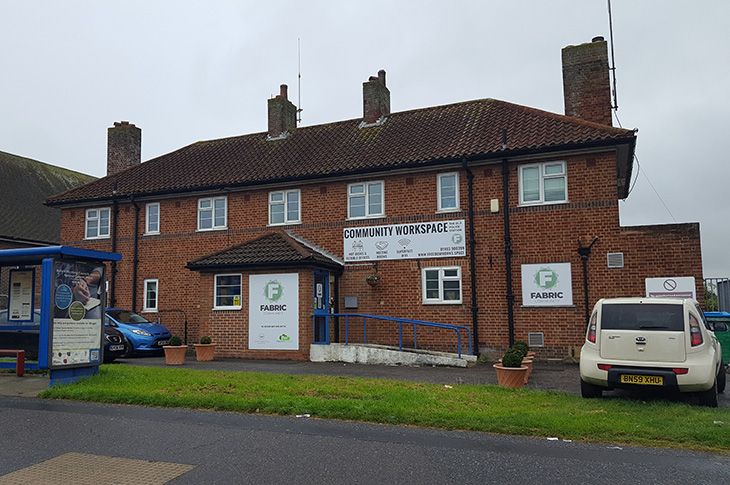 As the cost of living bites, delivery of new Council housing will become more and more important to our residents. It may not be the revolution seen in the 1950s and 1960s, but Councils are building again, and we at A&W are proud to be a part of it.
13th October 2022: Winter is coming
Hi, my name is Lee Karchewski and I am the Compliance Manager (Contracts) at Adur Home Repairs.
I work with a wide range of contractors who maintain homes and have good working knowledge of what can go wrong in residential accommodation in the colder months.
Winter is coming ... so what does this mean for your home?
Whether you are an Adur Homes tenant, rent from a private landlord, or own your own home, there are things you should be doing to prepare for the winter month; we know it's going to be a tough winter for many of us, and with prices on the rise, it's important to know what you should do for yourself and what to leave for the experts.
Check your boiler as early as possible
You should get your boiler serviced by a registered engineer at least once a year. If you are a Council tenant, and it's been more than a year and you haven't been contacted, you can request a service here.
In addition to this annual service, there are things you can look out for yourself, and it's a good idea to check and test your boiler before it gets cold and the waiting list for plumbers gets too long.
Bleeding the radiator removes air trapped in the system, which means radiators do not warm up as they should. So put your heating on, and after ten minutes check if the top of the radiator is colder than the lower half. There are lots of videos online with more detail on how to bleed your radiator, this one from British Gas is good:
Check the room thermostats so that you only heat the rooms to the temperature you want, and check the water pressure of the boiler too. This is the dial on the boiler with red and green markings. Ideally when not in use the boiler needle should be in the green area just above 1 psi.
Insulate
The average UK home loses more than half its heat through walls and roofs; obviously some measures are expensive and will take some time, like new windows. But it's never too late for certain kinds of insulation measures, such as draft excluders, thick curtains, and loft insulation which can make a big difference.
For private tenants and homeowners, insulation should be at least 250mm thick and you'll need to take into account ventilation in order to avoid condensation, so get them fitted by an expert.
Adur Homes aims to have a higher loft insulation requirement than the minimum legal depth and aims when replacing or adding new insulation to achieve 320mm which can make a big difference to your bills. If you think your loft insulation needs replacing, get in touch.
Other 'quick wins' include heat reflective wallpaper behind radiators, thermal film over windows and thermal wallpaper.
You also need to get into the habit of closing blinds and curtains when it's cold, and remembering to open them again during the day to take advantage of the 'solar gain', the natural heating provided by the sunshine.
And ventilate
Insulation is vital, but you also need to manage moisture. So maintain an airflow to avoid excessive condensation which can lead to damp and mould.
Some windows have a 'trickle vent' switch, which you should open for at least some of the day, to ensure an airflow. It's also a good time to make sure your extractor fan is working.
And if you are drying clothes indoors, shut the doors and open a window to allow the moisture to escape. If you are still using a tumble dryer, you need to ventilate as per the manufacturer's instructions.
Some people have recommended keeping your bathroom door open to spread the heat from the bath, but this is likely to spread condensation in your home; better to reduce condensation by keeping the doors shut, and ventilating your bathroom.
You should ventilate your kitchen too, and use a fan or window to vent for half an hour after cooking on the hob. On the other hand, leaving your oven door open after use, so long as it's safe to do so, can add a bit of heat to your home.
Target your heat
Check the room thermostats so that you only heat the rooms to the temperature you want, and turn radiators off or down low in rooms not being used. Get used to closing doors to keep the heat in. And it might sound obvious, but remember to wrap up warm yourself.
Around 10% of a typical home's heat loss is through floors, so you need to think about how these are insulated. Wooden floorboards can be covered in rugs during winter, for example.

Common way entry doors in blocks of flats should be closed, so that cold air doesn't get in. It makes a big difference.
Anything else?
Winter preparation includes looking at your gutters; check for blockages, growth of weeds, and leaks.
Check your fence posts and reinforce them if necessary so that they stay solid during winter storms.
If you have problems with bills this winter or need help budgeting, the Councils' cost of living pages have useful resources. Your housing officer may be able to help, and the Citizens Advice have a good section on getting help with the cost of living. There are lots of online resources for people looking to save money, like this one on how to cut your energy bills - on the BBC website.
We are here to help with repairs during the winter, although it's usually quicker to use our online request a repair service than to phone; if you aren't sure about what you are responsible for, check out our leaflet for Adur Homes residents:
Finally, your pipes shouldn't freeze this winter on the South Coast, but if you are worried about external pipes here's a link to the British Gas advice on how to avoid frozen and burst pipes!
6th October 2022: Out of Hours calls
Hi, my name is Joanne Thain and I am the Housing Transformation Manager.
I am working with the housing team to transform the housing service and work on giving customers the best possible experience. I have worked in local government for 20 years as a project and change manager delivering service improvements. I joined Adur & Worthing Councils in 2021.
When something needs fixing in your home, we know it can be daunting, especially if it happens at night time or a weekend. We want you to feel safe and comfortable in your home and we know it can be a worry as well as inconvenient for you.
However, the out of hours service is for emergencies only, which are classified as a potential risk to life and property.
A genuine emergency might include water coming through the light fittings, a leak that can't be contained, smoking electrics or an electrical fire.
Also, a communal door or fire exit that won't open or close is classed as an emergency, as is an 'insecure property', with smashed windows or external doors on the ground floor.
We receive a lot of calls to the service which are not genuine emergencies. This makes it difficult for those who are experiencing a genuine emergency or are very vulnerable to access the help they need.
It also ends up being expensive for us, because out-of-hours calls cost more than regular, scheduled maintenance
Examples of calls outs we have had in the last year which are not genuine emergencies:
a washing machine has tripped the switches in my property
there are pigeons in an empty property
"I need my lightbulb changed"
a second toilet at property is blocked
there's a small leak at the back of the toilet due to seal/mastic
"my smoke alarm needs a new battery"
there's water at the top of the outside drain, causing a smell
my shower won't get hot
my whole street has had a power cut (if this happens, please call UK Power Networks on 105)
In some of these cases, the tenant could have fixed the problem for themselves: for example, you are expected to change your own lightbulbs, and turn a trip switch back on.
We've produced a guide for people who aren't sure about whether you should do the job yourself:
We would very much appreciate you only calling us in an emergency for repairs out of hours, and we will of course assist you.
It's very important as a resident to know where your stopcock is to turn off the water in the event of a leak and where your electrical consumer unit is, in case your switches trip.
Here are two useful YouTube videos to help you with this:
Water leak - stopcock:
Power cut - electrical consumer unit:
There is more guidance on what to do in an emergency on our website:
During office hours and for non emergencies please call:
or you can report your repair online at:
The telephone number for emergency out of hours calls is: 07713 889 128
Thank you so much for working with us.
29th September 2022: Waste amnesties bring communities together
"One of the frequent complaints we receive are around fly-tipping and waste in communal areas."
Hi, my name is Lisa Baker and I am the Housing Officer covering parts of Lancing, Southwick and Fishersgate. Please check out my blog that looks at the illegal dumping of waste, known as fly-tipping.
The Housing Officer role is very varied, and each day brings something new. We are there in order to best support our tenants to maintain their tenancy. This means that we are involved in many different things including; rent arrears, mutual exchanges, anti-social behaviour, domestic abuse, child protection and estate management.
The job brings many challenges to us, some are upsetting, most are rewarding and all are interesting. One of the frequent complaints we receive are around fly-tipping and waste in communal areas.
Fly-tipping is defined as the "illegal deposit of any waste onto land that does not have a licence to accept it." This is a huge problem countrywide. As well as being unsightly and sometimes hazardous, it costs landowners and councils thousands of pounds each year to remove. With budgets being reduced, this is a bill that nobody can afford to pay.
In recent years, Fire Safety has also come to everyone's attention. This has led to a number of tasks that we are trying to complete. Items being left in communal areas is an issue we are trying to resolve, but it's not easy. We understand that storage is not always available, or some residents have problems with stairs, however we cannot have items stored on landings. The risk to everyone who lives in the block is too high. If there is a genuine need for support, please contact your Housing Officer.
As a trial to tackle these problems, reduce the number of complaints and to make our estates a nicer place to live, we have organised a number of Waste Amnesties for our residents. They are designed to encourage residents to work with us to make their areas nicer places to be. The amnesty works in a specific way. Letters are sent to each resident advising them of the date the amnesty is taking place. The letter includes a map where residents can leave their unwanted belongings or rubbish. Waste Services will then remove the items. Any that can be recycled will be.
While Waste Services are collecting the unwanted belongings, Housing Officers will be inspecting all of the hallways and landings. If any items remain, we will also remove those, however the resident responsible will be recharged the cost of doing so. Items will be stored for 28 days should the resident want to claim them back, but they will have to provide proof of purchase and pay for the removal, storage and administration costs.
We have had two Amnesties to date, with three more currently planned. The first was in Millfield, Sompting. Over five tonnes of rubbish was removed and it is estimated to have saved around £500. The second was in Butts Road, Southwick.
Almost 12 tonnes of waste was removed saving around £1,000, while feedback from residents has also been overwhelmingly positive and we have found whole blocks working together to clear landings, gardens and homes and bringing communities closer.
Waste amnesty dates:
30th September 2022: Fishersgate
2nd November 2022: Warren Court and Tower Road Flats in Sompting
We really do want to make your estates a more pleasant place to be, but we do not have a large budget.
If you have any ideas on how we can make a difference, please contact your Housing Officer at:
Photos: Clearing rubbish at the previous waste amnesty and clearance day at Millfield, in Sompting
22nd September 2022: Southwick Estate Consultation
Imogen is from Cratus' Communities team and acts as a Resident Liaison Officer for the Southwick Estate. Imogen's main responsibilities include liaising with residents to make sure they are heard and helped, alongside organising consultations and meetings for the community to stay up to date with the future plans for the Southwick Estate.
Adur District Council is working on the options for the Southwick Estate, which needs a lot of work to bring it up to modern housing standards. There are many ways this could be done, from refurbishment to rebuilding all the flats and that is where the consultation has come into play.
We know how important people's homes are, and there is a strong sense of community spirit on the estate, as well as challenges on some properties. We also know that uncertainty and change can be stressful.
So we want the residents of the estate to have a say in what happens to their homes. It's really important that the next steps are shaped by their feedback and priorities.
We want as many people as possible to get involved in the consultation process. We've been consulting with residents since July 2021. This has included pop-up consultations and monthly Resident Working Group meetings.
We know that some people can't make it to meetings and we've also sent physical and online letters, and knocked on doors: we really went out of our way to speak to people.
Photo: At the consultation event looking at the exhibition
Residents were first asked what they liked and disliked about the estate as well as their priorities for the future. So we know that residents value quality open spaces, parking, safety and security, as well as insulation, for example.
We initially developed four options:
Repairs and Refurbishment
New Home and Improvement Works
Partial Redevelopment
Full Redevelopment
Whilst many people currently feel that they do not have enough information to decide, the most popular options are to keep the buildings but continue with extensive repairs and refurbishment (known as 'option 1' in the consultations') and full redevelopment ('option 4'). Based on your feedback, we will focus on these two options.
The Council has also hired a team of independent resident advisors (New Mill) who specialise in helping people with housing change. Although paid for by the Council, New Mill advisors work for Southwick residents and are available to speak to you confidentially about any leaseholder or tenant matters.
New Mill are also in the process of working with residents on a Residents' Charter which will lay out the commitments the Council is making to the Southwick Estate residents.
As well as the current Resident Working Group meetings, there will also be leaseholder sub-group meetings beginning this month to address any leaseholder queries. We will also arrange regular walkabouts on the estate with residents, officers and councillors to identify any ongoing concerns.
Photo: Southwick Estate pictured from Albion Street
What happens next?
For the next series of events, we will focus on giving much more information about Option 1 and 4, with extra information on how either would affect tenants and leaseholders.
We have noted down all your questions and queries and have already started using them to make changes to the proposals. We will answer more of your questions at the next stage, and be out and about again gathering your feedback and choice of option between 1 (Repairs and Refurbishment), and 4 (Full Redevelopment). We aim to hold the next round of consultation in October or November.
After this, the team will look at resident feedback and financial implications and will name the community's 'preferred option'. We aim to make a Council recommendation on the preferred option by January.
If the Council agrees then residents will have a chance to officially vote on whether they would like this option to go ahead. This is known as a resident ballot. An offer booklet giving detailed information about the options will be sent to every home before voting, and you can ask the Independent Resident Advisors for help if needed.
Subject to agreement, we plan to hold the resident ballot early in the new year.
Photo: Southwick Estate
1st September 2022: All hands to the pump in reducing carbon emissions
"Replacing this gas consumption with environmentally-friendly alternatives will be one of the big challenges."
Hi - my name's Dan Goodchild and I'm Adur & Worthing Councils' Carbon Reduction Manager.
In this week's blog I would like to focus on some of the innovative and pioneering ways we are trying to reduce our carbon footprint
One of our biggest sources of carbon emissions is housing, with homes across the UK responsible for about 17% of the country's total carbon emissions and an overwhelming reliance on burning fossil fuels for heating. Add to that the unprecedented energy price rises seen this year and we've certainly got a lot of work ahead of us!
As far as the Councils go, about 20% of the gas the Council buys each year is used for communal heating in Adur Homes properties. Replacing this gas consumption with environmentally-friendly alternatives will be one of the big challenges as we move towards our target to be carbon neutral by 2030.
I am pleased to say that we have recently done this at two sheltered housing sites in Lancing and Shoreham. Residents here now only use 'ground-source heat pumps' for their heating and hot water.
Heat pumps work by using electricity to move heat from one place to another - in this case, taking heat from the ground and using it to warm water that is pumped around radiators in flats. They work in the same way - but in the opposite direction - as your fridge at home. Your fridge moves heat from the inside to the outside, cooling your food but heating up the space behind your fridge. Using this type of system to provide heating and hot water to buildings is often three times more efficient than a gas boiler, so less energy is needed in the first place and fewer carbon emissions are released.
The two sites, Shadwells Court on the Mash Barn estate in Lancing and Tollbridge House near the Amsterdam Inn in Shoreham, both had old and inefficient heating systems which used gas. The systems were unreliable and, when they were working, they were hard for residents to control.
The Council used Public Sector Decarbonisation Scheme money - central government funding aimed at reducing the carbon footprint of the public sector - to upgrade the heating systems at each of the sites. Firstly, loft insulation was topped up to ensure as little heat as possible was being lost through the buildings' fabric.
We then worked with Kensa Contracting to complete a lot of drilling: about 4km of pipework was buried! We connected these new boreholes to individual heat pumps which are located in cupboards outside of residents' flats. This was very messy at the time, but a year on from the start of the drilling the sites are looking very neat and the grass has fully regrown.
Photos: Whilst the work to put the pumps in can be relatively noisy and disruptive, once installed, you can't see them.
Because heat pumps work best when the water inside radiators is cooler than traditional systems, we redesigned and replaced each and every radiator and bit of pipework across both sites. These radiators are slightly larger than the old ones, but still fit well within the rooms, look like 'normal radiators' and are warm to the touch. They also provide all residents' hot water needs.
Photo: The newly installed heat pump
We also installed solar panels on three of the roofs at Shadwells Court in order to generate low carbon electricity to further reduce our emissions.
This work was undoubtedly disruptive for residents and we are very grateful for their patience throughout the process. Residents now have a brand new, controllable system that gives each of them the ability to manage their own heating. As the energy price crisis continues to affect all of us, they will at least be consuming less energy and be more in control of their own spending.
Whilst the Councils still have a long way to go in order to meet our targets- to be carbon neutral by 2030 for Council operations and by 2045 for the area as a whole - the installations will reduce emissions by about 80 tonnes per year, and are our first key Adur Homes projects.
The Carbon Reduction team (part of the wider Sustainability Team) was appointed following the Councils' joint declaration of a Climate Emergency in 2019 and alongside the adoption of targets.
Page last updated: 28 October 2022
Back to top