Danielle Easen
Dog Warden
About Danielle:
Danielle Easen is one of our Dog Wardens at Adur & Worthing Councils. She joined the team in September 2021 and, along with her teammate Michael Barnard, looks out for the welfare of dogs in the area.
Dealing with stray dogs, investigating dog-related complaints, enforcement of laws and regular patrolling of parks, streets and other open spaces within Adur and Worthing are some of Danielle's responsibilities.
Danielle has a four-legged friend of her own called Billy and in her spare time enjoys taking Billy for long walks in the woods and at the beach. She also enjoys spending time outdoors with her horses.
You can read Danielle's current blog posts on this page below:
See also: Dogs
---
21st December 2022: Keeping you and your dog safe
Hi, I am Danielle and in my latest blog, I talk about some of the changes to rules for dogs and dog walkers.
Public Space Protection Orders, commonly referred to as PSPOs, are used by Local Authorities to help tackle and prevent anti-social behaviour in public spaces. Adur & Worthing Councils use PSPOs for different things, including dog control.
The PSPOs we have relating to dogs are:
Dog Fouling
Dog on Lead areas
Dog Exclusion zones
Dogs on lead by direction
Maximum number of dogs to be walked by one person
These PSPOs apply to public places across Adur and Worthing. Certain ones apply to certain areas. For example, dogs are excluded from children's playgrounds and they have to be on a lead in a cemetery. Details of all of these can be found on our dog control webpage.
Photo: The dog exclusion zone at the Meads in Shoreham
If you are caught breaching one of the PSPOs you are liable for a £100 Fixed Penalty Notice and failure to comply may result in you being taken to court and charged a fine of up to £1,000.
PSPOs come up for renewal once every three years and this is when we can go to a public consultation and get the public's view on certain areas.
Our latest consultation was in the summer this year when we asked residents, workers and visitors to Adur and Worthing to have their say on some proposed changes in the area.
We had a great response from the public and all of the proposed changes were favoured and came into effect on 18th December 2022, alongside the existing PSPOs.
The changes are:
Adur
Adur Riverbank, off Brighton Road, Shoreham - the footpath becomes a 'dogs on lead' area
Adur Ferry Bridge, Shoreham - the footpath becomes a 'dogs on lead' area
Lancing Beach Green - the play area and skate park become 'dog exclusion zones'
The Meads Recreation Ground, Shoreham - the fenced off area used by Swiss Gardens Primary School becomes a 'dog exclusion zone'
Worthing
Beach House Park, Brighton Road, Worthing - the northern bowling green becomes a 'dog play area' (no restrictions)
West Park Recreation Ground, Worthing Leisure Centre - the north east corner is removed from the dog excluded area
Goring Beach - the northern boundary of the current exclusion area is moved south to remove the beach huts from the exclusion area
Heene Terrace, Worthing - becomes a 'dogs on lead' area.
Added to each PSPO is a requirement for an individual to provide their personal details when being investigated for a possible PSPO offence.
For more information see Dog Control.
Photo: The north bowling green at Beach House Park
Photo: The dog exclusion zone at Lancing Beach Green
19th October 2022: How do you celebrate Halloween?
Do you like to have parties with your friends, go trick-or-treating and get dressed up in spooky costumes? No matter what you do, it is important to keep our pets safe and happy.
This blog is a little early for Halloween, but hopefully gives you plenty of time to prepare!
Trick-or-treating
If you are expecting trick-or-treaters to your door, consider these few things:
Have your dog wear their collar and tag if you are going to be frequently opening the door.
Consider keeping your dog closed away in one room when opening the door.
Perhaps walking your dog earlier in the day - it can be quite scary at night with lots of children running around.
Think about leaving your dog safe at home when out with your children. There will be lots of kids around and it will most likely be dark - children could grab or fall on your dog.
In case someone brings a dog to your door - educate the children in your care about unknown dogs. Make sure they know not to touch unknown dogs and to be gentle with them if allowed to say hello.
KEEP SWEETS AND TREATS AWAY FROM DOGS.
Photo: A young picture of Danielle's dog Billy with Halloween inspired cape
Halloween Party
I love a Halloween party - myself and my family have one every year. We have dressing up competitions, party games, treat finding and more! There are certain things we ensure we do to keep our animals safe:
Plan the activities - we always have a rough idea of what we are going to do on the night, this enables us to manage the animals accordingly.
Have a separate area that the dogs can take themselves off to, and can be shut away when needed (treat hiding/finding).
Either have the dogs away when people are arriving, or ask them to come in calmly to greet the dog first.
Be aware of the dog's body language - are they showing signs of subtle stress?
If you have a nervous dog, consider taking them to a friend's/family's house to keep them safe.
Dressing up
Getting dressed up is one of the best parts of Halloween - I love seeing everyone's outfits and scary masks. But for animals, this can be extra scary. To them, people still smell like people but are often acting very differently and dressed in strange outfits and big spooky masks.
If you and your family are planning on dressing up, I recommend getting your dog used to this before Halloween night. Play dress up in the house and give your dog treats and play games with them whilst looking different, this may help reduce the stress they may feel.
Are you going to be dressing your dog up? Some dogs can be really uncomfortable being dressed up, some are fine. If you choose a costume consider the following:
Is it covering the dog's eyes?
Is it covering the dog's ears?
Is it covering the dog's nose?
Is it covering the dog's paws?
Can the dog move freely?
Are there any small parts that can be chewed off and become a choke hazard?
Can they sit and lie down comfortably?
Are they showing signs of stress or being uncomfortable?
Will you be supervising the dog?
You know your dog best, so you can make the right choices for your dog.
Photo: Billy's mum Tilly in front of some pumpkins at Halloween
Not participating?
There are so many reasons people may not want to take part in Halloween, one of these could be for the safety and happiness of their animals.
If your dog is reactive, scared of strangers, an escape artist or maybe a sweet treat thief, you may choose to not participate.
It is so important to respect people's wishes when out trick-or-treating.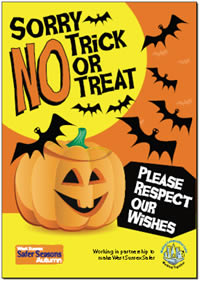 To try and prevent people from knocking your door and disturbing you and your animals, it may be worth putting a sign up on your door. I have found this printable poster from Sussex Police about Trick or Treating which you are free to use:
Next week's blog will be covering Bonfire Night and ways to help your dog with fireworks :)
Photo: Danielle's dog Billy with a T. rex
23rd August 2022: Is your dog microchipped?
Hi everyone, last week we shared an appeal to find the owner of a dog that was found lost at Goring Gap on Adur & Worthing Councils' Facebook page.
I just wanted to start by saying a big thank you to everyone who shared our appeal to help find the little Shepherd Dog's owner. His owner was very grateful to have him back!
The topic of microchips was being discussed in the Facebook post's comments section, so I thought I would look at what we do about dogs with no microchip or where the details are out of date.
When we collect a stray dog, we scan their body with our microchip scanner to reveal a chip number. The majority of the time, there is a chip present. We then search the chip number on the online databases.
If the chip is registered, we will:
Call the contact numbers (leave a message).
Go to the address (leave a Seven-Day Notice).
Email the email address (if one provided).
If we can't get hold of the owner, we have to take the dog to kennels and await contact from the owner. If the owner doesn't come forward for the dog after seven days, the dog becomes the property of the Councils.
Once an owner has been identified we will go through the reunification process, including taking payment for the dog. Kennelling a dog means charges build up for the owner, so it is important the dog is chipped and the details are up-to-date so that these charges are minimised.
If a dog doesn't have a microchip, or the details aren't up-to-date, we issue a 21-Day Notice.
The 21-Day Notice states that the owner must have the dog microchipped and registered with up-to-date details within 21 days of being served the notice. Failure to do this can lead to a fine of £500.
Thankfully, every 21-Day Notice I have issued has been complied with before the expiry date.
Do you know your dog's microchip number, whether it is registered and if your contact details are up-to-date?
I am looking to do some chip check days at some of the popular dog walking spots in Adur & Worthing over the coming months.
You can bring your dog to me, I can scan them and check their details online for you. I will update the blogs with more information on this soon. You can also contact your dog's vet who may have a copy of their microchip number.
3rd August 2022: Be a responsible dog owner
"We use PSPOs to ensure everyone can be safe and happy whilst using public areas…"
Hi, my name is Danielle and I'm one of our Dog Wardens at Adur & Worthing Councils. Please check out my blog below ...

Have your say on Adur and Worthing's Dog Control Public Space Protection Orders (PSPOs) and the changes that are looking to be made. You have until 26th August 2022 to get involved and add your comments.
There may be areas mentioned that you have no opinion on, or areas that you want to talk about that aren't mentioned.
The areas affected by proposed changes in Adur are:
The Adur riverbank off Brighton Road
Adur Ferry Bridge in Shoreham
Lancing Beach Green
and in Worthing are:
Beach House Park, Brighton Road
West Park Recreation Ground
Worthing Leisure Centre
Goring Beach
Heene Terrace
We use PSPOs to ensure everyone can be safe and happy whilst using public areas within Adur and Worthing, with out of control dogs or irresponsible dog owners spoiling this for others.
Our current PSPOs include:
Keeping your dog on a lead in certain areas
Putting your dog on a lead if directed to by an authorised officer
Picking up and correctly disposing of dog waste
Dog exclusion areas
Limiting the amount of dogs one person can walk to six dogs
We propose to continue with these and failure to follow these PSPOs can lead to the issue of £100 Fixed Penalty Notices and can escalate to a fine of up to £1,000 and a criminal record.
Cllr Emma Evans, Adur's Executive Member for the Environment added:
"The vast majority of dog owners are considerate, but unfortunately there are a small number who are irresponsible and don't control their dogs, or allow them to foul."
Cllr Vicki Wells, Worthing's Cabinet Member for the Environment, said:
"Public Space Protection Orders help the Councils to manage our shared open spaces so that they can be enjoyed by all members of our community - including responsible dog owners."
It would be great to get feedback from residents, workers, visitors, dog owners and non-dog owners.
These PSPOs are due to come into effect towards the end of the year.
Photo: Clean it up - dog fouling stencil sprayed on the pavement
Photo: Dog on a lead
Photo: Dog exclusion, dog on a beach
Page last updated: 04 January 2023
Back to top