Coastal Office
Foreshore Inspectors
About the Coastal Office: (previously called the Beach Office)
The Coastal Office is a front line service for water safety and public wellbeing. Staff are First Aid trained and can also deal with every eventuality from lost children to cuts & bruises ... and questions such as "where is the best fish and chips"!
Staff at the Coastal Office will take it in turns to bring an update each week.
You can read current blog posts from the Coastal Office on this page below:
See also:
---
24th January 2023: A world of adventure at the Coastal Office
"Before Christmas we found a baby conger eel about 10cm long which we put in the tank."
Hi - my name's Michelle and I am your blogger for the week from Worthing Coastal Office.
Many of you know that we have a Rockpool Reef in the office, which houses native species to our waters here in Worthing. Last year alone 3,653 people came to visit, with many returning regularly.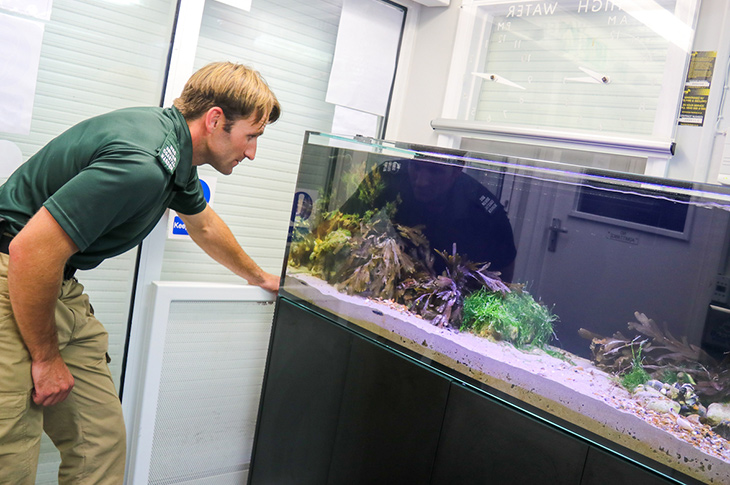 It is also called a 'cycling aquarium' because access to sea life is constant. As part of our duties we go to the rockpools to retrieve native species where they then spend a few weeks or months in the tank.
We have recently had a few releases to share with you...
Before Christmas we found a baby Conger eel about 10cm long which we put in the tank. Unfortunately, being a nocturnal creature, neither we nor our visitors got to see it! And we decided to release it because some of the other creatures went missing... the eel had eaten our lovely little sea bass which was thriving in the tank.
The tank was also home to an edible crab for a while. We joked about having it as a starter on Christmas Day, but we refrained! The crab always liked to hide under one of the rocks shaped like a cave.
But it had recently grown too big and needed to be released. So on a cold, calm morning in January, we let him go to find some new friends. He wasn't quite sure what to make of the sand and the sea at first, but eventually he scuttled away.
We collected other species such as mussels for the crabs and shrimp to eat and some more weed to add depth and texture and a home from home feel for the creatures.
Next week, when the tide goes out further we hope to collect some more crabs and little Blennies (see Kellie's blog about Blennies below).
If you fancy rock pooling, why not come and borrow a Marine Warrior backpack. They contain everything you need, so just pop into the Coastal Office near Worthing Pier for more information.
17th January 2023: The wonderful world of the Blenny
"The Common Blenny is a really wonderful marine creature that is really visually interesting and plays an important role in our local ecosystem."
Hi - my name's Kellie and I am your blogger for the week from Worthing Coastal Office.
In today's blog I'm going to be talking about Blennies - a species of small fish.
If you've been rockpooling in Worthing (or elsewhere in the UK) or have popped by the Coastal Office and checked out our rockpool reef tank, then you will have most definitely seen a Blenny on your adventures.
There are nearly 900 different species of Blennies around the world, the most common in Worthing is ironically, the Common Blenny (scientific name Lipophrys Pholis). This species of Blenny is also known as a Shanny, Sea Frog and Smooth Blenny.
They can grow up to 20cm in length and are beige, brown or sometimes grey with dark blotch markings, However, during the breeding season, male Blennies will change to a much darker colour.
Blennies have big eyes at the top of their head and a long dorsal fin that runs down the length of their back, with a small notch in the middle - the dorsal fin is the best way to distinguish between a Blenny and their counterpart the Goby!
The Common Blenny is an intertidal species and lives in shallow waters and rock pools. When the tide goes out you can quite often find them hiding in the cracks and crevices of rocks.
They are great at camouflaging due to their mottled colouring and very quick to swim away if disturbed. They can survive out of the water for long periods of time and they will quite often perch half in and out of the water for some time - this is a behaviour we've been able to identify first hand from watching them in our Rockpool Reef tank.
Blennies are not fussy eaters and have a very varied diet depending on conditional food sources. Their diet mainly consists of small prawns, ragworms, lugworms, invertebrates, sea snails, barnacles, amphipods and algae, while they have also been known to eat crabs, isopods, copepods, limpets and small molluscs.
The lifespan of a Blenny can vary from 10 to 20 years and they reach maturity around two years of age. Their breeding season is from April to August. The female Blenny will lay eggs that stick to the substrate of the rockpools and once she has laid, the male Blenny will guard the eggs against hungry predators for over a month. Each female will spawn around three times in a season.
The Common Blenny is a really wonderful marine creature that is really visually interesting and plays an important role in our local ecosystem. They're not rare, nor on the conservation watch list, however, it is important to note that if you do come across Blennies, or any marine creature on your rockpooling adventure to be mindful of handling them and to put items gently back where they were found to ensure they remain as so.
I really hope you enjoyed learning about the wonderful Common Blenny. If you would like to see one, we have several staying with us in our Rockpool Reef tank located at Worthing Coastal Office.
They're a very active, playful and curious creature and it has been fascinating to watch their behaviour over the past year. I've learnt so much about them and now, I hope you have too!
Photo: Rob Dove, Senior Coastal Warden, looking at the Rockpool Reef tank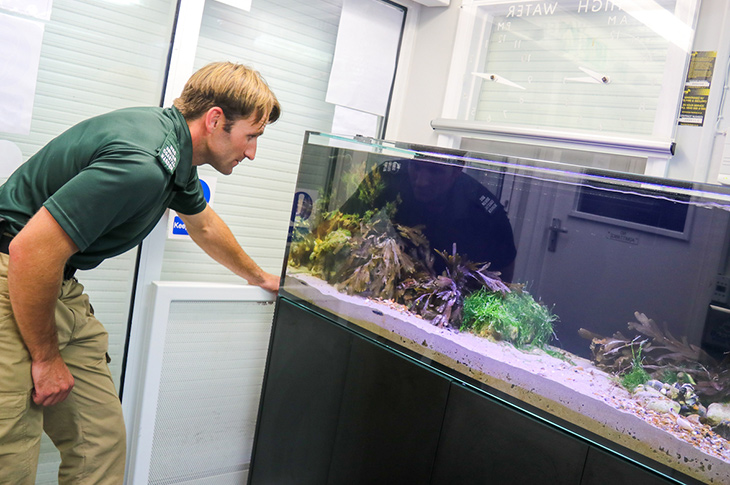 5th January 2023: Happy New Year from the Coastal Office
"As I look back on 2022 and my first year of being a Coastal Warden, I am grateful for a supportive team around me and wonderful people who we meet each day."
Hi - my name's Michelle and I am your blogger for the week from Worthing Coastal Office.
Christmas has been and gone, we've eaten, we've walked, played games and hopefully stayed fit and healthy. Christmas is a wonderful time of the year for many, but also the worst time of the year for some. I hope that everyone has managed to find some sunlight between the clouds.
As I look back on 2022 and my first year of being a Coastal Warden, I am grateful for a supportive team around me and wonderful people who we meet each day. We've had some highs including full beaches, happy people and school visits, as well as some lows, such as criminal damage on the prom and dead cetaceans to name a few.
I am now looking forward to 2023 where I hope to build on a fantastic last year, swim in the sea a little more and cherish our beautiful surroundings every day.
New Year's resolutions are easy to make and easy to break. Some people vow to exercise more, try Dry January, or get a new job.
In one of my earlier blogs I spoke about the five ways to a better wellbeing as celebrated by the NHS and Mind.
These are:
Connect with other people: You may speak to someone new, give a friend a call instead of a text
Be physically active: This may not be running a marathon, it might be walking in your lunch hour, taking the stairs instead of the lift
Learn new skills: Dust off that 'how to...' book on your bookshelf, begin a new class or take on a challenge at work
Give to others: We may have received some presents over the last few weeks, but perhaps try volunteering
Pay attention to the present: Try rushing less, take time out and think about the now
For more information try these links:
Another piece of loveliness that you may or may not have caught over the festive period is 'The Boy, The Fox, The Mole and The Horse', by Charlie Mackesy. It has been turned into a beautiful animation. We can all take a little something from this and remember the boy's wish when he grows up... "to be kind".
Here's to a happy, healthy and prosperous 2023...
23rd December 2022: Thank you and see you next year!
Hi - Rob here, I'm the Senior Warden here at Worthing's Coastal Office and your blogger of the week.
After the freezing but seasonal conditions of last week, the recent gloomy dark daylight hours must mean another year is about to pass.
Having an opportunity to look back, reflect and prepare for next season is something we always do as a team near Christmas, along with dealing with the change in dynamics and challenges that winter brings to our day.
My fairly new team of Coastal Wardens now have a full high season under their belt and, with all the complexities and sometimes chaos the summer can bring, it's been a privilege to see them progress as a unit and become robustly resilient and effective as a result of the safe exposure to a multitude of situations that have presented themselves since starting here.
Photo: The Coastal team's quad on the beach during the summer
There have also been so many positive interactions this year with you, the public, and our various seafront stakeholders. It's been great to build these relationships and work together to spearhead conservation and safety projects that protect our people, environment and heritage.
The interaction really has been far reaching. Tonnes of you have been in to see the critters in Rockpool Reef - our native fish tank - and many of you have met us on the water in the high season or called on our assistance when on landside patrol.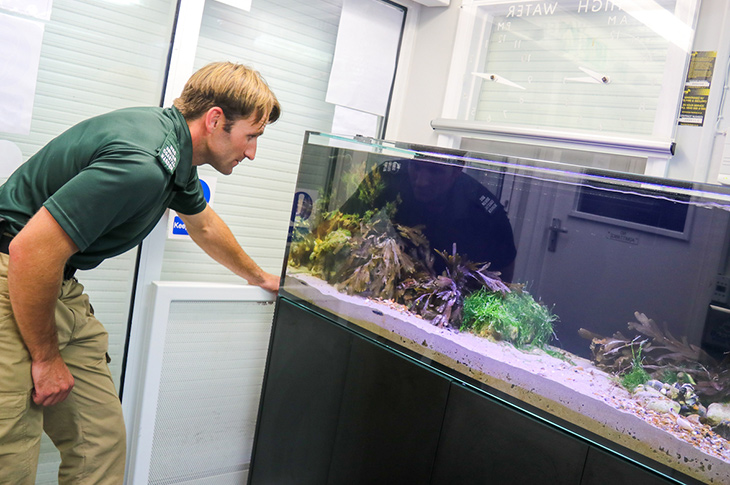 The Coastal Office has lots of new plans and projects for 2023, and we can't wait to put all the experience and lessons learnt from 2022 into practice next year.
All that's left to say is thank you for supporting us and valuing the service, and on behalf of the Coastal Office team we wish you a peaceful Christmas and a Happy New Year.
Photo: A Christmas message from the Coastal Office
22nd December 2022: The Falklands is full of beauty
"The Falkland Islands are a fascinating place and I can see why the local people and visitors feel so at home there."
Hi - my name is Jeff and I am your blogger for the week from Worthing Coastal Office.
I have been fortunate enough to visit the Falkland Islands recently where I met some incredible people and wildlife, while I even trended on Twitter…
It has been a few weeks since my last blog and a lot has happened over that period of time, including a number of strong weather fronts passing through Worthing and causing damage to landmarks such as the beacon on the seafront.
I have missed some of these as I have been away in the Falklands. It is 40 years since the end of the conflict there, and as a result of a family member now working there, I decided to combine a visit to the islands.
The journey from the UK is more than 18 hours and the only direct flight is via military transport. Although very basic, the journey was okay and on arrival at Mount Pleasant Airport (MPN) we were collected by a family friend and the journey from the airport to Stanley was eventful, from the lack of formal road to wandering sheep!
There are approximately 3,729 people living on the islands but most living in and around Stanley.
Located on the seafront is the memorial to the conflict of 1982 and a stopping point for me upon coming to the city. Stanley has recently been awarded this status. The city itself was welcoming, especially when they found out you were a veteran.
We walked from the memorial along the main road and ended up looking at some of the locals taking in the sunshine (seals not people!). The funny thing is we have seen an increase in seal sightings in Worthing this year… I wonder if these are distant relatives?
The southern elephant seal (below right) is the largest seal alive on Earth today. They can grow up to 5.8 metres, or 19 feet, in length and weigh up to 8,800 lbs.
The Falkland Islands are a fascinating place and I can see why the local people and visitors feel so at home there. From the penguins to the long deserted beaches, the sights and smells are captivating.
There is incredible wildlife such as the Magellanic penguin, which is a summer resident of the Falkland Islands. They're found all around the coastline and nest in burrows, while the Southern rockhopper penguin is the smallest of the Falklands penguins.
One of the highlights for me was meeting the governor of the Islands, Ms Alison Blake CMG at her residence and being presented with a scarf in the colours of the Falklands ribbon. Just after the presentation the local radio interviewed me. This was played on the island radio with the interview and pictures even trending on Twitter!! I felt like a celebrity for the rest of the trip.
There were other moments that led to self reflection such as visiting the memorial sites such as a memorial to those lost on the Atlantic Conveyor during the Falklands War at Cape Pembroke, featuring a propeller and shaft aligned on a magnetic bearing of 62 degrees to indicate the point, 90 miles out to sea, where the ship sank.
There is also a Falklands War memorial to commemorate the 255 British casualties of the conflict.
The things I will take away from the Falklands is the isolation, beauty and wildlife, but mainly the warm nature and welcoming people. There are similarities here in Worthing - perhaps not the isolation but definitely the wildlife and the people.
16th December 2022: And the winners are...
Hi - my name's Kellie and I am your blogger for the week from Worthing Coastal Office.
In my last few blogs I've been sharing with you the winners from this year's Seafront Planter Project 'Coastal Gardens'. In this week's blog I'll be sharing with you our two final winners.
Rowans Day Centre, who adopted flower bed number 10 are the winners of the Most Innovative Flower Bed category. Rowans Day Centre is a West Sussex County Council day service supporting people who have learning disabilities and acquired brain injuries.
The team there do such amazing work, and from the get-go, shared their love of community projects and the coastline and revealed that, prior to Covid, they would often come down and do their bit to keep our local beaches clean and plastic-free by taking part in beach cleans.
It's easy to see, even at first glance, how their flower bed won most Innovative. Their bed showcased a turtle made out of sustainable materials with the shell housing some beautiful succulent plants that thrived through summer.
The turtle is a magnificent design concept and really blew myself and the judges away! Their flower bed also showcased a beautiful array of plants, including native coastal plants, as well as pebbles.
They also featured a large piece of netting into their flower bed design, highlighting plastic pollution and ghost netting, which are having harmful and negative impacts on our seas and marine life. The placement of the netting, along with the colour makes it look like the turtle is swimming out of the beach and onto the shore. Overall this is a beautiful and creative flower bed and the innovation in the design is just wonderful. A very big well done to Rowans Day Center.
Photo: Bed 10 - held by Rowans Day Centre
Our next and final winner is Sparrows Nest Childminding Services, adopters of flower bed 29 in front of Worthing Pier. Sparrows Nest won the Most Creative flower bed category.
Louise is a qualified childminder with nearly 30 years' experience and offers affordable local childcare. Sparrows Nest understands the importance and impacts of connecting with nature and children learning vital skills through outdoor activities.
Louise's love of the outdoors really shone through in their creative design of their flower bed.
Following the project's brief of plastic-free and celebrating our coastline, Sparrows Nest flower bed recreated their own wonderful coastline in a small space.
The creativity and attention to detail that went into creating the flower bed really impressed us all. Their flower bed perfectly reflected our shingle coastline that flowed into a line of slipper limpet shells before being integrated with sand, all of this mimicked the coastline then incorporated into a sea of flowers - Blue Cornflowers mainly, which when they bloomed in the summer became a truly beautiful representation of our foreshore.
The detail and time that was spent painting slates of rock with great designs of a dolphin and seabird really showed a wonderful attention to detail.
A very big thank you and well done to Louise.
I would just like to end my blog by saying a massive thank you to all of the volunteers who participated in this year's project, for all of your hard work and dedication to creating beautiful displays that reflect our wonderful coastline for the local community and tourists to enjoy.
Photo: Coastal bed 29 - held by Sparrows Nest Childminding Services
The Coastal Office
The Coastal Office can be found on Worthing seafront just to the east of the Worthing Lido, west of the Pier: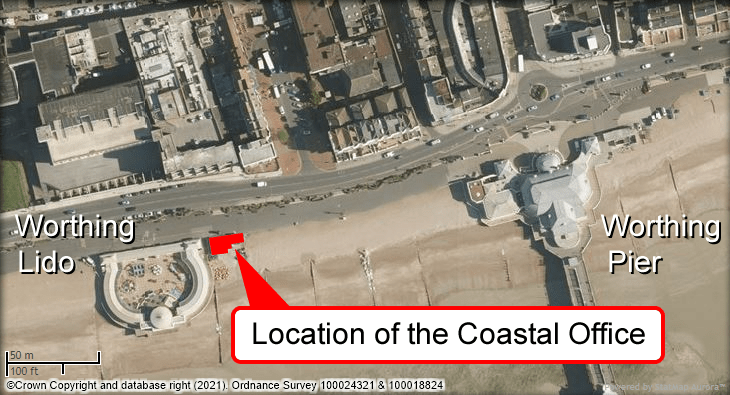 Page last updated: 24 January 2023
Back to top