Coastal Office
Foreshore Inspectors
About the Coastal Office: (previously called the Beach Office)
The Coastal Office is a front line service for water safety and public wellbeing. Staff are First Aid trained and can also deal with every eventuality from lost children to cuts & bruises ... and questions such as "where is the best fish and chips"!
Staff at the Coastal Office will take it in turns to bring an update each week.
You can read current blog posts from the Coastal Office on this page below:
See also:
---
4th October 2022: Colourful win for Care for Veterans
"The winner in the 'Most Colourful Flower Bed' category was Care For Veterans."
Hi - my name's Kellie and I am your blogger for the week from Worthing Coastal Office.
In this week's blog I'm going to talk about one of the winners from this year's seafront planters project-themed 'Coastal Gardens'.
The winner for the following category 'Most Colourful Flower Bed' was Care For Veterans - a nursing, rehabilitation and care facility for ex-armed forces personnel based in Worthing.
Photo: Kellie presenting the Care for Veterans winners with their certificate
During my time coordinating the project, I had the pleasure of meeting Paul, a volunteer gardener for Care for Veterans who shared his passion for both the care facility and for gardening, as well as his knowledge. He was really excited to be involved in the project and raise some awareness for the amazing work Care for Veterans do.
We were very fortunate to have established this connection, and as a result, we were able to donate plants and bulbs that were previously in the flower beds to Care for Veterans to be used in their gardens for residents, patients and their families to enjoy.
Care for Veterans was established in 1919 to care for soldiers who had experienced life-changing disabilities returning from World War I. For more than 100 years they've been providing long-term nursing care, rehabilitation, respite and award-winning end-of-life care to those who have ever served in HM Forces.
Their patients vary from 18 to 100 years old and the majority of those they care for have Acquired Brain Injuries or a degenerative neurological condition.
I had the pleasure of attending the facility to pass over the certificate and was given a tour of their beautiful gardens to see the amazing work that the staff and volunteers do. The volunteers have created beautiful outdoor spaces for the residents and their families to enjoy and to also aid in their rehabilitation as green spaces have a great impact on mental and physical health.
They also showed me the vegetable and planting patches where they actively encourage residents to get involved and improve their green fingered skills. They've even managed to grow some vegetables that the chef can then use in their meals!
Care for Veterans relies solely on donations from individuals, companies and trusts and needs to raise over £1.5 million annually in order to continue to provide their award-winning care. They are also seeking volunteers to help the facility in a number of ways, including gardening - so if you do have some spare time available and are a keen gardener, please do get in touch with them.
You can find out more about Care for Veterans, they work they do and how to get involved on the:
Photos: The Care For Veterans flower bed - winner of 'Most Colourful Flower Bed'
23rd September 2022: CPR (cardiopulmonary resuscitation)
"CPR is a life skill that everyone should learn as it could save the life of a friend, family or a child."
Hi - my name is Jeff and I am your blogger for the week from Worthing Coastal Office.
This week my blog that looks at some of the potentially life-saving first aid incidents we have to attend recently.
Over the last couple of weeks we have looked at different areas of first aid and hopefully you have not had cause to put these into practice. We, on the other hand, have had to respond to various incidents on the sea front and into town.
One such incident required immediate assistance as a female had collapsed. On attending the scene there were no obvious reasons for this, such as a ladder on the floor or damaged electrical cables so it appeared safe to approach. The initial survey showed that they were unconscious and unresponsive.
I checked for breathing but was unable to detect the rise and fall of the chest. I tilted back their head to open their airway and noticed a visible intake of breath and then saw the rise and fall of their chest.
Had this not been seen I would have immediately started CPR (cardiopulmonary resuscitation). This is a life skill that everyone should learn as it could save the life of a friend, family or a child. Giving CPR to a child or infant is a separate skill and further instruction can be found on the NHS or other providers' website.
If you come across a casualty who is unconscious and not breathing, the initial thing to do is to call 999 and seek assistance. Conducting CPR for any length of time is an exhausting process and assistance will be required.
On contacting the 999 ambulance service they will ask you a number of questions and then talk you through the CPR process and other life saving proceedures.
For the purpose of this blog we will look at the passerby who is not first aid trained. The 999 operator will give you instructions on hands only CPR.
Hands-only CPR:
To carry out a chest compression:
Kneel next to the person and place the heel of your hand on the breastbone at the centre of their chest. Place the palm of your other hand on top of the hand that's on their chest and interlock your fingers
Position yourself so your shoulders are directly above your hands
Using your body weight (not just your arms), press straight down by 5 to 6cm (2 to 2.5 inches) on their chest
Keeping your hands on their chest, release the compression and allow their chest to return to its original position
Repeat these compressions at a rate of 100 to 120 times a minute until an ambulance arrives or for as long as you can
CPR on children:
You should carry out CPR with rescue breaths on a child. It's more likely children will have a problem with their airways and breathing than a problem with their heart. For further information on this and other first aid related information please see:
Video: How to perfom CPR
The NHS have made a video regarding this subject and although it relates to the time of the pandemic the process remains valid
Photo: Jeff with his first aid kit on Worthing beach
Photo: Keeping an eye out on the beach and the Coastal Office on the seafront where you can get first aid
20th September 2022: Propelling ourselves to keep people safe in the water
"The winter season and summer season are rather different for us here at the Coastal Office."
Hi - my name's Michelle and I am your blogger for the week from Worthing Coastal Office.
It has been a strange week to be part of here. Following the news of the death of Queen Elizabeth II, there was a quick response by the Coastal Team to lower the Union flags to half mast on Thursday night - the day she passed - followed by a change again to full mast on Saturday for the proclamation of King Charles III. They remained at half mast until after the state funeral of Queen Elizabeth II on Monday 19th September 2022.
I can't believe we are halfway through September and are very soon to be officially out of the summer season. The winter season and summer season are rather different for us here at the Coastal Office. One difference is the stopping of our water patrol. We patrol the coastline from Ferring to Widewater in Lancing, stopping any dangerous acts on the water and issuing advice.
Recently, we have had people question why we don't use the RIB (Rigid Inflatable Boat) as much as we used to. There are many reasons for this, but probably the most important reason is due to safety and how they are both propelled.
If you were in the water, would you prefer to be approached by a person on a PWC (Personal Watercraft - similar to a jet ski) with an impeller or by a RIB with a propeller?
A propeller is a type of fan that propels fluid by pushing against it, converting rotational force into a linear motion. An impeller is a type of rotor that is typically part of a pump and creates a sucking force, drawing liquid into a vehicle or engine. The propeller is outside the boat and the impeller is within the housing under the ski, meaning approaching someone in the water is much safer with a ski.
Other factors that affect our choice are manoeuvrability, speed of launching and recovery, weight and ease of use.
All of the Coastal Wardens are fully trained to drive with each vehicle, having completed Personal Watercraft certificate of proficiency, Powerboat Level 2 and Safety Boat qualifications.
When launching the PWC, which we call our safety ski, we are able to do that with only two members of staff. The ski is light, easy to manoeuvre over the shingle with the quad (even when banked) and can be retrieved at almost all states of the tide. Unfortunately, the RIB can't do that. The RIB requires many more staff to launch and is more tide dependent meaning that times of operation are more limited.
It all comes down to safety and efficiency. We want people to feel safe in the water when we approach them and we want to be able to get on the water quickly and recover quickly so that we are able to continue with our other many duties.
Photo: Jet ski launch
Photo: Jet ski out at sea
Photo: Jet ski out at sea (in the distance)
Photo: Jet ski being brought back onto the beach
5th September 2022: Watching out for sunburn
Hi - my name is Jeff and I am your blogger for the week from Worthing Coastal Office.
As the summer season starts to draw to a close and the changes can be felt with dew forming and the spider webs glistening in the early morning sunlight, it's still important to remember that there are likely to be days ahead where being sunburnt is still a possibility.
Even during the cooler months the sun can still hold great heat, so it's best to keep a bottle of sunscreen nearby if you're planning on being outside for a long time (playing sports, being at the beach, in the garden etc).
The treatment for sunburn is to:
Get out of the sun as soon as possible
Cool your skin with a cool shower, bath or damp towel (take care not to let a baby or young child get too cold)
Apply aftersun cream or spray
Drink plenty of water to cool down and prevent dehydration (see NHS advice)
Take painkillers, such as paracetamol (see NHS advice) or ibuprofen (see NHS advice) for any pain
Cover sunburnt skin from direct sunlight until skin has fully healed
What you must not do is:
Do not use petroleum jelly on sunburnt skin
Do not put ice or ice packs on sunburnt skin
Do not pop any blisters
Do not scratch or try to remove peeling skin
Do not wear tight-fitting clothes over sunburnt skin
If you've been out in the sun and your skin is blistered or swollen, your temperature is high and you feel hot, dizzy and are shivering, please seek medical assistance urgently from your GP or call the NHS on 111 for advice. The same process should also be followed if your baby or young child has bad sunburn.
As always, please don't hesitate to come and see us at the Coastal Office if you have any concerns about the immediate health of yourself, your loved ones or even a member of the public.
We're always available to assist, give treatment or guidance and have used our first aid training to respond to numerous casualties over the summer.
Please be safe on our beaches and if you need any help please do not hesitate to come and see us at our office on the promenade between the pier and Lido, or stop us on the quad bike or jet ski.
See you around, Jeff!
23rd August 2022: The Coastal Office staff are a work of art!
"We are so lucky to live where we do, as well as being supported by the community of sea swimmers."
Hi - my name's Michelle and I am your blogger for the week from Worthing Coastal Office.
I hope you have enjoyed the recent cooler summer weather. We have been rather busy at the coastal office and have been involved in all sorts of things, from flag changing and oiling beach hut locks to helping injured wildlife.
In addition, I have experienced a couple of very exciting things. Back in March, I was approached by local Worthing filmmaker, Kristian Coburn who was creating a short film about sea swimming. He wanted to highlight the many reasons why lots of people in Worthing swim in the sea all-year-round. He has spoken to many swimmers in Worthing about the mental health benefits of cold-water swimming and has even spoken to people who have been swimming in the sea all-year-round for 20 years!
I was interviewed at the end of March, on our lovely beach, talking about why I swim in the sea (I started in January and aim to now swim all-year-round) and about how people should stay safe.
And last week I was invited to the private screening with about 100 others who had a part to play. Wow! The film is amazing. We are so lucky to live where we do, as well as being supported by the community of sea swimmers. It was really lovely to have many local sea swimmers tell me how safe they feel in the water knowing we are on hand.
The first public screening of this 15-minute film called 'Just Add Water' is at Level One on Wednesday, 31st August 2022 at 8:30pm. Try to get along if you can - the film is amazing.
Another fantastic opportunity was presented to us all at the Coastal Office when artist and illustrator Amanda Beck approached us about drawing our portraits and including what we do as part of our role in her exhibition. In July, she came along to the office to sketch us and then went away and created some wonderful drawings of each of us. Mine took nine hours but I'm very pleased with the results.
Amanda loves capturing the stories of people and has often watched us slowly pootle along patrolling our beach on the quad bike, another illustration that she captures so well. These drawings are part of the Coastal Creatives exhibition on the Artists shelter on the prom at the end of West Buildings - take a look if you haven't already.
It has been a real honour to be part of these events, something different but very much a part of the community.
Thank you Kristian and Amanda.
These projects received funding from the Adur & Worthing Trust Creative Commissions 2022 small grants fund. To find out more about the scheme see:
19th August 2022: Seafront Planters Winners
Hi - my name's Kellie and I am your blogger for the week from Worthing Coastal Office.
As many of you may know, this year I was the event coordinator for the Seafront Planters Project 'Coastal Gardens', which saw numerous business, community groups and charities 'adopt' one of the 42 flower beds that line Worthing's promenade and turn them into beautiful displays that celebrate our coastline.
This is the first year that the Worthing Coastal Office team have coordinated the event and it's been a fantastic experience and learning opportunity for all of us. It's been wonderful to meet and engage with so many members of our community and all come together to keep our coastline looking its best.
The flower bed displays have had a difficult time this year with unprecedented heatwaves and drought, as a result of climate change and have also sadly been affected by vandalism. This meant that some beds were not looking their best for our town.
Alongside our daily duties, myself and the Coastal Office team have been hard at work deheading, watering and replanting some of the flower beds to keep them going and looking their best during these challenging times.
In some good news, I can now announce the winners of this year's seafront planters project competition!
A very big thank you to our judges, Councillor Vicki Wells, who holds the environment portfolio for Worthing Borough Council, and Marine Biologists from Sussex Dolphin Project, who came together to choose their winning flower beds.
I'd like to thank all of the planters for being involved in this year's project and for their time and commitment, and a big congratulations to the winners! The awards are as follows:
Most colourful flower bed: Care for Veterans
Best use of marine salvaged items: Worfolk Sea Swimmers
Most creative flower bed: Sparrowsnest Childminding Services
Most innovative flower bed: Rowans Day Centre
Best celebrates our coastline: Sussex Seabed Restoration Project
Each winner will receive a certificate congratulating them on their efforts.
Thank you for reading - in my next blog I'll be talking more about our winners and over the next few months writing about the wonderful volunteers who have been involved in this year's planters project!
Until next time, Kellie.
Photo: Kellie (right) pictured with the team from Lyons Farm Open Space on the planting day
12th August 2022: Dealing with the heat this summer
Hi - my name is Jeff and I am your blogger for the week from Worthing Coastal Office.
The summer's in full swing, and as I write this the temperatures are rising again to the early 30s - that's definitely high enough for us Brits!
Keeping cool and hydrated in this weather is really important. The sea temperature according to sources is 17°C which is slightly down from last week, but whether we're in and out of the water or in our back garden, we have to continue being extra aware of our health in this heat.
With this in mind, I'm going to use this week's blog to tell you all a little more about dehydration. Let's get started...
What is dehydration?
Dehydration can be a real issue when the sun is out and the temperatures are consistently high. There are a number of symptoms that could indicate someone is dehydrated according to the NHS website, and these are:
feeling thirsty
dark yellow and strong smelling urine
feeling dizzy or light headed
feeling tired
a dry mouth, lips and eyes
urinating little and fewer than four times a day
In babies dehydration may present itself as:
a sunken soft spot (fontanelle) on their head
few or no tears when they cry
fewer wet nappies
drowsyness
Dehydration can be brought on by the following:
diabetes
being in the sun too long
drinking too much alcohol
sweating too much after exercise
taking certain medications
How can you reduce the risk of dehydration?
Keep hydrated, avoid excessive exercise and try to keep in the shade if outside.
What to do if you become dehydrated
If you're dehydrated, drink plenty of fluids such as water, diluted squash or fruit juice. These are much more effective than large amounts of tea or coffee.
Fizzy drinks may contain more sugar than you need and may be harder to take in large amounts. If finding drinking difficult, take in small amounts.
Children should not be given large amounts of water as problems can result. Instead, they should be given diluted squash or a rehydration solution (available from pharmacies). You might find a teaspoon or syringe can be helpful for getting fluid into a young child.
If in doubt contact either 111, your GP or the nearest hospital for advice.
Also, don't forget your animals, especially dogs that are brought onto the beach in the areas that permit them. Dogs suffer in the same way as humans and will become dehydrated and can die as a result. Burnt paws are also common and keeping them hydrated is essential.
Remember to stay safe whilst on the beach and stay hydrated. Use a high factor sun cream to avoid burning and take home any rubbish you bring.
The council employees work really hard to keep the beach and the promenade clean and tidy and they are supported by the many volunteer beach cleaners. If you see a bin that is full please do not leave it beside the bin, take it home or find a bin with sufficient space.
The beach is yours to enjoy. Let's make it a place we all can enjoy. Broken glass and rubbish looks unsightly and can cause injury.
Have a fantastic summer!!!
Photo: Children playing on Worthing beach on a summer's day
3rd August 2022: The dangers of tombstoning
"Tombstoning can appear to be a lot of fun, but it can be incredibly difficult to tell the depth of the water as you look over the edge ..."
Hi - my name's Michelle and I am your blogger for the week from Worthing Coastal Office.
The school summer holidays are well underway and we have been so lucky to welcome lots of people to the beach for events like the Lions Summer Festival, Stevens Fair and now the carousel on the prom.
However, recently I've been rather worried about the safety of some of the younger visitors as we've had many people undertaking the incredibly dangerous act of tombstoning by jumping off the pier.
These incidents of jumping off the pier, which incidentally could incur a £50 fine, have been reported to us, the Coastguard and the police by concerned members of the public.
Worthing is a coastal town with a great pier and I like to see people coming to the beach and having a wonderful time as opposed to having to look after someone because they have been injured tombstoning.
At high tide, the water still isn't particularly deep, and when I see people jumping, diving or somersaulting off the pier I fear for their safety and the prospect of suffering broken bones, head injuries, paralysis or, worst case scenario, even death!
Tombstoning can appear to be a lot of fun, but it can be incredibly difficult to tell the depth of the water as you look over the edge onto the surface, while the tide can go in and out very quickly.
Photos: The pier substructure and beach at low tide
So, while the water can be deep during some parts of the day, it can soon become shallow meaning a person could be leaping towards the seabed with not much water in the way to break their fall. Sadly, a number of people have been left so badly hurt by jumping from a height into shallow sea that they will never walk again.
In addition, younger children might look up to older ones, so if they see others jumping from a pier, they might decide to copy them, but unfortunately they may not be strong enough to swim to safety.
If you have loved ones, please talk to them about the dangers of tombstoning and encourage them to ask their friends not to do it. We don't want Worthing to be the next place that someone gets seriously injured.
The Coastal Office
The Coastal Office can be found on Worthing seafront just to the east of the Worthing Lido, west of the Pier: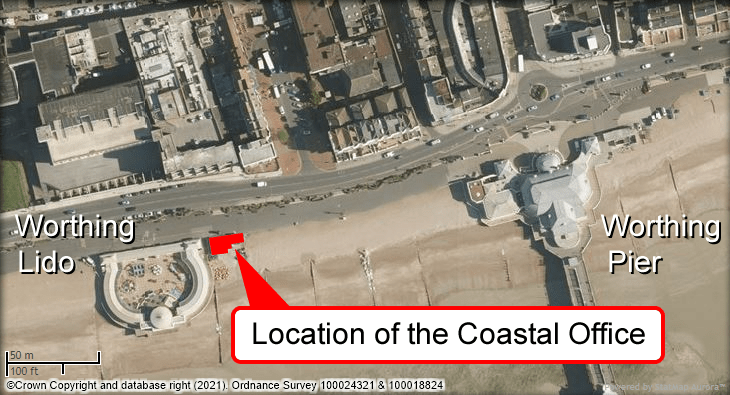 Page last updated: 04 October 2022
Back to top