Coastal Office
Foreshore Inspectors
About the Coastal Office: (previously called the Beach Office)
The Coastal Office is a front line service for water safety and public wellbeing. Staff are First Aid trained and can also deal with every eventuality from lost children to cuts & bruises ... and questions such as "where is the best fish and chips"!
Staff at the Coastal Office will take it in turns to bring an update each week.
You can read current blog posts from the Coastal Office on this page below:
See also:
---
19th November 2021: Coastal Office Kelp Forest Mural
Hi - my name is Rebecca and I am your blogger for the week from Worthing Coastal Office.
I spoke in my last blog on the exciting new additions we have recently had to our building on the seafront and took you on a little dip below the surface of our 'Rockpool Reef' native tank and it's weird and wonderful inhabitants.
This week I wanted to take you on a walk through our stunning new mural which has brought our Coastal Office and the kelp forest to life. If you haven't been down to Worthing seafront recently our base can't go unnoticed, with the beautiful underwater artwork immersing you in a fish-eye view of what lies beneath the waves from our Sussex coast.
Earlier this year Sussex IFCA's near-shore trawling byelaw was approved, prohibiting trawling with bottom-towed fishing gear up to 4km off between Selsey and Shoreham. This is a landmark decision for the health of the Sussex coast and restoration of the kelp beds which once thrived here.
Worthing Borough Council's Coastal Office is working alongside Sussex Wildlife Trust and Blue Marine Foundation, who are heading up the 'Help our Kelp' campaign which aims to help bring back the Kelp forest that once thrived along Sussex. Kelp is vital to our marine ecosystem and helps bring many of our species currently under threat, a habitat to flourish.
Commissioned to bring this unique hidden world to the promenade, the mural allows passersby to visually relate to it without getting into diving gear. After some amazing applications, we chose the wonderful Sarah Gillings (I am S.O.S) to portray the kelp forest and various iconic species that rely on it as a habitat for breeding, shelter and food source - some of which you may be surprised to find in UK waters.
The artwork takes you through an underwater journey from the sponges and sand bottom where you may find a male Cuckoo Wrasse or Catshark through the fronds of the Oarweed to some of our iconic Sea Bass and Black Sea Bream. Of course we had to add the Cuttlefish who has come to life in art form, centre stage on the mural which makes for a lovely narrative when we are then able to show 'Dart' in our Rockpool Reef tank.
The kelp forest mural speaks for itself when it comes to the clear message it holds to those who stand and appreciate it. Endorsed with the wonderful Sir David Attenborough quotes from the 'Help our Kelp' campaign video. The importance of protecting our Sussex seas is paramount not only for the marine habitat but for coastal erosion and combating climate change through carbon sequestration.
This stunning underwater landscape is not one the majority of people can easily connect with like we do when we visit a terrestrial woodland. Taking time to walk through, looking up through the trees or down at the small species around you in the vegetation. We hope in bringing the kelp forest to Worthing Promenade we will awaken and inspire people to appreciate and understand not only the beauty it holds but the importance of protecting it.
In case you missed it, you can see ITV Meridian's coverage of the mural on the ITV Meridian website.
Mural quotation from Sir David Attenborough on the side of the coastal office:
Close up of the mural quotation from Sir David Attenborough which says:
"... Sussex's remarkable kelp forests will now have a chance to regenerate and provide a home for hundreds of species, creating an oasis of life off the coast, enhancing fisheries and sequestering carbon in our fight against climate change ..."
22nd October 2021: The interesting and charismatic residents of Rockpool Reef
Hi - my name is Rebecca and I am your blogger for the week from Worthing Coastal Office.
We have been a bit quiet of late on the blogging front, but as some of you may have already noticed, there have been some exciting new additions to our building on the promenade.
Taking a step inside, our reception has now become home to our native marine tank also known as 'Rockpool Reef'. This is still in its infancy stage after being set up only a few months ago - but with some very interesting and charismatic residents.
The tank was created using the sand, live rocks and seaweed from low tide directly down from the Coastal Office and was collected by myself and other team members. We left the tank with this natural set up to see what would come from just the sand and vegetation that had been housed. We were amazed by how much was living just within this very small drop in our Worthing waters.
We have several Common Goby that fleet around on the sand, still very small but full of charisma as they scour the sandy areas and rock formations for food. Being a rockpool fish that is very much exposed to rough tidal changes. They have adapted to form sucker-like fins to anchor and prevent being swept away with tidal surges.
There are a variety of sized Shore Crabs who are often perched on serrated wrack seaweed, filter feeding. One in particular, 'Mr Big', had "gone into hiding" of late, but after a week of disappearance Mr Big Crab came back even bigger! Unbeknown to us he was shedding his smaller shell that he had outgrown. His new shell had been growing underneath the old one and was ready to move up a size.
The star of Rockpool Reef has to be 'Dart', our two-month-old Common Cuttlefish. If you read the initial press release, we found some cuttlefish eggs which had unfortunately washed up on a strong high tide. We rescued them from drying up on the shore and placed them in the tank to see if we could allow them to hatch, which to our surprise they did. Survival of the fittest!
This has meant Dart is now thriving and growing with each day. He has gone from the size of a grain of rice to now a weighty egg size. Aside from this, we have various small shrimp, winkles, topshell and muscles all living for now in the habitat that have been created.
Rockpool Reef will always be adapting and changing as we change over the seaweed and rocks weekly. Periodically we will do 'release days' when Dart and other creatures who were temporarily residing here will be released back into our Sussex Seas - watch this space!
3rd September 2021: Shoreham's lookout station
Hi - my name is Wayne and I am the blogger for this week at Worthing Coastal Office.
You may very well have seen this white building when out walking along from Shoreham fort to the beach, but how many of you actually know what it is for and what they do?
The Shoreham National Coastwatch Institution (NCI) is one of 57 NCI stations that are operational and manned by over 2,600 volunteers keeping watch around the British Isles, from Fleetwood in the North West, through to Wales, the South and East of England to Hornsea in the East Riding of Yorkshire.
The NCI provide the eyes and ears along the coast, monitoring radio channels and providing a listening watch in poor visibility. They are trained to deal with emergencies, offering a variety of skills and experience, and undergo full training by the NCI to ensure that high standards are met.
Photo: NCI staff on lookout at Shoreham's lookout station
National Coastwatch Institution is a voluntary charity relying solely on donations and is dedicated to establishing and operating coastal safety lookouts at strategic locations around our UK Coastline.
Shoreham's NCI station, as well as all the others around the country, are fully equipped with Marine VHF Radio, Radar, Automatic Identification of Ships (AIS), weather monitoring equipment, Navigation & Chart Plotting equipment and optical equipment.
As we have been patrolling in Shoreham on the weekends, I have been able to speak to some of the team and discovered how very friendly and professional they all are.
Sadly, due Covid-19 government restrictions, the station is closed to members of the public at this time, but be sure to give them a wave next time you cross the white station on Shoreham beach.
See also: Shoreham National Coastwatch Institution NCI website
Photo: Shoreham's lookout station
6th August 2021: The Coastal Garden
Hi - my name is Rebecca and I am your blogger for the week from Worthing Coastal Office.
This time we are staying landside and looking at a very usual sight for most of us, but something that is actually very unusual and rare for a coastal landscape.
You may have noticed throughout the summer months there are various interesting plants which come into bloom to add bursts of colour to the higher parameter to the shore. This coastal garden is more than meets the eye - these hardy plants have adapted to withstand a battering from winter storms and are resilient to lack of fresh water or soil nutrients which is pretty impressive!
There are a wide variety scattered at sections along Adur and Worthing seafront, but a particular area which hosts an array of this wonderful flora is Shoreham Beach which has had approximately 155 species recorded. Being that this is a unique environment it was therefore declared a Local Nature Reserve and a Sight of Scientific Specialist Interest (SSSI).
Sea Kale is probably one we have all noticed with its beefy green leaves emerging from May as the weather warms up and it starts to come into life - pushing its purple shoots through the shingle towards the sun. These plants are built for this environment with thick rubbery clumps to retain water.
Red Valerian is one of the easiest to spot with the sweeping colours of purpley-pink flower clusters so the name stating they are red is slightly misleading. These beautiful flowers also host a little habitat for lots of birds and insects like bees to thrive.
Photo: Red Valerian (left) and Starry Clover (right)
One that is more unusual and rare to find which makes it so special is the Starry Clover. As the name suggests, the flowers are star shaped and very delicate. Starry Clover is a non-native plant and has been known here since early in the nineteenth century and is believed to have entered Shoreham Harbour in the ballast / underside of ships returning from the Mediterranean.
My final favourite and another eye catching flower which we can spot in the summer months is the Yellow-horned Poppy. This beautiful flower is only found on coastal areas with shingle, cliffs or sand dunes. This flower gets its name as the seed pods are curled like horns and is said to be the biggest of any British flower.
Photo: Rebecca's dog Crusoe with Yellow Horned Poppy
These plants are so important for numerous reasons, from wildlife for shelter and protection. Birds use the plants here for food, especially the seeds. They also use these materials for building nests.
The coastal garden plants also provide a habitat for 248 insect species and within this we have pollinators like bees which are vital to help this and other habitats continue to grow.
It is illegal to take shingle or plants from the beach due to their significance and importance in not only the above for the coastal habitat and its creatures that live or utilise it, but it acts significantly to our coastal defense and reduces longshore drift.
The Coastal Wardens will be on watch for anything in way of disturbance or illegal activity whilst out on routine patrols.
If you do see anything within our Adur and Worthing coastal garden that looks suspicious from removal of shingle / sand to uprooting of any plants please get in touch with Worthing Coastal Office on 01903 238 977.
Photo: Sea Kale on Shoreham Beach
30th July 2021: Danger! High Voltage
Hi - my name is Amanda and I am the blogger of the week at Worthing Coastal Office.
I hope you have been enjoying the recent heatwave, as we are probably going to experience some weather over the next few days which isn't so good for sunbathing!
Yes, thunderstorms are on the way ... let's understand why.
Firstly, it's worth remembering that thunder is the sound caused by lightning and a thunderstorm is a storm with thunder and lightning.
You may have read my blog about clouds a couple of months ago? So can you remember what type of cloud causes a thunderstorm? The correct answer is Cumulonimbus which is associated with heavy rain, hail, snow and even tornadoes.
Thunder is caused when a lightning bolt travels from the cloud to the ground, as it opens up a small hole in the air known as a channel. Once the light has gone, the air collapses inwards and causes a sound wave that we hear as thunder.
While the intensity of a lightning strike can make them appear as thick bolts across the sky, their width is only 2 to 3 cm. The average length of a lightning bolt is 2 to 3 miles. The charge carried down this channel is so intense that the temperature of the lightning reaches 30,000 degrees (that is five times hotter than the surface of the sun)!
So, what is lightning? Lightning is an electric current within a thundercloud of frozen raindrops which bump into each other as they move around the cloud - every collision generates an electric charge. After some time the cloud fills up with electrical charges and the protons (positive charges) form at the top of the cloud and the electrons (negative charges) form at the bottom of the cloud.
Since opposites attract it causes a positive charge to build up on the ground below the cloud. The ground electrical charge will focus on anything that comes in contact with it such as people, animals, buildings and trees. The charge coming up from the ground will eventually connect with a charge reaching down from the sky and a lightning bolt will result.
Trees can often be destroyed by lightning strikes, when lightning hits a tree it usually travels just below the surface of the tree's bark where there is a layer of sap and water. This layer becomes instantly heated and expands, causing the bark to be blasted off the tree. However, lightning is helpful in helping plants to grow.
When lightning strikes sand or sandy soil it fuses together the grains to create a small glass tube known as a fulgurite (photo below). They are not only prized by collectors but are also of great scientific value in demonstrating the past occurrence of lightning strikes.
To tell how far away a thunderstorm is, simply count the number of seconds between the flash of lightning and the boom of the thunder that follows divide this number by five - this tells you how many miles you are away from the storm (divide by three for the distance in Km).
Keep safe on the beach over the summer months.
The fulgurite photo is licenced under the Creative Commons Attribution-Share Alike 3.0 Unported, 2.5 Generic, 2.0 Generic and 1.0 Generic licence.
23rd July 2021: Busy beaches and promenades
Hi - my name is Wayne and I am the blogger for this week at Worthing Coastal Office.
With the summer holidays starting, the beaches and promenades are busier than ever before with everyone doing their stay-at-home vacation. Therefore, I think it's important just to reiterate some of the rules and bylaws that are in place to ensure everyone has the best experience possible.
The dog restriction zones. So, your four-legged waggly tail friends are not permitted on the beach between Splash Point to Heene Road in Worthing and between the two launching ramps in Goring from the sailing club to Alinora 'jet ski' ramp. Please also note that the jet ski lane is for transiting in and out and not a play area.
Personal watercraft (jet skis) and boats that are using the public Alinora Jet Ski ramp are reminded to please make sure you keep your speed down to 8 knots until you have left the transit lane past the two large buoys at the end. This also applies when coming back in as there will be swimmers and families close by.
Electric scooters, although an environmentally friendly way of travelling, are not permitted on the promenade and can only be used on private land where the owner has granted permission.
It's also good to remember that the promenade is a shared place for pedestrians and cyclists. Please be aware of your surroundings and keep the speed down when travelling along the popular path so it can be enjoyed by all. There is no cycling on the section of promenade which starts from George V Avenue and heads west towards Ferring.
And finally, we kindly ask that if the bins are full to please take your rubbish home. There has been a large amount of rubbish left and strewn along our coastline which is just not acceptable.
Although this may seem like a long list of dos and don'ts, they are in place for everyone's safety and to be able to enjoy the coastline.
Have a great weekend, Wayne.
The Coastal Office
The Coastal Office can be found on Worthing seafront just to the east of the Worthing Lido, west of the Pier.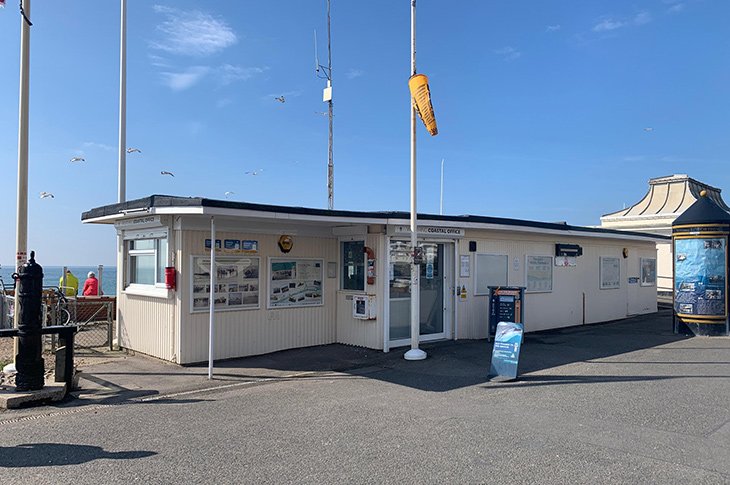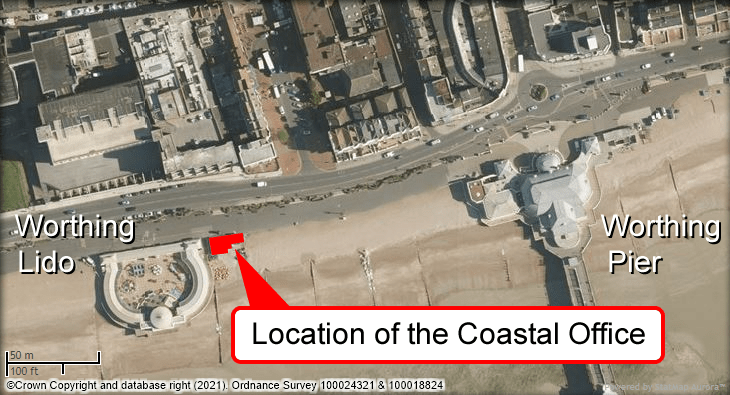 Need assistance with this service?
Get in touch:
Public Relations & Communications
Page last updated: 24 November 2021
Back to top