Coastal Office
Foreshore Inspectors
About the Coastal Office: (previously called the Beach Office)
The Coastal Office is a front line service for water safety and public wellbeing. Staff are First Aid trained and can also deal with every eventuality from lost children to cuts & bruises ... and questions such as "where is the best fish and chips"!
Amanda Falconer, Rebecca Belleni, Rob Dove, Tommy Broad and Wayne Hobden are our main bloggers at the Coastal Office and will take it in turns to bring an update each week, or they may get one of the other members of the team to do a 'guest spot'.
You can read Amanda's, Rebecca's, Rob's, Tommy's and Wayne's current blog posts on this page below:
See also:
---
3rd September 2021: Shoreham's lookout station
Hi - my name is Wayne and I am the blogger for this week at Worthing Coastal Office.
You may very well have seen this white building when out walking along from Shoreham fort to the beach, but how many of you actually know what it is for and what they do?
The Shoreham National Coastwatch Institution (NCI) is one of 57 NCI stations that are operational and manned by over 2,600 volunteers keeping watch around the British Isles, from Fleetwood in the North West, through to Wales, the South and East of England to Hornsea in the East Riding of Yorkshire.
The NCI provide the eyes and ears along the coast, monitoring radio channels and providing a listening watch in poor visibility. They are trained to deal with emergencies, offering a variety of skills and experience, and undergo full training by the NCI to ensure that high standards are met.
Photo: NCI staff on lookout at Shoreham's lookout station
National Coastwatch Institution is a voluntary charity relying solely on donations and is dedicated to establishing and operating coastal safety lookouts at strategic locations around our UK Coastline.
Shoreham's NCI station, as well as all the others around the country, are fully equipped with Marine VHF Radio, Radar, Automatic Identification of Ships (AIS), weather monitoring equipment, Navigation & Chart Plotting equipment and optical equipment.
As we have been patrolling in Shoreham on the weekends, I have been able to speak to some of the team and discovered how very friendly and professional they all are.
Sadly, due Covid-19 government restrictions, the station is closed to members of the public at this time, but be sure to give them a wave next time you cross the white station on Shoreham beach.
See also: Shoreham National Coastwatch Institution NCI website
Photo: Shoreham's lookout station
6th August 2021: The Coastal Garden
Hi my name is Rebecca and I am your blogger of the week from Coastal Office HQ.
This time we are staying landside and looking at a very usual sight for most of us, but something that is actually very unusual and rare for a coastal landscape.
You may have noticed throughout the summer months there are various interesting plants which come into bloom to add bursts of colour to the higher parameter to the shore. This coastal garden is more than meets the eye - these hardy plants have adapted to withstand a battering from winter storms and are resilient to lack of fresh water or soil nutrients which is pretty impressive!
There are a wide variety scattered at sections along Adur and Worthing seafront, but a particular area which hosts an array of this wonderful flora is Shoreham Beach which has had approximately 155 species recorded. Being that this is a unique environment it was therefore declared a Local Nature Reserve and a Sight of Scientific Specialist Interest (SSSI).
Sea Kale is probably one we have all noticed with its beefy green leaves emerging from May as the weather warms up and it starts to come into life - pushing its purple shoots through the shingle towards the sun. These plants are built for this environment with thick rubbery clumps to retain water.
Red Valerian is one of the easiest to spot with the sweeping colours of purpley-pink flower clusters so the name stating they are red is slightly misleading. These beautiful flowers also host a little habitat for lots of birds and insects like bees to thrive.
Photo: Red Valerian (left) and Starry Clover (right)
One that is more unusual and rare to find which makes it so special is the Starry Clover. As the name suggests, the flowers are star shaped and very delicate. Starry Clover is a non-native plant and has been known here since early in the nineteenth century and is believed to have entered Shoreham Harbour in the ballast / underside of ships returning from the Mediterranean.
My final favourite and another eye catching flower which we can spot in the summer months is the Yellow-horned Poppy. This beautiful flower is only found on coastal areas with shingle, cliffs or sand dunes. This flower gets its name as the seed pods are curled like horns and is said to be the biggest of any British flower.
Photo: Rebecca's dog Crusoe with Yellow Horned Poppy
These plants are so important for numerous reasons, from wildlife for shelter and protection. Birds use the plants here for food, especially the seeds. They also use these materials for building nests.
The coastal garden plants also provide a habitat for 248 insect species and within this we have pollinators like bees which are vital to help this and other habitats continue to grow.
It is illegal to take shingle or plants from the beach due to their significance and importance in not only the above for the coastal habitat and its creatures that live or utilise it, but it acts significantly to our coastal defense and reduces longshore drift.
The Coastal Wardens will be on watch for anything in way of disturbance or illegal activity whilst out on routine patrols.
If you do see anything within our Adur and Worthing coastal garden that looks suspicious from removal of shingle / sand to uprooting of any plants please get in touch with Worthing Coastal Office on 01903 238 977.
Photo: Sea Kale on Shoreham Beach
30th July 2021: Danger! High Voltage
Hi - my name is Amanda and I am the blogger of the week at Worthing Coastal Office.
I hope you have been enjoying the recent heatwave, as we are probably going to experience some weather over the next few days which isn't so good for sunbathing!
Yes, thunderstorms are on the way ... let's understand why.
Firstly, it's worth remembering that thunder is the sound caused by lightning and a thunderstorm is a storm with thunder and lightning.
You may have read my blog about clouds a couple of months ago? So can you remember what type of cloud causes a thunderstorm? The correct answer is Cumulonimbus which is associated with heavy rain, hail, snow and even tornadoes.
Thunder is caused when a lightning bolt travels from the cloud to the ground, as it opens up a small hole in the air known as a channel. Once the light has gone, the air collapses inwards and causes a sound wave that we hear as thunder.
While the intensity of a lightning strike can make them appear as thick bolts across the sky, their width is only 2 to 3 cm. The average length of a lightning bolt is 2 to 3 miles. The charge carried down this channel is so intense that the temperature of the lightning reaches 30,000 degrees (that is five times hotter than the surface of the sun)!
So, what is lightning? Lightning is an electric current within a thundercloud of frozen raindrops which bump into each other as they move around the cloud - every collision generates an electric charge. After some time the cloud fills up with electrical charges and the protons (positive charges) form at the top of the cloud and the electrons (negative charges) form at the bottom of the cloud.
Since opposites attract it causes a positive charge to build up on the ground below the cloud. The ground electrical charge will focus on anything that comes in contact with it such as people, animals, buildings and trees. The charge coming up from the ground will eventually connect with a charge reaching down from the sky and a lightning bolt will result.
Trees can often be destroyed by lightning strikes, when lightning hits a tree it usually travels just below the surface of the tree's bark where there is a layer of sap and water. This layer becomes instantly heated and expands, causing the bark to be blasted off the tree. However, lightning is helpful in helping plants to grow.
When lightning strikes sand or sandy soil it fuses together the grains to create a small glass tube known as a fulgurite (photo below). They are not only prized by collectors but are also of great scientific value in demonstrating the past occurrence of lightning strikes.
To tell how far away a thunderstorm is, simply count the number of seconds between the flash of lightning and the boom of the thunder that follows divide this number by five - this tells you how many miles you are away from the storm (divide by three for the distance in Km).
Keep safe on the beach over the summer months.
The fulgurite photo is licenced under the Creative Commons Attribution-Share Alike 3.0 Unported, 2.5 Generic, 2.0 Generic and 1.0 Generic licence.
23rd July 2021: Busy beaches and promenades
Hi - my name is Wayne and I am the blogger for this week at Worthing Coastal Office.
With the summer holidays starting, the beaches and promenades are busier than ever before with everyone doing their stay-at-home vacation. Therefore, I think it's important just to reiterate some of the rules and bylaws that are in place to ensure everyone has the best experience possible.
The dog restriction zones. So, your four-legged waggly tail friends are not permitted on the beach between Splash Point to Heene Road in Worthing and between the two launching ramps in Goring from the sailing club to Alinora 'jet ski' ramp. Please also note that the jet ski lane is for transiting in and out and not a play area.
Personal watercraft (jet skis) and boats that are using the public Alinora Jet Ski ramp are reminded to please make sure you keep your speed down to 8 knots until you have left the transit lane past the two large buoys at the end. This also applies when coming back in as there will be swimmers and families close by.
Electric scooters, although an environmentally friendly way of travelling, are not permitted on the promenade and can only be used on private land where the owner has granted permission.
It's also good to remember that the promenade is a shared place for pedestrians and cyclists. Please be aware of your surroundings and keep the speed down when travelling along the popular path so it can be enjoyed by all. There is no cycling on the section of promenade which starts from George V Avenue and heads west towards Ferring.
And finally, we kindly ask that if the bins are full to please take your rubbish home. There has been a large amount of rubbish left and strewn along our coastline which is just not acceptable.
Although this may seem like a long list of dos and don'ts, they are in place for everyone's safety and to be able to enjoy the coastline.
Have a great weekend, Wayne.
16th July 2021: Staying safe and smart this summer
Hi - my name is Tommy and I am the blogger of the week at the Worthing Coastal Office.
This week on the coast we have some lovely incoming weather and also with the summer holidays fast approaching, just a friendly reminder.
It's super important to keep up with the application of sun cream and to do it more than once a day. If you are swimming in the sea then apply it when you come out of the water, some sun creams state that they are water resistant but it's best to just apply it again.
When it comes to the quality of the sun creams you are looking at the UVA star rating. This is usually on the back of the bottle and whether it be sunscreen or tanning oil, the higher the star rating out of 5 the better. So just remember to keep your eyes out for this when purchasing.
With this hot weather on the quick approach, another thing to remember is to bring plenty of water with you when you visit the beach - you need to keep well hydrated.
If you don't keep your fluids up you could become dehydrated and maybe end up getting heat stroke or heat exhaustion, you don't want these so remember to bring plenty of water. Enough for you and the family.
If you are planning to go in the water for a swim then try to go in a pair or a group, this way you can keep an eye on one another and if you are planning on going out on a paddle board, kayak or jet ski then please try to remember to wear a PFD (Personal floatation device).
Lastly, with the busy expected summer on its way, we have free wrist bands here at the Coastal Office for children to wear in case they get lost. This will help them get in contact with us and we'll contact the parent/guardian whose details we took down when we handed out the wrist band.
Hope you all have a great week and weekend. Stay smart, stay safe.
Photo: Tommy holding one of the free wrist bands available at the Coastal Office
9th July 2021: Goring Greensward
Hi - my name is Rob and I am the blogger of the week at the Worthing Coastal Office.
As many are becoming increasingly aware, our local inshore waters contain many diverse habitats which hold an array of Flora and Fauna species. Landside is no exception and one welcome oasis for man and wildlife is the plantation on Goring Greensward.
It's a welcoming haven out of the wind that was once part of the Goring Hall estate.
This linier woodland running north to south changes dramatically as you head north with the better quality soil and wider mix of trees and understory.
The southern section falls under my team's watch and is monitored daily when on routine reconnaissance patrol. This area is unique in its own right, offering respite for migratory birds, harbouring a host of grey squirrels (like them or loathe them) and predominantly non-native Holm oak (Quercus Ilex) growing and dominating the canopy with its suppressive nature but equally great windbreak qualities.
Sycamore (Acer Pseudoplatanus) too heavily flank the edges, canopies curved away from the prevailing southwesterly winds, a reminder of how tough it is to thrive so close to the waterline and the punishment it can regularly deliver.
It's amazing how nature finds a way, as both species seem to thrive in the poor soil and salt air. There's a noticeable change when across the road in the next section, as this is slightly sheltered from the full force of the wind and has more biodiversity to show for it.
This area draws nature lover's, young and old, and offers shelter all year round, especially after a brisk walk. To keep this area of special woodland protected, we ask folk to obey a handful of Byelaws, the same of which apply to the grass expanses of the greensward.
As your foreshore service we must reiterate the no overnight camping, respecting the wildlife above and below your feet and most importantly the disposing of bbq's responsibly is abided by. Unfortunately during the summer many incidents occur with barbeques not disposed of properly, a situation which has devastating effects on this area.
Be sure to walk the three sections of the plantation and note how its wildlife changes, follow the byelaws and enjoy this forgotten avenue all the way to our glorious coastline.
Over ... out ...
Photos of Goring Greensward:
Photo: Grey squirrel
2nd July 2021: Mobile Phone Recycling Project success!
My name is Rebecca and I am your blogger for the week from Worthing Coastal Office.
As many of you may have seen or contributed to, we started the Mobile Phone Recycling Project towards the end of last year which was launched with the charity Whale and Dolphin Conservation.
I wanted to update everyone on the tremendous outcome from this project, which has seen so many of you make time to fish out old phones from lying dormant in a drawer and donate. This has so far amounted to 300 mobile phones which have now been sent to be recycled!
This is a fantastic achievement in just under 6 months from launch and something many of you have commented on, saying it has allowed you to support this worthwhile campaign keeping our marine environment protected and healthy and stopping mobile phones ending up in landfill.
Whale and Dolphin Conservation are a leading charity protecting whales and dolphins. They work globally through campaigns, lobbying, advising governments, conservation projects, field research, rescue and education. They are working towards a world where every whale and dolphin is safe and free.
The four main elements they work tirelessly on are:
To end captivity
Stop whaling
Create healthy seas
Prevent deaths in nets
Whales and Dolphins play an important role in keeping our marine environment balanced. They are an integral part of the ecosystem and without these larger marine mammals, (whales, dolphins, seals and sharks) prevalent in our seas, feeding on smaller inhabitants such as fish and squid, things start to shift and unbalance.
The populations of certain smaller prey begin to increase in number, which then causes a higher demand for lower down the food chain. This will eventually disrupt the natural balance of other wildlife and the health of our marine environment. This process can even affect sea flora such as seagrass and kelp, which help trap and stabilize sediments, allowing shorelines to accrete and disperse wave energy and therefore reduce coastal erosion.
These larger animals in our seas have a significant impact in stabilizing their environment and beyond to our coastal shores.
The recycling project is as simple as dropping in any old phones to us at the Coastal Office. These can be working or not and old or new. They are sent for recycling which entails breaking them down for their precious metals. The funds raised through recycling go straight into Whale and Dolphin Conservation.
I want to say a huge thank you to everyone, so far, that has come into the Coastal Office with phone donations. Whale and Dolphin Conservation have also sent the biggest thanks for everyone who is helping with the project and who continues to support their charity work.
The Worthing Coastal Office is open 7 days a week from 9am to 5pm. If you are doing a declutter or want to do something to help our marine habitat then please drop off any old phones to us and help us support this cause and protect the seas and our marine life.
See:
25th June 2021: Say hello to Georgie!
Hi - my name is Amanda and I am the blogger of the week at Worthing Coastal Office.
Meet Georgie, my adorable fur baby! This week we'll be looking at top tips when taking your dog to the beach...
Before you leave home it's important to check that dogs are allowed on the beach. Worthing, for example, has a dog restriction zone that runs from Heene Road to Splash Point and another restriction zone in Goring running from the Yacht Club to the Jet ski ramp at Alinora car park.
Dog owners can face fines of £100 if found to be in the wrong zone, so please research before you go to a beach near or far from home.
Georgie loves going to the beach, but there are a few hazards that you need to be aware of:

The sea can be dangerous - Don't let your doggie swim in the sea if it looks unsafe (eg. large waves or if the tide is on the turn). Dogs can struggle when swimming in very cold water so avoid encouraging them.
Avoid the heat - Keep your doggie cool and avoid going to the beach during the hottest part of the day. It's much cooler early in the morning or later on in the evening. It's best to be ready to go home when your fur baby has had enough. Protect your dog from heatstroke by ensuring they have a shaded area to sit in and plenty of water to drink.
Be aware of your surroundings - Broken glass or sharp objects could be hidden in the shingle or in the sand. It's advisable to keep a small first aid on your person. If your dog does cut its pads then wash thoroughly with fresh water, cover the cut and if need be make a visit to the vet.
Photo: Amanda's dog Georgie chilling in the shingle beside some beach huts on Worthing seafront
Drinking seawater - Do not allow your dog to drink seawater. This can cause diarrhoea and make them seriously ill and dehydrate them. Do not let them drink from the rock pools, ensure that you have plenty of fresh water with you and stop regularly to give them a drink.
Swimming in the sea - If your dog likes swimming then ensure that you give them a rinse in fresh water when you get home to prevent them from licking the salt off their fur. Also remember to clean their ears as seawater can lead to infections. This could be a very expensive trip to the vet.
Jellyfish - These can sting you and your dog even if they are dead, so check the water before swimming to avoid this.
Seaweed - This is another hazard to be aware of as if a dog eats seaweed stalks it can cause a blockage in their gut. Dried seaweed expands when it is eaten and will cause your dog to have a stomach ache.
So stay cool, stay safe and have a great time on the beach this summer!
18th June 2021: Safety Training
Hi - my name is Wayne and I am the blogger for this week at Worthing Coastal Office.
Now that restrictions on training have been lifted, myself and Amanda are now finally able to carry on with the necessary training to carry out one of our primary rolls in the summer - that being our ability to use personal watercraft (PWC) AKA the jet Ski and our 4.6 meter RIB with 60hp outboard engine.
At the end of May we were both able to go on a RYA Sea Survival Course down in Southampton. The course is split into two sections, the morning being classroom-based, learning about the different types of life raft.
Examples of equipment that comes fitted to some life rafts:
2 sponges
2 buoyant paddles
2 sea anchors
1 pair of scissors
1 first aid waterproof kit
1 whistle
1 waterproof torch for communicating morse code with 1 spare set of batteries and bulb
1 signalling mirror/heliograph
1 radar reflector
1 life-saving signals waterproof card
1 fishing tackle
Food rations for each person
Water ration-1.5 litres of freshwater for each person
One rustproof graduated drinking vessel
Anti seasickness medicine sufficient for at least 48 hours and one seasickness (bag for each person)
Instructions on how to survive (Survival booklet)
Instructions on immediate action
6 Hand Flares
4 Rocket Parachute Flares
2 Buoyant Smoke Signals
We also learnt about the search and rescue techniques along with the use of different types of life jackets and types of flares. Additionally, understanding the procedures that you must undertake when abandoning ship, sending out a Mayday.
The importance of all members of the crew having a good understanding of the procedures that need to be followed can't be understated. This involves having the knowledge on what equipment you have, how to use it properly as well as having rehearsed plans.
The afternoon is getting wet in the pool. For this session we learned the correct way to use a buoyancy aid/lifejacket, how to enter the life raft either by entering directly from the side of the vessel (or the side of the pool in this case), how to get in from the water (which is certainly harder than it looks and not very elegant!), and finally how to turn the life raft over if it has capsized when it inflates.
With this course under our belts the next training will be our RYA VHF Marine Radio Courses. To use a marine radio to make calls you must hold an operators licence by completing either a classroom or online course and then passing the exam.
From myself and the team, we hope you have a great weekend.
11th June 2021: Kelp's coming to our coastline!
My name is Rebecca and I am your blogger for the week from Worthing Coastal Office.
This week I want to take you on a dive to a magical place that many of us are yet to discover and appreciate. The enchanting frond forest that lies beyond our shores, under our coastal waters is one which not all of us know about or understand the importance of and how crucial it is to both marine life and our lives - let's take a deep breath in and explore the Kelp Forest.
Kelp is actually a brown algae and part of the seaweed family. As with all plants they use sunlight to draw down energy (photosynthesis). They initially form on rocky beds, from extremely strong-gripping 'hold fasts' which anchor themselves to rocks, unlike many plants that use the mud and sediment to establish down into. They naturally grow upwards to allow maximum exposure to the surface sunlight to capture and absorb the UV on their ribbon like leaves which are called fronds. These leaves are assisted in inflating upwards due to small air bubbles. This unison of stems and leaf-like tops is what we know collectively as habitat-forming seaweeds or Kelp Forests.
Due to the requirement of sunlight we find the ideal environment for kelp to grow is colder, shallow waters with rocky seabeds and structures, making our local Sussex marine landscape perfect conditions for kelp to flourish. So much so that kelp could grow up to 30 times faster than our land based plants, using carbon from the atmosphere to continually generate new fronds and living up to it's 'Forest of the Seas' title.
Kelp has been a hot topic lately in our area due to the new byelaw that has been approved to prohibit near shore trawling, which has been a major factor in the decline in our kelp forest habitats. Since 1987 we have lost a staggering 96% of this underwater vegetation and all that encompasses it.
In Sussex alone, 300km squared of seabed has now been given space to recover and regenerate after years of trawling, sediment dumping and other human pressures. These unique ecosystems have protection after decades of decline, which are crucial not only for cover and protection of juvenile fish but also as feeding and breeding grounds for many of our native fish, invertebrates and marine mammals.
The 'Help our Kelp' campaign alongside Blue Marine Foundation have been working with partners and stakeholders, of which the Coastal Office under Adur & Worthing Councils are involved to support the next steps now that the byelaw is in place. This includes the restoration project which will initially have experts in marine biology, kelp ecology, oceanography and social sciences assisted by strategic stakeholders for practical elements of the work.
Sir David Attenborough has supported this local campaign and made the following statement in response to the byelaw:
"This is a landmark decision for the management of the UK's coastal waters. Sussex's remarkable kelp forests will now have a chance to regenerate and provide a home for hundreds of species, creating an oasis of life off the coast, enhancing fisheries and sequestering carbon in our fight against climate change. This large-scale protection of over 300km of seabed is a vital win in the fight against the biodiversity and climate crisis, ahead of COP26 later this year."
As Sir David has touched on, the kelp is fundamental not only for the health of our seas and the life within it, but also as an ecosystem engineer which draws in carbon from our atmosphere. This in turn reduces our greenhouse gas levels and slows down climate change. Kelp forests can draw down up to 20 times more carbon per acre than land forests, which is a staggering figure from something not all of us have even seen or heard much about.
This is a really exciting time for our local sussex kelp forests and one which I am so happy to be involved in as part of the Worthing Coastal Office. I will be attending the stakeholder meetings in the coming weeks to support and assist in research on our local seabed to help our kelp make a comeback, for the purification and health of Sussex seas, fish stocks, coastal erosion and climate change.
If you haven't already, please take a few minutes to immerse yourself in this stunning video, narrated by Sir David Attenborough for Sussex IFCA, showcasing the wonders that our Sussex coast has to offer and the array of marine life that inhabit it.
See also:
4th June 2021: Precautions for PWCs
Hi - my name is Rob and I am the blogger of the week at the Worthing Coastal Office.
What a week weatherwise, it's been great to see so many on the beach making the most of it, especially during half term.
So far there seems to be adequate space for all to enjoy what they want to do when they visit our local beaches, even with a large influx of out of area visitors. The harmony seems to be there which is great to see.
Whilst my team has been out busy relocating our yellow special marker buoys after being knocked around by the recent storms, I feel it necessary to touch on a safety aspect which is crucial we get right.
Personal Watercraft (PWC) or Jet Skis, whatever one you want to call them, are great fun and we have one ourselves kitted out for rescue, mainly due to their ease of use, launch and recovery.
If you are a PWC user that uses our shore, please bear in mind that whilst these are fun and convenient, these machines come with all the responsibilities and risks that are associated with operating on the water.
To make sure all seaside users have a great time, remember to keep out of any designated swim areas and if you are coming into shore that you keep under 8 knots when passing the yellow 8 knot marker buoys that run horizontally from Ferring to Southwick.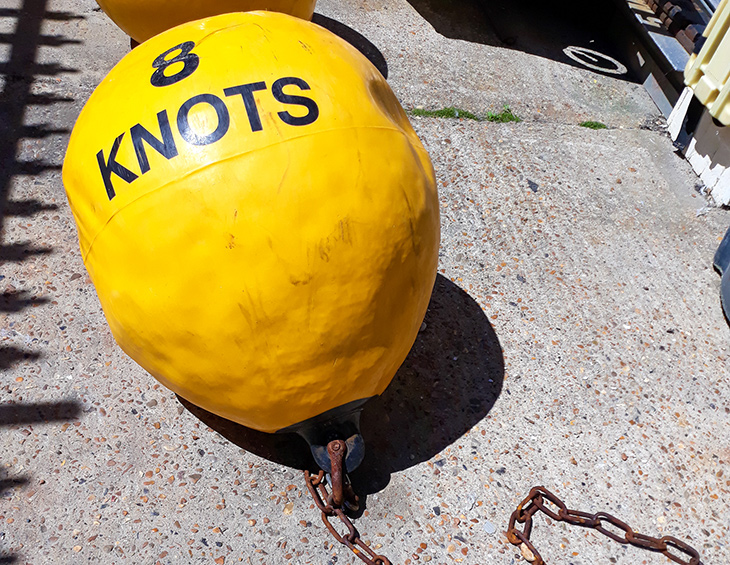 If you're heading east, be sure to remain clear of Shoreham harbour mouth and the shipping lane, you'll be the smallest on the water around here!
If you're using our Transit lane at Goring off the Allinora Slipway, please have a look at our signs there and take a minute to familiarise yourself with the lie of the land.
If you are a PWC user and you don't already, please consider following the recommended kit list from the RYA below:
Fire extinguisher
Distress flares: two orange smoke, two pinpoint red, or two day/night flares (coastal)
Torch
Sharp knife, preferably serrated
Tow rope, minimum 6m, floating high-visibility line
Waterproof First aid kit containing (minimum):

two large wound dressings,
two medium wound dressings
and triangular bandages

Small Grapnel anchor
Tool kit
Spares
Hand bearing compass
Spare kill cord
If you plan to launch from Shoreham Harbour, please visit their website and take the time to read all relevant information on PWC operator requirements - see:
If you have any questions relating to PWC use or have a question relating to any of what I have mentioned, please feel free to call the Coastal Office and we will do our best to assist you.
See you on the water and remember to attach that kill cord :)
The Coastal Office
The Coastal Office can be found on Worthing seafront just to the east of the Worthing Lido, west of the Pier.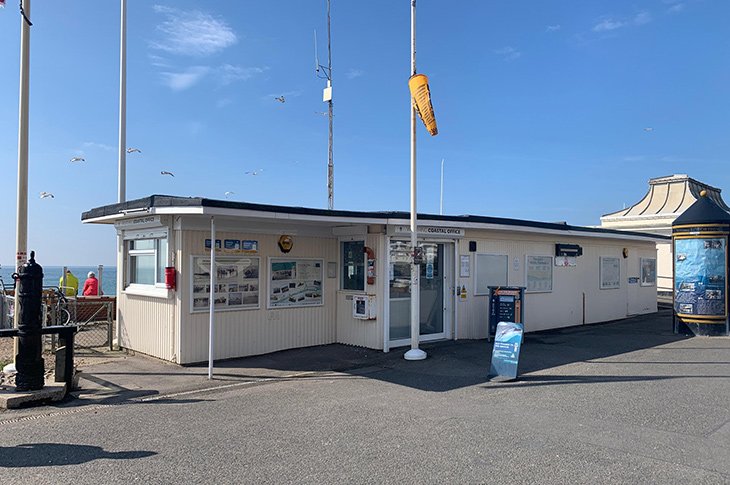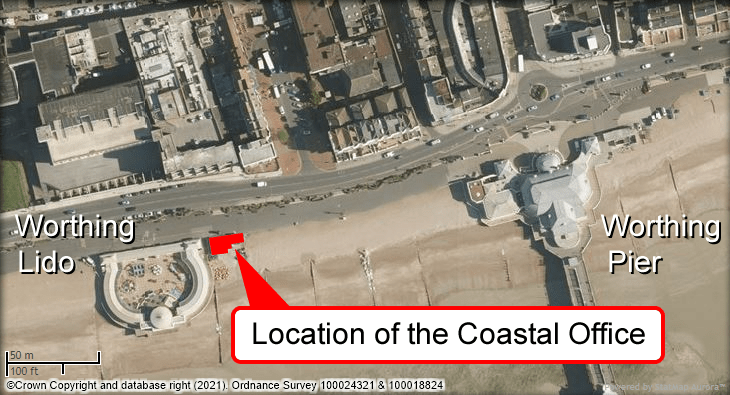 Need assistance with this service?
Get in touch:
Public Relations & Communications
Page last updated: 24 September 2021