Coastal Office
Foreshore Inspectors
About the Coastal Office: (previously called the Beach Office)
The Coastal Office is a front line service for water safety and public wellbeing. Staff are First Aid trained and can also deal with every eventuality from lost children to cuts & bruises ... and questions such as "where is the best fish and chips"!
Staff at the Coastal Office will take it in turns to bring an update each week.
You can read current blog posts from the Coastal Office on this page below:
See also:
---
16th November 2022: Never underestimate the power of the sea
"A few weeks ago Storm Claudio peaked at a massive 70 knots on the weather station at the end of the pier."
Hi - my name's Michelle and I am your blogger for the week from Worthing Coastal Office.
Hello and a very warm welcome to the weekly blog from the Coastal office. We have had a year's worth of weather during this last week - a weekend of lovely sunshine, as well as a few days of strong wind and rain. So the message is: be prepared!
A few weeks ago Storm Claudio peaked at a massive 70 knots on the weather station at the end of the pier:
There was a fair amount of destruction during the storm and you are probably aware that the beacon on the promenade, which was erected for the millennium, was blown over. We are very much looking forward to having it replaced.
We've been very busy on our quad bikes retrieving buoys, ghost netting and all sorts of debris that has been washed in. I have seen a sad number of solitary wellies and a huge amount of plastic. It is worrying to think of all the plastic in the sea that might be harming the wildlife. We are aware of some outstanding ghost netting on our beach and will be doing our best to retrieve it ourselves, or find someone who can.
The blustery conditions are exciting and good to look at, but must be done so safely. The week around the storm, Shoreham RNLI was called out six times in eight days.
The RNLI says:
"While many people love to watch how the sea changes in stormy weather, never underestimate its power.

"Every now and then, in rough seas, a wave can come along that is much larger than the previous ones. Convergent waves, sometimes referred to as 'freak waves' or 'rogue waves', easily catch people out. While there are many theories behind what causes them, the important thing to remember is not to underestimate the distance waves are travelling up the beach or harbour wall.

"If you are watching the waves, give them a wider berth than you think you need to and stay on higher ground where possible.
Whatever you're doing, always keep one eye on the sea. Just 15cm of water can knock you off your feet.

"Don't take risks."
See also:
For the sea swimmers amongst you remember these top tips in the colder weather:
Don't go out on your own
If you think twice about the conditions then don't enter the water
If you still want a dip, try a cold shower or pilcharding (pilcharding is lying down in the shallows on the shingle in a line allowing the cold waves to wash cold water over you). That was my very first experience of cold water swimming when I took my first dip in January this year.
Enjoy the breeze, enjoy the sun and sometimes enjoy the downpours, but stay safe!
Photo: Stormy seas off Worthing Beach next to the pier
1st November 2022: Bringing the coastline to life is blooming brilliant
"Plastic pollution is a serious issue that our oceans are facing and it was really great to see Worfolk highlight this issue through items they had found on the beach."
Hi - my name's Kellie and I am your blogger for the week from Worthing Coastal Office.
This week I'm talking about Worfolk - a local swimming group and their fantastic efforts in the Coastal Gardens project.
In my last blog, I shared with you one of the winners from this year's seafront planters project Coastal Gardens that was coordinated and hosted by Worthing's Coastal Office.
Care for Veterans won the most colourful flower bed category, which I wrote about in my last blog and this week I'll be sharing with you another winner.
The winner in the following category 'best use of marine salvaged items' was one of our local sea swimming groups Worfolk, who had taken flower beds 31 & 32.
I had the pleasure of passing the certificate over to Worfolk just before joining them for a sea swim - after work, of course. I've been a sea swimmer for a few years now and it was great to take a dip with them all and swim in a new location!
Photo: Presenting the certificate to members of the Worfolk team
Worfolk are a local informal sea swimming group of all ages and abilities who each share a common passion and love for the sea. They meet regularly by the Canada flag and organise all of their swims and social events through a Facebook group.
Sea swimming has become a rapidly growing activity over recent years and it's very easy to see why with all the science and benefits that are being discovered and it's best enjoyed with the safety of others - especially as we come into the winter.
It was great to have Workfolk as part of the project that was focusing on celebrating our coastline - as they celebrate it by swimming! Their efforts and creativity really shone through in their flower bed and their love for the sea is wonderful. It's easy to see why they won the category for 'best use of marine salvaged items' - their flower bed incorporated different elements that can be found along our coastline, including litter and plastic pollution.
Plastic pollution is a serious issue that our oceans are facing and it was really great to see Worfolk highlight this issue through items they had found on the beach. Their flower bed incorporated a spade handle, flip flop, bike light and discarded fishing rope to name a few!
Workfolk also did a beautiful job at reflecting the beauty that can be seen on our shore through their use of driftwood and seashells.
They did a fantastic job bringing the coastline to life in their flower bed and incorporating a variety of marine salvaged elements to create a wonderful display for the community to enjoy.
If you would like to take a look at their flower beds, you can find them in front of Worthing Pier.
21st October 2022: Revamping Rockpool Reef, recycling and more ...
Hi - my name's Michelle and I am your blogger for the week from Worthing Coastal Office.
We've had a busy few weeks since my last blog and the weather is, at times, more autumnal.
This week I would like to remind you what we offer at the Coastal Office as, although it is getting colder, there is still a lot of fun to be had at the beach (if you wear the right clothing!).
Rockpool Reef
A couple of weeks ago we had a complete overhaul of our little peep into the Sussex seabed, Rockpool Reef. Despite our best efforts in maintaining it, we believe there has been too much decomposed weed in the sand, which made for cloudy and smelly water.
We rescued the creatures (and put them up in temporary five-star accommodation) while we had a thorough clean-out and topped the tank up with fresh sand, shale, rocks and water. We needed quite a few trips to the sea to collect the water!
The marine life were put back in and are now rather happy. Pop along to see our intriguing crabs, blennies, shrimp and snakelock anemones. Don't forget, all of this is showing the often hidden life that can be found through rockpools right on our doorstep!
Marine Warrior backpacks
If you or your family are keen on finding out a bit more about what's in our rockpools, then borrow one of our Marine Warrior Backpacks.
The backpacks contain everything you need to go rockpooling, including a lovely booklet featuring a couple of activities. It's free to borrow, we just ask for a £30 cash deposit which is returned to you when everything is handed back in to the Coastal Office.
All you need for this fun is low tide and wellies!
Mobile phone recycling
Did you know we offer mobile phone recycling? The BBC thinks there may be five billion phones thrown away in 2022 alone. Read about it here:
The phones are not reused, simply taken apart for the precious metal; we don't even need the cables or the box. The phones are sent away to Recycling for Good Causes and securely disposed of to help raise money for our chosen charity Whale and Dolphin Conservation (WDC).
After helping raise important funds for the marine charity, we were kindly featured in Whale and Dolphin Conservation's annual report! You can see us on page 33 by following this link to their digital report:
For years now, I have been a 'Stamp champ' collecting used stamps to send away to charity. Recycling for Good Causes also takes stamps, so please drop any used stamps into us (Christmas is coming and those cards will be landing on your doormat ...) and we will make sure they get recycled too.
So, don't forget to pop along and see us! If you'd ever like to get in touch:
6th October 2022: It's 'Winter' season on the beach
"The biggest change for many is that dogs are allowed on all areas of the beach."
Hi - my name's Michelle and I am your blogger for the week from Worthing Coastal Office.
I hope you are all well. The summer is over and while it may technically be autumn now, the Coastal Office is operating under its 'winter' season, which runs from 1st October all the way through to April.
How does this affect us?
The first thing to notice is our hours change. We are now open every day from 9am to 5pm but are closed for one hour from 1pm to 2pm. The beach is less busy and it gets darker earlier, hence the need to close an hour earlier.
Our patrols also change. Our water patrol doesn't happen in the winter. We continue to patrol the pier daily at least once. We don't have a Lancing winter contract, so only patrol on the quads from the Goring/ Ferring boundary to Brooklands, East Worthing. We patrol in both easterly and westerly directions daily including:
reporting defects either marine or shore-based
promoting our seafront
enforcing and advising on byelaws
promoting water and beach safety
beach vessel management
recovering detritus and injured marine life
working to preserve and enhance our resident native flora and fauna
How does the winter change for members of the public?
The biggest change for many is that dogs are allowed on all areas of the beach. (From 1st May to 30th September dogs are not allowed on the beach from Splashpoint Rocks to Heene Road and between the two slipways in Goring).
Horses are permitted to ride on the beach (between 1st May and 30th September inclusive between the hours of 10am and 8pm no horses are allowed on the beach).
The areas for fishing on the pier also change. The red spots mean fishing is still not allowed, but the orange spots allow fishing from those areas in the winter.
The yellow 8 knot marker buoys demarking the areas with speed restrictions and swim zones are removed mid-October and repositioned again in April next year.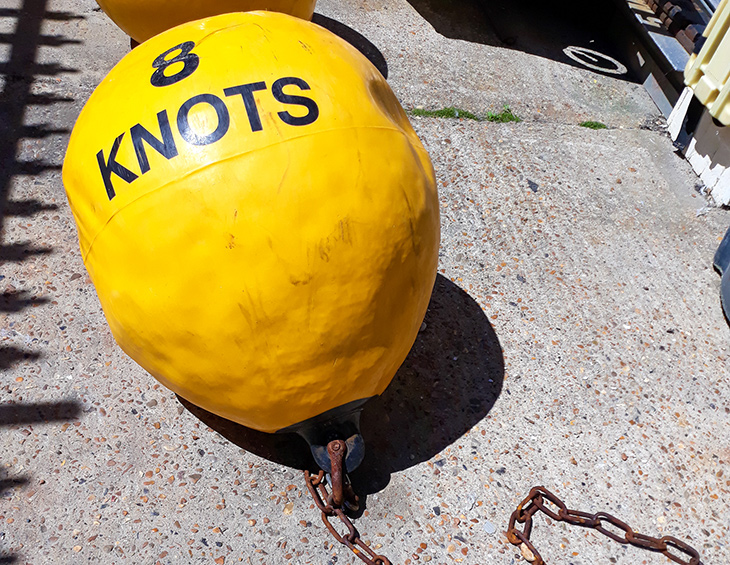 Occasionally, with big storms or high tides, we need to close the landing stage of the pier and sometimes with very strong winds we either close the end of the pier, or in extreme circumstances, the whole pier itself. This is, of course, to keep members of the public safe.
Let us hope for calmer seas and sunny days for as long as we are able!
Photo: Worthing Pier
4th October 2022: Colourful win for Care for Veterans
"The winner in the 'Most Colourful Flower Bed' category was Care For Veterans."
Hi - my name's Kellie and I am your blogger for the week from Worthing Coastal Office.
In this week's blog I'm going to talk about one of the winners from this year's seafront planters project-themed 'Coastal Gardens'.
The winner for the following category 'Most Colourful Flower Bed' was Care For Veterans - a nursing, rehabilitation and care facility for ex-armed forces personnel based in Worthing.
Photo: Kellie presenting the Care for Veterans winners with their certificate
During my time coordinating the project, I had the pleasure of meeting Paul, a volunteer gardener for Care for Veterans who shared his passion for both the care facility and for gardening, as well as his knowledge. He was really excited to be involved in the project and raise some awareness for the amazing work Care for Veterans do.
We were very fortunate to have established this connection, and as a result, we were able to donate plants and bulbs that were previously in the flower beds to Care for Veterans to be used in their gardens for residents, patients and their families to enjoy.
Care for Veterans was established in 1919 to care for soldiers who had experienced life-changing disabilities returning from World War I. For more than 100 years they've been providing long-term nursing care, rehabilitation, respite and award-winning end-of-life care to those who have ever served in HM Forces.
Their patients vary from 18 to 100 years old and the majority of those they care for have Acquired Brain Injuries or a degenerative neurological condition.
I had the pleasure of attending the facility to pass over the certificate and was given a tour of their beautiful gardens to see the amazing work that the staff and volunteers do. The volunteers have created beautiful outdoor spaces for the residents and their families to enjoy and to also aid in their rehabilitation as green spaces have a great impact on mental and physical health.
They also showed me the vegetable and planting patches where they actively encourage residents to get involved and improve their green fingered skills. They've even managed to grow some vegetables that the chef can then use in their meals!
Care for Veterans relies solely on donations from individuals, companies and trusts and needs to raise over £1.5 million annually in order to continue to provide their award-winning care. They are also seeking volunteers to help the facility in a number of ways, including gardening - so if you do have some spare time available and are a keen gardener, please do get in touch with them.
You can find out more about Care for Veterans, they work they do and how to get involved on the:
Photos: The Care For Veterans flower bed - winner of 'Most Colourful Flower Bed'
23rd September 2022: CPR (cardiopulmonary resuscitation)
"CPR is a life skill that everyone should learn as it could save the life of a friend, family or a child."
Hi - my name is Jeff and I am your blogger for the week from Worthing Coastal Office.
This week my blog that looks at some of the potentially life-saving first aid incidents we have to attend recently.
Over the last couple of weeks we have looked at different areas of first aid and hopefully you have not had cause to put these into practice. We, on the other hand, have had to respond to various incidents on the sea front and into town.
One such incident required immediate assistance as a female had collapsed. On attending the scene there were no obvious reasons for this, such as a ladder on the floor or damaged electrical cables so it appeared safe to approach. The initial survey showed that they were unconscious and unresponsive.
I checked for breathing but was unable to detect the rise and fall of the chest. I tilted back their head to open their airway and noticed a visible intake of breath and then saw the rise and fall of their chest.
Had this not been seen I would have immediately started CPR (cardiopulmonary resuscitation). This is a life skill that everyone should learn as it could save the life of a friend, family or a child. Giving CPR to a child or infant is a separate skill and further instruction can be found on the NHS or other providers' website.
If you come across a casualty who is unconscious and not breathing, the initial thing to do is to call 999 and seek assistance. Conducting CPR for any length of time is an exhausting process and assistance will be required.
On contacting the 999 ambulance service they will ask you a number of questions and then talk you through the CPR process and other life saving procedures.
For the purpose of this blog we will look at the passerby who is not first aid trained. The 999 operator will give you instructions on hands only CPR.
Hands-only CPR:
To carry out a chest compression:
Kneel next to the person and place the heel of your hand on the breastbone at the centre of their chest. Place the palm of your other hand on top of the hand that's on their chest and interlock your fingers
Position yourself so your shoulders are directly above your hands
Using your body weight (not just your arms), press straight down by 5 to 6cm (2 to 2.5 inches) on their chest
Keeping your hands on their chest, release the compression and allow their chest to return to its original position
Repeat these compressions at a rate of 100 to 120 times a minute until an ambulance arrives or for as long as you can
CPR on children:
You should carry out CPR with rescue breaths on a child. It's more likely children will have a problem with their airways and breathing than a problem with their heart. For further information on this and other first aid related information please see:
Video: How to perform CPR
The NHS have made a video regarding this subject and although it relates to the time of the pandemic the process remains valid
Photo: Jeff with his first aid kit on Worthing beach
Photo: Keeping an eye out on the beach and the Coastal Office on the seafront where you can get first aid
20th September 2022: Propelling ourselves to keep people safe in the water
"The winter and summer seasons are rather different for us here at the Coastal Office."
Hi - my name's Michelle and I am your blogger for the week from Worthing Coastal Office.
It has been a strange week to be part of here. Following the news of the death of Queen Elizabeth II, there was a quick response by the Coastal Team to lower the Union flags to half mast on Thursday night - the day she passed - followed by a change again to full mast on Saturday for the proclamation of King Charles III. They remained at half mast until after the state funeral of Queen Elizabeth II on Monday 19th September 2022.
I can't believe we are halfway through September and are very soon to be officially out of the summer. Winter and summer seasons are rather different for us here at the Coastal Office. One difference is the stopping of our water patrol. We patrol the coastline from Ferring to Widewater in Lancing, stopping any dangerous acts on the water and issuing advice.
Recently, we have had people question why we don't use the RIB (Rigid Inflatable Boat) as much as we used to. There are many reasons for this, but probably the most important reason is due to safety and how they are both propelled.
If you were in the water, would you prefer to be approached by a person on a PWC (Personal Watercraft - similar to a jet ski) with an impeller or by a RIB with a propeller?
A propeller is a type of fan that propels fluid by pushing against it, converting rotational force into a linear motion. An impeller is a type of rotor that is typically part of a pump and creates a sucking force, drawing liquid into a vehicle or engine. The propeller is outside the boat and the impeller is within the housing under the ski, meaning approaching someone in the water is much safer with a ski.
Other factors that affect our choice are manoeuvrability, speed of launching and recovery, weight and ease of use.
All of the Coastal Wardens are fully trained to drive with each vehicle, having completed Personal Watercraft certificate of proficiency, Powerboat Level 2 and Safety Boat qualifications.
When launching the PWC, which we call our safety ski, we are able to do that with only two members of staff. The ski is light, easy to manoeuvre over the shingle with the quad (even when banked) and can be retrieved at almost all states of the tide. Unfortunately, the RIB can't do that. The RIB requires many more staff to launch and is more tide dependent meaning that times of operation are more limited.
It all comes down to safety and efficiency. We want people to feel safe in the water when we approach them and we want to be able to get on the water quickly and recover quickly so that we are able to continue with our other many duties.
Photo: Jet ski launch
Photo: Jet ski out at sea
Photo: Jet ski out at sea (in the distance)
Photo: Jet ski being brought back onto the beach
5th September 2022: Watching out for sunburn
Hi - my name is Jeff and I am your blogger for the week from Worthing Coastal Office.
As the summer starts to draw to a close and the changes can be felt with dew forming and the spider webs glistening in the early morning sunlight, it's still important to remember that there are likely to be days ahead where being sunburnt is still a possibility.
Even during the cooler months the sun can still hold great heat, so it's best to keep a bottle of sunscreen nearby if you're planning on being outside for a long time (playing sports, being at the beach, in the garden etc).
The treatment for sunburn is to:
Get out of the sun as soon as possible
Cool your skin with a cool shower, bath or damp towel (take care not to let a baby or young child get too cold)
Apply after-sun cream or spray
Drink plenty of water to cool down and prevent dehydration (see NHS advice)
Take painkillers, such as paracetamol (see NHS advice) or ibuprofen (see NHS advice) for any pain
Cover sunburnt skin from direct sunlight until skin has fully healed
What you must not do is:
Do not use petroleum jelly on sunburnt skin
Do not put ice or ice packs on sunburnt skin
Do not pop any blisters
Do not scratch or try to remove peeling skin
Do not wear tight-fitting clothes over sunburnt skin
If you've been out in the sun and your skin is blistered or swollen, your temperature is high and you feel hot, dizzy and are shivering, please seek medical assistance urgently from your GP or call the NHS on 111 for advice. The same process should also be followed if your baby or young child has bad sunburn.
As always, please don't hesitate to come and see us at the Coastal Office if you have any concerns about the immediate health of yourself, your loved ones or even a member of the public.
We're always available to assist, give treatment or guidance and have used our first aid training to respond to numerous casualties over the summer.
Please be safe on our beaches and if you need any help please do not hesitate to come and see us at our office on the promenade between the pier and Lido, or stop us on the quad bike or jet ski.
See you around, Jeff!
The Coastal Office
The Coastal Office can be found on Worthing seafront just to the east of the Worthing Lido, west of the Pier: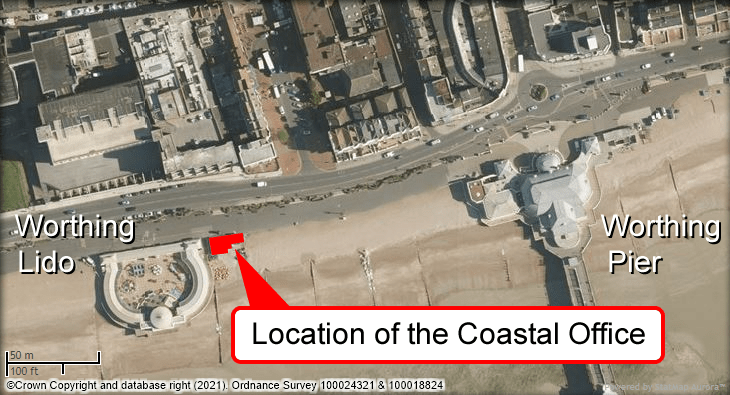 Page last updated: 25 November 2022
Back to top