Coastal Office
Foreshore Inspectors
About the Coastal Office: (previously called the Beach Office)
The Coastal Office is a front line service for water safety and public wellbeing. Staff are First Aid trained and can also deal with every eventuality from lost children to cuts & bruises ... and questions such as "where is the best fish and chips"!
Staff at the Coastal Office will take it in turns to bring an update each week.
You can read current blog posts from the Coastal Office on this page below:
See also:
---
18th May 2022: Summer season
Hi - my name is Jeff and I am your blogger for the week from Worthing Coastal Office.
Spin Out Festival 2022
We are well into our summer season now and there is plenty to look forward to on Worthing beach.
Enjoy free outdoor shows in Worthing every Saturday this summer with Worthing Theatres and Museums' Spin Out 2022. Having just had a productive meeting with the organisers, it looks like it's going to be a fantastic event.
Set on the promenade against the stunning backdrop of the Pavilion Theatre, and at various locations throughout the town, Spin Out features a range of amazing open-air performances from the best, and most exciting performers of theatre, circus, street arts, music and dance.
Worthing Theatres and Museum (WTM) has announced the line-up, with this year's festival running from Saturday 25th June to Saturday 10th September 2022.
Spin Out offers residents and visitors of all ages and backgrounds the opportunity to enjoy innovative outdoor performances, for free!
Photos: Some of the events at Spin Out 2022 (credit & copyright courtesy of Worthing Theatres and Museum and the event performers)
Public Space Protection Order (PSPO)
The summer season also means that dog restrictions are now in place.
The only restriction for dogs on the beaches in Adur and Worthing is between Heene Road and Splash Point in Worthing and between the two boat launching ramps in Goring.
There are signs that inform visitors and residents of this, including the flags that are put up daily. The restrictions apply 24 hours-a-day over this summer period.
If you do take your dogs onto the restricted areas of the beach during this time, you can be issued with a £100 Fixed Penalty Notice.
Where dogs are allowed on the beach they must be kept under strict control at all times and their owners, or the people who are in charge of the dogs, are required to thoroughly clean up after them and to use the dog bins provided.
Some areas within Adur and Worthing are covered by Public Spaces Protection Orders (PSPOs). In areas covered by PSPOs you may have to:
Keep your dog on a lead
Put your dog on a lead if you are asked by a police officer, police community support officer or someone from the Council
Clean up after your dog (this applies to all public spaces)
Stop your dog from going in certain areas
Limit the number of dogs you have with you (no more than six)
Failure to respect these laws may lead to prosecution, which could mean a fine of up to £1,000 and a criminal record. For more information see:
13th May 2022: Sea safety visits in schools
Hi - my name's Michelle and I am your blogger for the week from Worthing Coastal Office.
I hope you are managing to enjoy the sunshine when it appears. Our beach has certainly been busy lately!
Recently I have jumped back into my old life of being a primary school teacher. Over the past two or three weeks I have spoken to approximately 1,330 children about where we live and sea safety specifically to Worthing.
Children love visiting the beach and it has been wonderful to get the chance to go to some schools and explain how they can do so safely.
I discussed how to play safely at the beach, thinking about safe swimming, regardless of whether children are learning to swim or more confident. I spoke about feeling comfortable (when it is warmer!) in the sea and swimming across the beach from one groyne and back rather than swimming out into deeper water.
I talked to the children about rockpooling, which many of them love to do, as well as wearing sturdy footwear as the rocks are sharp. Lots of children knew about sharp flint from learning about the Stone Age. I also shared our amazing Marine Warrior backpacks which are free to hire (deposit of £30) to help with rockpooling.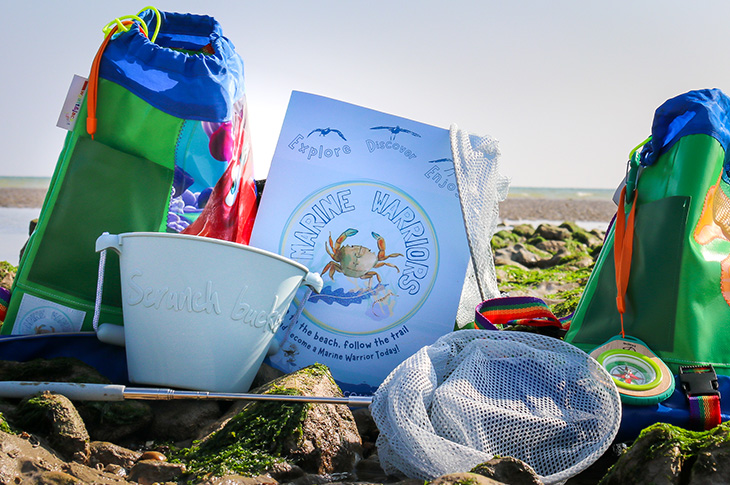 With the increased number of paddle boarders or kayakers, I explained the importance of wearing buoyancy aids or life jackets - even for their grown ups! Don't forget we have labels from the Coastguard to label paddles in case you lose them.
The promenade (and why it is called that) and who uses it also came up and the children knew to cycle or scoot in a straight line to try to keep themselves and others safe. They also understood why dogs need to be kept on a lead on the prom.
Finally, we spoke about how we love our beach and all that should be left are memories and footprints. All rubbish and belongings should be taken home so that the bins don't overflow. On patrol after the weekend I collected a metal BBQ, tongs, cans and food waste that had been buried under the shingle. Such a shame! Lots of the children are keen to complete beach cleans too.
This week we had a Year 2 class visit us at the Coastal Office and we got to share these messages too. They also got a tour of our office and a good look at our Rockpool Reef.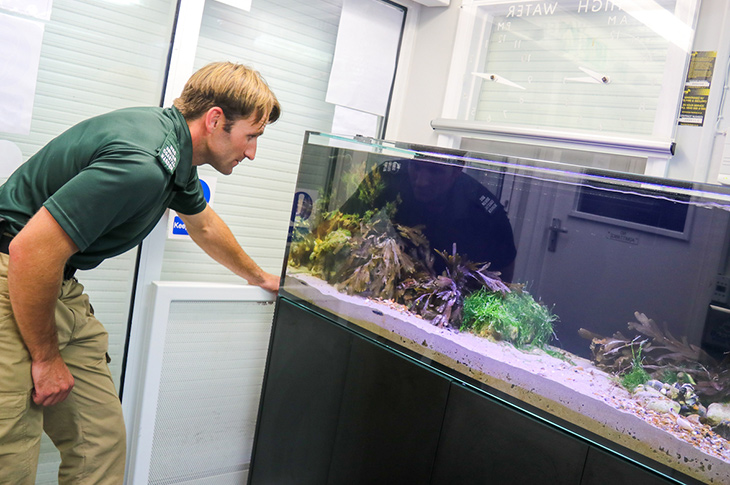 I hope the children will share their new knowledge with their families and friends and enjoy a safe and happy time at the beach. I have many more school visits booked in, but if your school hasn't booked one yet, please get in touch with me at coastal.office@adur-worthing.gov.uk I hope to reach more than 5,000 children before the summer holidays!
Stay safe and enjoy our wonderful beach.
Worthing Coastal Office on the seafront
6th May 2022: Worthing Fishing Families: Warren
Hi - my name is Kellie and I am your blogger for the week from Worthing Coastal Office.
Worthing has an amazing heritage as a fishing village that dates back as early as the 1700s! We are very lucky to still have a-few small scale fishermen who provide local caught fish, fresh off the boat to the community right on our coastline.
One of those few fishermen is Warren Brownrigg, a 37-year-old angler and father of two from Worthing. To find out more on Warren and his work, I paid a visit to his base opposite Steyne Gardens and asked him a series of questions ...
How long have you been a fisherman and what got you hooked?
"I have fished full-time for 22 years and I've been hooked since the first time I launched off the beach with my dad at the age of six."
What changes have you made, or will be making in the future to fish more sustainably?
"In general, static net fishing is a very sustainable way of fishing as it doesn't disturb the sea bed. Our nets allow small fish to swim through. I don't think that we could be any more sustainable than we already are!"
How many times a week do you go out on the boat?
"I go to sea as much as I can, if the weather's good then seven days a week."
What kind of boat do you fish on? Describe it briefly.
"My boat is a very common design. It's a beach boat called a condor, it's an 18ft open boat which is great for holding all of my kit and any catches."
What's your favourite thing about being a fisherman?
"My favourite thing about being a fisherman is the freedom."
Where can people find you and your fresh fish?
"My site is located on the seafront opposite Steyne Gardens on Worthing seafront - you can check the chalk board on the front when the next fresh fish will be available!"
So, I hope you enjoyed that short Q&A with Warren. We really value having these small scale fishermen still on our shores. Not only are they keeping Worthing's heritage going, they are also one of the most sustainable forms of fishing.
This type of small scale fishing is not damaging to the seabed or overly impactful to fish stocks, as opposed to other methods of fishing such as trawling or large commercial fishing which often supplies supermarkets. Shop local, shop sustainably!
27th April 2022: Preparing the beach for summer
Hi - my name is Jeff and I am your blogger for the week from Worthing Coastal Office.
The sun is out and the weather is slowly beginning to improve. That said, according to the forecast there are still some cooler temperatures to come.
As the weather improves, the number of visitors to the area are going to increase, and one way the council is preparing for this is through grading Worthing beach.
If you have visited the beach over the last few days, you would have seen that contractors are in the process of grading the foreshore ready for the warmer months. This type of work is called Beach nourishment and looks to replace beach material that has been removed by erosion or longshore drift.
Longshore drift is a process whereby material is shifted along the coastline by the action of the waves and tide. Waves will hit the beach at an angle and the backwash will carry shingle back down towards the sea - this will always be at right angles to the beach.
The use of groynes helps to prevent this drift as they are usually built at 90 degrees to the beach. As the material moves along the shore it builds up against the groyne, allowing material to be deposited and preventing the beaches from being effectively washed away!
Although these can be expensive, they are vital sea defence tools in our fight against flooding - especially during storm season.
Another sight that continues to receive a lot of attention is our 'Rockpool Reef' tank in the Coastal Office! We've encountered loads of visitors in recent weeks, and the native tank never fails to receive some interest.
The Starfish in our tank are proving very popular at the moment, so much so that I've done a little extra research on them to help educate any intrigued visitors! Here's what I've found so far:
They have no brain and no blood
They can live up to 35 years
Starfish is not their right name, they should always be called Sea Star!
There are around 2,000 species of sea star
They cannot survive in fresh water
They can regenerate
They eat inside out
Sea stars reproduce two ways
Like all the life in our Rockpool Reef tank, sea stars can be found along our stretch of coastline. If you come across one in a rockpool or the water, please enjoy them in their natural surroundings - they may not survive if taken out.
Lastly, I'd like to remind you all to please enjoy the beach, but remember to take anything you brought with you home. There were a number of bins left over flowing at the weekend, attracting seagulls and other animals that resulted in an untidy and unattractive beach.
It's a shame we continue to see litter left like this across our coastline, but thank you to those of you who clean up after yourselves and help look after our precious beach.
22nd April 2022: Summer is nearly here!
Hi - my name's Michelle and I am your blogger for the week from Worthing Coastal Office.
I hope you all had a wonderful Easter weekend - we saw many of you enjoying the beautiful weather at the beach. Thank you for your greetings, thanks and questions as we drive past on our quad bikes, we do like to say hello and assist you with any queries you may have.
This week we have welcomed a couple of large pieces of machinery to the shingle outside the Coastal Office. As we get ever closer to the summer it is time for the slipways to be cleared.
We have a slipway at the back of the coastal office for launching our Rigid Inflatable Boat (RIB) and Personal WaterCraft (PWC) from May to September.
The excavator clears our slipway in a couple of days and then moves west to Goring to clear the public slipway there.
This is quite a job as Storm Eunice in February moved a lot of the shingle away from the groynes and up the beach. Some of this will be graded for the summer, but as we know, the next spring tide or storm is probably not too far away! If you see them parked on the shingle next to our office, please don't allow children to climb on them and definitely keep clear if they are moving. We thank you for your support.
We have a number of other jobs to complete as we get closer to May. Our aim is to improve the water quality of the sea, especially as so many of us (me included) enjoy swimming in the sea all year round.
From 1st May we will be introducing dog exclusion zones to try to help with cleaner water, so we have been building our new flag poles. One of the pollutants to the sea is dog faeces and dog owners are asked to clean up after their dogs.
The only restriction to dogs on the beaches in Adur and Worthing is that between 1st May and 30th September, dogs are excluded between Heene Road and Splash Point in Worthing and between the two boat launching ramps in Goring.
There are still plenty of other spaces where you can take your dog on the beach. However, all dogs that are taken onto our beaches must be kept under strict control at all times and their owners, or the people who are in charge of the dogs, are required to thoroughly clean up after them and to use the dog bins provided. We love dogs, but not everyone does, so please help us create a cleaner and safer beach for everyone to enjoy.
15th April 2022: Bucketfuls of Easter fun
Hi - my name's Rebecca and I am your blogger for the week from Worthing Coastal Office.
With the bank holiday upon us and sunshine forecast for the south coast, Easter is set to be a fantastic weekend to enjoy the outdoors with the family. I'm sure lots of you are planning some egg hunts with the children but Worthing Coastal Office has another exciting activity to use those hunting skills on the seashore.
Marine Warriors was newly launched this year at the seafront office, offering a fun and engaging rockpool activity for all ages to learn and discover new things that can be found in our local marine environment. It may not be eggs you find but there are some interesting and unusual creatures to identify and learn about.
The Marine Warrior activity comes in the form of a backpack, all individually designed from old inflatables and paddling pools that have been repurposed rather than going into landfill. The backpack also contains a compass, magnifying glass, crabbing net, bucket and spade. All items have been carefully chosen as eco-friendly and sustainably sourced to highlight the plastic pollution crisis in our seas.
Each child will also be given their own work booklet to aid them on their Marine Warrior quest which comes beautifully designed and has an educational element including a wonderful colouring page named 'Bring the Kelp back to life', which can be enjoyed after your day at the beach has come to an end.
When completed and on bringing back the backpack the team can chat with what you have found and show you some of the now familiar faces you may have discovered in our in house 'Rockpool Reef' native tank. Each child will also receive a Marine Warrior Certificate to take away making them an official Marine Warrior - designed to inspire kids to learn more about our marine life.
This activity is best done at low or outgoing tide, so have a look at the times prior to coming down. The backpacks are free to hire from us at Worthing Coastal Office. However, we do require a £30 cash deposit and must be overseen and hired by an adult or guardian.
Easter hunts come in many varieties but we at Worthing Coastal Office think this alternative hunt/activity comes with bucket-fulls of fun and education to capture interest in our ocean life. Every Marine Warrior child (and adult) experiences an ever changing environment and will discover something different or new with every rock pool.
8th April 2022: Coastal Gardens
Hi - my name is Kellie and I am your blogger for the week from Worthing Coastal Office.
In this week's blogs I'm going to be talking about a very exciting project that the Coastal Office is running with. The community seafront planters project!
This year I have the honour of being the project coordinator for the project, which sees local groups, charities and organisations each 'adopting' one of the 41 flower beds that line Worthing's promenade and take part in the collective planting event happening on Sunday 22nd May 2022.
The previous planting competition saw the community come together and get involved with making our wonderful seafront a little brighter. We here loved the idea of everyone taking part and wanted to continue to do our part to support the local community and celebrate some businesses, groups and charities that play a great part in it!
With the seafront planters sitting just off of our beautiful coast, it makes sense that we find a way to incorporate elements of our coastline into these flower beds - this is how the theme Coastal Gardens came to be!
Coastal Gardens will be interpreted by each planter group to how they wish, this can be to include:
Coastal inspired artwork
Seashells (only those that aren't damaging to the local ecosystem, such as scallops and slipper limpets)
Salvaged marine items such as driftwood and ghost gear
Rock paintings
Or any other wonderful creative ways!
Each flower bed will contain native coastal plant bulbs that will thrive with the seasons, and not only allow the community to learn about native flora and fauna of our coast, but also seek to restore natural elements and help rewild these small areas to boost conservation efforts.
As Coastal Wardens, we are blessed to be working on our coastline daily, but we also often see the harmful impact that plastic is having on our beaches and wildlife. That is why we have made the decision to make this a plastic free event! Any plastic that is required will be recycled or reused.
We're incredibly excited to see what the planters create within their flower beds, for this opportunity to engage with the wider community and to be able to promote elements of our coastline.
Many of the flower beds have been snapped up, but there are still some available. If you, your business, group or charity are interested, please contact me at:
See also:
More updates to come soon!
25th March 2022: Life rings, what3words and sea kale
Hello, and welcome to another blog from the Coastal Office. My name is Michelle and I am your blogger for the week from Worthing Coastal Office.
We've experienced a week of beautiful weather here in Adur and Worthing - I hope you've all been able to enjoy some of the springtime sunshine!
Work wise, things have really begun to get busy down here. We finished last week with our jet ski training getting ready for the summer which, looking at this weather, is soon to be upon us!
I have a few bits of news to share with you:
Life Rings and What 3 words
On Worthing Pier we have nine life rings available which can support people if they find themselves in difficulty in the water around the structure. These have now been updated with new stickers and signage from the Coastguard. On these signs, it gives a grid reference and a 'what 3 words' location that can be used if 999 needs to be called.
What is 'What 3 words'?
'What 3 words' is a website and an app that is able to pinpoint your exact location. It gives every 3x3 square metre of the globe a unique three-word code. For example, 10 Downing Street is slurs.this.shark, Wembley Stadium is trials.ozone.claim and Worthing Coastal Office is factories.error.tubes. You can find 'What 3 Words' here.
The platform has been used to save lives and is used by all emergency services. It could help save your life!
Sea Kale
You may have noticed some zigzag tyre tracks from our quad bike along the shingle. Some of these might be because we are dodging the local plants that are starting to appear.
Sea Kale can be difficult to recognise before it flowers - it looks like some light brown reeds on the shingle. We are now starting to see shoots of beautiful purple kale.
Coastal gardens benefit hundreds of species and also act as a significant boost to our coastal defence and reduce longshore drift. Please keep an eye out for this beautiful plant and definitely don't walk on it.
18th March 2022: Let's all enjoy the sun and keep our beaches clean
Hi - my name is Jeff and I am your blogger for the week from Worthing Coastal Office.
As the weather starts to improve there will be the obvious increase in visitors to the beach and promenade. One popular visitor attraction is the pier that is enjoyed by walkers, anglers, and those just taking in the sea air.
In order for everyone to enjoy our beaches, there are some rules that the public need to be aware of to ensure we all have a safe visit.
Dog fouling
Over the past weeks as the numbers have been increasing, we have seen several instances of dog fouling. This is not only unpleasant visually but is a health hazard. One of the illnesses that can be caught from dog faeces is Toxocariasis which is caused by worms found in some dog, cat and fox faeces.
Although dogs are allowed on our beaches at this time, it is still important that all dog faeces are cleared up and disposed of correctly.
Don't forget that the dog restriction for certain areas of our beach come into effect on 1st May 1st 2022 and last until 30th September. For those who do not take notice of this there is a potential £100 fine. By collecting your dog's faeces and disposing of it correctly makes the beach a safer place for everyone to enjoy.
There is also a Public Space Protection Order in place for the Worthing beach area that includes:
Keeping your dog on a lead
Putting your dog on a lead if you are asked by a police officer, police
community support officer or someone from the Council
Cleaning up after your dog (this applies to all public spaces) stop your dog from going in certain areas
Limiting the number of dogs you have with you (no more than six)
Plastic bottles
On Sunday there were hundreds of full plastic water bottles found washed up on the beaches in our local area.
The bottles were found at Lancing all the way down to the Goring Gap. As a response we were able to have the assistance of our great team of Environmental Services who helped in clearing the area.
There were also many local groups and individuals out on the ground who picked up more than 200, while the Coastal Office staff collected around the same amount again.
Many people actively collected and disposed of these bottles or left them in handy piles for the Coastal Team to collect on their patrols. We are really grateful for all the concern, offers of help and those that actively assisted in the clear up of this unusual event.
There have been a number of explanations regarding the origin of these water bottles but at this time this is still under review by the Maritime and Coastguard Agency. As soon as we get any further information we will update you. They are liaising with Adur & Worthing Councils, who led on the clean-up operation.
11th March 2022: Join a beach clean
Hi - my name is Michelle and I am your blogger for the week from Worthing Coastal Office.
Lately, we've had a number of people asking us how they can get involved in beach cleaning.
First of all, thank you! Looking after where we live helps us feel good and hits many of the five ways to improve your mental wellbeing.
The NHS (and many wonderful mental health charities) say these are:
Connect with other people: most people would like to do a beach clean with other people; their family, friends or as a group of volunteers from work or a charity.
Be physically active: you don't stand still collecting litter! Bending, using a litter pick, walking on shingle or sand is hard work and you could even work up a bit of a sweat.
Learn new skills: picking up litter is rather straightforward so you probably aren't going to learn much here, unless you've never done it before!
Give to others: we all live here, we all enjoy where we live. We love being together when friends or family visit. Keeping our beach clean can help us give to others.
Pay attention to the present moment (mindfulness): well if you don't pay attention to what you're doing that little piece of litter will blow away! In all seriousness though, the beach, the sea, the air, just spending time on our coast helps you remain in the present.
How can you get involved?
We have a webpage where you can find out about upcoming beach cleans, join an existing group that completes regular beach cleans, or log your own beach clean with Adur & Worthing Councils. This is a new system for us to collect data from beach cleans and litter picks. It also allows you to book out equipment for your clean, should you need any. See:
If you would like to complete a beach clean by yourself or with one or two others, please pop into the Coastal Office and we can supply you with the right equipment.
Keep Britain Tidy is also running a Great British Spring Clean challenge from 25th March to 10th April 2022, so why not get involved in that too? Find out more here:
We hope to see you at a beach clean soon!
Photo: Picking up litter on the beach
Photo: Equipment for your beach clean
4th March 2022: Lost watersports equipment
Hi - my name is Kellie and I am your blogger for the week from Worthing Coastal Office.
In recent years there has been a massive boom in people getting involved in watersports along our local coast. Here in Worthing we have a massive community of kite surfers, wind surfers, paddle boarders and surfers.
With this surge of activity comes a wave of situations that we here at the Coastal Office assist with, one of which is lost property - especially lost watersports equipment.
Our protocol for when we find an item, like a paddle or a board washed up or handed in, is to immediately scan the water to see if anyone is in difficulty. We then have to raise the alarm and contact the coastguard to notify them that this item has been found without an owner and that they may be out at sea in trouble.
This will often result in the RNLI being deployed to search the area. This protocol has saved lives in the past! For the RNLI, these shouts are expensive and time-consuming for volunteers, and for us here at the coastal office, it can take away our time from other incidents and our daily safety duties.
Photo: A SUP paddle was found by a member of the public on the beach by Worthing Pier and handed into us
All of this can be avoided if the equipment found has a safety sticker.
The advice from us, the Maritime and Coastguard Agency and the RNLI is that all watersports equipment should have the safety sticker with the owner's contact details in the event it is found or washed up. That way when it is found or handed in, we can call the contact number to ensure that the owner is safe and get the piece of equipment returned to the owner.
These stickers are free and we now have a supply here at Worthing Coastal Office for people to collect and apply to their equipment to prevent this from happening, alternatively, you can order them free online through the maritime and coastguard agency:
Several weeks ago a SUP paddle was found by a member of the public on the beach by Worthing Pier and handed into us, the item did spark concern and a search - is it yours?
Please come by to the Office and pick up a free sticker for your equipment and also if you do lose your equipment, please notify us and the coastguard immediately.
The Coastal Office
The Coastal Office can be found on Worthing seafront just to the east of the Worthing Lido, west of the Pier: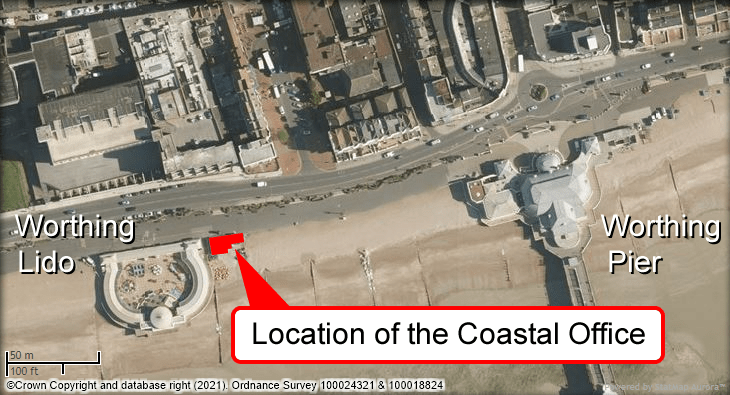 Page last updated: 20 May 2022
Back to top