Coastal Office
Foreshore Inspectors
About the Coastal Office: (previously called the Beach Office)
The Coastal Office is a front line service for water safety and public wellbeing. Staff are First Aid trained and can also deal with every eventuality from lost children to cuts & bruises ... and questions such as "where is the best fish and chips"!
Staff at the Coastal Office will take it in turns to bring an update each week.
You can read current blog posts from the Coastal Office on this page below:
See also:
---
2nd March 2023: Seal spotting
"We saw a seal a few weeks ago bobbing around under the pier."
Hi - my name's Michelle and I am your blogger for the week from Worthing Coastal Office.
Lately, we have been treated to a few sightings of a seal outside our window. Whilst sightings of seals are rare in Worthing, they do happen. We saw a seal a few weeks ago bobbing around under the pier. We believe this to be a rare sighting of a grey seal. We also had a number of sightings of a seal or two in the Worthing to Lancing area.
There are two types of seal in the UK, the grey seal and the common (harbour seal). The grey seal is the larger of the two and the males can weigh up to 300kg, with the females weighing up to 200kg.
Last week, we had a few calls about the sighting of a seal that came onto the beach a couple of times before swimming back out to sea and someone thought it had a plastic bag in its mouth. Fortunately this turned out to be a fish or an eel.
Seals often 'haul out' to digest their food or rest, so if you meet one on a beach, give it plenty of space and keep dogs away. This is especially true for mothers and pups. Seals are also easily spooked from their rocky resting spots, so if in a boat or kayak, maintain a distance of at least 100m where possible.
Entanglement in marine litter and ghost fishing gear is a big threat to seals. Why not participate in a beach clean. For more details visit:
Or you can simply pick up and safely dispose of any rope, strapping or net next time you're at the beach.
If you are concerned about a seal give us a call and we will know how to help. Please call :
Worthing Coastal Office on 01903 238977
You can always come and have a chat with us about seals or litter picks at Worthing Coastal Office.
20th February 2023: Slipper limpets now a common sight on our shores
Hi - my name's Kellie and I am your blogger for the week from Worthing Coastal Office.
Chances are, if you've been to the beach in recent years, you would have seen the shell of the creature I'm going to be talking about in this week's blog - slipper limpets.
Slipper limpet, Scientific name Crepidula Fornicata, is a species of sea snail, a marine gastropod mollusc and they're actually an invasive species to our shores.
They are native to the USA and it's believed they arrived in Europe in the 19th Century attached to American Oysters and/or on the hull of boats and once in European waters reproduced beyond control.
Their negative and/or positive effects on our local ecosystem continues to be investigated by scientists, but it is known that their presence has a negative impact on our local species of molluscs, including scallops, oysters and mussels.
Slipper limpets can be found on the seabed in stacks of around 12 individuals, with the largest shell at the bottom. A fascinating fact about slipper limpets is that the bottom shell is always female and if she were to die - the shell above her would then become a female. Slipper limpets have flexible genders depending on what the needs are.
Photo: A stack of slipper limpet shells on the beach
Slipper limpets have gills and are filter feeders. They will use these gills, and with the help of some microscopic hairs called cilia, they will suck nutrients and plankton out of the surrounding water to feed. However, it is also believed that juvenile slipper limpers will also move around and graze off rocks and substrates before switching to filter feeding when it becomes an adult and joins a stack.
Slipper limpets are edible for human consumption and in an effort to control the numbers of the species, they are now being gathered and used by restaurants and chefs around Europe.
Slipper limpets have very few predators in our local waters, so chances are you'll be seeing them on the beaches for a while to come.
Next time you're at the beach, take a look and see how many you can find!
Photo: Kellie holding a slipper limpet shell in front of Worthing Pier
7th February 2023: Half-term fun at the beach
Hi - my name's Michelle and I am your blogger for the week from Worthing Coastal Office.
As we look ahead into half term, I thought I would remind you of some of the things we're offering, or stuff that is fun to do nearby with the kids or by yourself. Hopefully, we will be enjoying blue skies and calm conditions as we move towards spring.
At the Coastal Office we have our Rockpool Reef - our cycle aquarium that I have mentioned in a previous blog. Come and have a look at the blennies, anemones and shore crab we have.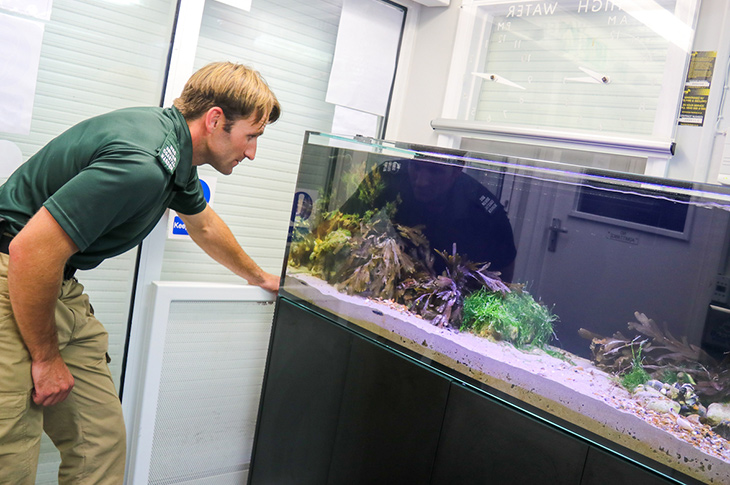 It changes regularly as we collect things and put things back if they get too big! Why not try to learn some facts about them? Did you know a blenny (photo below) is amphibious and can spend a few hours out of the water?
On our patrols we see many wonderful people independently collecting litter from the beaches - thank you! That is something you are able to do. If you are looking to join an existing group, or register a large group, look on our website for more information about keeping Adur and Worthing clean and tidy. If there is just one family or a small group no more than 10, then pop into the Coastal office and we can give you everything you need to get started!
You may have seen in some of our other posts about the Big Seaweed Search. This is an initiative led by The Natural History Museum and the Marine Conservation Society. You can find out more on the Big Seaweed Search website or talk to us at the Coastal Office and we can give you some information.
Ever tried rock pooling and not known what you have found? Pop along and borrow one of our Marine Warrior backpacks. For a cash deposit of £30, take one of our backpacks to the beach. It contains everything you need to go rockpooling (except wellies!) with an identification chart and a workbook with a couple of little activities for inspiration. Return it all to us to get your £30 deposit back and get a certificate to take home. Low tides start in the morning at the beginning of the week and move to mid-afternoon by the end.
Or why not do something else lovely at the beach - like enjoy an ice-cream, build a stone tower, create a sand, weed, rock sculpture or spend time just being together?
Come and find the Coastal Office on the beach, next to the Lido opposite Marks & Spencer.
We hope to see you soon.
24th January 2023: A world of adventure at the Coastal Office
"Before Christmas we found a baby conger eel about 10cm long which we put in the tank."
Hi - my name's Michelle and I am your blogger for the week from Worthing Coastal Office.
Many of you know that we have a Rockpool Reef in the office, which houses native species to our waters here in Worthing. Last year alone 3,653 people came to visit, with many returning regularly.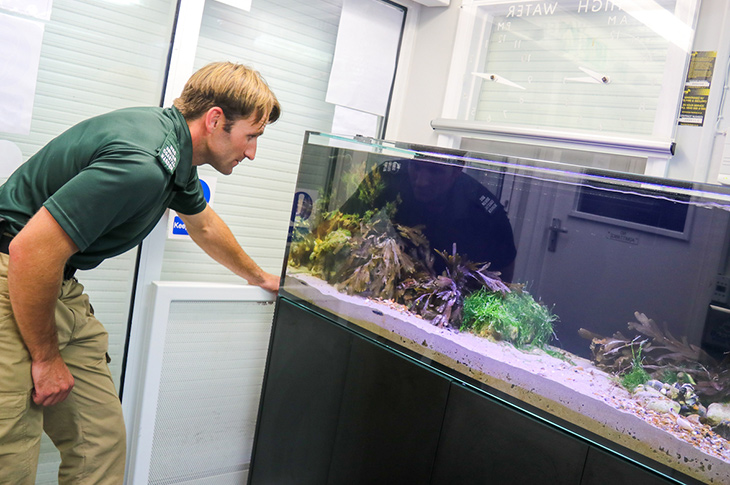 It is also called a 'cycling aquarium' because access to sea life is constant. As part of our duties we go to the rockpools to retrieve native species where they then spend a few weeks or months in the tank.
We have recently had a few releases to share with you...
Before Christmas we found a baby Conger eel about 10cm long which we put in the tank. Unfortunately, being a nocturnal creature, neither we nor our visitors got to see it! And we decided to release it because some of the other creatures went missing... the eel had eaten our lovely little sea bass which was thriving in the tank.
The tank was also home to an edible crab for a while. We joked about having it as a starter on Christmas Day, but we refrained! The crab always liked to hide under one of the rocks shaped like a cave.
But it had recently grown too big and needed to be released. So on a cold, calm morning in January, we let him go to find some new friends. He wasn't quite sure what to make of the sand and the sea at first, but eventually he scuttled away.
We collected other species such as mussels for the crabs and shrimp to eat and some more weed to add depth and texture and a home from home feel for the creatures.
Next week, when the tide goes out further we hope to collect some more crabs and little Blennies (see Kellie's blog about Blennies below).
If you fancy rock pooling, why not come and borrow a Marine Warrior backpack. They contain everything you need, so just pop into the Coastal Office near Worthing Pier for more information.
17th January 2023: The wonderful world of the Blenny
"The Common Blenny is a really wonderful marine creature that is really visually interesting and plays an important role in our local ecosystem."
Hi - my name's Kellie and I am your blogger for the week from Worthing Coastal Office.
In today's blog I'm going to be talking about Blennies - a species of small fish.
If you've been rockpooling in Worthing (or elsewhere in the UK) or have popped by the Coastal Office and checked out our rockpool reef tank, then you will have most definitely seen a Blenny on your adventures.
There are nearly 900 different species of Blennies around the world, the most common in Worthing is ironically, the Common Blenny (scientific name Lipophrys Pholis). This species of Blenny is also known as a Shanny, Sea Frog and Smooth Blenny.
They can grow up to 20cm in length and are beige, brown or sometimes grey with dark blotch markings, However, during the breeding season, male Blennies will change to a much darker colour.
Blennies have big eyes at the top of their head and a long dorsal fin that runs down the length of their back, with a small notch in the middle - the dorsal fin is the best way to distinguish between a Blenny and their counterpart the Goby!
The Common Blenny is an intertidal species and lives in shallow waters and rock pools. When the tide goes out you can quite often find them hiding in the cracks and crevices of rocks.
They are great at camouflaging due to their mottled colouring and very quick to swim away if disturbed. They can survive out of the water for long periods of time and they will quite often perch half in and out of the water for some time - this is a behaviour we've been able to identify first hand from watching them in our Rockpool Reef tank.
Blennies are not fussy eaters and have a very varied diet depending on conditional food sources. Their diet mainly consists of small prawns, ragworms, lugworms, invertebrates, sea snails, barnacles, amphipods and algae, while they have also been known to eat crabs, isopods, copepods, limpets and small molluscs.
The lifespan of a Blenny can vary from 10 to 20 years and they reach maturity around two years of age. Their breeding season is from April to August. The female Blenny will lay eggs that stick to the substrate of the rockpools and once she has laid, the male Blenny will guard the eggs against hungry predators for over a month. Each female will spawn around three times in a season.
The Common Blenny is a really wonderful marine creature that is really visually interesting and plays an important role in our local ecosystem. They're not rare, nor on the conservation watch list, however, it is important to note that if you do come across Blennies, or any marine creature on your rockpooling adventure to be mindful of handling them and to put items gently back where they were found to ensure they remain as so.
I really hope you enjoyed learning about the wonderful Common Blenny. If you would like to see one, we have several staying with us in our Rockpool Reef tank located at Worthing Coastal Office.
They're a very active, playful and curious creature and it has been fascinating to watch their behaviour over the past year. I've learnt so much about them and now, I hope you have too!
Photo: Rob Dove, Senior Coastal Warden, looking at the Rockpool Reef tank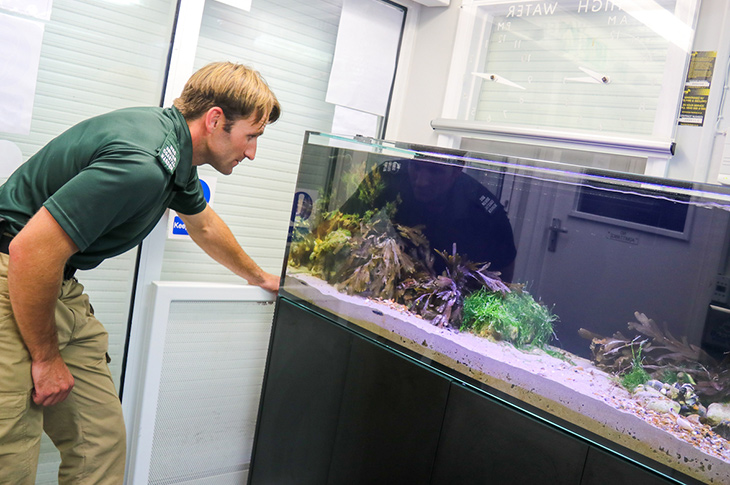 The Coastal Office
The Coastal Office can be found on Worthing seafront just to the east of the Worthing Lido, west of the Pier: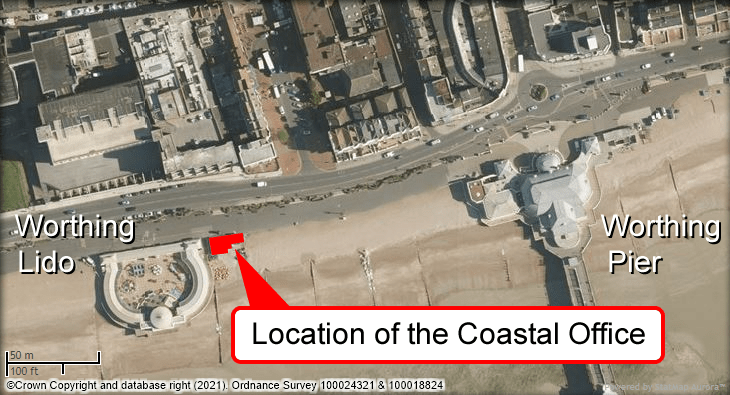 Page last updated: 02 March 2023
Back to top