Coastal Office
Foreshore Inspectors
(previously called the Beach Office)
About the Coastal Office:
The Coastal Office is a front line service for water safety and public wellbeing. Staff are First Aid trained and can also deal with every eventuality from lost children to cuts & bruises ... and questions such as "where is the best fish and chips"!
Amanda Falconer, Rebecca Belleni, Rob Dove, Tommy Broad and Wayne Hobden are our main bloggers at the Coastal Office and will take it in turns to bring an update each week, or they may get one of the other members of the team to do a 'guest spot'.
You can read Amanda's, Rebecca's, Rob's, Tommy's and Wayne's current blog posts on this page below:
See also: Beaches, foreshore and safety and Seafront and River Adur
---
7th May 2021: Ensuring we all have a fun and safe experience this summer
Hi - my name is Tommy and I am the blogger of the week at the Worthing Coastal Office.
It's that time of year again when the seasons change, our beaches begin to populate, the sunscreen comes out and certain byelaws come into effect. So this week on the coast we have been carrying out our routine patrols and enforcing the local regulations.
Just a quick heads up on what's changed ...
The dog restriction zones: are now in season, so your four-legged friends are not permitted on the beach between Splash Point and Heene Road in Worthing and also between the two launching ramps in Goring from the sailing club to Alinora 'jet ski' ramp (see Russ' blog about why we have dog free zones on our beaches).
Jet skis and boats: If you are one of the public using the Alinora 'jet ski' ramp, please make sure you keep your speed down to 8 knots until you have left the marked out buoy lane past the larger buoys at the end - this is also the same for returning when you are coming back in. Just remember to keep your speed down here as there could be swimmers either side of the lane. (See Rob's our Summer rules on the water blog below).
There are also a few others that some people still seem to be breaking ...
Cycling: The promenade is a shared place for pedestrians and cyclists, so just be aware of your surroundings and, if you are a cyclist, keep your speed down as you can never tell when something will run out in front of you. Also just a reminder that there's no cycling on the section of promenade which starts from George V Avenue and heads west towards Ferring. Additionally, bikes are not permitted on Worthing Pier, even if they are being pushed they are not permitted.
E-scooters: are not permitted on our promenade, but we have still seen a rise in these whizzing along over the last few weekends. One of these can be just as dangerous as a speeding bicycle, so please don't use e-scooters on the promenade.
Lastly, drones: are not permitted to be used on the seafront without the Councils' permission. This is due to our close proximity to Shoreham Airport and the greater number of people visiting our seafront.
I'm aware this may sound like a long list, but I hope you understand that these byelaws have only been brought in to ensure everyone has a safe and enjoyable experience on our stretch of coastline.
From myself and the team, stay safe and have a great weekend.
30th April 2021: Our Summer rules on the water
Hi - my name is Rob and I am the blogger of the week at the Worthing Coastal Office.
With the cold winds that continue to blow, you'd be mistaken for thinking the high season is just around the corner. The rapid pace towards summer continues and the 1st of May gets closer, which among many things means the notable appearance of our seasonal special marker buoys at sea.
I wanted to clear up some myths and provide the facts to help us give you a safe experience when taking a dip in the sea this season:
Ferring to Southwick: Running horizontally just off our intertidal zone, we have yellow 8 knot special markers. These buoys are there to inform any vessel that wishes to come inshore that they must not proceed faster than 8 knots when to the north side of them.
Goring: Here we have our transit lane which is to provide all vessels using the slipway a safe area in which to head out to sea. This area also has an 8 knot speed limit. Please only use this area to move safely out to sea and not use it as an area to perform maneuvers within. Swimmers and bathers, please avoid this transit lane.
Lancing, Shoreham & Southwick: These locations have designated swim areas, rectangular in shape and denoted once again by special marker buoys. These areas are strictly for bathing, swimming, light play and domestic paddle sports. All vessels including PWC (jet ski) are forbidden from these areas along with angling.
My team and I will be monitoring these areas and ensuring compliance, as they really do have a vital role to play and assist in keeping all water users safe.
If you have any further questions relating to what's above, please see Frequently Asked Questions (FAQs) about beaches or feel free to contact the Coastal Office team on: 01903 238977.
See you on the water ...
Photo: One of our yellow 8 knot special marker buoys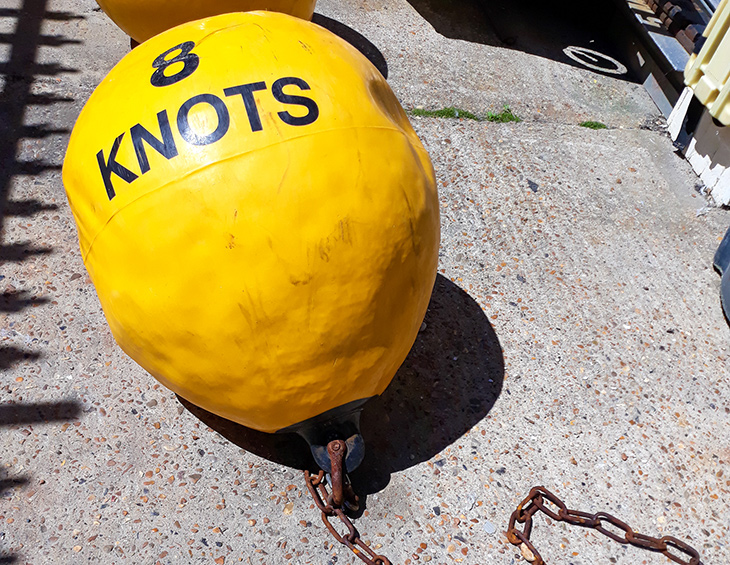 Photo: Out on the sea on a jet ski looking back towards the beach
23rd April 2021: Let's keep our special spaces clean this summer
My name is Rebecca and I am your blogger for the week from Worthing Coastal Office.
April showers seem to have passed us by in Adur and Worthing this year, with what has been a sunny and very dry start to Spring for the south coast.
As new life begins to appear around us in parks, greens and the upper areas of our coastline, these open spaces feel even more inviting than in past years, with the easing of national restrictions, allowing us to enjoy and reconnect with outdoor spaces once more.
More than ever, we are expecting numbers of visitors to our coastline to soar this summer, with the roadmap out of lockdown and staycations being more prevalent. Therefore we need to remember how important our outdoor spaces have been to us, especially over the past year, and all do what we can to to help minimise the impact on these environments whilst still enjoying our time there.
With this in mind, we would like to remind everyone to leave the beach as you found it. We appreciate when coming for a day trip to the beach, you may like to take food and drink; but please keep your single use plastics and rubbish to a minimum where possible.
Certain areas such as Goring Greensward and Shoreham Beach had vast numbers last year, which resulted in overflowing public bins. Please remember that if a bin is at capacity we would ask you to take it with you to dispose of at another site or home.
Photo: Overflowed bins on Worthing promenade
Bags being left beside a bin is classed as fly tipping. When these bags are left out, our opportunistic wildlife gravitate towards the smell and rip it open to get to the tasty leftovers. This is not only detrimental to these animals, who ingest more than your soggy sandwich, but the plastic bag is then scattered all over the beach, resulting in this pollution ending up in our seas.
If you do have spare time and want to utilise your beach walk to help our local seas, Worthing Coastal Office can supply you with the equipment for adults and children to carry out a beach clean. Whether you want to do a quick five minutes on your lunch break or a weekly dedication to help your local beach, we welcome you all in keeping our coastline clean and our seas plastic free.
The countdown to our summer season, starting on the 1st May, is a matter of weeks away and if the weather continues to deliver sunshine and blue skies, we will definitely see another influx of visitors to our shores.
Please remember to take all belongings and rubbish with you when you leave, and let's try and help ease the pressure on our coast so that we can continue to enjoy these areas and help protect them.
If you would like to do a beach clean please pop into our Worthing Coastal Office or call us on 01903 238 977. We have pickers for all ages and welcome all to do as little or much as you can to help our local coastline.
16th April 2021: The different clouds and what they indicate
Hi - my name is Amanda and I am the blogger of the week at the Worthing Coastal Office.
Thank you so much for the love shown to my Herring Gull blog. Because of the support, I thought we would go skyward again and learn about Clouds️ (and no not the Disney film!).
Anytime you look up into the sky you may see clouds, but no two clouds look alike and some look very different from each other. So what makes clouds, and why do some clouds look thin and wispy whilst others look big and fluffy?
Clouds are formed by water vapour in the atmosphere that condenses into very small water droplets or ice crystals that then gather together. When water on the earth evaporates it thins into invisible vapour and then rises until it reaches cooler air. High in the sky in these cooler conditions, the vapour condenses or changes back into a liquid and eventually the water droplets will fall back to earth as rain, snow or ice. This is known as the water cycle.
There is always some water vapour in the air, but clouds will only form when the atmosphere cannot hold anymore of it. Since warm air can hold more water vapour than cold air, clouds are often formed when the temperature is cooler.
Although clouds may look light and fluffy, they are actually really heavy. A single cloud may weigh as much as several million tonnes! They do not fall because warmer currents push up against the tiny droplets and these individual droplets are not heavy enough to overcome the resistance of the air below - this is until they join together.
There are five basic types of cloud:
Cirrus clouds: These are high and thin because the air is so cold at high altitude that these clouds are made of ice crystals instead of water droplets. Cirrus clouds are commonly known as mares tails because they look like horses' tails. The appearance of Cirrus clouds often means great weather.
Stratus clouds: These are shaped like flat sheets - they may occur at low, middle or high altitudes. When Stratus clouds layer thickley they may produce light rain or snow.
Stratus Cumulus clouds: These have rolls or ripples and can occur at low, middle or high altitudes.
Cumulus clouds: These are puffy and small when they first form, but may grow into much taller cloud formentations. When lit by the sun, Cumulus clouds are bright white and always seen when we have great weather.
Cumulonimbus clouds: These are nasty thunder clouds that are heavy and dense, they are very large and similar to cumulus clouds and may produce lightning, rain, hail and tornadoes.
Different types of clouds can indicate different types of weather, but aside from that identifying clouds is fun. Next time you are outside look up and see if you can identify the clouds where you are.
End of science lesson! Get out there and enjoy the elements!
Photo: Cumulus clouds
Photo: Clouds in the sky above Worthing Pier
9th April 2021: A green scheme helping keep our oceans clean
Hi - my name is Wayne and I am the blogger of the week at the Worthing Coastal Office.
It is with great pleasure to announce that we are now working alongside the National Line Recycling Scheme (NLRS) - a move which will help visiting fishermen keep our precious oceans plastic free.
Through mounted collection stations, the national scheme enables the recycling of all types of fishing line, plastic spools and now commercial net debris from our beaches.
As some of you may have already spotted, two of these special recycle tubes have now been added to Worthing seafront - a town with a rich fishing history.
One is located just in the entrance of Worthing Pier (east side) and the other can be found outside the Coastal Office, located to the left of the Lido on the promenade.
Things that can go in the recycling tubes include:
Fishing line
Lead weights
Sabikis/Feathers
Lures
Hooks
After speaking with some of the anglers on our coastline, I'm delighted to report they are excited to now have the ability to easily place their unwanted fishing line in a safe location. Additionally, these materials are now going to be recycled, whereas previously they may have just gone into landfill or even worse evended up in the sea.
To reinforce why this is such a great initiative, here are three facts:
600 Years: the amount of time it takes for heavy monofilament fishing line to degrade in a landfill
Rubbish or Resource: Nylon fishing line is a valuable commodity for recycling
Threat: Discarded fishing line poses a threat to wildlife and the image of the angling sector
Once collected and the data is accumulated, the line is sent off to selected recycling plants where it is processed into a form that can then be used to manufacture various products such as traffic cones, sunglasses, skateboards, wetsuits and even swimwear.
If the scheme proves popular, we will look to add more in the future. So please pass on the word to anyone who is into fishing.
Have a great weekend.
26th March 2021: Preparing our coastline for the fast approaching summer season
Hi - my name is Tommy and I am the blogger of the week at the Worthing Coastal Office.
This week on the coast we've had our annual reminder that warmer and brighter days are ahead, as we have begun preparing our coastline for the fast approaching summer season.
One of these actions included working with our Rangers in the Parks team, as we are in the process of installing new 'dog zone' signposts in Goring which state the upcoming byelaws coming into effect from 1st May 2021.
Thanks to the new signage, this zone (ranging from the sailing club to the Alinora 'Jet ski' ramp) is now going to be marked much clearer. Hopefully this will help prevent dog walkers from entering this area, aid visitors in avoiding fines and make this section of the seafront more enjoyable for all parties.
Reminder: The other dog restriction zone is between Splash Point and Heene Road in Worthing.
Here at the Coastal Office, we are about to start our summer hours; so in the next month we will be prepping the seafront, ensuring it's a safe place for everyone to visit and reminding you of the regulations that we'll be enforcing come May.
The promenade is a shared place for pedestrians and cyclists, so just remember to be aware of your surroundings and keep your speed down if you are on a bike or scooter. You can never tell when something will run out in front of you, so it's better to be safe than sorry.
There is also a 'no cycling' part of the promenade which starts from George V Avenue and heads west towards Ferring. This is active all year round for people's safety.
Lastly, if you are a fisherman who enjoys fishing off Worthing Pier, this is the last month you will be allowed to fish in the orange zones. We hope you are getting some good catches!
Have a great weekend!
Photo: Goring seafront and beach, looking east to Worthing Pier
12th March 2021: "What's washed up this time?"
Hi - my name is Rob and I am the blogger of the week at the Worthing Coastal Office.
A heads up, if rodents aren't your thing then please do not carry on reading this!
Nothing fails to surprise me when it comes to what washes up along our coastline.
We've had it all over the years from lone turtles, various cetaceans, barrels, timber, crates of wine etc etc. But this one had us questioning ourselves and scratching our heads due to its sheer size of just over two feet in body with another foot for its tail. Had this creature fallen off a ship, happily tucked away eating or was it an exotic pet?
It was finally confirmed as a 'super' Brown Rat ...
This champion, but long deceased, specimen washed up during recent rough weather, so it could have come from a good way away.
Even so for a Brown Rat (Rattus Norvegicus) this was an incredible size. Normal body sizes range up to one foot with potentially a similar size tail.
Wherever this one was inhabiting, it must have been eating like a king, as it easily beat the expected maximum body size for its species.
As we know, rodents are incredibly tough and adaptable, and with a rapid breeding rate they will find new food sources and homes when their population rises beyond capacity. Coastlines, just like urban environments, will also provide enough for them too - just like our urban foxes that occasionally, nervously trot up and down the beach looking for natural scraps.
This being said, to help avoid a super rat like this from ever calling Worthing seafront its home, please remember to take all food waste away with you from your time at the beach. Avoid feeding our birdlife too, natural or processed, in the long run this will only make them ill and too humanised which could put them in danger.
No nightmares please, it's long gone!
Photo: A wild fox on the beach under Worthing Pier
5th March 2021: Using research to protect our marine life
Hi - my name is Rebecca and I am the blogger of the week at the Worthing Coastal Office.
If you are an avid reader on our blogs you will remember back in August I wrote a blog on the marine mammal strandings we occasionally get on our beaches and the process in the unfortunate event of dolphin, porpoise and seal washing up.
Last year we recorded a total of 11 marine mammals on the Adur and Worthing coastline that we responded to, with the harbour porpoise being the species we encountered most frequently in 2020. The harbour porpoise are the smallest of the cetaceans to visit our waters and quite elusive and shy unlike their bigger relatives, such as the common and bottlenose dolphin which are much more active and inquisitive.
As part of our work here at the Coastal Office, we attend the scene to assess the current state of the animal and triage depending on if the animal is dead or alive. If the animal is still alive we contact British Divers Marine Life Rescue, who are trained to react to live strandings, and will send a team to assist in refloating the dolphin or porpoise back into the water whilst keeping the animal as calm and comfortable as possible.
Unfortunately not all strandings wash up alive and if this is the case then we contact the Cetacean Strandings Investigation Programme, which is coordinated by the Zoological Society of London.
The Cetacean Strandings Investigation Programme (CSIP) was established in 1990. They document and coordinate the investigation of whales, dolphins and porpoises (or cetaceans as they are also known) and other marine life from around the UK coast.
In recent years, between 700-900 cetaceans have been reported stranded around the UK coast and the CSIP is contracted by the UK government to investigate approximately 100 strandings at post-mortem each year to find out how they have died. Since the project began, they have recorded data on over 16,000 stranded cetaceans with over 4000 of these being investigated in more detail through post-mortem which aids further in building the picture around deaths and causes if directly or indirectly caused by human activity.
Photo: One of Adur and Worthing's washed up marine mammals with the CSIP
The post-mortem examinations carried out by the CSIP team gives invaluable insights into various factors to then ascertain the following:
Causes of death
Diseases
Environmental contaminant levels
Reproductive patterns
Diet
Other aspects of the general health of cetacean populations in UK waters
In response to these findings, the CSIP then analyse this data to help prevent future fatalities and aid in the protection of our marine wildlife.
We had a report in January of a harbour porpoise (as seen in the photo below) which had stranded on Lancing beach. After getting eyes on and photos back to base this was collected by our cleansing team and reported in.
The CSIP team recovered the body and carried out an examination at the Zoological Society of London. They found that it was a 122cm juvenile female in good nutritional condition. Linear injuries and notches found on the tail flukes, pectoral fins and around the head were judged to be consistent with accidental entanglement in fishing gear (or bycatch as it is also known). The injuries were thought to be consistent with entanglement in monofilament nets type fishing gear. This would also tie in to porpoises being demersal (seabed) feeders so are more at risk from static passive fishing gear.
Bycatch is a major global cause of mortality in cetaceans and has been the main man-made cause of death found in the UK by the CSIP through their investigations. As well as bycatch, the CSIP has also diagnosed cases of infectious disease related mortality, starvation and attack by bottlenose dolphins in other cetaceans found stranded on the Adur and Worthing coastline.
Like all animal fatalities, this is not how most of us want to encounter our marine life whilst enjoying a walk on the beach, however, the story and data these stranded animals can reveal through the outstanding work carried out by CSIP is crucial in working towards our coastal waters being a safer and habitable place for cetaceans and our other sea life to thrive.
If you do come across a washed up animal of any sort please contact the Coastal Office on 01903 238977 or directly to the CSIP by calling 0800 6520333.
Photographs are really beneficial and can be sent through to coastal.office@adur-worthing.gov.uk
More information on the CSIP can be found at:
26th February 2021: There's light at the end of the tunnel
Hi - my name is Tommy and I am the blogger of the week at the Worthing Coastal Office.
This week on the coast we've had yet another week in lockdown, however there appear to be a load more smiling faces out and about enjoying our open spaces! It's amazing what a positive update on the current situation and a week of blue skies can achieve.
Unfortunately for today's blog we're sticking to the c-word, as over the last few weekends myself and the team have noticed the numbers on the prom skyrocketing. In response, we have had to put down some reminders so that visitors continue to keep their distance from one another.
Additionally, we've also put down some new decking stickers on Worthing Pier to remind everyone that the attraction is currently operating under a one way system to help with social distancing.
After Monday's briefing from Boris, I understand that we are all looking towards the light at the end of the tunnel; but let's try and stick to the current guidelines as best we can.
We've seen groups of people meeting others, stopping in the middle of the prom to have a chat while there are still loads of others walking around them unable to keep their distance. We know it's only a very small percentage of visitors to our coastline letting the side down.
If you come to the beach for your daily exercise and realise it's super busy, I'd recommend going somewhere less busy, or try avoiding the prom and stick to the shingle where less people seem to walk.
Visiting the seaside and staying active are proven to be beneficial to our mental health. So let's work together to make sure we can all enjoy our parks and open spaces safely.
Why not take a few minutes out to listen to our SpringForward podcasts and soothing soundscapes.
Stay safe, stay strong and have a great weekend!
19th February 2021: How well do you know the Herring Gull?
Hi - my name is Amanda and I am the blogger of the week at the Worthing Coastal Office.
What do you know about one of Worthing's most prolific residents - the Herring Gull?
Meet my three adopted Herring Gulls that reside on our beach outside the Coastal Office in Worthing, Bonnie and Clyde:
... and Baby who actually knocks on our front door, walks in and demands a tasty treat (much to the annoyance of my boss)! These tasty treats are often a tomato or a piece of apple.
A herring gull is easily identified by its plumage. The upper plumage is greyish - black in colour whilst the head and underside are white.
The wings are black at the end while there are also white patches - these white markings are called mirrors. On its yellow coloured bill there is a red mark and the eye is surrounded by a light yellow ring. Its legs and webbed feet are pink in colour.
Seagulls are very clever. They learn, remember and even pass on behaviours, such as stamping their feet in a group to imitate rainfall and trick earthworms into coming to the surface.
Seagulls intelligence is clearly demonstrated by a range of different feeding behaviours, such as dropping had shelled molluscs on to rocks to break them open to eat the meat inside. You will also see them following tractors ploughing the fields as they know they will find upturned grubs and other tasty treats.
Seagulls mate for life and can live as long as 49 years. When seagulls are born they are mottled in colour to help them to blend in with their surroundings, protecting them from predators. Seagulls will lay 2 to 3 eggs in a nest made of stones, seaweed, feathers and moss and the eggs take approximately a month to hatch. Both take care of incubating the eggs and feeding and protecting the chicks.
Seagulls can drink both fresh and saltwater - most animals are unable to do this, but seagulls have a special pair of glands right above their eyes which is specifically designed to flush the salt from their systems through openings in the beak.
Herring Gulls are opportunist eaters, basically scavengers, they tend to forage rubbish bins on the promenade which is actually harmful to them as they will actually eat anything! Seagulls have been found with large pieces of plastic, metal wrappers, basically anything you throw away in their stomachs.
On this note, please take your rubbish home with you when you visit the beach or dispose of it properly in the many rubbish bins provided on the promenade.
12th February 2021: Watch out for Palm Oil...
Hi - my name is Wayne and I am the blogger of the week at the Worthing Coastal Office.
We have had what looks likely to be palm oil wash up on Worthing beach.
Palm oil can get into the marine environment when it is legally released at least 12 miles offshore (which is not great) by shipping. Whilst on the ships, and whilst in the sea, palm oil can become contaminated with other waste products, and because it's edible it can be attractive to animals - some of who can become ill after coming into contact with it.
Once contaminated, it can be very dangerous to wildlife, humans and dogs if ingested.
If you happen to see any, please make sure you keep your dogs on a lead so they can't eat it! Following this, please report it to a member of the Councils and we will clean it up as soon as we can.
In most cases, consuming palm oil shouldn't kill, but it can make them very seriously ill and in rare cases, it can be fatal.
It's an oil-based product, the dog absorbs the oil and it leads to a disease called Pancreatitis and it's this which causes all the problems.
If you think that you have found some but are uncertain, you can always take some photos and the location and email them to the team at coastal.office@adur-worthing.gov.uk
Alternatively, you can contact the Coastal Office on 01903 238977.
5th February 2021: A makeover for our coastline
Hi - my name is Rob and I am the blogger of the week at the Worthing Coastal Office.
This week's sea conditions have thrown up some very rare, mesmerising surf of which has been steadily building, rolling and finally plunging onto our foreshore.
Six meter tides, low winds and a surge have created this fascinating and quite rare sight on our intertidal water. Quick to react, paddle boarders and surfers made the most of it and a few opportunist sea birds too.
As a result of these conditions, the makeup of our foreshore has changed yet again, exposing remnants of historical Victorian hardwood groynes, concrete sinkers for buoyage used many years ago as well as depositing numerous objects that make a beach combing session extra interesting.
Just by standing on the beach outside the Coastal Office, I was able to find all the items in the picture no less than a metre from my boots.
What seems to be in abundance lately is the number of Whelk egg casings which take on the look of one of man's greatest polluters - polystyrene!
Dog fish and Ray egg casings are the other numerous finds, both telling a story of successful hatching, these small fry will now be hiding away in the nooks and crannies of our seabed.
Various seaweeds are prevalent too, such as Bladderwrack with its air filled sacks, a sprinkling of sea lettuce and Thongweed are also here too. The seaweed isn't numerous and sadly that tells us how little there is growing on our seabed, but the future is looking positive for them with various changes in practice and pending exclusion byelaws.
All this makes it an ideal time to come on down during the settled cold weather and explore your local coastline whilst reaping the wellbeing benefits of the open horizon and sea air.
Need assistance? Get in touch:
Public Relations & Communications
Problem with this page?
Page last updated: 07 May 2021