Coastal Office
Foreshore Inspectors
About the Coastal Office: (previously called the Beach Office)
The Coastal Office is a front line service for water safety and public wellbeing. Staff are First Aid trained and can also deal with every eventuality from lost children to cuts & bruises ... and questions such as "where is the best fish and chips"!
Staff at the Coastal Office will take it in turns to bring an update each week.
You can read current blog posts from the Coastal Office on this page below:
See also:
---
3rd August 2022: The dangers of tombstoning
"Tombstoning can appear to be a lot of fun, but it can be incredibly difficult to tell the depth of the water as you look over the edge ..."
Hi - my name's Michelle and I am your blogger for the week from Worthing Coastal Office.
The school summer holidays are well underway and we have been so lucky to welcome lots of people to the beach for events like the Lions Summer Festival, Stevens Fair and now the carousel on the prom.
However, recently I've been rather worried about the safety of some of the younger visitors as we've had many people undertaking the incredibly dangerous act of tombstoning by jumping off the pier.
These incidents of jumping off the pier, which incidentally could incur a £50 fine, have been reported to us, the Coastguard and the police by concerned members of the public.
Worthing is a coastal town with a great pier and I like to see people coming to the beach and having a wonderful time as opposed to having to look after someone because they have been injured tombstoning.
At high tide, the water still isn't particularly deep, and when I see people jumping, diving or somersaulting off the pier I fear for their safety and the prospect of suffering broken bones, head injuries, paralysis or, worst case scenario, even death!
Tombstoning can appear to be a lot of fun, but it can be incredibly difficult to tell the depth of the water as you look over the edge onto the surface, while the tide can go in and out very quickly.
Photos: The pier substructure and beach at low tide
So, while the water can be deep during some parts of the day, it can soon become shallow meaning a person could be leaping towards the seabed with not much water in the way to break their fall. Sadly, a number of people have been left so badly hurt by jumping from a height into shallow sea that they will never walk again.
In addition, younger children might look up to older ones, so if they see others jumping from a pier, they might decide to copy them, but unfortunately they may not be strong enough to swim to safety.
If you have loved ones, please talk to them about the dangers of tombstoning and encourage them to ask their friends not to do it. We don't want Worthing to be the next place that someone gets seriously injured.
29th July 2022: The dos and don'ts of spotting a seal on the beach
Hi - my name is Kellie and I am your blogger for the week from Worthing Coastal Office.
We're now in the height of our summer season, and it's been wonderful engaging and meeting so many of you from our local community and visiting tourists. Some of the visitors we have met recently have been seals!
Just off the coast of Sussex we've always had a small seal population, but in recent years this number has grown and will continue to rise, especially with the 'Help Our Kelp' campaign which hopes to restore a vital ecosystem. The restoration of the Kelp forest along the Sussex coastline will provide a wide array of marine life with breeding, feeding and nursery grounds; and once the little fish boost in numbers, the bigger fish (and mammals!) will follow and we will frequently see more seals and cetaceans.
Seals and pups come on to the beach for varying reasons, all of which are part of their natural behaviour. Adult seals will beach themselves for a rest for hours at a time and mothers will leave their pups on a beach whilst they go to hunt for up to six hours - but will frequently check in on them from the water.
In 2021, I qualified as a Marine Mammal Medic through the charity BDMLR (British Divers Marine Life Rescue) - this qualification has come in handy in my role as a Coastal Warden and allows me to attend a sighted seal report to assess and monitor a seals behaviour and health condition to see if it requires any medical assistance or not. Whilst it's normal for them to beach, on some occasions they need some help.
If you do see a seal or seal pup whilst on you're at the beach it's really vital that you do the following:
Keep your distance! - Keep at least 50 metres between you and the seal, minimise noise and immediately put all dogs on leads. This is so important as the stress of human presence can stress a pup and cause them serious injury - this is also to protect you against the risk of Zoonotic diseases and Seal finger (both of which require time in hospital)
Call the Coastal Office on 01903 238977 or the BDMLR hotline 01825 765546 - as soon as you come across a seal report the sighting so that a medic can attend and assess the health condition (we really recommend using What3Words for the location, saves a lot of time!)
Keep dogs away and on leads - Dogs are wonderfully curious creatures, however they can get overly excited and/or aggressive when they come into contact with a seal. The stress of this unknown animal to a seal has known seal mothers to miscarry and pups to die of shock.
If you want to take pictures, please do so from a safe distance using the zoom function on your camera
Don't touch or try to pick up a seal pup. This scent transfer can cause a mother to reject a pup.
Don't try to feed a seal - they have a very specific diet and sensitive tummies, the wrong thing can make them very ill.
We fully understand how wonderful and exciting it is to find a seal on the beach and how naturally we want to get a closer look and have that experience of an encounter. However these are territorial wild animals with complex behaviours and needs, and this advice is designed to keep both seals and public safe to avoid harm to either.
Thank you for reading, please do share with others and feel free to pop into the Coastal Office to find out more!
Photo: Kellie with her Marine Mammal Medic certificate
22nd July 2022: Looking out of each other this summer
Hi - my name is Jeff and I am your blogger for the week from Worthing Coastal Office.
It's Friday and we are in midsummer season - I hope you've all been able to get out and enjoy some of the lovely weather we've had!
As some of you may remember, my last blog looked to explain the process used for the initial or primary survey for first aid. In the first of this series of blogs we looked at ABCD (Airway, Breathing, Circulation, Danger). We also explored the use of protective clothing such as masks and gloves to ensure the safety of the individual giving the aid to the casualty.
This blog instalment looks to expand upon this and to look at the secondary survey. The secondary survey looks to identify a history and physical examination of the casualty after the initial check has been carried out to see if the person has any other injuries or conditions.
It should be conducted in a methodical process working from the top of the head to the feet to check for any further injuries. If possible, gloves should ideally be worn and these can be found in any first aid box or bag.
Some casualties may have bracelets or necklaces that indicate they have certain conditions such as mental health conditions (such as schizophrenia), disabilities such as blindness or deafness and the medication that they are taking.
If the casualty is conscious then asking them the following questions could provide vital information to the ambulance service and the mnemonic to remember is "SAMPLE."
S = Signs and symptoms
A = Allergies
M = Medication
P = Past and present medical history
L = Last oral intake
E = Everything else including events leading up to the illness or injury
An example of the secondary survey we have used in the past couple of weeks was when a member of the public had collapsed and appeared unconscious on the promenade. On our arrival there was no obvious reason for why this casualty was on the floor or any dangers to us.
We approached the casualty and attempted to speak to him but he was not initially responding to our voice commands. On conducting the secondary survey we were able to identify that he was also suffering from an injured right leg as a result of an assault the previous evening.
This information was then relayed to the ambulance and Police who took over his care. If you feel that medical assistance is required please call 999.
I wish you a safe and happy week ahead, don't forget we are available on the coast should the need arise but for most instances call 999 for help and assistance.
Photo: Keeping an eye out on the beach from the Coastal Office
12th July 2022: School visits, Rockpool Reef and Marine Warrior backpacks
Hi - my name's Michelle and I am your blogger for the week from Worthing Coastal Office.
A very warm welcome to you from a very warm Coastal Office. I hope you had a great week and enjoyed our wonderful Worthing Pride last weekend. It was fantastic to see so many happy, smiling people.
I am writing this blog having just visited my final school before they break up for the summer holidays. In my previous blog about school visits, I mentioned my aim was to visit 5,000 children before the holidays.
I have been thrilled by the response from schools and can honestly say I've seen more children than that! Some statistics for you: I have given my 25-minute talk a total of 39 times in 17 different infant, junior or primary schools in Worthing to a total of 6,569 children. I have also had visits from three different schools to the Coastal Office as part of their school trip.
So far we've had 170 people visit the office to look at our Rockpool Reef, borrow a Marine Warrior backpack or to just say hello following my visit to their school. Keep on coming, we love seeing you all.
Photo: Rob Dove, Senior Coastal Warden, looking into the Rockpool Reef tank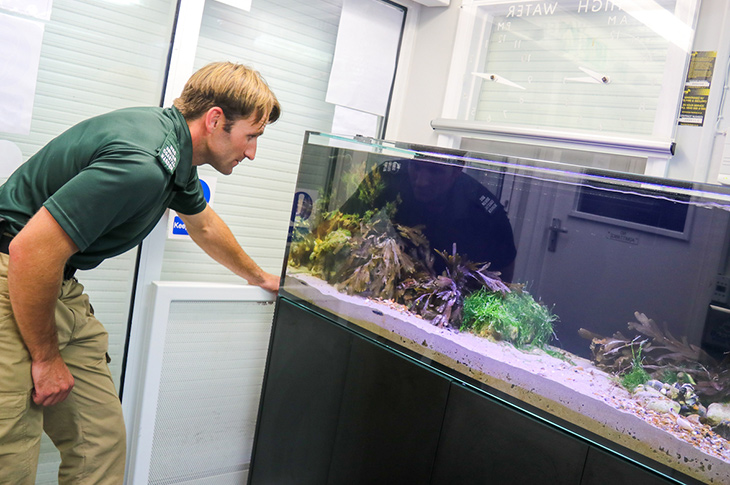 Photo: Marine Warrior backpack and contents (compass, magnifying glass, crabbing net, bucket and spade)
It has been a real pleasure visiting schools and talking to children. They love our beach and are really proud of where they live. They feel lucky having the seaside on their doorstep which doesn't require a two-hour car journey or train ride. Children are passionate about keeping our beaches safe and know exactly how to keep them clean. We've had some children from a local school come in and do a beach clean following one of my visits - thank you very much!
A few things to note - grown ups:
If your children ask you to wear a buoyancy aid when you go paddle boarding, that would be because I asked them to.
If they ask you to take rubbish to your home bin and not use the bins on the prom, that would be me again.
If they ask you to tie a rope onto their inflatable so the wind doesn't blow it too far away - my request also!
Photos: The Coastal Office and location on the seafront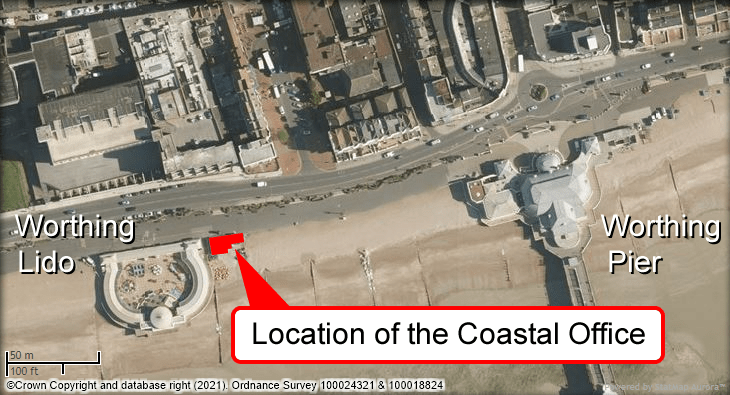 8th July 2022: Why do we use quad bikes?
Hi - my name is Kellie and I am your blogger for the week from Worthing Coastal Office.
In this week's blog I'm going to talk about why we use ATVs (all terrain vehicles), also known as quad bikes for our patrols, as this is a frequent question we get asked by members of the public.
In our fleet we have access to two all terrain vehicles, referred to as 12 and 13. These ATVs are vital to our roles here as Coastal Wardens and are essential to allow us to carry out our daily tasks and duties.
The area that Coastal Wardens patrol and oversee is roughly 10.5 miles, in the summer months this is from the Church of the Good Shepherd in Shoreham all the way to Ferring.
These ATVs allow us to cover that ground daily to carry out our patrols ensuring public safety, checking and maintaining life saving equipment, environmental reconnaissance, hazard spotting, assisting injured marine life and reporting defects to name a few.
As mentioned in the names, all terrain vehicles allow us to safely and efficiently reach and patrol every area of our coastline from shingle, sand, grass and in emergency situations even the road (both quads are taxed, insured and MOT'd, and correct PPE is worn in the event road use is required) which is something not many other vehicles can allow us to do.
They also allow us to launch and recover our water fleet consisting of our jet ski and RIB, which we use to patrol the water in high season and respond to incidents and emergencies.
The ATVs allow us to carry life saving equipment to be able to respond quickly and prepared to emergencies and first aid incidents, they also allow us to carry tools and items that aid us in completing our tasks to keep our coastline safe and well maintained. Just the other week we used one to remove a large ghost net which had washed in - it's items like this which we would not be able to remove without the use of ATVs.
Each Coastal Warden has undergone extensive training in learning how to use and handle the ATVs and have received official accreditation, so members of the public can rest assured that we are safe and competent riders.
Here at the Coastal Office, the team and I are very environmentally and sustainability focused and we understand the importance and the impact climate change is having on our local environment. That's why we hope to transition to electric ATVs in the future, allowing us to further support our efforts.
I hope you enjoyed this week's blog and I hope it's answered some of your questions as to why Coastal Wardens use ATVs for patrolling our coastline.
Stay safe, enjoy the sunshine!
1st July 2022: Enjoy the beach in safety
Hi - my name is Jeff and I am your blogger for the week from Worthing Coastal Office.
Welcome to my blog for this week on the subject of First Aid. The seafront, beach and water can be great, fun places to enjoy, but they can also present many hazards. These can range from broken glass, to being knocked over by a large wave.
The role of the First Aider can be described in three sentences:
Preserve life
Prevent the situation/casualty from getting worse
Promote recovery
When you are presented with an incident, there are things that you must consider when you are about to use your First Aid skills. To ensure we are safe in order to help others, the mnemonic 'ABCD' is used. The use of this is called the primary survey and it enables the First Aider to identify dangers responses: Airway, Breathing, Circulation and Danger.
Before approaching the casualty, make sure that there are no dangers present that could hurt you or the casualty. If you see an electrical lead under the casualty, we might think they have been injured as a result of electrocution and deal with that accordingly.
We need to ensure that it is safe to approach and deal with the casualty. If you have Personal Protective Equipment (PPE) ensure that you are wearing it as there is a potential for infection.
Responses: There are four levels of consciousness (AVPU), these are:
Alert or Conscious: can the person hear and respond to you?
Voice: The casualty responds to your voice command for instance "Open your eyes open them now"
Pain: This can be delivered by pinching both ear lobes at the same time
Unresponsive
If the casualty is conscious: then continually monitor them and note any changes.
If they are not alert: then an ambulance must be called. This can be achieved by calling 999 or asking for assistance from a passerby or friend.
Breathing: Look to see the rise and fall of the casualties chest. Due to COVID, advice is not to listen and feel at this time. If the casualty is not breathing then tilt the head back and open airway. Check the rise and fall of the chest.
Circulation: Look for life threatening conditions such as severe blood loss or heart attack. We no longer take the pulse as a matter of course, but look for life-threatening conditions.
Remember:
Who is the most important person at the scene?
Answer: the First Aider. If they become injured no one can raise the alarm or give aid, so protect yourself at all times
The importance of First Aid has become evident over the last week when we have dealt with a potential drowning and a patient suffering from a blow to the head. Both have received treatment and are now doing well.
Photos: Keeping an eye out on the beach and the Coastal Office on the seafront (showing the location of the defibrillator)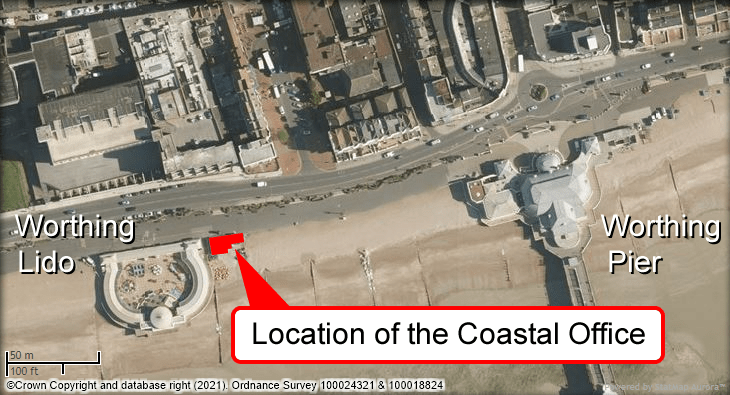 24th June 2022: Pier pressure! Why can't my bike go on the pier?
Hi - my name's Michelle and I am your blogger for the week from Worthing Coastal Office.
There has been one bylaw which has caused much discussion lately - why can't my bike go on the pier?
Pier Bylaws
3. No person shall without reasonable excuse place, use or drive on any part of the Pier any stall or any cart, barrow, truck, bicycle or any other carriage of any description, except with the permission of a duly authorised officer of the Council.
On our patrols we have been kindly asking people not to cycle on the pier. We have also been informing people that bikes (of any sort) are not allowed on the pier at all. Most people are very accepting and happily remove their bikes. Some, however, have been rude and aggressive which is unacceptable. We are simply informing people of the rules in the interest of public safety.
Why are bikes not allowed on the pier?
The main reason is for public safety.
If bicycles are ridden on the pier and a cyclist had to swerve to avoid a pedestrian the cyclist could, in the worst case scenario, fall over the side of the pier.
If a bike is being ridden, it could also knock into any pedestrian.
If bicycles are being pushed then they take up more space which narrows the areas for people to walk through causing it to be more hazardous.
When bikes are locked up to the parts of the pier, it causes an obstruction to people walking and changes the aesthetics of the pier. It often starts with one bike, then another, until it looks like a bike park.
Where can I take my bike?
Bikes are permitted anywhere on the prom, except the narrow part between George V Avenue and Sea Lane Cafe. The promenade is a shared space for pedestrians, cyclists, runners, etc.
There are many bike racks along the promenade, including three or four racks just to the northern (land) end of the pier. Please park your bike there.
So, please remember, bikes are not allowed on any part of the pier. Please park your bike off the pier on one of our many racks. And also remember: be kind.
17th June 2022: Jet skis and jellyfish
Hi - my name is Kellie and I am your blogger for the week from Worthing Coastal Office.
This has been a very busy but exciting week for me here at the Coastal Office. The beautiful weather has seen many residents and tourists visit our wonderful seaside and this has meant an increased number of water users. Due to this increase, this week we began our water patrols on our patrol and rescue jet ski.
This was my first time patrolling on the jet ski in my role as a Coastal Warden which was really exciting, and history was made as I was informed that I was the first female Coastal Warden to undertake a water patrol. It was a little proud moment for me.
As I was patrolling the waters just off of Goring, I noticed something in the water and to my amazement it was a huge Jellyfish!
I believe it was a Barrel jellyfish - the UK's largest jellyfish and quite common this time of year in our local waters. They can be up to 90cm in width and are often referred to as Dustbin jellyfish due to their size. This was a really incredible interaction to have out on the ocean and I feel really lucky to have seen it on my very first patrol.
If you do see a Jellyfish in the water or on the beach, please do not touch it as they can have a nasty sting - even if they're not alive anymore.
Over the course of Thursday and Friday I spent just over 10 hours out at sea, spending most of my time interacting with water users and specifically paddle boarders who weren't wearing buoyancy aids and a few who were not even wearing their leashes. While this isn't a legal requirement, it is a very strong recommendation from ourselves, the Coastguard and the RNLI as we have seen first hand how important they are.
I also performed my first rescue to aid a young teenager who got into difficulty while trying to swim out to his six friends who were on paddleboards nearly 600m off the shore. The paddleboarding teenagers were also advised as none of them were wearing buoyancy aids and had no way of contacting emergency services if they needed to.
In two days over 70 advisories were issued to water users regarding personal and public safety while out on the water. We really stress the importance of learning about sea safety, including tides, wind and local beach regulations. Especially swim areas dos & don'ts.
Thank you very much for reading, stay safe and I'll see you out on the water!
10th June 2022: First Aid can save lives
Hi - my name is Jeff and I am your blogger for the week from Worthing Coastal Office.
"There is a myth that says you can be sued in the UK for providing or attempting to provide First Aid ..."
One part of our duties here at the Coastal Office is to ensure the safety of all visitors and residents when using our beach. We have undertaken numerous courses as part of our role, including First Aid.
All of the Coastal Wardens are qualified in First Aid, having undertaken a locally provided one-day RYA (Royal Yachting Association) course that covered all the usual First Aid subjects, as well as those subjects that relate to First Aid at sea.
As part of this blog I want to introduce people to areas of First Aid that could help you make the right decision to help another person or possibly save a life.
This is in no way a substitute for attending a recognised First Aid Course such as the RYA, St John Ambulance, or any other reputable provider of First Aid.
Having the confidence to assess a scene and make a decision upon the best course of action can be vital in certain situations and in a medical emergency. A little First Aid knowledge and immediate action can save lives, especially further out at sea.
There is a myth that says you can be sued in the UK for providing or attempting to provide First Aid, but no one in the UK has ever been sued and therefore there is no precedent for this.
The British Heart Foundation has said on 26th January 2018 that:
"Following new research which shows more than nine in ten adults (95%) would not be able to save lives in First Aid emergencies" when looking at a cardiac incident.
The St John Ambulance statement has said:
"First Aid is the help given to someone who is injured or ill to keep them safe and to cause no further harm. The role of a First Aider is to give someone this help."
With this in mind, I wanted to introduce you to First Aid in the coming blogs
Don't forget, if you need assistance on the beach front please do not hesitate to contact the Coastal Office, our quad bikes, Jet Ski and Rib all have First Aid equipment.
I look forward to posting further information in the coming weeks.
Photos: First aid box on one of our quad bikes and the defibrillator at the Coastal Office
Photos: Keeping an eye out on the beach and the Coastal Office on the seafront (showing the location of the defibrillator)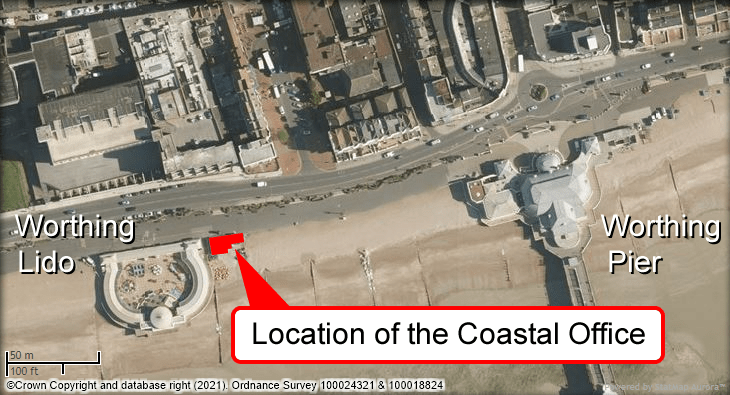 The Coastal Office
The Coastal Office can be found on Worthing seafront just to the east of the Worthing Lido, west of the Pier: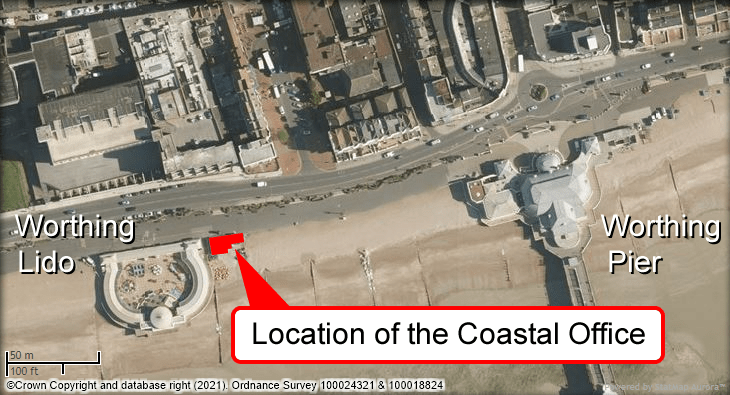 Page last updated: 08 August 2022
Back to top