Coastal Office
(previously called the Beach Office)
About the Coastal Office:
The Coastal Office is a frontline service whose team are on hand to help with a wide range of incidents and events.
Each member of the team is trained in First Aid and is actively on patrol and assisting the emergency services, enforcing local bylaws and supporting foreshore conservation.
Staff at the Council-funded Coastal Office, located on Worthing Promenade, will take it in turns to bring you regular updates on their service, safety advice and news.
You can read the Coastal Office's blogs on the page below:
See also:
---
23rd October 2023: Do you know how to use a throwline?
Hi - my name's Jeff and I am your blogger this week from Worthing Coastal Office.
Have you ever seen or wondered what is in the red canisters on the beach?
While on patrol, I often get asked "what are you doing?" or "what's that?"
Once I have explained to members of the public what I'm doing, most then say "I had no idea!"
The red canisters on poles contain throwlines, a water rescue resource, and part of our daily duties is to check them to ensure they are still in place. We have 32 throwlines located along Adur and Worthing's coastline - 21 of which are managed by the Coastal Office (Goring to Widewater Lagoon in Lancing).
What is a throwline?
A throwline is a rope that you can throw to somebody who needs help in the water. Some throwlines are 15m and others are 25m. All throwlines float so the person who needs assistance doesn't need to go under the water to retrieve it.
When would you use a throwline?
You would use a throwline if you see someone in difficulty near the shore. Using a throwline keeps you safe as it means you don't have to enter the water, ensuring that two people don't end up in difficulty.
If you need to use a throwline, call 999 first so that you know backup is on the way.
How do you use them? Come along to a drop-in session to find out how...
To help ensure visitors to our coastline feel comfortable with our throwlines, we're going to be running four drop-in sessions at the Coastal Office on Worthing promenade, located between the pier and the lido, to talk you through the simple process of using the life-saving equipment.
Our first session is taking place on Sunday 29th October 2023 between 2:30pm and 3:30pm, with others set to follow in 2024 on Saturday 20th January, Saturday 16th March and Saturday 15th June. If the events are positively received there may be an opportunity for further water safety tutorials in the future.
It would be fantastic if you could swing by one of our sessions and learn hands on how to use the kit effectively. It could save a life!
Photos: throwlines - mounted on a pole on the beach, and on the side of the Coastal Office building on Worthing promenade
Photo: the Coastal Office building on Worthing promenade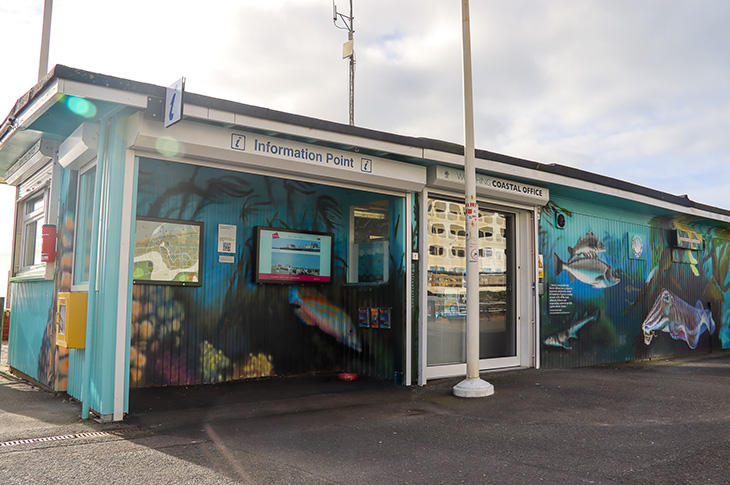 4th October 2023: Winter changes
Hi - my name's Michelle and I am your blogger this week from Worthing Coastal Office.
We have had rather a topsy-turvy summer with a cooler August and a sunny September. But, while it may technically be autumn now, the Coastal Office is operating under its 'winter' season, which runs from 1st October all the way through to April.
There are a number of changes:
Dogs: they are now allowed on all our beaches
Special markers: yellow 8 knot marker buoys demarking the areas with speed restrictions and swim zones are removed towards the end of September/October and repositioned again in April next year
Water quality: the Environment Agency doesn't report daily about water quality (from May to September, they measure current water quality, and at a number of sites issue daily pollution risk forecasts)
Pier fishing: more spaces are available to fish from the pier. The red spots on the pier deck means fishing is still not allowed, but the orange spots allow fishing from those areas in the winter
Horses: they are permitted to ride on the beach
Occasionally, with big storms or high tides, we need to close the landing stage of the pier and sometimes with very strong winds we either close the end of the pier, or in extreme circumstances, the whole pier itself. This is, of course, to keep members of the public safe.
Let us hope for calmer seas and sunny days for as long as we are able!
Please note, the Coastal Office opening times have also changed. We are now open every day from 9am to 5pm but are closed for one hour from 1pm to 2pm. The beach is less busy and it gets darker earlier, hence the need to close an hour earlier.
Photo: Waves breaking on the beach
Photo: Yellow 8 knot speed restriction and swim zone marker buoys
11th September 2023: Dolphins and the marine and coastal wildlife code
Hi - my name's Kellie and I am your blogger this week from Worthing Coastal Office.
As you may have seen in local news and social media, we had some welcome visitors to Worthing's waters last month ... cetaceans!
My colleague Michelle was lucky enough to see a pod of five dolphins on the 16th August whilst out on patrol near Splashpoint. The following Sunday, 20th August, I was on patrol in Shoreham-by-Sea when I spotted a small pod of Bottlenose dolphins. It was an immensely joyful experience watching these beautiful mammals in their natural habitat and travelling through the water on their way to Brighton.
Dolphins are not a strange sight to see here in Sussex waters, especially during the summer months. Some pods use our channel as a migrating route, whilst others use it as a holiday destination for a few months in the summer for feeding, resting and breeding. Species that are commonly seen are Bottlenose dolphins, Harbour porpoises, Common dolphins and White-beaked dolphins.
Photo: Bottlenose Dolphin, Brighton 1 mile out (credit Claire Purvis and Sussex Dolphin Project)
We're likely to see more of these wonderful visitors in the future thanks to the efforts being made with the Sussex Kelp Recovery Project, restoring this vital habitat will allow all manner of species better nursery and feeding grounds - which also includes seals and dolphins.
In May 2023, a new code was introduced by the government - the Marine and coastal wildlife code. The code advises on conduct and guidelines regarding marine wildlife whilst visiting or living by the coast.
The key message of this code is encouraging the public to have awareness of their interactions with wildlife and the impact it can have on species, here's a brief snippet:
You could disturb wildlife on land or at sea by:
approaching, moving or touching the animal
crowding, circling, separating or chasing
feeding them
making noise
damaging or changing habitats
Dogs could disturb and harm wildlife at the coast if they are not kept under effective control. Follow the Countryside Code guidance on how to control your dog at the coast.
If animals are repeatedly disturbed, it can:
cause stress or injury which could lead to death
displace them from their favoured habitats
disrupt their behaviour, for example, migration, breeding, resting and feeding
make them more vulnerable to predators
You can read the full code:
We have such a wonderful variety of marine wildlife here in Worthing from seabirds, marine species, seals and cetaceans - let's make sure we're keeping a respectful distance and protecting them whilst visiting the coast.
If you do come across seals on the beach or stranded cetaceans, please call:
British Divers Marine Life Rescue on 01825 765546
If you find any dead marine life or you'd like further advice, please call us on 01903 238977 or pop in and see us at the Coastal Office.
Photo: The Coastal Office on Worthing promenade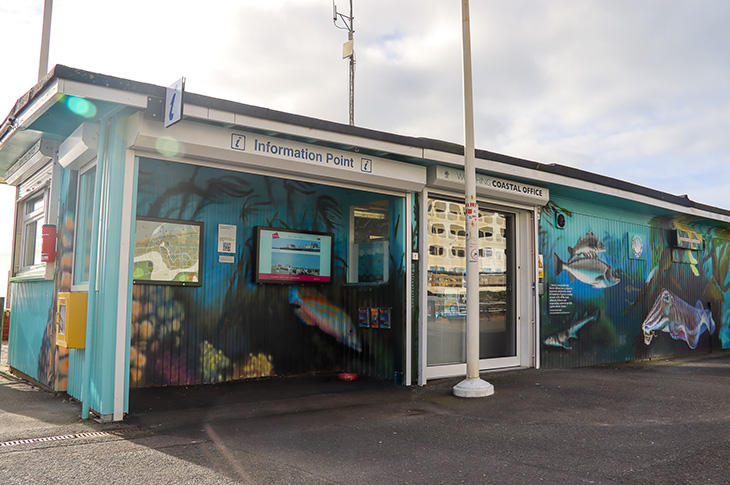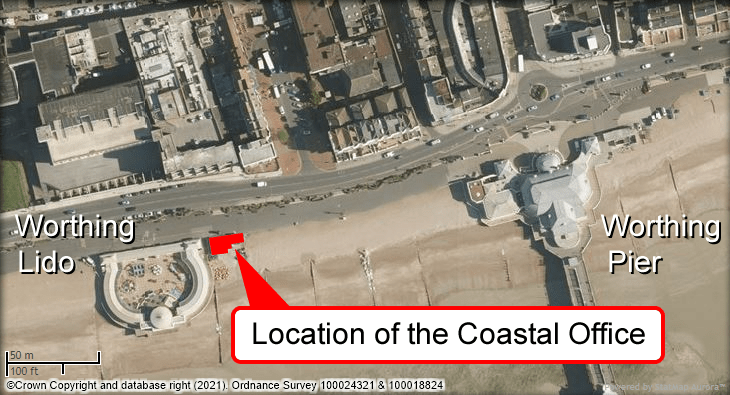 7th August 2023: Shells of a different kind on the shore
Hi - my name's Jeff and I am your blogger this week from Worthing Coastal Office.
So far this summer we have seen more rain, high winds, large waves and high tides than sunshine - one unexpected consequence of this could be the increased likelihood of finding unexploded ordnance devices on our shoreline.
The long shore drift takes materials from the west towards the east along the coast. As a result of this drifting, the beach at Shoreham is increasing in size whereas Worthing's beach is decreasing in size. With the heavier swells and tides, the likelihood of unexploded ordnance being uncovered is greater.
In a book by Chris Hare titled 'Worthing under attack' about the Second World War bombing of Worthing by the German Luftwaffe on the 14th September 1940, it states a total of ten bombs were dropped on the town including an oil bomb.
In a document about the local community called 'The story of the home front in West Sussex' by Alan Readman it describes the location of Air defence units set up at Worthing and along the coast by the 70th (Sussex) Searchlight Regiment. The regiment consisted of three batteries, of these, the 461 Battery was based at Worthing.
Photo: A wartime photo by Frank L'Alouette showing a gun emplacement on the esplanade at Bognor (Credit: West Sussex Records Office)
The reason that I mention this is the sheer scale of ordnance that would have been stored and located in this area. Although much of it would have been collected after the war, a large number would have remained buried and undiscovered.
The Maritime Coastguard Agency advises that if you see an ordnance or an object of an unusual size or shape, especially after bad weather or a high tide, it could be an unexploded ordnance.
Please don't touch it or move it. Call 999 and ask for the Coastguard. They will take the necessary steps with the relevant partner authorities to keep people safe.
This is a relatively uncommon occurrence in our local area and very few actually require the call out of the bomb disposal unit. But if you do find anything, please ensure you are vigilant and be safe on our beaches.
Photo: A previous UXO discovered on Worthing Beach
4th July 2023: Be prepared on the beach
Hi - my name's Michelle and I am your blogger this week from Worthing Coastal Office.
You may have read my blog from last week (below) about new legislation in the Merchant Shipping (Watercraft) Order 2023 being put in place that is designed to keep us all safe.
At the start of summer, we had lovely warm weather that was partnered with northerly winds. These winds create calm, flat seas, but can be very dangerous as the breeze is pushing you away from the shore.
During these weather conditions it is with sadness that we need to reflect upon the tragic death of a paddleboarder and jet skier in May. With this in mind, the RNLI and the Coastal Office suggest the following:
Wear a buoyancy aid
Carry a phone in a waterproof pouch
Wear the correct leash
Avoid offshore winds
Ensure you are physically able to perform the activity
An example of our commitment to sea safety I spoke to 20 paddleboarders offering this advice. Out of this 20:
only two were wearing a buoyancy aid
five were not wearing the leash to attach them to the board
and only five had a mobile phone (most people had left it on the beach)
No one ever expects for things to go wrong, so please be prepared.
In an emergency, call 999 or 112 and ask for the Coastguard. Vital seconds may be lost if you call us first as we are not search and rescue.
Photo: Michelle enjoying a ride on her SUP off Worthing Beach
Photo: The Coastal Office's jet ski pictured on Worthing Beach
27th June 2023: Play it cool at the beach and stay safe
Hi - my name's Michelle and I am your blogger this week from Worthing Coastal Office.
We're all enjoying the recent warm weather and have, as a result, seen lots more crowds flock to our beach, but please remember to enjoy the sea in a safe way.
From 31st March, new legislation in the Merchant Shipping (Watercraft) Order 2023 was put into place to grant more powers to prosecute people for the dangerous and misuse of watercraft, such as jet skis or e-foils.
These include:
Anyone riding a jet ski recklessly or causing harm to others could now face up to two years in prison and an unlimited fine, thanks to a change in the law.
The introduction of new legislation follows growth in the use of watercraft during the pandemic.
Maritime and Coastguard Agency to be granted more powers to prosecute, as the government works to ensure the UK's waters continue to be some of the safest in the world.
Personal and recreational watercraft will also be bound by the 'Highway Code of the sea' – international regulations which require users to act safely by maintaining a lookout, driving at safe speeds and outlining their responsibilities to other vessels.
Photo: Michelle enjoying a ride on her SUP off Worthing Beach
During the summer, alongside swimming zone buoys, 8-knot special marker buoys are placed approx 275 metres from low mean water from Goring to Southwick.
Under the Adur District Council and Worthing Borough Council byelaws for seaside pleasure boats, vessels are not to proceed faster than 8 knots when north (landside) of the buoys.
Our waters are very busy at the moment, and when conditions are right, we patrol on our safety ski. Our safety ski is a personal watercraft that can patrol close inshore to advise people in the water or on paddleboards.
Thank you for reading. See our next blog on some safety tips when visiting the sea (above).
Photo: The Coastal Office's jet ski pictured on Worthing Beach
5th June 2023: Lost & found (items & children!)
Hi - my name's Kellie and I am your blogger this week from Worthing Coastal Office.
In this month's blog I'm taking a look at all things lost and found - from personal belongings to children - here's how the Coastal Office can help.
It's easy to get swept up in all the fun and sun that a summer's day has to offer and quite often our minds are so busy enjoying the day that we may leave or lose a personal belonging like keys, phones and bags. Thankfully the Coastal Office is a local lost property location.
During our patrols we quite often come across items that have been lost on the beach and members of the public will also kindly bring in items that they may have found whilst on the promenade, pier or walking along the beach.
If you notice that you've lost an item you can:
call us on 01903 238977
or catch us on patrols to report the lost item
We will place your details on our log and if the item is found or handed in we will contact you.
Likewise, if you've found an item, please hand it in to the Coastal Office or to a coastal warden on patrol and we will place it into our system in the hope to reunite with their owner. We will hold items for 28 days before disposal.
The seafront is an exciting and adventurous place for a child and amidst all of that curiosity, they may wander off away from parents or guardians. As a precautionary measure please do ensure that your children, grandchildren, nieces and nephews know that the Coastal Office is a safe place that they can come and is a designated place to meet if in the event you become separated.
They can also look out for coastal wardens, you'll see us on either foot or ATV patrols all across Worthing and Lancing and we are safe, DBS checked adults that will help them look for their parents and guardians. Just look for our ATV quad bike and the high-vis jackets.
Here at the Coastal Office you can also pick up a 'family band' free of charge, these are wristbands where you can write the family name and a contact number to place on your child/children so that in the event that they do become lost - it's quicker to be able to reach you saving all parties further stress or worry.
If your child is lost or missing, you do not have to wait 24 hours to call the police for assistance, you can do so as soon as you feel necessary. If your child is lost on the seafront you can also call us at the coastal office and if we can, we will come and assist you in a search either by foot or by ATV.
Please share so that this can reach families all across Worthing and let's all have a safe and happy summer full of wonderful memories!
Photos: Family band wristbands are available free of charge from the Coastal Office on Worthing promenade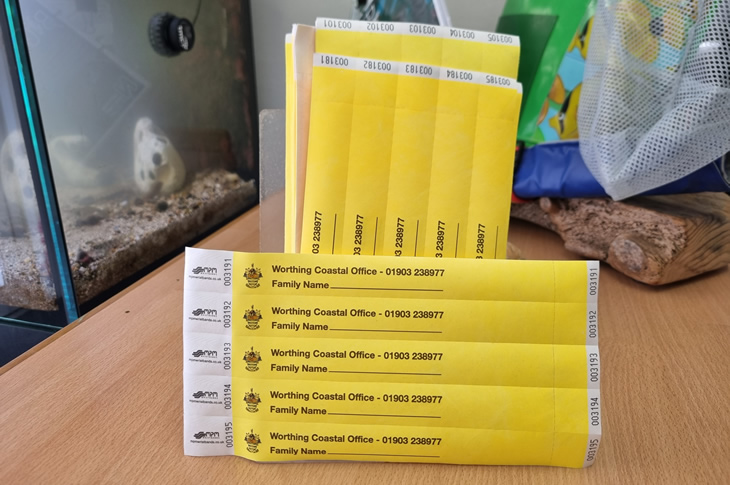 Photo: The Coastal Office on Worthing promenade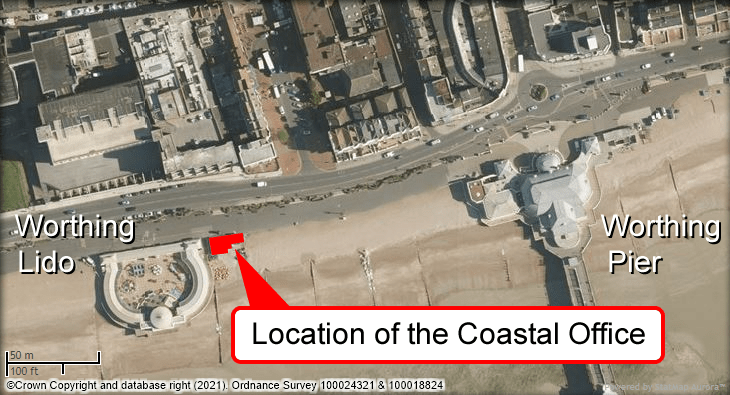 2nd May 2023: Summer preparation has started
Hi - my name's Jeff and I am your blogger this week from Worthing Coastal Office.
With the warmer weather looking like it's finally on its way, this blog looks at the use of machinery to grade and clear our slipways on Worthing beach to ensure they're ready for action in the summer.
This week you may have seen some heavy machinery on the shingle outside the Coastal Office near to the Lido. These machines are clearing and grading the beach whilst clearing the slipways located here and further down the coast at the sailing club and Alinora Slipway.
Worthing Beach is five miles long and runs between Ferring in the west and Lancing in the east. The beach is made up of mainly shingle above high water, and sand with rock pools down to low water.
The shingle and sand are slowed from moving along our coast by longshore drift by groynes. These long and narrow structures are built out into the sea from the beach to limit the movement and loss of shingle and sand, which are fundamental to protecting the country's coastline.
The slipway at the back of the Coastal Office is used to launch our personal watercraft (PWC) from May to September, which is a key piece of equipment to ensure we can help respond to emergencies out on the water during the summer.
Photo: The team's PWC on display at the back of the Coastal Office
Therefore the heavy machinery is also used to clear our slipway and will then move west to Goring to clear the public slipway there.
Health and safety is of primary concern to the Council. Please be advised that it is highly dangerous to approach these machines either when they are working or when stationary. If you see them parked on the shingle, please don't allow anyone to climb on them and definitely keep clear if they are moving.
Thanks for reading, and have fun on our coastline!
Photo: Heavy machinery on Worthing beach
Photo: Worthing beach after receiving treatment from the heavy machinery
The Coastal Office
The Coastal Office can be found on Worthing seafront just to the east of the Worthing Lido, west of the Pier: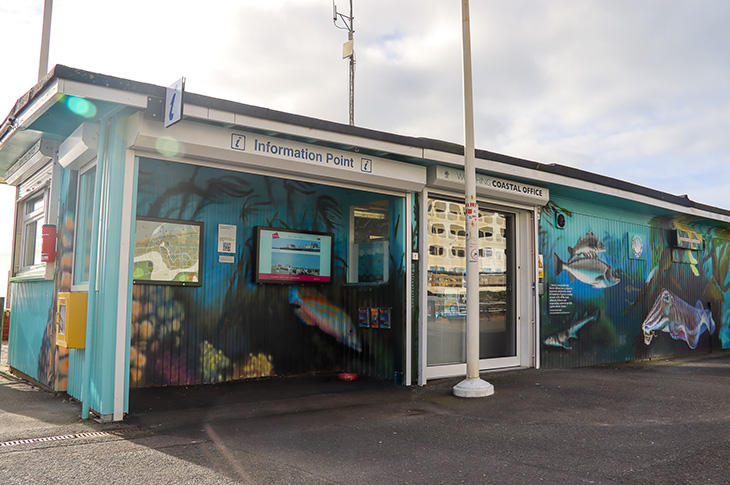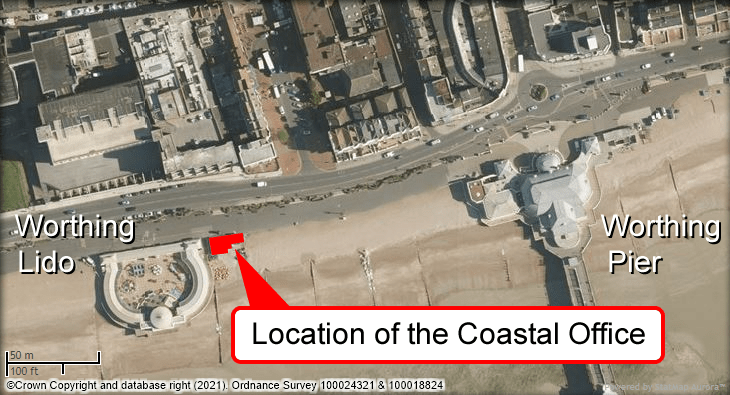 Page last updated: 25 October 2023
Back to top