Chloe Clarke
Sustainability Officer
About Chloe:
Chloe Clarke has just started at the Councils as the Sustainability Officer. She will be working across the Councils and communities to address the Climate Emergency and ecological crises. She'll be developing partnerships and projects with external organisations and helping deliver SustainableAW and a new Adur & Worthing Climate Plan. Chloe says:
"I'm really pleased to be working as the Sustainability Officer in this growing team. I'll be working on all things sustainability, including reducing plastics, increasing active travel and supporting the establishment of an Adur and Worthing Food Partnership. It's great to feel like I'm doing something positive towards the climate and nature emergency that is upon us, including helping with the Adur & Worthing Climate Assembly. With a degree in Ecology and Conservation, my passion is around biodiversity and the natural environment so I'm excited to connect up with the great work already being done on this locally."
You can read Chloe's current blog posts on this page below:
See also: SustainableAW and SustainableAW magazine
---
11th September 2021: Out and about again - Events not to be missed
This week I've been at the first ever Sustainability Week at Shoreham Port, held in partnership with the Global Wind Energy Council and Sussex Dolphin Project. It's been the first in-person event I attended since March 2020. It felt a bit strange, but so good to connect with people right there in front of you again.
Photo: Standing in front of 'Delmar the Recycling Dolphin' are from left to right: Cheyenne Plant - Sustainability Manager, Shoreham Port; Tom Willis - Chief Executive, Shoreham Port; Catherine Howe - Interim Chief Executive, Adur & Worthing Councils; Ben Backwell - CEO, Global Wind Energy Council; and Amber Foster - Chair, Shoreham Port
Did you know Shoreham Port is an Eco Port? As an EcoPort, they need to continually reduce their environmental impact. They've invested in almost 10,000 solar panels across the Port, as well as two wind turbines which produce enough energy to save 160 tonnes of CO₂ per year. They have electric vehicle charging points across the Port which are free for all colleagues to use and have recently installed two new Seabins which can catch an estimated 3.9kgs of floating debris per day including micro plastics down to 2mm across.
I heard a range of interesting talks about the potential to produce and store green hydrogen to fuel buses and HGVs at some point in the near future. I also heard about their pledge to source locally and make the new Port Kitchen as sustainable as possible. They're also working in partnership with the Sussex Dolphin Project on a biodiversity corridor. Well done to the team at the port for a really great week. The first of many hopefully!
It was a scorcher of a day too, so after work I headed to the beach for a cooling swim. It was the most beautiful sunset and lightning too. But it felt particularly magical as I kept thinking about all the amazing dolphins I'd heard about in the dolphin ecology workshop earlier on in the day, and wondered if they could just be out there somewhere.
Community events not to be missed
There's a couple of brilliant community events coming up that I think you should know about - Green Dreams Festival and Ending the War on Nature, Shoreham Wordfest ...
Green Dreams Festival
Saturday 19th September 2021, 10:30am to 4pm
Field Place Manor House & Barns (all outside)
Firstly, there's the Green Dreams Food & Greenspaces Festival which is a fantastic collaborative event led by community based groups from Adur and Worthing.
Showcasing green space initiatives and local food producers, this is a great opportunity to learn more about what's going on in your local area.
See: Green Dreams Festival on Facebook
Ending the War on Nature, Shoreham Wordfest
Saturday 2nd October 2021, 10:30am to 3:30pm
Shoreham Centre
The other event is part of the wonderful Shoreham Wordfest and is a partnership event between CPRE and Sussex Wildlife Trust.
Ending the War on Nature, features an inspiring line-up including amongst others Tony Whitbread (Sussex Wildlife Trust) and Isabella Tree (Knepp Estate). Tickets are available for both the live event (£20) or to watch virtually (£5).
See: Ending the War on Nature - on the Shoreham Wordfest website
#Sustainable AW
28th August 2021: Our climate and nature plan for a more sustainable future
A few weeks ago, I was finding the news fairly overwhelming. The latest climate study by the Intergovernmental Panel on Climate Change (IPCC) issued their starkest warning yet - the BBC reported it as a 'code red for humanity'.
I've definitely been finding the wildfires, heatwaves, floods and droughts sitting heavy in my thoughts. Endless streams of videos showing the impacts of extreme weather. Cars that were now boats carried down the rivers that were once roads - it's scary stuff.
All eyes will be on the global climate change conference in Glasgow in November, called COP 26.
Dr Doug Parr, Greenpeace UK's Chief Scientist, said:
"This is not the first generation of world leaders to be warned by scientists about the gravity of the climate crisis, but they're the last that can afford to ignore them. The increasing frequency, scale and intensity of climate disasters that have scorched and flooded many parts of the world in recent months is the result of past inaction. Unless world leaders finally start to act on these warnings, things will get much, much worse."
Locally, Adur and Worthing are listed in the Top 25 areas that are most at risk of surface water flooding. Deborah Urquhart, West Sussex County Council's cabinet member for environment, said:
"Extreme weather like flooding is the reality of climate change. No longer a distant problem for future generations, it is here right now on the doorsteps of our homes.

"And unfortunately, it's going to happen more frequently. No city, town or village is immune to flooding and we all need to understand the risks where we live."
You can read the article on the Shoreham Herald newspaper website for further details.
I know for some, news like this can be a total switch off from the issue. The enormity of the challenge can make us feel like we're powerless so we choose to ignore it instead. People might also feel that they don't want to make changes to their lives, it's too difficult, too expensive or even inconvenient. But change will be something that we can all embrace, given the right information and support.
This is what was so brilliant about the A&W Climate Assembly. The residents taking part all had different views but when guided through the process, they were able to agree on a set of recommendations to help tackle climate change in our local area, which we are now acting on together.
What are we doing in Adur & Worthing?
We have a new climate and nature plan for a more sustainable future.

SustainableAW is a shared plan between council and community that showcases some of the brilliant climate and nature work going on across Adur and Worthing. It has just been revised and adopted at the Joint Strategic Committee in July, with over 60 actions being put forward and over 200 organisations involved in the process, including community groups, NHS Trusts, businesses, farmers and landowners.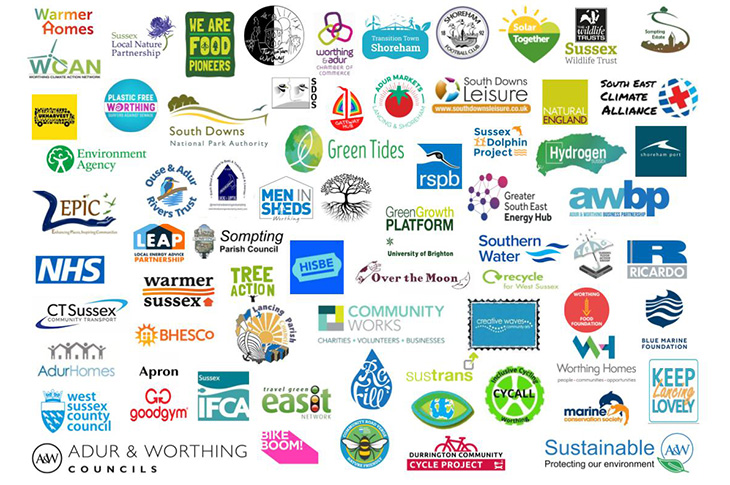 This new plan pulls together many of the actions that were put forward at the successful community-led Zero 2030 Climate Conference (March 2020) and the Food, Land & Learning event (September 2019). The plan also helps to address many of the eighteen recommendations which were put forward at the Adur & Worthing Climate Assembly (2021).
Everyone can do something to reduce their climate impact
The councils are responsible for less than 1% of total emissions for the whole of Adur and Worthing, so it is vital that everyone, from business, to public sector organisations, to landowners and residents, are all aware of the actions that they can and should take to help achieve the area-wide target of reaching Net Zero by 2045.
So how is it best to communicate all this? That is something that is going to be key to the plan being delivered successfully and one that we'll need everyone's help in doing.
You can start with the small things, like switching your search engine to Ecosia (the search engine that plants trees). Find out what else you can do about climate change - here are 14 ways you can take positive action 9on the Positive News website).
Connect with other Hummingbirds
Finally, if you do feel overwhelmed by the climate-related news, I found this little video comforting - thanks to Worthing Climate Action Network's Michelle Furtado for sharing it!
I will be a Hummingbird. I will do the best I can:
Want to know more?
21st August 2021: Help schools to plant more trees
Learning in nature boosts children's wellbeing, confidence, and behaviour, and should be a fundamental part of a child's experience in education.
In fact, one of the recommendations from the Adur & Worthing Climate Assembly was that schools should be supported to help pupils nurture a passion and connection with nature.
National organisations, like Nature Friendly Schools, currently exist to promote and enable this connection. But locally we too have lots of excellent community organisations playing their part to help schools enhance their outdoor spaces and give pupils the opportunity to learn more about nature whilst getting their hands dirty through practical tasks. One of these is Tree Action.
Tree Action is a not for profit community interest company that organises tree planting events in schools, colleges, and at public and private spaces in Sussex to improve the environment, tackle climate change and improve the mental wellbeing of young people through connecting them with nature.
Tree Action recently worked with Adur & Worthing Councils, planting 100 saplings in Adur Recreation Ground, Buckingham Park and Southwick Recreation Ground with the help of volunteers and local youngsters.
They have a new crowdfunder taking place where 40% of the funds raised will go towards paying for two specific schools projects:
Buckingham Park Primary School in Shoreham: who want a plan for more trees and would love to expand their woodland area for children to play in.
Eastbrook Primary Academy in Southwick: who want a range of trees for their Forest School area as well as a water pump to keep them watered.
Please donate what you can, or if you're a local business there are opportunities to be a project sponsor too. Please share widely so that others in the community are aware and can hopefully support too. For more information, visit:
Photo: Isobell and Scarlett adding the finishing touches to their sweet chestnut tree in Buckingham Park
Photo: Sajid, Louie and Leo watering their tree in Buckingham Park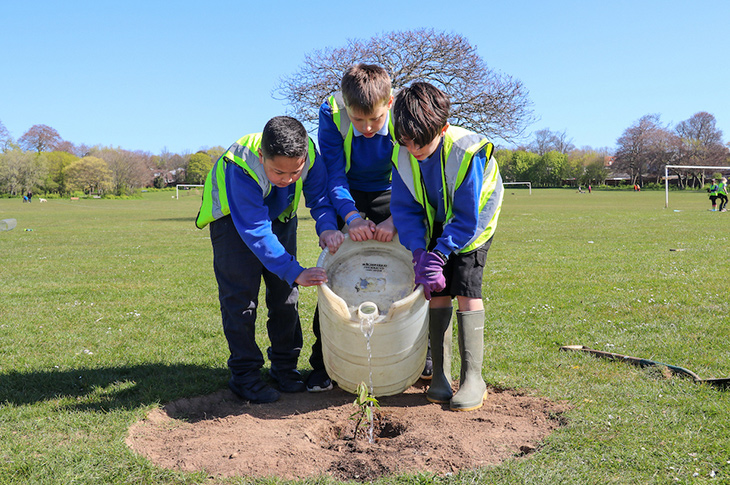 Photo: 18 sweet chestnut trees were planted in the middle of Buckingham Park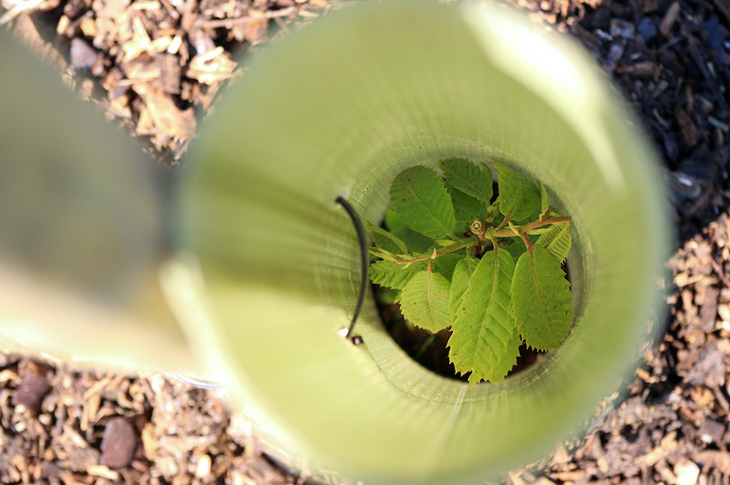 10th July 2021: NEW Grant funding available for energy efficiency measures
I have a 20-year-old gas boiler and recently needed to get a plumber to look at it. He advised that we should be prepared to install a new boiler in the autumn as this one is on its last legs.
I asked about whether I could have a quote just to see how much a heat pump might cost (knowing that I'd also have to fully insulate the house first before that would be a feasible option) but his reply was "nah don't bother."
I obviously won't take this answer as the end of that enquiry, although I know the plumber was only reacting like that due to the expense of installing a heat pump along with the required insulation, compared to installing a new gas boiler. It made me realise that there's a long way to go before most people are in a position to really start transitioning away from gas central heating.
I know there is some work being done to enhance skills of local builders and installers to help accelerate decarbonisation of housing. The energy used to heat the spaces we live and work in is one of the highest contributors to our individual carbon footprints.
The vast majority of houses in the UK rely on gas boilers, but the Government has moved to phase these out from new housing in the next five years.
I have to be honest, before I started working here, I hadn't even heard of a heat pump.
If you want to know a bit more about heat pumps and other low carbon heating options, then this BBC guide will help you to cut carbon out of your heating and the Energy Saving Trust have this handy guide and video on heat pumps.
One of the recommendations from the Adur & Worthing Climate Assembly focussed on energy.
"Actively encourage and incentivise energy efficiency improvements, including insulating and green energy schemes and ensure they are accessible for all homeowners. Engage with private landlords, businesses and local authorities."
The key here is making it accessible and therefore affordable for all homeowners. Which is why we're really pleased to be part of an excellent home energy scheme for Adur and Worthing homeowners.
New grant funding for energy efficiency measures
Warmer Homes new Local Authority Delivery (LAD) Programme is offering grant funding of up to £10,000 for energy efficiency measures such as solid wall insulation and low carbon heating in your home. This offer is for a LIMITED time only.
The scheme is open to homeowners in Adur and Worthing on a low income (below £30,000) in homes with an Energy Performance rating of (EPC) of D, E, F or G.
The measures include:
Solar PV
Solid wall insulation
Air Source Heat Pumps
and other energy efficiency measures
You can find out more about the scheme and watch useful videos to see how Solid Wall Insulation, Solar PV and an Air Source Heat Pump heating system would work in your home on the Warmer Homes website. The scheme managers can find out what EPC rating your home is, so don't worry if you don't know.

To apply
This funding is offered on a first-come-first-served basis, and is only open until the 30th September 2021. Applications will take no longer than 5 minutes to complete.
Contact the scheme managers on freephone 0800 038 5737
But if anyone wants help with energy bills they can contact the West Sussex Citizens advice helpline:
West Sussex Home Energy telephone service provided by Citizens Advice
01243 974063 (Monday to Friday 10am to 4pm)
#SustainableAW
3rd July 2021: Adapting to a changing climate
In this last week there has been a fair bit out in the media around climate change - or maybe it's just the media circles I hang out in?
Climate change is here and happening right now.
In Jacobabad, Pakistan, temperatures have reached 52℃ - imagine that! When the temperature is in the high 30s here I have two settings, hot laying on the sofa, or cool swimming in the sea. I can't comprehend what 52℃ would feel like? It is understandably "hotter than the human body can handle" - when both temperatures and humidity are high, neither sweating nor soaking ourselves can cool us.
Also this week, in Canada, temperatures have reached 49.6℃ - absolutely unprecedented for an area so far north of the equator and totally unprepared for such high temperatures. They have set up cooling centres to help people to cool down effectively in the absence of air conditioning, which is more prevalent in typically hot places. There have been more wildfires as a result of the extreme heatwave in the US and across Europe there has been flooding after extensive rainfall this week.
Additional warming from greenhouse gas emissions means that such extreme heatwaves are more likely and scientists can now calculate the increase in their probability. For example, the 2019 European heatwave that killed 2,500 people was five times more likely than it would have been without global warming.
What can governments, companies and citizens do?
First, reduce carbon emissions by at least 50% by 2030 (our target is to be carbon neutral by 2030). There are lots of tools online that can help you calculate your carbon footprint, including this one:
Second, prepare for the inevitable heatwaves of the future.
A report by the independent Climate Change Committee predicts warming will hit the UK harder than first thought. It warns of more severe heat waves, especially in big cities, and more intense rainfall, with an increased flood risk across most of the UK. It says homes, infrastructure and services must be made resilient to floods, heat and humid nights.
This animation from the Climate Change Committee shows what the risks are and points us toward the need for urgent action to adapt to the changing climate:
"The 2020s must be the decisive decade of progress and adaptation action to secure a better and more resilient future for us all."
One thing I learnt through the process of the Adur & Worthing Climate Assembly, is that knowledge is key and that we should all be having as many conversations as we can with our friends, family, work colleagues and neighbours about these important issues and the solutions that are already available.
In the run up to COP26 there is going to be a lot of noise about climate change and what we can all do about it. Everyone has a role to play in one way or another.
I've been working flat out recently (hence no time to write my blog!) on revising the SustainableAW framework - a shared action plan between council and community which brings together all the brilliant work going on across Adur and Worthing to help tackle climate change and to protect our natural environment.
I've met over one hundred organisations, community groups and businesses to hear what they're up to and see how we can work together to tackle some of these important challenges.
The plan will be taken to the Councils' Joint Strategic Committee on 13th July 2021, so following that I will tell you ALL about it.
Need assistance with this service?
Get in touch:
Public Relations & Communications
Page last updated: 13 September 2021