Chloe Clarke

Sustainability Officer
About Chloe:
Chloe Clarke has just started at the Councils as the Sustainability Officer. She will be working across the Councils and communities to address the Climate Emergency and ecological crises. She'll be developing partnerships and projects with external organisations and helping deliver SustainableAW and a new Adur & Worthing Climate Plan.
Chloe says:
"I'm really pleased to be working as the Sustainability Officer in this growing team. I'll be working on all things sustainability, including reducing plastics, increasing active travel and supporting the establishment of an Adur and Worthing Food Partnership. It's great to feel like I'm doing something positive towards the climate and nature emergency that is upon us, including helping with the Adur & Worthing Climate Assembly. With a degree in Ecology and Conservation, my passion is around biodiversity and the natural environment so I'm excited to connect up with the great work already being done on this locally."
You can read Chloe's current blog posts on this page below:
See also: SustainableAW
---
21st November 2020: Imagining a safer, less polluted walk to school
I've been walking (and scooting and cycling) my kids to school now for six years. I was definitely walking to school on my own when I was the age of my youngest. It isn't just that I don't want to let go of their little hands (sob!), but the roads just feel so busy.
The school has managed the Covid restrictions well with staggered start times for every class, quite a logistical challenge! This means that I drop my eldest off at 8:30am and then hang around for 20 minutes until my youngest goes in. So I've had quite a bit of time standing at the roadside pondering on what would make me feel more comfortable about them walking to school on their own. My main issues are around volume and speed of traffic. I'm also really concerned about congestion and pollution.
We're all supposed to be socially distanced, but even with the staggered start and finish times there's still crunch points when lots of kids and parents spill onto the road which has led to many near misses. The school road is a rat run so there's a constant stream of traffic, in fact it's often total gridlock especially when the bus needs to come through as there's not enough room for two lanes of traffic, so lots of extra fumes too from the idling cars! This video from Living Streets shows how a School Street, where the road adjacent to a school is closed at drop off and pick up times, can really help increase safety, reduce congestion and pollution too.
School Streets are one of a draft of measures put forward as part of the government's latest round of funding announced last week to support active travel and make journeys safer for all. A government-funded survey revealed that 8 out of 10 people support measures to reduce road traffic and two-thirds support reallocating road space for active travel. The new money will fund measures including:
'School Streets', where streets around schools are closed to motorists at school times
low-traffic neighbourhoods (LTNs), where residential side streets are closed to through traffic to stop rat-running
segregated cycle lanes
pedestrian improvements
Excellent news! The Department for Transport's video about the new Active Travel Fund features the pop-up cycle lane in Shoreham, thanks to all the brilliant work from Shoreham-By-Cycle (Facebook).
Support for active travel was one of the key areas put forward in Boris' 10 Point Plan for a green industrial revolution to create thousands of new jobs. The announcement this week also included bringing forward the ban on new petrol and diesel cars to 2030. This is a bold move and one that won't please everyone. But with countless surveys proving that most people enjoyed the deserted roads of lockdown (part 1), it's not just decarbonising cars that we need (although that is necessary), it's continued encouragement to get people out of their cars and making more active journeys. Bring on the 15 minute neighbourhood!
Photo: Cycling in a segregated cycle lane (image provided by Shoreham-By-Cycle)
---
14th November 2020: The power of food
I'm one of those people that thinks about food a lot. I'm always thinking about the next meal. I love cooking and will devour a new recipe book from cover to cover like other people might plough through a novel.
I'm also fascinated by farms, how we farm the land and the way we produce our food. But it wasn't until I worked at the Brighton & Hove Food Partnership that I really appreciated the power of food to bring people together, to reduce isolation, to nourish us and to fill us up with joy.
So I was really excited to attend a meeting this week about the potential of a new food partnership for Adur and Worthing. It's already in early development, thanks to some National Lottery funding secured by Community Works.
There are nearly 60 food partnerships across the UK, set up to take a place-based approach towards ensuring everyone has access to healthy and sustainable food.
A food partnership typically brings together representatives from the public, private, voluntary and community sector, often to develop an action plan (I worked on developing this food strategy action plan for Brighton & Hove) which could lead to long term outcomes including reduced inequalities and food poverty, reduced carbon footprint and food waste, cost savings to public services, healthier people and a more connected and resilient community. If launched, an Adur and Worthing Food Partnership would join a growing global food movement.
I'm definitely looking forward to working with Community Works and other stakeholders on this! If you want to see examples of what food partnerships are and what they can achieve, I'd really recommend taking a look at the Sustainable Food Places website.
There's already some amazing organisations in Adur and Worthing delivering some innovative food-based projects including Transition Town Worthing, The Women's Hub, Green Tides, Growing Communities, Apron Community Garden, UK Harvest and Food Pioneers.
Food Pioneers have delivered a range of projects, including Last Fisherman Standing, Neptune's Larder and the Worthing Honey Collective. In response to the COVID crisis, they created BATCH where they create meals from surplus food to share with those who need it. They also run Cook and Share, a befriending initiative that encourages people to regularly share an extra portion of food with a neighbour in need. I hear that they're really keen to get their hands on a blast chiller ... so if you're able to help with that, then please get in touch with them.
Food is at the heart of some of our greatest challenges, but it is also a vital part of the solution. The COVID crisis has exposed just how vulnerable our current food system is, but the response from local community groups, councils, businesses and volunteers has given us a glimpse of the type of resilient and fair food system we could aim for.
If you're interested in the role food and farming play in some of our biggest challenges we face, from COVID, to climate change, to Brexit, to food waste, to food poverty, to land use, I'd really recommend following these national organisations listed below. They have lots of information, campaigns and debates around topical issues including the newly passed Agriculture Act and the National Food Strategy and what these mean for the future of food and farming. There's also a growing number of podcasts too, including Farmerama and Farm Gate.
---
7th November 2020: Day 3 of the Climate Assembly and taking time for nature
Today I took half an hour at the start of my day to take a walk and sit on the beach. I couldn't even see the wind turbines at all. It's great how every time I go there the view is slightly different, but always so calming. We're so lucky to live by the sea, the river and the Downs and to have some beautiful parks and green spaces that we can access when we need to get out into nature.


I've been avidly watching the BBC's Autumnwatch again. Last week they shared five simple ways nature can help to reduce blood pressure and lower the stress hormone, cortisol:
Walk amongst trees and plants for 15 minutes
Look into nature's fractals (e.g. leaf veins, dandelion clocks, snail shells)
Dig in, or sniff soil to uncover it's beneficial microbes
Sit near water
Take time to spot birds
New research from Natural England has shown just how important it is for children's health and mental wellbeing to have access to nature and green spaces, yet 60% have spent less time outdoors since the start of the pandemic. Not surprisingly 83% agreed that being in nature made them feel very happy.
Photo: Infographic from The Wildlife Trusts
We conducted an online survey to engage with residents around the issue of climate change as part of the Climate Assembly process. I was pleased to see such a high response from 11-16 yrs olds. An overview of the survey responses was fed back to the Climate Assembly Members last Saturday.
This was day three of the Adur & Worthing Climate Assembly and it was all about coming up with ideas. To help Assembly Members generate these ideas to answer 'how we can collectively tackle climate change and support our places to thrive' was another range of brilliant presentations.
Take a look at all the videos available to the Assembly Members, from Sussex Wildlife Trust talking about the natural environment on our doorstep (including the brilliant Help Our Kelp initiative, to the excellent Shoreham-by-cycle sharing views around Active Travel, or Triodos Bank talking people through the options for funding initiatives that might help progress some of the recommendations that the Assembly comes up with. Find links to all these presentations below:
There was a reminder that Adur & Worthing already has an action plan called Sustainable AW. This currently has all the actions that the Councils have committed to, alongside space for key actions from the community to lead on. We will be reaching out to the local community soon to see if they have actions that they would like to include, alongside any recommendations put forward by the Climate Assembly.
The Assembly also heard from local allotment holders, businesses, people with a disability, community groups and young people who all shared their personal experiences, hopes and fears. So all in all, it was another great day and good to hear so many young people locally are really engaged.
I see the Youth Climate Summit 2020 is still going ahead next week. It was planned to coincide with the COP26 summit, which is now taking place in November 2021. I hope local schools and interested residents are signed up to take part, there's some amazing topics being covered in the packed week-long agenda for both primary and secondary schools.
Photo: A snap from Chloe's relaxing beach walk
---
31st October 2020: An epic project with nature and the local community at its heart
Myself and the newly formed Sustainability Team decided that it was about time we actually met in person, so arranged to meet outdoors for a socially distanced walk and talk to get to know each other and the local area more. One of the projects we were keen to visit was in Sompting, so we agreed to meet Pete King, Director of the Ouse and Adur Rivers Trust, to tell us more about the EPIC project. EPIC stands for Enhancing Places, Inspiring Communities and it seems to be delivering both in spades.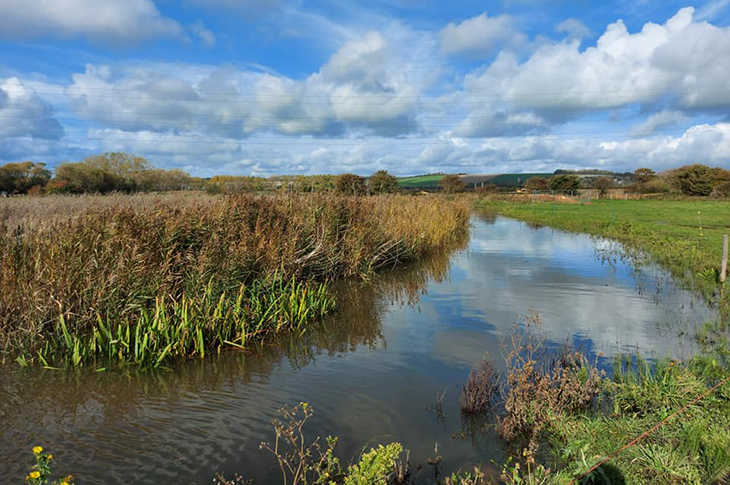 Since 2016, this Heritage Lottery funded project, led by the Ouse and Adur Rivers Trust, has been working to create a whole new river channel and wetland habitat, rerouting a previously unseen and polluted chalk stream and installing measures to remove urban pollutants from it. A chalk stream is a river that rises from springs in landscapes with chalk bedrock. There are apparently just over 200 in the world, with most appearing in the South of England. There are also two new ponds and the neighbouring field is being converted from arable into a wildflower meadow. There's even a Knucker Hole, which is a small round bottomless pool that maintains constant water level and constant temperature year round and is associated with myths and legends of dragons.
The Sompting Brooks site is part of the Sompting Estate, they are key partners in the project and their vision for the Estate has been instrumental in making it a reality.
While Pete was showing us around the site, you could see just how much work had taken place, not just by the big diggers, but by an army of volunteers from the local community who together have planted thousands of trees, hedgerows, plug plants and wildflowers, with a notable increase in biodiversity seen already. They have created a lovely interactive map of the site so you can learn more about what is there. They have also hosted a number of different activities on the site for the community to get involved in, including Litterpicks, Batwalks, Bioblitz Events, Freshwater Invertebrates Sampling and the establishment of the Helping Hands for Harvest Mice Citizen Science Project.
Video: The EPIC project: a community chalk stream restoration project
I'd like to say go and see the space when it opens up to the public next year, but really this is a special place made by and for the local community of Sompting. New walkways, seating areas, cycle paths, picnic spots, a viewing hide, art installations and interpretation boards are all planned for the site. I have no doubt this will provide a whole host of benefits to the health and wellbeing of this community alongside providing a haven for wildlife which is already starting to thrive there. It's a real gem in the heart of the Sompting community. Well done to everyone involved!
Find out all the latest progress on this brilliant project on the:
---
24th October 2020: Getting back to avoiding single-use plastics
Recently I've been thinking about how much plastic has crept back into our lives since Covid arrived. Avoiding plastics was becoming pretty normal, mainly due to the 'Attenborough Effect'.
There was a 53% reduction in single-use plastics in the year that followed the BBC's Blue Planet II programme being aired. My bag would often be bulging with my reusable coffee cup, water bottle, lunch box and cloth bags. But amid understandable concerns over health and hygiene during the pandemic, the problem of throwaway plastics has taken a back seat.
Many businesses have refused to accept reusable cups and supermarkets returned to using single-use carrier bags for their deliveries. Then there's all the disposable facemasks, gloves, wipes, hand sanitiser, takeaway food containers and perspex screens that have all made an appearance in our lives. They have also turned up on the beach and on our streets.
Click on the infographic below for a larger version ...
9 ways you can reduce ocean plastic (infographic by Less Plastics)
But it's not all bad news. On 1st October 2020 the Government's ban on plastic straws, stirrers and cotton buds came into force - a great result to ditch these pointless plastics. There's also been some small wins from big brands - one of these being LEGO who are aiming to manufacture all its bricks using sustainable materials (sugar cane and wood) by 2030.
Fast food giants are binning the plastic toys from their kids' meals. Morrisons, Waitrose and John Lewis have removed glitter from their own-brand Christmas products (glittery cards and wrapping paper can't be recycled as they contain plastic) and many of the supermarkets have committed to phasing out the hard-to-recycle black plastic trays.
Comic Relief has swapped it's plastic red noses for a plant-based alternative and major tea-bag brands have pledged to be plastic free by next year. I also noticed Asda is trialling a Sustainability store with refill stations and plastic-free groceries, something that lots of our lovely zero-waste shops in Adur and Worthing have been doing for a long time (and the markets too!), but it's promising that this approach is going mainstream. I am trying to cut down on the amount of 'stuff' I buy.
Scary amounts of plastic
Talking of 'stuff' ... next Saturday is halloween. I'm not sure about what will or won't be happening with all the Covid restrictions in place, but I do know that in recent years it seems to have become much more of a thing.
Research has found that 83% of costumes are made of polyester - a kind of plastic - and that around seven million costumes are binned every year after Halloween is over!
The same goes for the mountains of pumpkins that go to waste too.
There are lots of great ideas online for home-made costumes and amazing face-painting options, including these ideas from Hubbub. Being a busy working mum, I totally understand how tricky it is to find the time to make your own costume though, so if you have bought one, make sure you pass it on to a friend or give it to your local charity shop to extend its life for as long as possible!
Part of my role is to help the councils deliver on it's pledge to become Plastic Free, just one of many key actions within our SustainableAW programme. We had a meeting the other day, chaired by Cllr Daniel Humphreys, which went through everything that has been achieved so far to reduce plastics in our offices. With so many of us working at home we will now encourage staff to try and reduce single-use plastics in their own homes.
I've only been in my role since September, so I'm really looking forward to getting to know all the plastic-free champions that we have here in Adur and Worthing, including Refill and Plastic Free coordinators, shops selling plastic-free produce and people that run the Repair Cafes and recycling schemes.
Please do get in touch if you're a plastic-free champion!
---
17th October 2020: Day 2 of the Adur & Worthing Climate Assembly

I'm so pleased to be a part of this brilliant Climate Assembly that is happening here in Adur and Worthing. It just feels like an important process that these residents are going through to come up with some recommendations for many challenges we face due to the climate and nature emergency upon us. There have been some excellent and inspiring speakers - many of whom are national leaders in their field. My background and interests are in food, ecology and waste so I was really drawn to the videos (available on YouTube) by Kath Dalmeny, Tony Whitbread and David Greenfield, although if you're keen, I'd encourage you to watch as many videos as you can.
You can watch all the videos from Days 1 and 2 of the Climate Assembly on YouTube.
Assembly Members are also given access to additional sources of information which are optional to watch, including a video on the innovative idea of Doughnut Economics.
Although nothing can beat being in a room with people sharing ideas on post-its and flip charts together, being online using some of these great digital tools available (we used Jamboard and Miro), under the expert facilitation provided by Demsoc, has still enabled us to have that essential participatory element to the event, so everyone gets to have their say.
There were two things that really stood out for me from last Saturday's session.
Firstly the inspiring interview with Judy Ling Wong who spoke to the Assembly about social inclusion and climate change. Judy is a painter, poet and environmental activist, best known as the Honorary President of Black Environment Network (BEN).
She was awarded an OBE for pioneering multicultural environmental participation in 2000, and a CBE for services to heritage in 2007.
I encourage you to listen to her words as I found them really thought-provoking.
"We love what we enjoy. We protect what we love."
Secondly, we were introduced to Pauline Rutter, the Adur & Worthing Climate Assembly Artist in Residence.
Pauline is an artist and writer from the local area. She will be sharing her creative words and images inspired by the information, presentations and discussions that the group encounters into an online gallery.
All participants, delegates and associates of the Climate Assembly are encouraged to do the same.
Thank you Pauline for being involved, and for these beautiful words.
I Take I Give
I take a look, I take a breath, I take a while, To take a stand.
I give a smile, I give a damn, I give a heartbeat, To this land.
I take a stride, I take a snap, I take the trouble, To think of you.
I give my time, I give my word, I give myself, To see this through.
---
10th October 2020: Growing a community garden
I regularly hang out with Monty Don (via the TV) on a Friday night nowadays. Thanks to him, I have managed to grow lots of different veg in pots. Tomatoes are always the winning crop (Gardeners Delight) and peas are always a hit with the kids (shelling and eating) as are the twisty winding beanstalks of green beans. As well as growing veg to eat, I'm also trying to get more wildlife in the garden. Gardens and allotments could play a significant part in helping us to produce food more sustainably, while at the same time restoring biodiversity and protecting nature.
For those without access to their own garden, there are lots of options still available, including growing on a windowsill (on the Gardener's World website) or taking on an allotment plot. The waiting list for allotment plots in Worthing is very long. But in Adur it's a different story, there are actually vacant plots - this is absolutely unheard of, so if you want to get your hands dirty and grow yourself some veg, then contact our Parks Team (Adur Allotments).
Or you might like to try community gardening, where volunteers regularly meet to manage a garden or green space together. It's a great way to feel good, learn new skills, get some exercise and meet people who want to make a difference to the local area.
Before I started this job, I worked at Brighton & Hove Food Partnership. They delivered a fantastic project called Harvest, which grew the number of community gardens in the city from 25 to 75, transforming unused spaces in the community to grow food together. The project measured the impact it had on the participants (B&H Food Partnership website), with 96% of people reporting improved happiness, mood or wellbeing, 86% reported improved physical health and 80% reporting that coming to the garden would have a long-term impact on them in future.
Now I'm working in Adur and Worthing, I'm starting to discover all the brilliant projects and organisations that exist over here. Green Tides, the Adur & Worthing Green Spaces Partnership has over forty green space volunteer groups, working in parks, cemeteries or other wild spaces. Most of these are based in Worthing, so I was really excited to hear that space has been allocated to Apron (a local community organisation) to potentially set up a community garden in Buckingham Park in Shoreham-by-sea. They've launched a crowdfunder to raise funds for this, so if you'd like to see this happen, please donate and if you can't donate then please share the link.
They plan to:
Plant accessible raised beds for growing fruit and vegetables
Work with local organisations to address the issue of food poverty in our area
Deliver seasonal events and workshops throughout the year for the local community
Provide educational sessions on sustainability, environment, and biodiversity
Facilitate skills sharing sessions on food production, preparation and waste limitation
Create a safe and accessible outdoor space for community led wellbeing activities and workshops
Create accessible volunteering and learning opportunities for the community
Through existing community networks Apron will work with groups to ensure the diversity of the community is represented. It will be an accessible space for people to come together safely. The garden will promote outdoor wellbeing activities, healthy lifestyle, help the local environment and increase volunteering, jobs and educational opportunities.
Good luck, Apron!
See also: Apron Community Garden on Instagram
Photo: Wild flowers
---
3rd October 2020: Autumn days, home working and rising energy consumption
Oh I do love Autumn. Crisp blue autumnal days (OK sometimes it rains too) with falling leaves and amazing colours in the trees and hedgerows, the return of cosy food (mmm blackberry and apple crumble) and my cats choosing to come and warm up on my lap - a win win as far as I'm concerned!
I also have a selection of brightly coloured jumpers which I pull out of the loft at this time of year as the temperature starts to dip. I'm definitely one for wearing lots of layers, rather than put the heating on at the first sign of a chill.
Now so many of us are working from home, I am starting to wonder about how much more energy we will be using, especially when it comes to putting the heating on and making all those extra mugs of tea. Greater energy use will mean a bigger carbon footprint and also higher energy bills. I choose a renewable energy provider, but always think about ways I can reduce my energy use.
For those who are looking to transition to a greener home, the Government's Green Homes Grant is a good opportunity to get some financial help towards making your home more energy efficient. Warmer Sussex can help give more advice about the scheme and also help with guidance around retrofitting. Retrofitting your home is all about adding energy-saving measures to make your home more energy efficient. See the Warmer Sussex website.
I've recently registered my interest in a new group-buying scheme for solar panels called Solar Together Sussex.
The scheme will install high quality solar panels at a reduced price - but you need to register your interest before midnight on 5th October 2020 - see the Solar Together website (then click on 'Solar Together Sussex' and select your area).
The scheme is designed to help homeowners generate their own renewable energy, save money on their electricity bills and cut their carbon emissions. Gas and electricity use in homes accounts for 38% of carbon emissions in Adur and Worthing.
By installing solar panels, the average household could really reduce their annual carbon footprint. It's worth noting that unfortunately the new Green Homes Grant does not cover the cost of installing solar panels.
For many, an investment like this is simply not an option. In Adur and Worthing there are at least 9% of households at risk of fuel poverty (see the LEAP website), with some needing to choose between paying for food or heating their home.
So what options are open to those who are struggling to pay their energy bills? The Local Energy Advice Partnership (LEAP) is a free service that is helping people keep warm and reduce their energy bills without costing them any money - find out how to apply on the LEAP website.
Photo: Autumn leaves
---
26th September 2020: Day one of the Adur & Worthing Climate Assembly

Last Saturday I attended the first ever Adur & Worthing Climate Assembly. Only a handful of Climate Assemblies around the globe have taken place wholly online, so I felt pretty proud that the Councils were embracing this new and experimental approach to democratically answer these important questions:
How can we in Adur and Worthing collectively tackle climate change and support our places to thrive?
What does this mean for the way we live and for our local environment?
Sixty-six participants (45 Climate Assembly Members, plus staff and observers) were expertly guided through from listening to keynote speakers in plenary (everyone together in one 'room') to break-out rooms where small groups discussed what they'd heard in greater detail. So just like a conference-style event, but online and it was all pretty seamless ... and my first event attended in my slippers!
The Assembly was made up of a diverse range of people from Adur and Worthing, spanning different ages and backgrounds with lots of different opinions and beliefs, and that is exactly how it should be.
When I first saw the list of speakers for the Climate Assembly I was really impressed. First up on day one we heard from national UK environmental experts to set the scene around climate change:
Jonathan Porritt - what is climate change?
Jonathan (Environmentalist and Broadcaster) talked about the need to keep any rise in global temperatures to below 1.5℃ (PDF on the Royal Society website) and the challenge we face due to over consumption of resources and a growing population. He also defined what was meant by Net Zero (on BBC website).
Kristen Guida - the predicted impacts of climate change
Kristen (London Climate Change Partnership) spoke about the increased chance (50%) of hotter, drier summers and that the SouthEast region is one of the most water scarce regions in the world, but will also be prone to rising sea levels.
Baroness Brown - national approaches to climate change
Baroness Brown (Chair of the Carbon Trust) highlighted the recommendations put forward by the UK Committee on Climate Change (she is the Vice Chair) on the changes we all need to make to achieve Net Zero by 2050.
John Drummond - how can we affect climate change
John (Chairman at Corporate Culture) talked about the need to communicate clearly and optimistically if we are truly going to engage with everyone and get them to make the required changes to their lifestyles.
So reaching Net Zero by 2050 is going to be a challenge, but one that should be achievable if everyone works together to make it happen. There are many new funding pots coming through from local, regional and national funders, including the government's Green Recovery Challenge Fund launched last week (on the GOV.UK website) and the UK's first Community Municipal Investment fund mentioned (on the West Berkshrie Council website) in Jonathon's talk.
All residents of Adur and Worthing can have their say on the climate by filling in our online survey:
The report of recommendations from the UK's Climate Assembly, The path to net zero (PDF on the Climate Assembly UK website), has been published and is definitely worth a read.
#AWClimateAssembly
Photo: The South Downs
---
19th September 2020: What happens next is up to every one of us
I'm really pleased to have started as the Sustainability Officer in a new Sustainability Team (alongside newly recruited Dan Goodchild and Carol Murphy) headed up by Francesca Iliffe at Adur & Worthing Councils.
The Councils' investment in building this capacity shows the very real commitment to this agenda. It's been a great few weeks getting to know people (albeit online!) and starting to find out all about the brilliant projects I'll be working on.
I've just finished watching the BBC's Extinction: The Facts programme and for the most part I was left feeling pretty heartbroken. It's a powerful documentary and one that I hope everyone will get the chance to see. It offers an insight into the shocking devastation humans have wrought on the natural world. From overfishing and habitat destruction to climate change and pollution, the documentary identified the key drivers of biodiversity loss, with one million species now at risk of extinction.
This crisis has consequences for us all, threatening food and water security, reducing our ability to control our climate and even putting us at greater risk of pandemic diseases.
Bleak? Yes, but in the words of the extremely wise (and my ultimate hero) Sir David Attenborough:
"What happens next, is up to every one of us".
I've always been completely fascinated by the natural world and from a very young age was certain that I would one day make wildlife documentaries, just like my hero. After graduating with a degree in Ecology and Conservation and a short stint working at the BBC, I realised that I actually didn't want to film the planet, I wanted to save it!
So this programme was the not so gentle reminder I needed to go that extra mile, to make even more changes to my lifestyle and to really make a difference through my work.

Which is why I'm really excited that the Adur & Worthing Climate Assembly starts today. I'm so impressed by the monumental amount of hard work that has gone into this, both by colleagues (especially Amy Newnham) and Demsoc, the organisation actually delivering the event(s). Forty randomly selected Adur and Worthing residents will hear evidence (via an online private event) from the UK's top environmental experts and local organisations about climate change, to make recommendations to the Councils about how to tackle the global issue.
I'll be 'going' to each of the five events, so will report back via this blog. I closely followed the UK Climate Assembly when it started earlier this year and admire the strength of recommendations they put forward for the government to implement. With only 14 months until the international climate change conference, COP26, the pressure is on.
Locally, we'll have to wait until early next year to hear the recommendations that are put forward by the Assembly Members. Meanwhile, all Adur and Worthing residents can and should have their say in an online survey which will feed into the Climate Assembly:
According to an inquiry by a cross-party group of MPs, the British public back an ambitious transformation of the UK into a greener, fairer more equal society as it emerges from the Covid-19 crisis.
As we continue to navigate the pressures and changes to our lifestyles brought on by the pandemic, I have felt more hopeful seeing that Adur & Worthing Councils have genuine commitment towards sustainability included as part of their bounce-back action plan. Projects include investment in renewables (lots of new jobs there), development of walking and cycling plans (currently controversial, another blog on that coming soon!), expansion of local and affordable food production and partnership work to boost biodiversity - that all sounds pretty good to me!
#ExtinctionTheFacts
#AWClimateAssembly
Photo: Brooklands Lake
---
Contact details
Contact Public Relations & Communications
If you have any enquires please contact:
07909 688 132 - Mike Gilson
or
07342 066 216 - Tim Ridgway
or
07795 504 983 - Talia French
---
Public Relations & Communications,
Adur & Worthing Councils,
Worthing Town Hall,
Chapel Road,
Worthing,
BN11 1HA
Contact details
Public Relations & Communications
Need assistance?
Get in touch
Page last updated: 20 November 2020