Catherine Gregson-Bourke
Waste Projects, Data & Education Officer
About Catherine Gregson-Bourke:
Catherine has worked with Adur & Worthing Councils since February 2022 and is currently the Waste Projects, Data and Education Officer. Catherine has worked in waste management at a number of local authorities and has over 12 years of experience in this field.
Catherine's role is to support projects within waste operations including service improvement and introduction. She also collates data on what's collected in Adur & Worthing and reports it to central government.
In addition, Catherine is responsible for promoting the waste hierarchy; encouraging residents to reduce and reuse before recycling and to view disposal as the very last option.
She is passionate about viewing waste as a resource and encouraging others to think carefully about what they throw away.
Outside work Catherine enjoys photography and long walks on the Downs with her dog, Pickle. She also enjoys gardening and is a keen home composter!
You can read Catherine's blogs on the page below:
See also: Recycling & waste for residents and Commercial recycling & waste
---
23rd August 2023: Keeping our open spaces clean
The weather is looking good for the bank holiday weekend and I'm sure many of you will be heading down to the seafront to enjoy the sunshine!
Keeping our open spaces clean and litter-free is a task our cleansing crews undertake all year, but busy bank holiday weekends are a particular challenge for us.
By taking some simple steps, you can help us to keep our beaches and green spaces litter-free, reduce the risk of bin fires and injury from hot BBQs and protect the sensitive landscapes and wildlife we're so lucky to have on our doorstep.
If you brought it with you, please consider taking it home:
On busy days our litter bins can become very full. Please don't stack litter next to bins as it can blow away, and be spread by foxes and seagulls overnight. Take your waste with you and dispose of it in your rubbish and recycling bins when you get home.
Recycle everything you can:
Research from environmental charity, Hubbub has shown that although most of us are very good at recycling at home, only four in 10 of us recycle while out and about.
Our new recycling bins make it easier than ever to recycle along our coastline. Please make sure you read the signage on the bins and only recycle what is listed. Again, if the bins are full, please take your items home to recycle.
Please don't put hot BBQs into any of our bins:
Each year we experience numerous bin fires and in 2021, one of our vehicles was destroyed by the careless disposal of a hot BBQ.
We have a number of dedicated BBQ areas where you can use and dispose of your BBQ safely.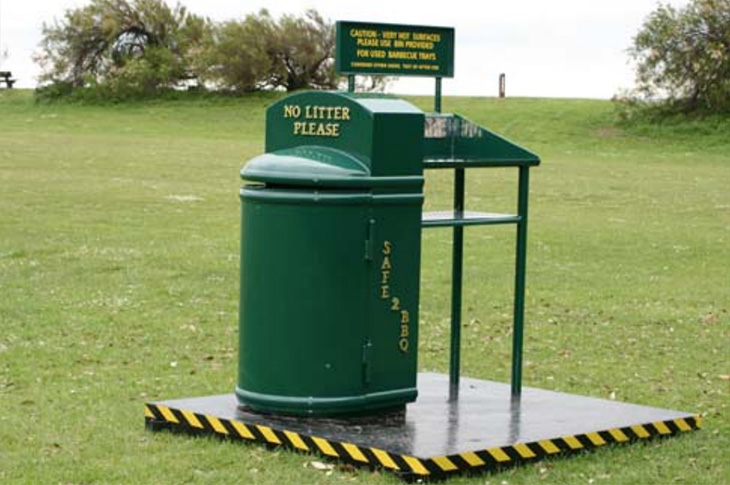 If you so choose to BBQ in our open spaces, West Sussex Fire and Rescue Service suggest the following steps to prevent fires:
Sizzle: don't underestimate the heat of your barbecue as temperatures soar when cooking!
Sit: leave your barbecue to cool down for several hours
Soak: cover your barbecue with plenty of water and remember: if it sizzles - it's still too hot to be binned!
Thanks for reading, I hope you all have a lovely bank holiday!
31st July 2023: Are you a 'Think Before You Thrower'?
A new campaign by the West Sussex Waste Partnership is asking residents of Adur and Worthing to 'Think Before You Throw'.
As well as saying thank you to the 'reducers, reusers, recyclers and think before you throwers' across the county, whose efforts resulted in 200,000 tonnes of waste reused and recycled last year, the campaign highlights that there is still a lot of material going into the general waste bins that could be reduced, reused or recycled.
For example, did you know that up to 59% of the contents of the average waste bin in West Sussex doesn't need to be there?
As I have mentioned in my previous blogs, food waste makes up 40% of the average waste bin in Adur and Worthing and this isn't just unavoidable waste such as peelings and eggshells but also often food still in its packaging.
Thinking carefully about what we buy and how we store food is one way to help reduce the amount that ends up in the bin, which in turn can save you money. Also, remember that some food waste can be put to use at home to create free compost!
Taking a closer look at our waste and making sure that we are reducing, reusing and recycling everything possible can have a big impact.
The campaign website features some great animations that explain the journey your waste takes once your bins have been collected by our crews:
More animations will be released throughout the campaign, so keep an eye on our social media channels.
It also features some really helpful information on easy ways to reduce the amount you are throwing away, how to prepare your recycling for collection and how and where to recycle those more unusual items.
11th July 2023: Have you noticed the new recycling bins along our seafront?
Earlier this year, we were successful in securing funding to install 30 brand-new recycling bins along our coastline.
The project is a joint initiative between Adur & Worthing Councils and environmental charity Hubbub, made possible with funding from the Coca-Cola Foundation. The bright, eye-catching bins are easy to spot and you'll find them in busy areas from Shoreham to Goring, including Shoreham Beach, Widewater Lagoon, Lancing Beach Green, Worthing Seafront and Goring Greensward.
One condition of the funding was that the bins must be installed along waterways in a bid to reduce the amount of litter that sadly ends up in our rivers and seas.
This is a problem we face daily along our coastline, particularly during the busy summer months.
Our cleansing crews, along with a number of local groups who undertake regular litter picks, do a great job of keeping the beach and surrounding areas clean and tidy but we hope that the new bins will encourage people to do the right thing - dispose of litter responsibly and recycle as much as they can!
The new bins can accept empty:
glass and plastic bottles
drinks cans
takeaway coffee cups
The material we collect from these bins will be taken to our Materials Recycling Facility in Ford, sorted and sent for on recycling.
All other takeaway and food packaging should be placed into a litter bin. If bins are full, please keep hold of your litter until you find an empty bin or take your litter home with you.
Photo: One of the new In The Loop bins on the seafront (on the left)
Photo: Putting a plastic bottle into one of the In The Loop bins on the seafront
30th May 2023: Adur & Worthing Councils' App Launch
We're really pleased to be able to launch a new Adur and Worthing App which will make accessing our services even easier!
The free app which has been funded by and developed in partnership with the West Sussex Waste Partnership allows you to easily access services from your smartphone.
One of my favourite functions in the app is the collection day reminder. You can choose when to receive a reminder from a range of times the evening before, or if you're up and out early, on the morning of collection. You will then receive a reminder at your chosen time - it even tells you which bin to put out!
The notification function also allows us to send you a message if there is an issue with your collection, for example if your road is blocked or if we have a vehicle breakdown, making it much easier to keep you in the loop.
Another great feature is that you can easily search for items to see if we can accept them in the blue-lidded recycling bin. Simply type the name of the item into the search box and the app will tell you whether it can be recycled at home and if not, how it should be disposed of.
You can also use the app to report issues with graffiti, street cleaning, fly-tipping, find your nearest library, park and leisure centre and even look up the hygiene rating of your local restaurants and cafes!
Adur & Worthing Councils staff have been testing the app over the past few weeks and we've had some really positive feedback:
"I have just downloaded the Apple version of the app and I think it's brilliant!! I love all the information it gives me."

"I really liked the layout of the app and found it really simple and easy to use."
To find out more and download the free app to your phone, see: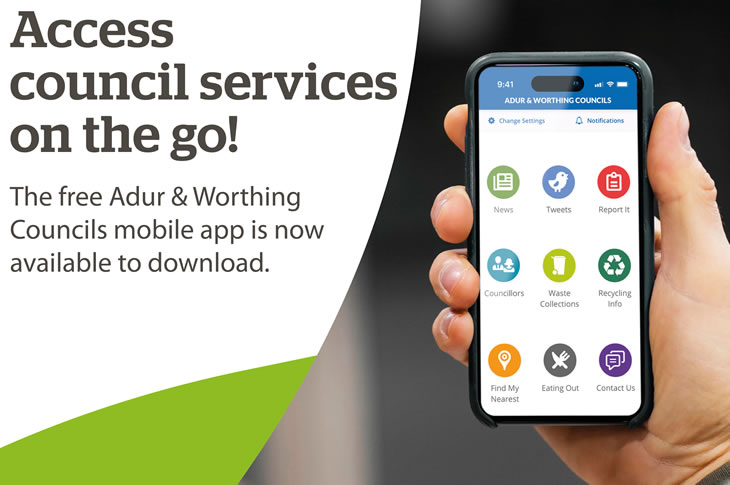 25th April 2023: Happy Birthday to The Circular Space
Shoreham's Circular Space turns one this weekend and we hope you'll all join us in wishing them a very happy birthday!
If you are not already familiar with Circular Space, it's a fantastic project set up by social enterprise, Over the Moon. Based in Ham Road, Shoreham, the space is described by them as 'a community creative reuse and circular economy hub'.
It's home to a Scrap Store where you can access low cost reclaimed resources for play, art, craft, theatre and DIY and an Activity Space and Garden where they run a great range of workshops for all ages.
On the first Saturday of each month between 10am and 12pm they host the Adur Repair Cafe where you can take broken household items and be guided through fixing them by a volunteer repairer. They are also currently running a laptop rescue service in partnership with Tech-Takeback, so if you have a working laptop that you no longer need, please consider passing it on for use by someone who is in need of a laptop locally.
Remember, any unrepairable electrical items can be recycled through our small electricals recycling service!
They've got plenty of activities planned to celebrate turning one, including an open day on Sunday 30th April 2023 where you can explore the space, work on community art pieces and find out about volunteering. It looks set to be a great day, so do pop down and support them if you can!
You can find out more about Circular Space, the Repair Cafe and the laptop rescue service on their website:
Photo: Emily Phillips, of Over The Moon, pictured with Cllr Kevin Boram after acquiring the keys to the space
Photo: Children drawing at The Circular Space (Credit: The Circular Space)
6th March 2023: It's Food Waste Action Week and this year the theme is: Win, Don't Bin!
As I've mentioned in some of my previous blogs, food waste is one of the biggest sources of waste from our homes. In Adur and Worthing it makes up approximately 40% of the rubbish we collect from homes and from analysis, we know that more than half of that could have been eaten.
Research shows that 25% of food wasted in UK households is due to cooking, preparing or serving too much and it's costing us a shocking £3.5 billion a year!
So, how can we avoid the bin and win this Food Waste Action Week?
Here's some simple good food habits that can really make a difference to the amount of food you're throwing away and save you some money:
Create a meal plan: 20 mins planning meals for the week can prevent those 'just in case' purchases and save you time and money during the week.
Think before you shop: What do you actually need? What's in the fridge/freezer? Who is in and out this week?
Take your shopping list: Stick to what's on your list and set a budget for your shop.
Store your food correctly: check your fridge temperature and store most of your fruit and veg in the fridge if you can as it will last longer.
Keep an eye on your fresh food: have an 'eat me first' shelf in your fridge, when meal planning leave one day free to use up leftovers or food approaching its date. Also remember the difference between 'best before' and 'use by'. Best before refers to quality not safety, so don't bin food unnecessarily.
Use up your leftovers: if you have cooked, prepared or served up too much, can you eat it the following day or take it for lunch? Personally, I much prefer last night's leftovers to a sandwich!
It can be really difficult when we're busy to find time to plan ahead but when it comes to food waste it really does pay off.
For loads more really useful information on getting the most out of your food visit the:
Page last updated: 25 August 2023
Back to top