Catherine Gregson-Bourke
Waste Projects, Data & Education Officer
About Catherine Gregson-Bourke:
Catherine has worked with Adur & Worthing Councils since February 2022 and is currently the Waste Projects, Data and Education Officer. Catherine has worked in waste management at a number of local authorities and has over 12 years of experience in this field.
Catherine's role is to support projects within waste operations including service improvement and introduction. She also collates data on what's collected in Adur & Worthing and reports it to central government.
In addition, Catherine is responsible for promoting the waste hierarchy; encouraging residents to reduce and reuse before recycling and to view disposal as the very last option.
She is passionate about viewing waste as a resource and encouraging others to think carefully about what they throw away.
Outside of work Catherine enjoys photography and long walks on the Downs with her dog, Pickle. She also enjoys gardening and is a keen home composter!
You can read Catherine's current blog posts on this page below:
See also: Recycling & waste for residents and Commercial recycling & waste
---
3rd October 2022: Leaf fall
I can't quite believe we're in autumn already, but here we are! My favourite season of all - crisp bright days and the chance to enjoy the changing colours of the leaves.
At this time of year those leaves create a lot of additional work for our cleansing crews as they work hard to ensure that footpaths are kept clear and safe. We collect somewhere in the region of eight tonnes of leaves each month over the busy season from September to January.
If you have a garden, you might also find yourself busy raking and tidying the fallen leaves.
Managing garden waste at home wherever possible is the best option environmentally. If you have space, putting the fallen leaves to work in your garden can be really beneficial - shredded leaves (pass over them with a mower) can be spread around flower beds insulating and nourishing the soil and helping to prevent weed growth.
You can also place your leaves into a bin liner, poke a few holes in the bottom with your garden fork and then tuck them away in an out of sight corner for up to two years to create leafmould. Top tip: wet leaves will break down more quickly than dry leaves, so give them a quick soak.
Good quality leafmould (two years) can be used to grow seeds, and poorer quality (under two years) can be used as mulch or soil improver. The RHS has some really useful information:
In smaller quantities fallen leaves can be added to your compost bin if you have one. If you don't have one but would like to give composting a go, have a look at the compost bins available through our website:
There's a range of different models and sizes available with some on a buy-one-get-one-half-price offer - perfect for teaming up with a friend or neighbour. Water butts are also available - save the winter and spring rainfall now to help keep your garden blooming over the drier months!
If you don't have use for leaves in your garden you can use our garden waste collection service to dispose of them, subscribe for a 240 litre garden waste bin and weekly collections: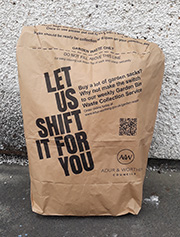 Or, if you only require ad-hoc collections, you can purchase our biodegradable garden waste sacks. At £1.25 each, the sacks hold up to 75 litres of waste and are available from a range of outlets across Adur and Worthing:
There's no need to book a collection, just present your bags on the boundary of your property on your collection day and our crew will be along to collect them:
All garden waste collected by us from households in Adur and Worthing and taken to our tips (recycling centres) is sent to either Henfield or Tangmere and turned into great quality peat-free compost.
You can watch the process in this video:

28th September 2022: From next week (3rd Oct) you can recycle your small electrical items at home
You might notice one of these bright pink tags on your rubbish or recycling bin this week:
As of next Monday (3rd October 2022) you will be able to recycle broken small electrical and electronic items by placing them next to your rubbish or recycling bin on collection day.
All of our refuse and recycling collection vehicles have been fitted with a separate cage for collecting your items, which means that we can provide a weekly collection. Whichever bin you put your item next to, you can be confident that it will be recycled.
Electrical items, often referred to as WEEE (Waste Electronic and Electrical Equipment), contain valuable metals such as gold, silver and copper which can be extracted and reused. In fact, each year in the UK more than £850m of precious metals could be salvaged from our old electricals!
Recycling your broken electrical items is much better for the environment too. If we recycled all our old electricals we would cut as much CO2 as taking 1.3 million cars off the road. Electrical items also often contain hazardous materials which need to be disposed of responsibly.
A range of items can be recycled through the new service including broken kettles, irons, hairdryers, radios, remote controls and power tools. If it can fit into a carrier bag and is powered by batteries (please remove these - we don't want any fires!) or has a plug, it can be recycled!
Batteries should be taken to one of our tips (recycling centres) for safe disposal. Some shops and supermarkets that sell batteries also have dedicated disposal points.
Research suggests that each UK household is hiding away 20 unwanted electrical items, so now is the time to clear out those cupboards and drawers!
For more details on the small WEEE service (and what can and can't be recycled) see:

If you have larger items like microwaves, fridges and television that you need to dispose of, they can be recycled through our bulky waste service or taken to the tip (recycling centres).
Some broken items may be fixable, so before you recycle them it's worth taking them along to one of our local repair cafes.
We're very lucky to have two great repair cafes locally:
Adur Repair Cafe:
Where: Circular Space, 10 Middle Road, Shoreham, BN43 6GA
When: First Saturday of every month, 10am to 12pm
How: Please visit their website for full details
See: Adur Repair Cafe website
Transition Town Worthing Repair Cafe:
Where: Friends / Quaker Meeting House, 34 Mill Road, Worthing, BN11 5DR
When: Last Saturday of every month 10am to 4pm
How: Please visit their website and use the online booking form
See: Transition Town Worthing Repair Cafe website
20th September 2022: What do you throw away?
How much thought do you give to what you're putting in your rubbish bin?
Most of us recycle everything we can, which is great, but we definitely need to do more. So what else can we do?
The easiest thing we can all do is consider what's actually in our rubbish bins. Unless you work in waste it's probably not something you lose too much sleep over, but believe me when I tell you it's fascinating!
In 2021, West Sussex County Council carried out a Waste Composition Analysis on rubbish bins across the county. That might sound complicated but it actually just means that a sample of rubbish was taken from each borough and district and separated out into different categories of waste. This provided us with an accurate snapshot of exactly what's in our bins and you might be surprised!
The average refuse bin in Adur and Worthing is made up of almost 40% food waste. What's truly shocking about this figure is that of that 40%, 28% could have been eaten. That's right, residents of Adur and Worthing are throwing away approximately 3,309 tonnes of perfectly edible food each year!
If you extrapolate that across the UK, it is estimated that 4.5 million tonnes of perfectly edible food waste - enough to fill 38 million wheelie bins or 90 Royal Albert Halls - is thrown away each year (Source: Love Food, Hate Waste).
What do we mean by edible food waste? We're not talking about chicken bones, teabags, peelings or egg shells but the extra rice or pasta you cooked but didn't use and the impulse purchases you didn't get round to eating before the use by date.
Photo: Community composting guide at Victoria Park, Worthing
The average family of four could save £60 a month just by reducing their food waste. It's not just the financial impact on your pockets though, if global food waste were a country, it would be the third largest emitter of greenhouse gases after China and the US. Now, that really is food for thought!
There's lots of really great information available online to help you shop smarter, store food correctly to prevent it from spoiling and get portions right. Visit the Love Food, Hate Waste website for some really helpful information on reducing your environmental impact and saving money.
Also, don't forget that there are alternatives to the rubbish bin for much of your inedible food waste. You can compost at home using one of our discounted composters. And if you don't have a garden, you could join one of the existing community composting schemes or look at setting one up in your area:
Photo: The Apron Community Garden scheme in Buckingham Park, Shoreham
7th September 2022: Ever wondered what happens to your waste and recycling?
Hello, I am Catherine, the Waste Projects, Data and Education Officer at Adur & Worthing Councils and I will be blogging for the next few weeks to tell you a bit more about what we do in Waste Operations.
We're the only service that is used by every single resident across Adur and Worthing. Once-a-week our fleet of collection vehicles and experienced crew visit every single residential property in the borough to collect either your rubbish or recycling bin. When you consider we have approximately 82,000 households in Adur and Worthing, that's a lot of bins!
We also empty 1,120 litter bins, 578 dog waste bins, approximately 19,500 garden waste bins, provide a commercial waste collection service, clear fly tips, remove graffiti, investigate abandoned vehicles, provide a clinical waste collection service, clean streets and look after the car parks!
As part of providing these services we are also required to collate data on everything we collect and report it to central government. This can make for quite interesting reading.
For example, last year we collected 1,303 tonnes of litter across Adur and Worthing and 395 tonnes of dog waste. When you consider that the average double decker bus weighs 12 tonnes, that puts it into some perspective!
Waste and recycling - where does it go?
Once collected, your recycling heads off to our state-of-the-art Materials Recycling Facility (MRF) in Ford, where it is sorted into different material streams and then sent off to be reprocessed and used again. 80.6% of this is recycled within the UK.
You can book school and group visits to see the MRF in action, it's really worth a visit. Book here:
Your refuse is sent to a Mechanical Biological Treatment Plant (MBT) in Horsham. The process separates the waste into four types:
Biodegradable waste, such as food waste
Refuse derived fuel (RDF), such as paper, plastic, cardboard that wasn't suitable for recycling and textiles
Metals
Inert materials, such as bricks, glass and rubble
Each waste type is then treated separately. Outputs from the processes include a compost-like material used in land and landfill restoration and biogas which is used to power the facility, with any excess exported to the national grid. At full capacity the biogas will produce around 4.5MW of energy - the equivalent power use of 10,000 homes.
Any inert materials, rejects and residues from the MBT process are sent for landfill disposal at the Redhill landfill site. This accounts for approximately 8%.
Even though we've made great strides in how we deal with waste and recycling, the best option for the environment is to reduce the amount we throw away in the first place. Much more on this in the coming weeks!
If you'd like to read more about what happens to your waste and recycling, West Sussex County Council (WSCC) has lots of information:
Video: A day in the life of a refuse collector
Page last updated: 04 October 2022
Back to top