Adur & Worthing Councils surpass their annual carbon reduction target
Released: Friday, 10 November 2023
We have moved a step closer to net zero by surpassing our annual carbon reduction target.
Since declaring a climate emergency in July 2019, we have introduced a series of pioneering projects and initiatives to support our pledge of not only becoming carbon neutral authorities by 2030, but also net zero areas by 2045.
To achieve our 2030 mission, we set a target of achieving a 10% reduction in emissions each year, which over a decade would equate to us being carbon neutral by the deadline.
However, we have surpassed our target for this year, achieving a 12.4% decrease in our carbon emissions.
The figure has been achieved after we completed a number of large decarbonisation projects that have significantly decreased gas consumption across our properties.
This work includes the decommissioning of two large gas boilers located at Shadwells Court and Tollbridge House, two Adur Homes properties, which are now heated by ground source heat pumps. Air source heat pumps have also been installed at the Shoreham Centre.
In 2007, Adur District Council and Worthing Borough Council took the decision to work in partnership to deliver savings and efficiencies for both councils. Both councils are working together to tackle climate change and protect the natural environment.
Cllr Emma Evans, Adur's cabinet member for the environment and leisure, said:
"It's brilliant that we are currently ahead of our target to be a carbon neutral authority by 2030.

"From introducing electric vehicle car clubs to decarbonising the Shoreham Centre and our Adur Homes properties, we have already done a huge amount of work across the district to lower our carbon footprint.

"It's now important that we continue this positive progress and proceed with initiatives which will help us reach our eco-friendly targets."
Cllr Sophie Cox, Worthing's cabinet member for climate emergency, said:
"It's really promising to hear how much progress we have made on our ambitious journey to be carbon neutral.

"We have a number of really exciting projects in the pipeline, including the implementation of the Worthing Heat Network and the pioneering trial to run Worthing Crematorium on hydrogen energy.

"I look forward to continuing working with our sustainability teams and communities to ensure we reach our sustainability targets and do our bit for the planet."
Despite being responsible for less than one percent of total emissions for the whole of Adur and Worthing, we are aiming to lead by example and help businesses, landowners and residents access funding so they can make a difference.
Looking forward, we have been testing electric waste trucks to see if we could further decarbonise our fleet of vehicles.
We have also expanded the area's bicycle hire scheme, adding more Donkey bikes to Worthing and introducing them to Adur for the first time. There are now more than 70 bikes in the area to increase people's active travel opportunities.
It is estimated that on-road transport makes up a quarter of the area's emissions. We want to ensure that greener transport options are readily available for those making shorter journeys.
Photo: Ground source heat pumps being installed at Shadwells Court in Lancing by Adur District Council
Photo: The air source heat pumps which are estimated to help cut the Shoreham Centre's carbon emissions by 25 tonnes a year
Photo: A Donkey Bike (hire bike) on Worthing seafront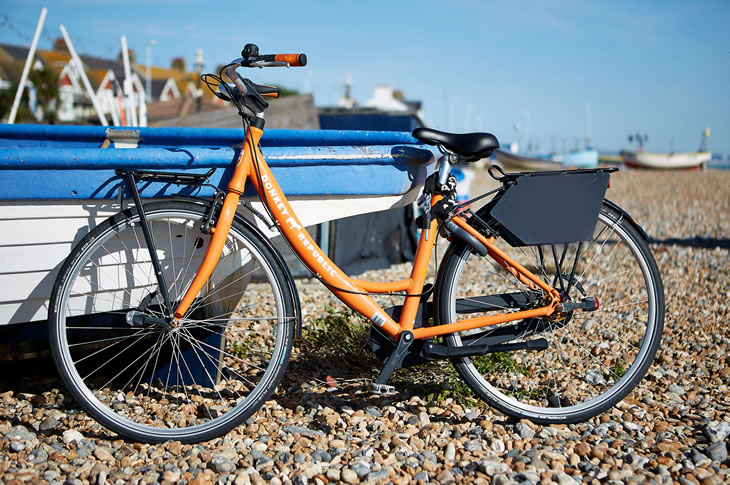 (PR23-159)
Page last updated: 08 December 2023
Back to top