New beach wheelchairs available for hire in Worthing
Released: Wednesday, 05 July 2023
Worthing's pebble beaches will be more accessible for disabled residents and visitors thanks to the arrival of three pieces of specialist equipment.
Following a fundraising campaign led by the local community, two beach wheelchairs and a single all-terrain rollator are now available from our Coastal Office.
The equipment is designed to make manoeuvring people with disabilities across uneven surfaces easier. It has been brought to Worthing to help groups and families enjoy time together on the town's shingle seafront.
Ahead of the equipment being publicly available, two local residents visited the Coastal Office to test the new equipment.
After a test ride, Harry Ragless and Carole Harrison provided useful feedback to the Council on how the project could be further developed.
The Worthing Beach Wheelchair Fund was created by Harry's mother, Selina Ragless, to provide disabled children and adults in the area with more access to their local beach.
Since launching in 2021, support for the fund has continued to grow and, after receiving funds from a host of generous donors, it raised enough money to purchase a child's beach wheelchair and the rollator. The adult's chair is owned by the Council.
The special equipment has been safety-checked by our teams and a booking system has been set up so that the items can be borrowed for free.
Selina said:
"The journey to bring the kit to Worthing began when we visited West Wittering Beach, where we were able to hire a beach wheelchair and, for the first time, enjoyed a day by the seaside as a family. It was amazing.

"After working with local businesses and the community to run raffles and raise funds, we now have three facilities for locals and visitors to use. I am so grateful to all those who kindly donated towards this project.

"There's still a lot of work to be done to make our beach truly accessible, but this is a great start to getting us on the way to being more disabled friendly."
The chairs and rollator provide disabled members of the community with easier access onto the shingle, thanks to their large, inflatable wheels.
However we recommend users don't venture too far down the beach, as the rocky and steep beach profile makes manoeuvring equipment back up the shingle very difficult.
The introduction of the new chairs demonstrates our commitment to work with local groups and help make Worthing as accessible as possible.
Cllr Vicki Wells, Worthing's Cabinet Member for the Environment, said:
"Firstly, I'd like to say a huge thank you to Selina and the generous public who have made this project possible. It's been a fantastic community effort and I'm so happy to see the equipment ready for public use.

"This is a great first step but we know that there's much more we can do to make our coastline more welcoming for disabled visitors.

"Due to the nature of our steep, shingle beach, implementing positive changes won't be a quick or simple process, but I can assure you that the Council and its members are committed to improving access for all."
Cllr Rosey Whorlow, Worthing's Cabinet Member for Community Wellbeing, added:
"Spending time by the seaside is not only great fun, but also beneficial for our wellbeing. It's therefore brilliant that the town now has two wheelchairs and a rollator to allow residents and visitors with mobility issues to enjoy our coastline."
To book the equipment in advance, visit the Coastal Office or see:
Photo: Carole Harrison pictured with Selina Ragless and her son Harry and the beach wheelchairs on Worthing Beach
Photo: Local resident, Harry Ragless, testing out the all-terrain rollator on Worthing Beach
Photo: The child's beach wheelchair and all-terrain rollator pictured on Worthing Beach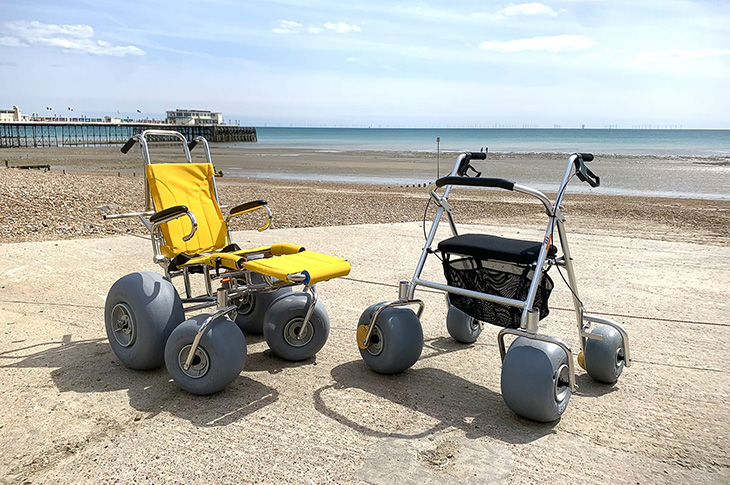 (PR23-092)
Page last updated: 26 September 2023
Back to top