New app helps residents in Adur and Worthing access Council services on the go
Released: Wednesday, 21 June 2023
Forgetting your bin day should be a thing of the past thanks to a new smartphone app that has launched in Adur and Worthing.
The app, which has been created in partnership with West Sussex County Council, aims to make life simpler by allowing residents to check a range of Council services in one place.
A handy collection day reminder function gives residents the option to set up a phone notification to prompt them to put their bins out either the night before or on the day of their collection.
Adur & Worthing Councils will also be using the app to send targeted push notifications to keep residents informed if their collection is unfortunately missed, due to issues like road closures or vehicle breakdowns.
Lifestyle and leisure features like a map of local places to eat with the best food hygiene ratings and where to find the closest car park, public toilet or children's play area can also be found on the app.
The app lets residents tell the Councils about service issues, including missed bins or if there has been any fly-tipping or graffiti in their area. Any problems at local parks, streets and beaches can also be reported on the app, allowing Councils' staff to deal with issues more quickly.
To help reduce the amount of recycling going in the general waste bin, the app features a simple search function that lets residents check whether their rubbish can be recycled or not. The app can also be used to check recycling centre opening times as well as book a slot.
Cllr Emma Evans, Adur's Cabinet Member for the Environment and Leisure, said:
"This app is a useful tool that will help us to keep residents better informed about any service issues and the latest news from the Councils much more quickly and effectively."
Cllr John Turley, Worthing's Cabinet Member for Resources including Digital, said:
"This app already helps residents across West Sussex and rolling it out in Worthing will help us communicate directly with the community on the things that affect their everyday life. Importantly, it allows residents to report issues back to the Council including street cleaning, missed bin collections or broken benches - all of the basics that are so important to residents."
For more information and to download the app today, see: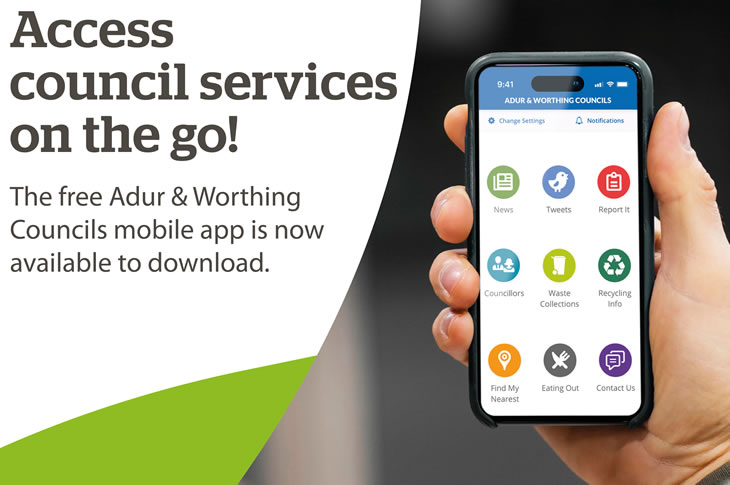 (PR23-081)
Page last updated: 26 September 2023
Back to top