Green bike share scheme could be expanded
Released: Monday, 07 November 2022
A bike share scheme which encourages active travel could be greatly expanded across Adur and Worthing.
Since being introduced in 2017, the Donkey Bike system in Worthing has provided our residents and visitors with an easily accessible and sustainable bicycle rental service to get around town.
But soon the number of bikes available for temporary hire could be greatly increased and also introduced in Adur, with the town centres and coastlines of Lancing, Shoreham and Southwick hoping to be involved with the scheme.
The proposal is set to be discussed by members at Adur District and Worthing Borough Council's Joint Strategic Sub-Committees this week.
Since declaring a climate emergency in 2019, we have been on the lookout for innovative ways to reduce not only our carbon footprint, but also help the area achieve net zero carbon status by 2045. This would mean that the area is absorbing as many greenhouse gases from the atmosphere as the public is releasing.
It is estimated that on-road transport makes up around a quarter of the area's emissions, so we want to ensure that greener options of transport are available for those making shorter journeys.
The expansion of the Donkey Bike scheme would see 75 bicycles available for hire across the area, 29 of which would be based in the Adur district.
There are currently 34 bikes located in the borough along the promenade, Worthing and West Worthing train stations and the town hall. The proposed deal would also see the existing fleet in Worthing refurbished and additional bikes added to new locations at Brooklands Park, Goring Road and George V Avenue.
Prices for the existing fleet in Worthing currently start at £1.25 for 30 minutes and memberships can be bought for those who may look to use the bikes more regularly.
Cllr Emma Evans, Adur's Cabinet Member for the Environment and Leisure, said:
"I'm really pleased that we are looking to bring this bike share scheme to the Adur district. As well as being a sustainable form of travel, cycling comes with multiple health benefits and is an option of transport which we hope to make easily accessible for locals and visitors alike."
Cllr Beccy Cooper, the Leader of Worthing Borough Council, said:
"I very much welcome the proposed expansion of the Donkey Bike scheme in Worthing. Not only is cycling healthy for the rider, it's also better for the environment, and we want our communities to have more options available to them when looking to travel sustainably and make a difference."
A plan to join the bike share scheme run in Brighton and Hove was discussed by members of the Joint Strategic Committee in 2021, but the latest proposal is less expensive for the Councils at a time when budgets are tight.
Due to the lower cost of the proposed extension, its financial impact would also be covered for the first five years thanks to a walking and cycling grant from the pooled business rates which we previously secured.
If approved, the expansion of bikes would form part of our Local Cycling and Walking Infrastructure Plan, which sets out to improve the infrastructure and accessibility for active travel in Adur and Worthing.
Photo: A Donkey Bike pictured on Worthing seafront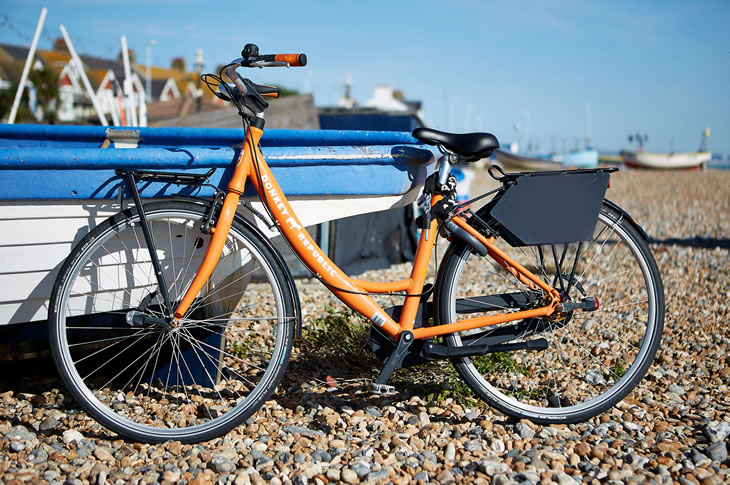 (PR22-208)
Page last updated: 29 November 2022
Back to top