New Visitor Guide helps boost Worthing's appeal to tourists for Summer 2021
Released: Wednesday, 30 June 2021
It's Time for Worthing! That is the message of the borough's new brand and a new 35-page guide aimed at attracting visitors this summer.
The visitor guide for 2021/22 is branded with the new colours, design and message of Time For Worthing urging people to take another look at a place that has fabulous things to do and see ... and the space to enjoy them.
A total of 30,000 copies of the Time for Worthing summer guide are to be distributed across the region to entice people to our blue and green spaces and the hundreds of things to do.
It is also available online:
It includes details on the newly reopened Highdown Gardens, ideas for outdoor activities on land or water, as well as inspiration for enjoying local restaurants and bars and independent shops. The font cover of the guide features a stunning Kite surf image by local Worthing photographer Eunice Bergin.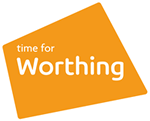 Already the Time For Worthing team has launched a social media Summer in Worthing campaign under the banner, including a high quality film, and the guide will also support this.
Tourism is a key economic driver in Worthing. A study undertaken in 2019 estimated a total of three million visitors came to Worthing in 2019, with 1,138,000 staying at least one night, leading to a total tourism estimated value of £200m.
Worthing Borough Council's Executive Member for Regeneration, Cllr Kevin Jenkins, said:
"We were confident when we launched place brand Time For Worthing that it was just that: time for people to take another look at Worthing. We are emerging from the shadows, having put time and investment into improving our offer, with more people coming to find out what's going on here.

"And of course this supports the businesses here that are offering a fantastic variety of activities and hospitality to visitors and residents alike.

"This new guide is powerful testimony to the fact that we have something to offer for everyone this summer and beyond."
(PR21-096)
Need assistance? Get in touch:
Public Relations & Communications
Problem with this page?
Page last updated: 16 July 2021