Adur and Worthing residents reminded to complete Census
Released: Thursday, 18 March 2021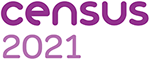 Adur and Worthing Council leaders are encouraging local residents to fill out their Census forms this weekend.
The Census is a survey that happens every 10 years and provides a picture of all the people and households in England and Wales. The next one takes place on Sunday (21st March 2021).
Residents in Adur and Worthing should have received an invitation pack in the post. This includes a 16-character access code which can be used to fill in the Census as soon as you get it.
Once residents have their access code, they can visit the Census website and fill out their Census digitally, or it is also possible to request a paper Census questionnaire to be sent in the post.
Cllr Neil Parkin, Leader of Adur District Council, said:
"Your answers to the Census questions help organisations make planning and funding decisions across Adur and Worthing, including areas such as transport, education and healthcare."
Cllr Daniel Humphreys, Leader of Worthing Borough Council, said:
"The Census won't take you long to fill in, it should take you about 10 minutes for the household questions and 10 minutes per person. It's really important that we all play our part and fill in the Census , so please look out for your invitation pack and complete your form as soon as you can."
For further information visit the:
(PR21-039)
Need assistance? Get in touch:
Public Relations & Communications
Problem with this page?
Page last updated: 09 April 2021