Worthing Council approves 2021/22 budget
Released: Wednesday, 24 February 2021
A balanced budget to help Worthing continue to grow and thrive post-COVID has been agreed by councillors.
Worthing Borough Council approved spending plans for the next financial year last night (23rd February 2021), pledging to maintain services, support residents in need and invest in the town.
The budget will also help deliver a series of long-term ambitions, including the regeneration of the town centre, the rollout of gigabit broadband and sustainability measures to respond to the climate emergency.
To ensure a balanced budget and ensure the Council can support communities bounce back from the pandemic, a 2% rise in council tax - which equates to an extra 9p a week for a Band D household - was agreed.
The spending plans include providing a range of services to support those impacted by COVID, such as wellbeing MOTs, council tax support, homelessness outreach, home adaptations and employment coaching.
Parks and open spaces will receive major investment, funding will support leisure provision and culture, and plans to create a new NHS health hub on the civic centre car park will progress.
To increase revenue and improve efficiencies, the authority will continue its digital transformation programme, expand its commercial activity and make prudent commercial property investments.
Cllr Daniel Humphreys, Leader of Worthing Borough Council, said:
"This budget provides certainty in a year of uncertainty.
"COVID has presented real challenges to all of our residents while hitting the Council's finances hard. Despite this, we have worked with communities to respond to the pandemic, continued to provide all of our services and made real progress on delivering our long-term ambitions.

"This balanced budget will help us continue down that path, supporting the regeneration of our town centre, deliver new high-quality NHS healthcare facilities and help us become net zero carbon by 2030.

"We remain mindful of the financial pressures on residents which is why we have kept Council Tax as low as possible.

"The agreed budget will allow us to continue to deliver our ambitious programme ensuring that post-COVID our communities are healthier and more prosperous."
To view the budget papers and watch the meeting see:
Photo: Worthing Town Hall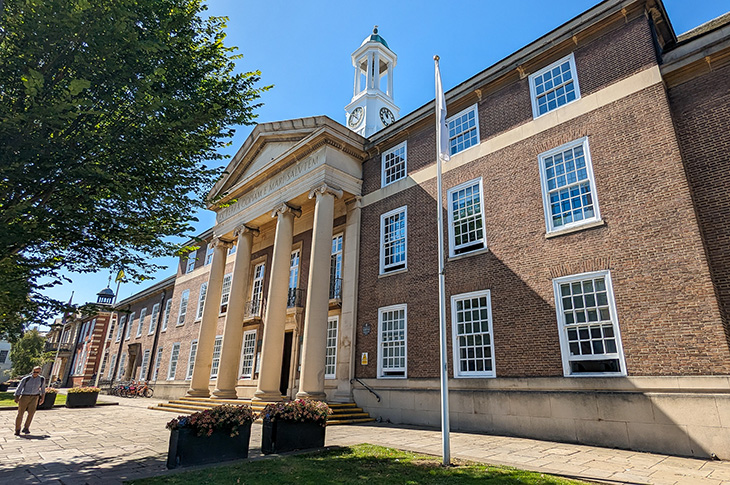 (PR21-030)
Need assistance? Get in touch:
Public Relations & Communications
Problem with this page?
Page last updated: 09 April 2021