Success for students in Worthing design competition
Released: Thursday, 16 March 2023
Worthing's next budding young designer has been selected at an exciting competition final.
Freya Bezencon, a Year 7 pupil at St Andrew's CofE High School, was named as the winner of the Council's student design competition at an event at Worthing Town Hall last Friday (10th March 2023).
Two other finalists, Frankie Owen-Sims, from Davison High School and Oliver Seeds, from Lancing Prep also attended the event, at which Mayor of Worthing Cllr Henna Chowdhury presented all three pupils with special awards.
We organised the student design competition in response to The Big Listen, in which councillors and Council staff travelled around the borough hearing from residents what they like about their town and what they'd like to see improved. Part of the feedback from our younger residents was that children and young people would like more activities, and to see more spaces designed with them in mind.
In response to this, we launched the design competition to involve and inspire children, while ensuring that young people are at the heart of creating sustainable, vibrant spaces that everyone can enjoy.
Using examples of different types of space in the town centre, pupils were asked to reimagine these areas to create new and exciting places.
A range of imaginative designs were created by pupils in years 7 and 8 from schools across the borough, before the entries were whittled down to the final three by Worthing Borough Councillors Martin McCabe and Vicki Wells.
Cllr Martin McCabe, Worthing's Cabinet Member for Regeneration, said:
"It's been such a privilege to judge the design competition, and to see all of the imaginative ways that our young citizens can think of to improve our public spaces for the benefit of everyone.

"In Frankie's entry there was a book swap included in the design, which is such a great idea for a way in which our spaces can be functional, community hubs. Both Freya and Oliver also included ideas about how we can ensure places are practical as well as inviting, with Freya suggesting sculptures for climbing and sheltering, and Oliver's design featuring opportunities for small businesses."
Cllr Vicki Wells, Worthing's Cabinet Member for the Environment, said:
"This competition has been such an exciting and engaging way for us to understand what our young people's priorities are for their town.

"It's been clear throughout the entries that sustainability and biodiversity are a real priority for young people when they're thinking about how we can improve places. Freya's design included lots more trees and wildflowers for pollinators, and Oliver wanted his public space to have solar panels. Frankie's space was in tune with nature and our seaside home, with sensory flowers and sea creature-themed sculptures."
To find out more about the competition, and to see the entries, visit:
Photo: (left to right) Cllr Vicki Wells, Worthing's Cabinet Member for the Environment, Cllr Martin McCabe, Worthing's Cabinet Member for Regeneration, Freya Benzencon, St Andrews, receiving the winner's award, Mayor of Worthing Cllr Henna Chowdhury, and James Sansom-Costantini, Head of STEM and D&T, St Andrews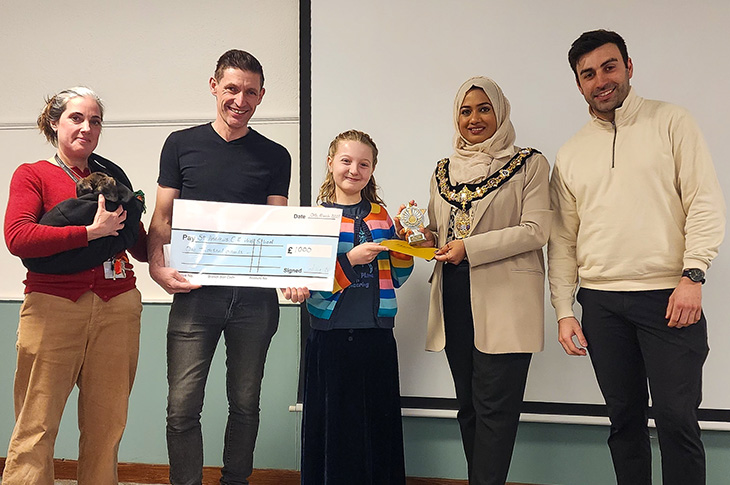 Photo: (left to right) The award winners: Oliver Seeds (finalist), Mayor of Worthing, Cllr Henna Chowdhury, Freya Benzencon (winner) and Frankie Owen-Sims (finalist)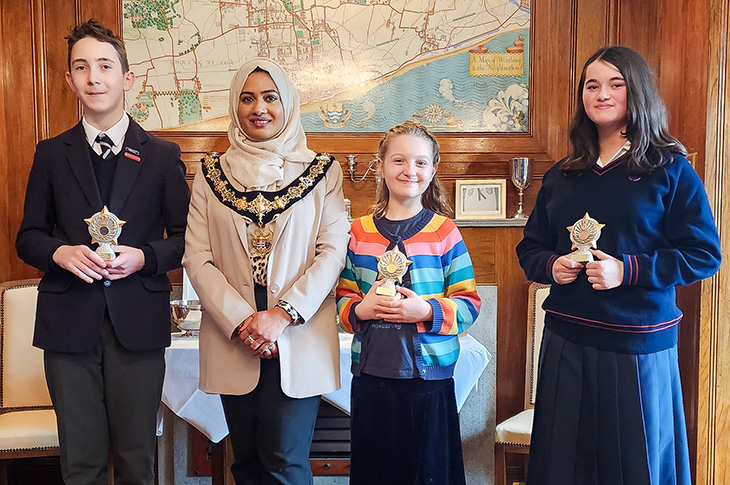 (PR23-031)
Page last updated: 18 September 2023
Back to top