Businesses join hundreds of residents to have their say on Lancing's future
Released: Wednesday, 07 December 2022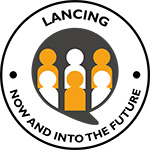 More than 200 people have got involved in Lancing: Now and into the Future, either in community conversations or online.
The project is part of Adur District Council and Lancing Parish Council's commitment to working collaboratively with the people of Lancing, to explore how the village can be redeveloped for the benefit of the whole community.
Representatives from the local business community were one of the latest groups to get together at one of the in-person group sessions, to share knowledge and discuss how to boost the local economy.
The group discussed how the local economy could be grown to work for local people and local businesses - with particular emphasis on the high street.
There was particular focus around how to fill the skills gap in the local labour market, as well as questions about how Lancing businesses added to the local economy.
Participants were also keen to suggest how groups could work together to make the local community and its businesses 'greener', whilst also ensuring that Lancing is well connected to centres of excellence such as Lancing Business Park, Shoreham Airport, Brighton & Hove Albion's training ground, Lancing College and nature restoration areas such as New Salts Farm.
The feedback is now being analysed by the team ahead of the consultation summary event on Thursday 8th December 2022. This will be the project's biggest meeting so far, and will bring all the themes that have emerged from responses together for discussion so that participants can create a list of shared community goals and priorities for Lancing.
These shared community goals and priorities will help both Councils make decisions for the future that take into account the wishes and concerns of the community. Feedback from the project will also be used to make an informed, competitive bid for the government's Levelling Up funding - as well as other suitable funding opportunities in the future.
Cllr Steve Neocleous, Adur's Cabinet Member for Regeneration and Strategic Planning, said:
"I want to thank everyone who has got involved with this project, whether in-person or by filling out the online form. Each of you has played a key role in a collaborative future for Lancing.

"I'm really looking forward to seeing the feedback once our teams have finished analysing the responses, so we can get to work digging deeper into what matters most to the people of Lancing."
Cllr Mike Mendoza, the Chairman of Lancing Parish Council, said:
"Thank you to everyone who's had their say in the project, and helped our pursuit of a community-focused approach become a reality.

"These results will help us plan for Lancing's future in a way that puts local people at the centre of decision-making."
See also: Lancing: Now and into the Future
Photo: Members of the community discuss their thoughts about Lancing at one of the sessions
(PR22-224)
Page last updated: 03 February 2023
Back to top