Council urged to boost activities for young people in Worthing
Released: Thursday, 08 September 2022
"Give us more things to do" is the big request of young people to Council staff and councillors in Worthing.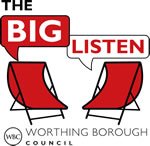 The Big Listen team has been at Northbrook College campuses this week to hear what young people think about the town.
The Big Listen is Worthing Borough Council's new approach to decision-making that involves listening to and engaging with as many people as possible from every corner of the borough.
The team visited the college campuses in Broadwater and Durrington to talk to staff and students about what they think about Worthing, and how the town can be reimagined for the future.
Students had much to say about why they like living in Worthing, with the town's efficient public transport, multiculturalism and cinemas all getting a mention.
Safety was an issue that came up several times in the Big Listen conversations, with students highlighting how spaces such as parks could sometimes feel unsafe for teenagers.
For the future, young people at the college want to see more things to do for teenagers in Worthing, particularly activities that they hope could encourage older teenagers not to get involved with antisocial behaviour, as well as more shops that appeal to the younger generation.
Faculty members and college staff also jumped at the chance to have their say by speaking to The Big Listen team.
Kellie McGovern, 53, moved to Worthing five years ago. She said:
"I love the sea and the South Downs - and the people in Worthing. In the future we really do need more shops in the town centre."
Ellie May, 46, lives in Shoreham and works in Worthing. She said:
"I love that Worthing's less crowded than places like Brighton, and we have a good nightlife here.

"But we need to make more of the seafront, and maybe have a bigger cinema."
Nicola Wealy, 50, who works in Durrington, said:
"For me, Worthing has beautiful buildings - it could be an amazing place to visit, but the high street offering is a bit lacking.

"In the future I'd like to see Worthing become more cosmopolitan and vibrant, with opportunities for young people and less crime."
Cllr Carl Walker, the Deputy Leader of the Council, said:
"The Big Listen is all about making sure we're hearing and understanding everyone in our borough - and young people are a vital part of that.

"I'm grateful to everyone who's taken part in The Big Listen so far, and particularly to the students who spoke to us at the college over the past few days. Their views will help us to better understand the priorities of young people in our town, so we can ensure that Worthing continues to be a place where a young generation can thrive."
The next Big Listen event will take place this Saturday (10th September 2022) at Worthing Food and Drink Festival in Steyne Gardens. The team will be there between 10am and 2pm and everyone is welcome to go along and have their say.
To find out more about The Big Listen, and to see a rolling list of upcoming events, visit:
Photos: Northbrook College - Broadwater and Durrington campuses
(PR22-171)
Page last updated: 18 September 2023
Back to top