Turn your business' leftovers into something great through our food waste service
Released: Wednesday, 10 August 2022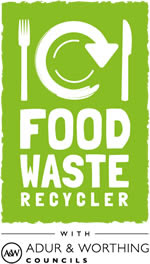 The husband and wife team who run a popular Worthing cafe have turned tonnes of their leftovers into renewable energy thanks to a scheme from the Council's commercial food waste service.
Shorely Scrumptious owners Gary and Jannette Heathfield have been serving their tasty breakfasts and lunches for more than two decades in the borough's town centre.
The Crescent Road cafe has fuelled the appetite of many customers over the years, but this year wanted to play their part in supporting the environment by seeing less of their food waste going to landfill as well as increasing their recycling overall.
In the past the duo were sending just shy of five tonnes of waste to landfill each year, but since contacting our food waste team have managed to cut this number by a projected three and a half tonnes.
Since joining the Council's service in April 2022, Gary and Jannette have recorded a weekly average of 25kg of food waste entering their new red-lidded bin, equating to 1.3 tonnes of food not only avoiding landfill each year, but being recycled by anaerobic digestion.
Gary, owner of Shorely Scrumptious, said:
"We've been wanting to do something like this for a while now, so when we saw the food waste recycling from the Council it got us thinking and we think it's a really good idea.

"More small businesses in the area should do it. We wanted to be more environmentally conscious, we've got grandkids who are passionate about the environment and we thought if the small businesses don't make an effort, it's not worth the big ones doing it either."
Anaerobic digestion is the process by which organic matter such as food waste is broken down to produce biogas and biofertiliser. This process happens in the absence of oxygen in a sealed, oxygen-free space.
The rest of Shorely Scrumptious' impressive recycling gains have been made through acquiring a large 660 litre recycling bin, which can hold all of the cardboard, glass, metal and plastic their independent cafe produces.
If you run a restaurant, cafe, pub or care home in the Adur and Worthing area and want to be more sustainable, why not get in touch with our team and hear how our Commercial Food Waste service can help you?
By integrating this service as part of a general waste reduction strategy, this added service usually does not result in additional costs for our customers.
Call us on 01273 263050 or visit our website for more information:
Photos: Shorely Scrumptious owners Gary and Jannette Heathfield
Photo: Gary and Jannette's new red-lidded commercial food waste bin
(PR22-148)
Page last updated: 05 October 2022
Back to top