Released: Friday, 05 August 2022
Children, families and adults visited Shepherds Mead in Worthing yesterday (Thursday, 4th August 2022) to explore the flora and fauna that are right on our doorstep.
The free event, hosted by Worthing Borough Council's park rangers, provided an exciting opportunity for people to take part in a BioBlitz and speak to conservation experts about what is being done to increase biodiversity in the area.
Theo Ling, aged 8, visits Shepherds Mead with his local Cubs group, but came to the BioBlitz with his mum Melanie to discover the variety of insects that are found there. He said:
"I've caught six grasshoppers so far - and I hope I can catch some spiders!"
Children and families at the event took part in bug hunts, guided walks and soap arrowhead-making sessions to help them better connect with the wild environment.
Park rangers also carried out wildlife surveys alongside the family activities which, as well as enriching our understanding of species we have here in Worthing, will contribute to global wildlife data.
The BioBlitz marks a little over 18 months since the Council committed to rewild Shepherds Mead, having pledged to work with local residents and wildlife groups to return the 100-acre space to its natural habitat.
To read the park rangers' blog, and find out more about the BioBlitz, visit
Photo: Blake (left) and Theo (right) seeing what they can discover at Shepherds Mead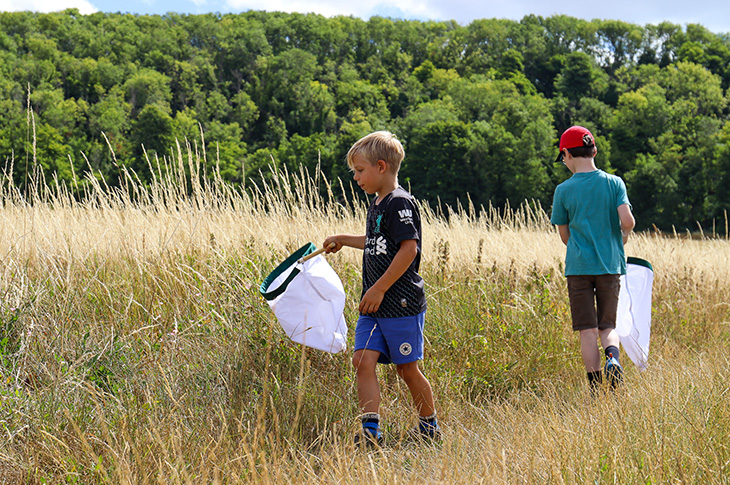 Photo: Heath taking a close look at one of the grasshoppers he managed to find at Shepherds Mead
Photo: The BioBlitz event took place at Shepherds Mead in Worthing
(PR22-145)
Page last updated: 06 December 2022
Back to top