Businesses, community groups and the Councils join forces to tackle climate change
Released: Monday, 01 November 2021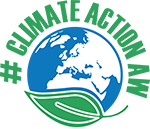 More than 200 businesses and community groups in Adur and Worthing have joined forces in collective action to tackle the climate emergency.
The plan of action also brings together residents, landowners and public sector organisations in a bid to achieve a Net Zero target by 2045.
And to coincide with COP26 - the UN's global climate summit in Glasgow that runs between 31st October and 12th November 2021 - a new campaign called ClimateActionAW has been launched.
Adur & Worthing Councils have launched the campaign to showcase some of the sustainability work already underway by the Councils or others in our communities and encourage others to get involved.
The campaign will highlight some of the projects being delivered against the 10 key areas and 60 actions which form the Adur & Worthing Sustainability Framework (2021-2023). The Framework is a shared plan between communities and the councils for tackling climate change with input from hundreds of local businesses and community groups that are already taking action.
Among the 10 key areas included in the framework are reducing carbon emissions, transitioning to cleaner energy, enhancing the use of green spaces and developing a more sustainable food system and improving resilience in Adur and Worthing to a changing climate.
One of the 200-plus businesses taking climate action is Shoreham FC. They have replaced tube lighting with low-consumption LED lighting, resulting in a 30 per cent reduction in energy bills, introduced vegan meals to its menu for supporters, removed all plastic bottles in favour of eco-friendly plant-based bottles and brought in reusable pint cups.
The club's actions has been recognised nationally after it won 'Play It Again Sport' (the Social Impact, Engagement and Education Award) at the inaugural British Association for Sustainable Sport (Basis) awards, beating Premier League clubs to be named as a climate champion.
Although Adur & Worthing Councils are only responsible for less than 1 per cent of total emissions in the region, they have committed to be carbon neutral by 2030 and have put in place a number of programmes to help reach that goal.
These include restoring ecologically important habitat which can assist with long-term carbon capture, developing plans to utilise waste heat from Worthing's main sewer and working to become the first council in the UK to lease the seabed from the Crown Estate to help invest in the restoration of the ecologically important kelp habitat along the Sussex coast.
Locally, Adur and Worthing are listed in the top 25 areas that are most at risk of surface water flooding. Human activity from burning fossil fuels has resulted in increased CO2 in the atmosphere, and in turn a 1°C rise in global warming compared to pre-industrial levels, leading to damage to ecosystems, rises in sea levels and coastal erosion.
Cllr Neil Parkin, Leader of Adur District Council, said:
"Engagement among local businesses and community groups in the plans to tackle the climate emergency has been very positive - and we hope it encourages many members of our communities to play their part too.

"The warming of the Earth's temperature is one of the biggest challenges we are facing now and for future generations and it's imperative we act now to protect our natural environment and ensure it can be enjoyed by future generations. If we do not all act now the potential repercussions are enormous and likely to be irreversible.
Cllr Edward Crouch, Worthing Borough Council's Executive Member for Digital & Environmental Services, said:
"The Councils are on track for achieving its target to be carbon neutral by 2030, but a joined up approach with the whole community is needed if we are to achieve the area-wide Net Zero target by 2045.

"We're seeing some great examples of work already underway to reduce our carbon emissions. This has to be a collective effort; we need to act now and for everyone to play their part."
For more on how businesses, community groups and residents can take climate action, visit:
In 2020, Adur & Worthing Councils hosted a Climate Assembly, which resulted in 18 recommendations for the Councils and the community to tackle the climate and nature crisis. As part of ClimateActionAW, the Sustainability team at Adur & Worthing Councils will be hosting a webinar on Thursday 4th November from 6pm to 7:30pm to provide an update on how the recommendations are being implemented:
(PR21-158)
Page last updated: 20 June 2022
Back to top