Church services to commemorate Remembrance Sunday in Adur and Worthing
Released: Wednesday, 28 October 2020
Adur & Worthing Councils have worked closely with local organisations that represent the armed forces, the Cadet units and the Scouts to plan this year's commemorations, following guidance from the government and the Royal British Legion regarding Remembrance Sunday events.
In Worthing: A commemorative event to pay tribute to those who have given their lives to war, in a way that ensures public safety, will be held in Worthing on Remembrance Sunday (8th November 2020).
In previous years, the day has been marked with a March Past and Remembrance Service at the War Memorial outside Worthing Town Hall, attended by armed forces representatives, local organisations from Worthing and thousands of local residents wishing to pay their respects. However, due to the COVID pandemic, this will not be taking place. Instead, a church service, which will be invitation-only, led by the Mayor's Chaplain and attended by a limited number of guests including representatives of the armed forces, is being organised. A two minute silence will be observed during the service.
To comply with social distancing measures and ensure public safety, members of the public are urged not to attend the Worthing Town Hall War Memorial on Remembrance Sunday, but to commemorate the day and observe the two minute silence from the safety of their own homes. The Garden of Remembrance will also be open from 2nd to 11th November 2020 for people to pay their respects privately throughout this time.
Cllr Lionel Harman, the Mayor of Worthing, said:
"It is with a heavy heart that we have had to make the decision not to commemorate Remembrance Sunday in the way that we would like, and have done, in Worthing for the last 100 years owing to the COVID pandemic. I would encourage everyone from the safety of our own homes to stand at 11am for the two minute silence to remember and reflect on the sacrifices that were made by so many for us all."
In Adur: Church services, organised by the Royal British Legion, will be taking place in the district of Adur, in Shoreham, Southwick, Lancing and Sompting.
Cllr Andy McGregor, Chairman of Adur District Council, said:
"Due to the COVID pandemic, we are having to continually review our events to ensure public safety. It is important that we are able to pay tribute to those who lost their lives following two World Wars and other conflicts and mark Remembrance Sunday with the respect and dignity it deserves, but in a way that ensures the safety of our community."
Photo: Poppy wreaths on the war memorial outside Worthing Town Hall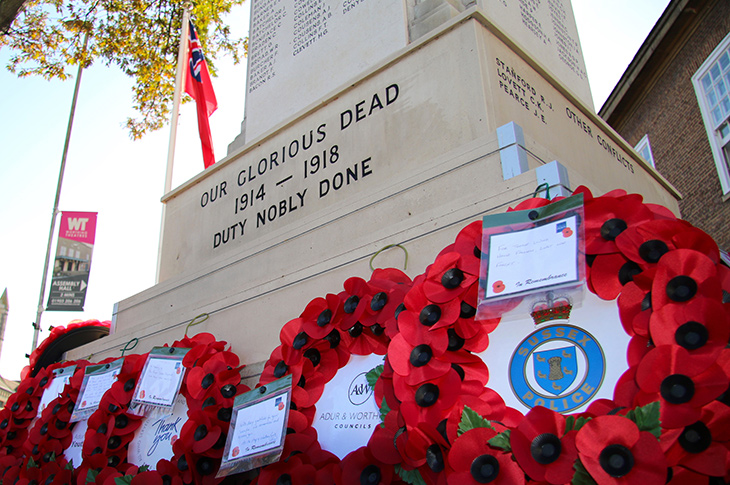 (PR20-132)
Need assistance? Get in touch:
Public Relations & Communications
Problem with this page?
Page last updated: 01 March 2021