Several parks in Adur and Worthing get top marks in the Green Flag Awards 2020
Released: Thursday, 15 October 2020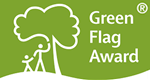 Several parks in Adur and Worthing have been awarded the prestigious international quality mark, the Green Flag, in this year's Green Flag Awards.
In Worthing, Beach House Park, Highdown Gardens, Field Place, Marine Gardens, were awarded the gold standard and in Adur, it has been awarded to Buckingham Park and Lancing Manor Park. They are among 2,000 green spaces across the country to receive the award.
Last year, Beach House Park in Worthing lost its Green Flag and Adur & Worthing Councils' parks team has worked hard to achieve the award once again this year. Work has included new planting, footpath clearing and the introduction of new signage to improve the visitor experience.
The Friends of Marine Gardens have continued to work hard at their site this year and have been the driving force behind securing the gold standard for the garden for a third year running.
At Buckingham Park in Shoreham, which received the award for the second year, a 4ft dome made out of willow has been built, adding to the local ecology and creating a natural shelter for visitors to the park.
A Green Flag Community Award was also given to the Friends of Heene Cemetery, with judges praising the volunteer-run Heene Cemetery and the regular walks and talks by experts as a positive way to encourage research and understanding of the site.
The Green Flag Award scheme, managed by environmental charity Keep Britain Tidy under licence from the Ministry of Housing, Communities and Local Government, recognises and rewards well-managed parks and green spaces, setting the benchmark standard for their management across the United Kingdom and around the world.
Cllr Emma Evans, Adur District Council's Executive Member for the Environment, said:
"We're delighted that two of our parks in Adur have once again been recognised for their high standards. These are wonderful spaces for our community to visit and enjoy."
Cllr Edward Crouch, Worthing Borough Council's Executive Member for Digital and Environmental Services, said:
"It is with thanks to the hard work of our staff and volunteers that we can celebrate this achievement for Worthing, particularly for meeting the standard once again with Beach House Gardens."
Keep Britain Tidy Chief Executive, Allison Ogden-Newton OBE, said:
"This year, more than ever, our parks and green spaces have been a lifeline and we know that millions of people have used them to relax, meet friends, exercise or simply escape for a short time.

"It is testament to the incredible dedication and hard work of parks staff and volunteers that, despite the challenges that went along with record numbers of visitors, Adur & Worthing Councils' parks have achieved the highest international standards demanded by the Green Flag Award."
Photo: Adur District Cllr Emma Evans with staff and volunteers at Lancing Manor Park which has received a Green Flag Award
Photo: Buckingham Park in Shoreham has received the Green Flag Award for the second year
Photo: The Friends of Marine Gardens have been the driving force behind securing the Green Flag Award for the gardens for the third year running, pictured with Worthing Borough Cllr Ed Crouch
Photo: Worthing Borough Cllr Ed Crouch with staff from Adur & Worthing Councils' Parks team celebrating the Green Flag Award for Beach House Gardens, Worthing
Photos: Plants and flowers in our parks
(PR20-122)
Need assistance? Get in touch:
Public Relations & Communications
Problem with this page?
Page last updated: 01 March 2021