Worthing Pier voted the best in the UK 2019
Released: Tuesday, 09 April 2019
Civic leaders today expressed delight as Worthing's iconic pier was voted the best in the UK for 2019.
The National Piers Society today announced that the pier, which it describes as "beautifully maintained by Worthing Borough Council" had been voted the best in a poll of its members. The pier is now one of very few which has won the award twice in the 23 year running of the competition.
The Mayor of Worthing, Cllr Paul Baker, said:
"I am delighted the National Piers Society has recognised what a fantastic pier we have down here in Worthing. It really is a beautiful and iconic landmark for the town reviving so many great memories for people who have used it down through the years."

"What I particularly like about it is that it symbolises all that is classic about a traditional pier. It's not garish but elegant, you can see a great show there, take tea while enjoying spectacular views, have a nice meal, fish for your supper, or just take an evening stroll. What more could you want from a pier?"
Society chairman, Gavin Henderson, said:
"As a one time player in the town's Municipal Orchestra I am really pleased to give three cheers to Worthing pier for all its historical significance and current glory."
The Grade II Listed Art Deco pier has been placed second or third for the past four years but this year it triumphed, repeating its win in 2006, backed by a sparkling set of testimonies by those members who voted.
"It is a beautifully kept totally original 1930s Art Deco pier."
said one, while another added
"While we enjoy many strolls along a variety of seaside piers Worthing is the one that always delights us whatever the season."
The pier was opened on 12th April 1862. It was designed purely as a landing stage but in 1889 a Pavilion was erected on the pier head. In March 1913, however, a storm severed it from the pier. The gap was soon restored and the pier reopened in May 1914.
In 1920 it was sold to the Council. A shoreward Pavilion opened in 1926 and became home to the Worthing Municipal Orchestra. The building at the pier head was renamed the Southern Pavilion but in September 1933 it went up in flames. It was replaced in record time at a cost of £18,000 and reopened in August 1935. Two years later a matching Modernist style amusement arcade was added.
At the outbreak of World War II entrance Pavilion was taken over by troops who enjoyed snooker, table tennis and darts there as well as a canteen and a library. It reopened to the public in June 1946 and the Worthing Municipal Orchestra disbanded the Southern Pavilion was put to various uses including a model railway museum, a cinema and a zoo. In the 1980s it became a nightclub but this closed in 2005 and the building lay empty until a local businessman, Phil Duckett, restored it. It is now an eating place as well as a performance area and wedding and conference venue. Negotiations are currently taking place to find a successor to Mr Duckett.
See also: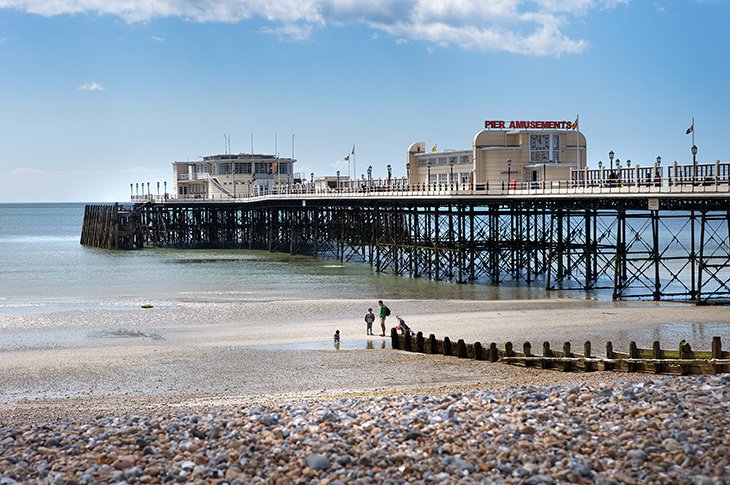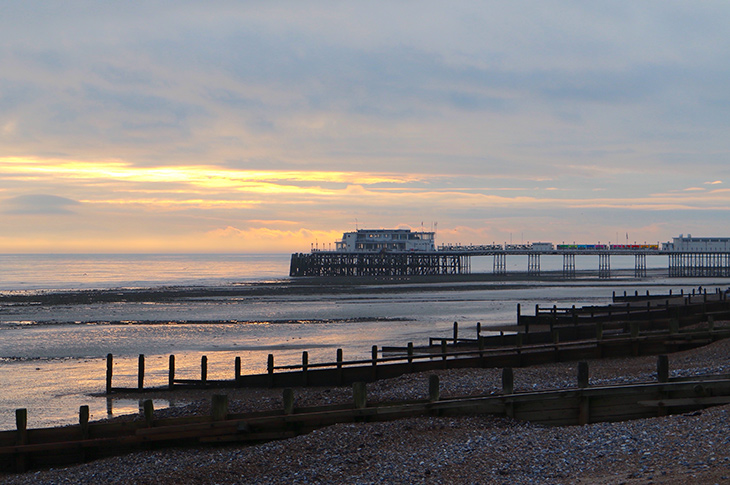 (PR19-065)
---
Contact details
Contact Public Relations & Communications
If you have any enquires please contact:
07909 688 132 - Mike Gilson
or
07342 066 216 - Tim Ridgway
or
07795 504 983 - Talia French
---
Public Relations & Communications,
Adur & Worthing Councils,
Worthing Town Hall,
Chapel Road,
Worthing,
BN11 1HA