Public invited to see plans to secure future of Highdown Gardens
Released: Monday, 17 December 2018
Plans to improve Highdown Gardens for visitors while protecting the internationally important plants that grow there are to be the subject of a public consultation event.
Worthing Borough Council, which owns and maintains the gardens, is seeking a Heritage Lottery Fund grant to develop a long-term survival plan for the landmark which is open free to the public.
The gardens, internationally important because they are home to hundreds of rare and exotic plants and trees uniquely grown on chalk soil, are visited by tens of thousands of people every year.
The Fund has awarded almost £100,000 to the Council to develop a new plan for the 8.5 acre-gardens which will include:
Action to preserve plants which could be crucial to stopping extremely rare specimens becoming extinct
The establishment of propagation processes to ensure the survival of the rare plants
The building of a new visitor centre to tell the story of the gardens and its surrounding landscape
Plans to tell the fascinating story of the originator of the gardens, Sir Frederick Stern, and his contribution to worldwide horticulture
Proposals to develop community ownership of the gardens through a full volunteer programme
This plan is being finalised before being submitted to the HLF to secure more than £800,000 to pay for the project.
Project Team members and the architect will be available to talk through the plans at the public consultation which will take place on Monday 7th January 2019 from 2pm to 7pm in the Gordon Room, Worthing Town Hall. Chapel Road, Worthing. All are welcome.
See also: Highdown Gardens website
Image: Highdown Gardens visitor centre - Artist's impression of what the new visitor centre might look like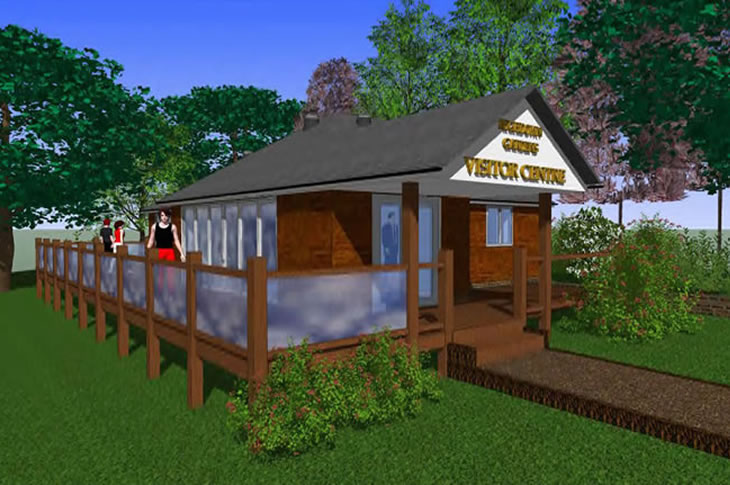 (PR18-226)
---
Contact details
Contact Public Relations & Communications
If you have any enquires please contact:
07909 688 132 - Mike Gilson
or
07342 066 216 - Tim Ridgway
or
07795 504 983 - Talia French
---
Public Relations & Communications,
Adur & Worthing Councils,
Worthing Town Hall,
Chapel Road,
Worthing,
BN11 1HA