Eat Out Eat Well recipe - Seasonal comfort and immune support
Released: Thursday, 22 November 2018
When the seasons change, our bodies become more vulnerable to bug invasion. This is why we get more cold and flu type illnesses at this time of year. The drop in air temperature and other environmental changes gives viral organisms the opportunity to take advantage of us. So we must wage a war against them!!
The best way to defend ourselves is to ensure that our immune systems are strong and robust. Eating brightly coloured fruit and veggies is one way of doing this. It's a good time of year to consume more berries too. Berries contain some wonderfully potent compounds that help to protect our cells and make cell replication by a virus much more difficult. If the virus is unable to replicate in our own cells, then eventually it dies. A lot of natural cold and flu remedies, for example, contain berry extracts, for example elderberry.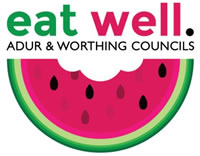 This month's recipe is lentil and sweet potato shepherd's pie and comes from Hector's Shed in Shoreham, which has a new owner. Sandra Richardson is fanatical about healthy eating and this October was awarded a gold Eat Out Eat Well (EOEW) award. This compliments her FHRS (food hygiene rating) of 5 nicely.
The cafe in East Street has a quirky feel and is brightly decorated inside and out to reflect the energy and passion for good food. The brightly coloured veg in her recipe this month include carrots, tomatoes and sweet potatoes, making it perfect for an immune boosting supper. Sandra's views on her recipe are simple:
"You don't have to cook fancy or complicated masterpieces to eat well. Great food made from fresh ingredients is all that's needed."
Hector's Shed recipe - Lentil & sweet potato shepherd's pie
Ingredients:
3 x 1 tbsp olive oil
1 large onion, cut into small pieces
2 large carrots , cut then sliced into pieces
2 tbsp fresh thyme chopped
400g can chopped tomatoes
400g green lentils (dried)
2 vegetable stock cubes
900g sweet potatoes peeled and cut into chunks
85g vegetarian mature cheddar, grated
Method:
Heat 1 tbsp olive oil in a frying pan, then fry 1 large chopped onion until golden
Add 2 large carrots, cut into sugar-cube size pieces and most of the 2 tbsp chopped thyme
Pour in 200ml water and a 400g chopped tomatoes, then crumble in 2 vegetable stock cubes and simmer for 10 mins
Add 400g of dried green lentils, then cover and simmer for another 30 mins until the carrots still have a bit of bite and the lentils are pulpy
Meanwhile, boil 900g sweet potatoes, cut into chunks, for 15 mins until tender, drain well, then mash with 2 tbsp of olive oil and season to taste
Then boil 1 large carrot for 15 mins in a sauce pan until tender, drain well
Pour the lentil mixture into a pie dish, add the slices of cooked carrots over the mixture
Then spoon the mash on top, then sprinkle over 85g grated vegetarian mature cheddar and the remaining thyme
Heat oven to 190C/170C fan/gas 5
Cook for 20 mins if cooking straightaway, or for 40 mins from chilled, until golden and hot all the way through
Can be served with mixed vegetables
This veggi shepherd's pie features nutty lentils, the base is cooked with a simple mixture of vegetables and slice carrots then mashed sweet potato which add another layer of hearty goodness to this pie.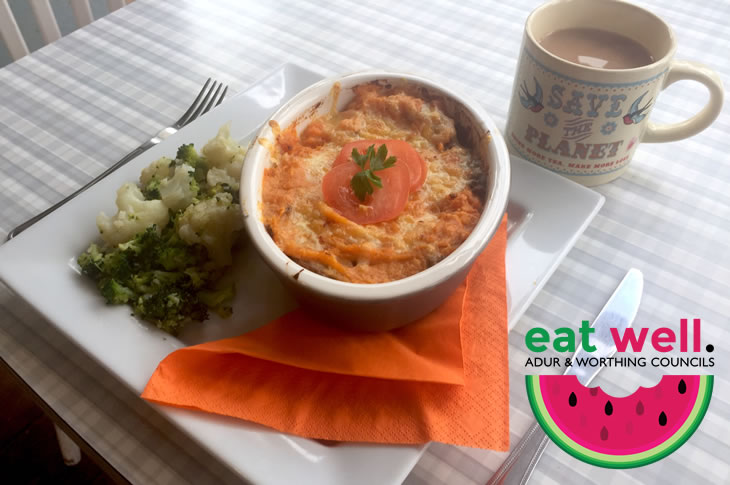 Nutritional info:
Lentils - this pulse contains B vitamins, protein and a substance called inulin. Inulin helps the good bacteria in our guts to thrive and also helps to prevent 'bad' fat from accumulating around our organs. When using a pulse for protein, always eat it with a grain so that the full complement of essential amino acids is present. For example lentil curry with rice.
Carrots - Carrots contain stacks of beta carotenes which is converted to vitamin A (this is why as kids we were told that they help us to see in the dark). Carotenes are very important for eye health and comfort. Carrots also contain vitamin B6, which helps with hormone and neurotransmitter balance. Carotenes are fat soluble so don't be tempted to skimp on the olive oil in this recipe.
Sweet potatoes - again, these also contain carotenes, but are also a great source of soluble fibre, vitamin C, vitamin E and vitamin B5 which helps with mood, energy levels and resistance to stress. It is also essential for healthy hair.
Tomatoes - are rich in the antioxidant lycopene which is also a carotene and has many health benefits, particularly associated with cardiovascular health and could have cancer protective qualities. The good thing about this nutrient is that it is more available for absorption once it is heated and also when consumed with fat because it's also a fat soluble nutrient.
(PR18-211)
---
Contact details
Contact Public Relations & Communications
If you have any enquires please contact:
07909 688 132 - Mike Gilson
or
07342 066 216 - Tim Ridgway
or
07795 504 983 - Talia French
---
Public Relations & Communications,
Adur & Worthing Councils,
Worthing Town Hall,
Chapel Road,
Worthing,
BN11 1HA