Highdown's hedgehog back to rude health after spell in animal hospital
Released: Wednesday, 07 November 2018
A week in animal hospital seems to have done this little fellow a power of good as he hops away into the undergrowth at Highdown Gardens.
Staff at the Worthing Borough Council-owned landmark spotted the hedgehog looking poorly a week ago. Nocturnal animals by nature this creature was seen in the gardens during the daytime looking very sickly.
A quick call to Worthing animal rescue charity Wadars saw the gardeners' new prickly pal quickly taken to the vets and after some rest and recuperation at Waders HQ in Ferring, restored to good health.
He was released back into Highdown by Waders worker Julie Brewer.
Highdown Head Gardener Jo Hooper said the garden had offered the gardens to Wadars as a rehoming site so would be happy to take other hedgehogs in the future. This would involve feeding the animals for a week as they settle in.
Said Jo:
"As hedgehogs are nocturnal creatures generally you will only see them during the day if they are having problems, so it is good to know they really are in the gardens."

"The wilder areas of Highdown such as the beech wood walk, where this particular hedgehog was found, are ideal. Hedgehogs are excellent in the garden as they eat slugs, snails, caterpillars and other unwanted garden pests and are also very cute!"
See also: Highdown Gardens website
Photo: Julie Brewer from Wadars releasing the hedgehog into Highdown Gardens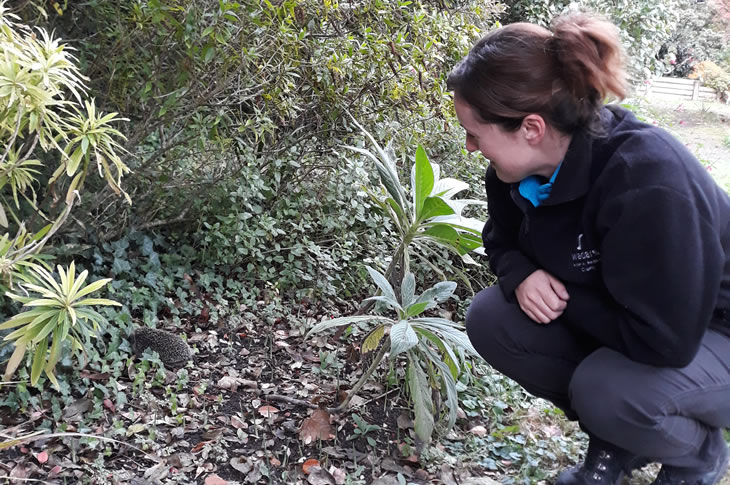 (PR18-203)
---
Contact details
Contact Public Relations & Communications
If you have any enquires please contact:
07909 688 132 - Mike Gilson
or
07342 066 216 - Tim Ridgway
or
07795 504 983 - Talia French
---
Public Relations & Communications,
Adur & Worthing Councils,
Worthing Town Hall,
Chapel Road,
Worthing,
BN11 1HA