Why choose Adur and Worthing for your business?
Adur and Worthing's ideal location has established a thriving business area, incorporating many major companies and trading partners. The area also provides a great variety of business premises to meet all business requirements.
See also:
Where are Adur and Worthing?
Adur (Shoreham-by-Sea, Lancing, Southwick, Sompting) and Worthing are on the south coast of England surrounded by the beauty of the South Downs and splendid beaches.
Adur and Worthing are wonderful places in which to live, work and invest - Brighton, London and the rest of the UK are directly accessible via our major road and rail networks.
The proximity to air and sea links also makes Europe a very feasible marketplace, providing an abundance of trade opportunities, along with easy access to the channel tunnel and ferry ports.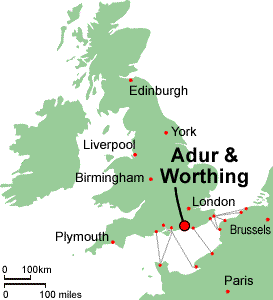 See also: How to get to Adur and Worthing
Business parks, trading estates and industrial estates in Adur & Worthing
There are a number of sites varying in size across Adur and Worthing.
Shoreham Harbour also falls within the area and has many port related and industrial uses.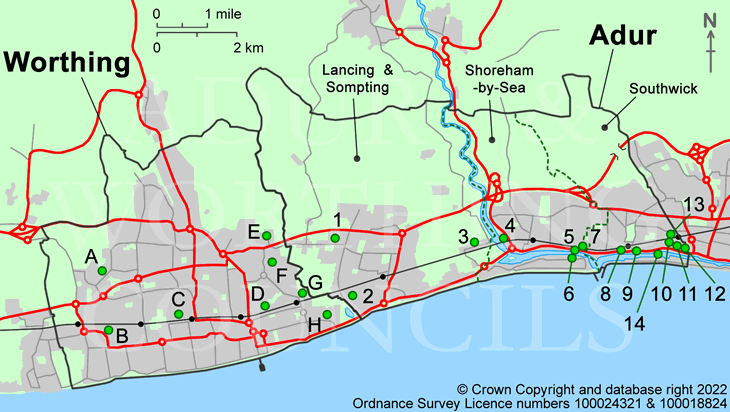 Adur:
1. Rectory Farm Industrial Estate, Sompting, Lancing
2. Lancing Business Park, Lancing (Consisting of : Chartwell Road, Blenheim Road, Marlborough Road, Spencer Road, Commerce Way, Peter Road and Burrell Buildings) see: Lancing Business Park website

3. Shoreham Airport Technology Park, Shoreham-by-Sea - see : Shoreham Airport website - businesses
4. Riverbank Business Centre, Shoreham-by-Sea
5. Brighton Road, Shoreham-by-Sea
6. Harbour Way, Shoreham-by-Sea
7. Dolphin Road, Shoreham-by-Sea
8. Grange Industrial Estate, Southwick
9. Lady Bee Industrial Park, Southwick
10. Gardner Road, Southwick
11. Chapel Road, Southwick
12. Mill Road, Southwick
13. Manor Hall Road, Southwick
14. Shoreham Harbour - see Shoreham Port Authority website
Worthing:
A. Faraday Close
B. Goring Business park
C. Garcia Trading Estate
D. Ivy Arch Trading Estate
E. Downlands Business Park
F. Broadwater Business Park
G. East Worthing Trading Estates
H. Meadow Road / Dale Road Trading Estate


See also:
---
Contact details
Contact Economic Development, Place & Economy
Economic Development,
Place & Economy,
Adur & Worthing Councils,
Worthing Town Hall,
Chapel Road,
Worthing,
West Sussex,
BN11 1HA